10 Best Golf Irons for Women
last updated:
Jul 22, 2019
Out of 14 golf clubs in a golfer's bag, averagely speaking, about seven to nine are irons. That's more than a half and throughout the game, you will have to use at least a few of them. You need them for your long game as much as you need them for the short game. Versatility is their main feature and there are specific ladies golf irons as there are for man.
However, irons are notorious for being hard to hit, so they are often replaced with hybrid-irons or they feature a game-improvement design which makes them oversized or much more lightweight than the standard ones. When it comes to golf irons for women their design is even additionally modified to meet the needs of women golfers.
Read about the best women's golf irons below and find out what makes them unique and outstanding.
This is the best product on our list that is currently in stock: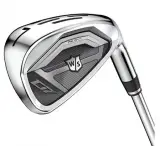 Wilson Staff Women's D7
Why is it better?
Progressive Power Holes design, up to three in long irons and one in the PW and AP
Extra thin face for better feel and more speed
Cavity design and low and deep center of gravity
Cleaner look, straighter lines, and improved weighting
Blends the super game improvement technologies and player's iron design
In a
Hurry? Editors choice: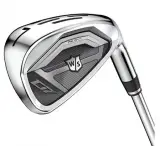 Test Winner: Wilson Staff Women's D7

34
Researched Sources
276
Reviews Considered
28
Hours Researching
32
Products Evaluated
Features
Ease of Use
Release Date
Value
By Default
Women's Irons Reviews
1

. Cobra Women's F-Max One Length Irons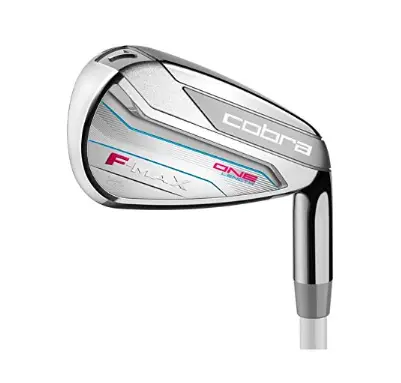 One-Length design with the length and the weight of the 7-iron
Undercut cavity and low profile design move the CG deep and low
Offset design ensures straighter ball flights and higher launches
Larger sweet spot and more forgiving, game-improvement design
The main feature that distinguishes men and women in golf is the swing speed. There are less than 2% of women golfers who can claim that their swing is as powerful as those of men's which is why manufacturers engineer clubs that are designed just for women. F-Max One Length irons have been designed to enable women golfers to achieve more speed and accuracy and since they were released, they have been praised to be the best irons for women, especially due to the one length design which allows more playability and consistency.
Read more
Performance
When we talk about the women's golf irons, we refer to the performance they deliver and how they can help female golfers to achieve the desired distance. The One Length concept that Cobra has boldly reintroduced was happily welcomed by high handicappers, women, and seniors mostly because these players are the ones who generally need assistance from the clubs. The One Length concept uses the weight, the length and the setup of the 7-iron for the rest of the irons to make it possible for the players to use the same body posture and angle to swing the ball. The outcome is more consistency, straighter ball flight, and more accuracy.
Features
The one-length concept is not the sole contributor for better performance. The whole set of irons is ultralight, featuring the game-improvement concept. The shafts are lightweight to help women generate more club speed without putting much effort, while the grips are larger and very comfortable. However, it is the clubhead design that brings the whole concept at play with the progressive design utilizing thinner, 17-4 stainless steel construction in the long irons and the softer 431 stainless steel in the short irons. The deep undercut design makes the face flex more so that it generates more ball speed even for the off-center hits, while the low profile and offset design moves the CG low and back for a better launch.
Cost and Value
From the One-Length design, through the ultralight construction and the max game-improvement concept, these irons for women are among the most versatile that you'll find on the market. They are aesthetically attractive as well with the Chrome Finish and Nickel Chrome plating ensuring durability and style. As Cobra is a company that enjoys a huge reputation among golfers, these women's golf irons cost enough not to break the bank and bring an impeccable performance that will last for a long time.
2

. Callaway Women's Big Bertha 2019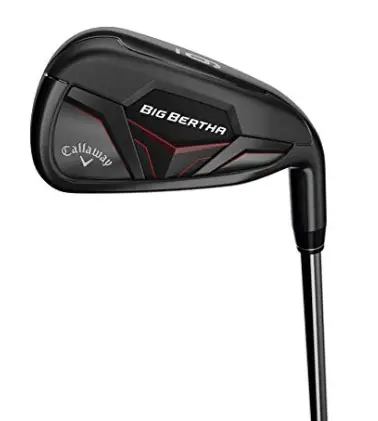 The easiest to launch distance iron
Suspended Energy Core delivers distance, easy to launch, and incredible sound and feel
Metal Injection Molded Tungsten Floating Weight places the CG much deeper
3-piece iron construction
Extra speed from the 360 degrees Face Cup
High price for game-improvement irons
There aren't many golf equipment names that are as iconic as Big Bertha is, as it stands as a symbol of innovation that pushes the boundaries to the point that it transforms the whole category. This year's release comes as a super game improvement concept that is available for both men and women. The Big Bertha golf irons for women are characterized by incredible distance, sound, and feel that come from the innovative redesigned club.
Read more
Performance
Big Bertha women's golf irons have been designed with women's swing characteristics in mind, so that high and mid handicappers get the proper amount of playability, distance control, easy launch with much-improved sound and feel. The thinner and the faster face that features the well-known Hyper Speed Face Cup technology extends the sweet spot which makes on and off-center shots equally fast-flying and accurate. The wider sole allows better turf interaction which also enhances the speed.
Features
The most innovative and central feature is the Suspended Energy Core which is a revolutionary design that delivers all the performance features described above. These features have been achieved with the Metal Injection Molded (MIM'd) Tungsten Floating Weight which has been injected into the company's proprietary urethane material. The suspended floating weight places the CG much deeper into the 3-piece iron construction. The 360 degrees Face Cup is a speed generator, designed to wrap around the head so that even mis-hits generate more speed.
Cost and Value
The smoked PVD finish makes Big Bertha very attractive and classy, with progressive offset design and wide soles, Big Bertha 2019 claims superiority and innovation within its range. From the innovative technology to the unforgettable look, it is priced to match the performance it delivers, so be ready to spend some more if you want to gain double more.
3

. Wilson Staff Women's D7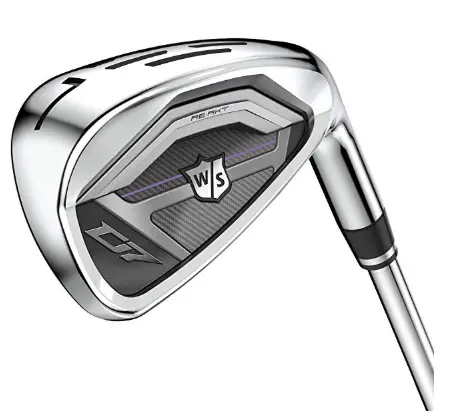 Progressive Power Holes design, up to three in long irons and one in the PW and AP
Extra thin face for better feel and more speed
Cavity design and low and deep center of gravity
Cleaner look, straighter lines, and improved weighting
Blends the super game improvement technologies and player's iron design
Might not be challenging enough for low handicappers
Within the last few years, Wilson Staff has won over 60 major wins and their clubs are regaining the status of premium clubs. The best proof is the latest series of golf iron clubs D7 which feels like an improvement from the older model D300 but with many innovative solutions. The D7 model of golf irons for women are designed to appeal to more advanced players, so mid to low handicappers would get the benefit of their design the most. It has much straighter lines, improved weighting and a cleaner top line it represents a blend of game improvement technology and player's women's irons.
Read more
Performance
The stronger lofts and the Power Holes that we are going to describe below, seem to do their work, so what you can expect from D7 is more than 6 yards gain, which, in case of unchanged effort, you get the impressive distance. As a matter of fact, it is currently one of the longest irons that you can find on the market. As the number of Power Holes decreases going from the long to the short irons, thus the performance varies from generating more distance from the long irons to high launch and enhanced stopping power onto the greens and much more control and feel from the short irons.
Features
The highlight of D7 is still the use of the Power Holes which Wilson's engineers used to generate more speed and in D7 their number is increased to 3 in long irons. In irons 8 and 9 there are just two Power Holes, while the pitching wedge and the sand wedge integrate only one. The sand wedge in this set has no Power Holes. To increase the ball speeds, the face of 4 to 7 irons is made thinner which totals only 2mm in D7. The cavity back design places more weight onto the heel and the toe of the club which makes them more forgiving. The hosel is 5 mm longer and there is a notch in it to adjust the lie for more balance.
Cost and Value
The D7 model is a serious candidate to get the title the best golf irons for women as its kind of simplified and yet superior technology makes it perfectly playable. Each of the clubs has its own uniqueness and functionality to help golfers to achieve more distance, more control and feel and lower score. For a complete set with such features, it has a decent price tag.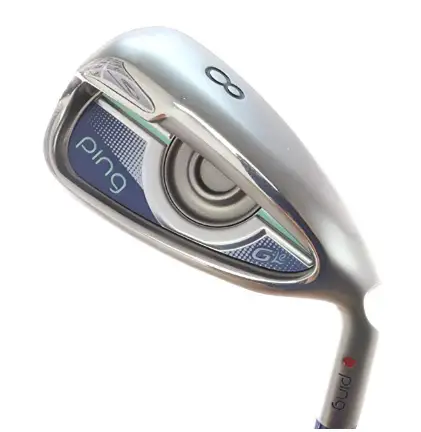 COR-Eye technology increases the face flex and acts as a springboard
Much thinner and hotter CarTech 455 face
Game-improvement technology with high-launching irons
ULT 230 graphite Shaft with lady flex
G Le series have been designed particularly for women based on the success of the men's G series. When these were launched a few years ago they were stated to be the best women's golf irons and two years later we are still witnessing their success. Made with, then latest Ping technologies, they integrate increased playability, game-improvement concept, and eye-catching design with the recognizable COR-Eye technology.
Read more
Performance
G Le Irons are designed to deliver more playability and forgiveness with each shot. Their cavity back design and lightweight construction make them easy to hit and versatile. Women who are just starting to play golf or those high to low handicappers who are still struggling with irons will find G Le considerably lighter. Plus, you can expect more distance with the long irons and more control and accuracy with the short ones.
Features
G Le irons are made from 17-4 stainless steel which is very lightweight but strong at the same time and their design is intended for golfers with slower swing speeds. The well-known COR-technology, which is a defining and recognizable hallmark of Ping irons, creates the face much thinner and with a more emphasized bounce to enhance the launch and the ball speed. The face features the proprietary CarTech455 face which makes the ball fly faster and longer. The perimeter weighting delivers tighter dispersion and with the overall lightweight construction, squaring the ball is much easier.
Cost and Value
The remarkable COR-Eye technology and the blend of forgiveness found in the super game-improvement irons together with the high launching design make these irons an excellent women's golf irons who look for enhanced forgiveness and easy-to-play concept. The graphite shaft and the ladies flex make this set complete. The only downside of these irons is their price which is still very high and which for some might be a deal-breaker.
5

. Tour Edge Women's Hot Launch 2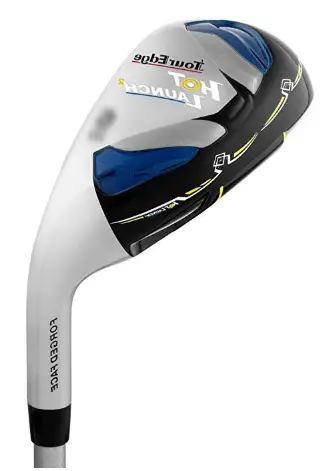 A complete set of hybrid-irons and wedges
Made to appeal for high handicappers
Oversized, hollow head design and ultra-thin forged face
The forged maraging steel face delivers spring-like effect for more speed
The heavy sole puts the CG low for higher launch and more forgiveness
Not for more advanced players
When this hybrid-iron set fas initially launched in 2017 it was awarded for its unique design and extremely easy playability. The clubs are a blend of hybrid and iron design which are made to make golf a very easy game to play. These women's golf irons will make you feel confident on the course and they represent a viable solution for overcoming the battle with your irons.
Read more
Performance
When it comes to the performance of these hybrid-irons, even the Tour Edge designers describe as shortly as possible: they are so easy to play with! And that is by itself a contrasting term, as irons are never associated with the word easy, so in this context, it tells us a lot. The women's golf irons are sold separately or individually, i.e., you have the possibility to chose from 2-iron which is 18 degrees lofted club to 9-iron which is 41 degrees. When it comes to wedges, you can choose from pitching wedge, approach wedge, sand wedge, and gap wedge.
Features
The increased head volume of the clubhead features hollow construction that is engineered with a hollow steel construction which has a forged, maraging, super-thin steel face that has a variable thickness to deliver a spring-like effect. The weight of the clubs is positioned on the sole which creates a higher launching angle and more forgiveness with every shot.
Cost and Value
With this Tour Edge ladies golf irons, your slow swing will produce more speed and distance and will help you get the ball in the air from any turf condition. The complete availability of irons and wedges make the whole model very versatile and the award-winning design proves that the clubs are of the highest quality.
6

. Titleist Women's AP1 718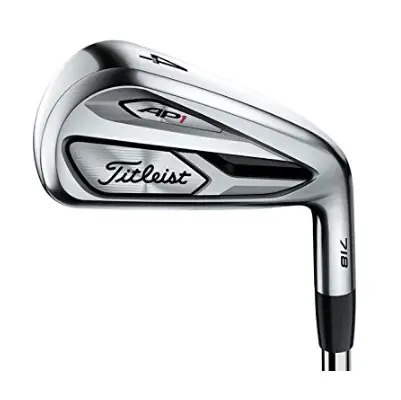 Ultimate game improvement irons
Progressive body design- hollow body in the long irons, undercut cavity in mid and short ones
Progressive tungsten weighting through the irons
Lower and deeper CG for maximum consistency
Titleist AP1 series brought a revolution in the way Titleist approached to average golfers, so this model AP1 718 moved the things a bit further and changed the face and the cavity design. AP1 718 model has been one of the best golf irons for women because of the change in the design which led this model to be labeled "the ultimate game improvement golf iron model". As we have mentioned above, women need either more swing speed (which is very hard to get), or they need some help from the clubs they use. With Titleist AP1 718, you get all the help you need.
Read more
Performance
These women's golf irons are designed with the game improvement technology which directly addresses the common issues that women golfers have. So, without putting more effort than you usually play, you will be able to achieve more distance and straighter ball flights. One of the remarkable qualities of these irons is the weight that changes in each of the clubs so that you get maximized versatility, higher launch angle and soft landing of the ball. Plus the exceptional forgiveness makes all those mis-hits high-flying balls.
Features
Versatile and progressive design are the two distinctive features that make these irons so peculiar. Long irons feature a hollow body while mid and short irons feature undercut cavity design which will bring in your long game straighter ball flights and longer distance and more feel and control with the short irons. The tungsten weighting is differently positioned in each club and it places the CG lower and in accordance with the iron number. The high MOI and the leading edge create a better turf interaction for more consistency with each shot.
Cost and Value
Whatever comes from Titleist it is made with utmost perfection and observance on every single detail. The same applies to these women's golf irons in every bit of their design. Equipped with MCA Tensei Pro Red graphite shaft with lady flex, you will see your performance on a higher level. When it comes to their price it varies in accordance with the iron number and the selection of clubs that you will make, however, it is Titleist, it is of the highest quality and it is expensive.
7

. Cobra Women's Baffler XL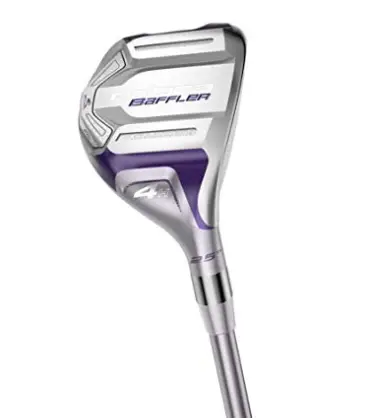 Super game-improvement golf irons for women with two digit-handicap
They integrate the Baffler technology that includes rail design for better turf interaction
Progressive face thickness from short to long irons
Low CG and shallow face creates low spin and high trajectory
Extremely forgiving, easy to launch and lightweight
Not for more advanced golfers
One more iconic name coming from Cobra, as Baffler stands as a synonym for game-improvement clubs. These golf irons for women follow the lead and have been designed as super game improvement clubs that can find their way in any golfer's bag provided she needs more help from her irons. The oversized construction and the popular Baffler sole rails designed particularly for irons enable them to slide smoothly through the turf and get the ball airborne.
Read more
Performance
The first Baffler was designed about fifty years ago and the successor, the new Baffler was launched about forty years later, all new and advanced, featuring Cobra's super game improvement technologies to make it one of the most playable clubs for double-digit players. The whole set is characterized with easy to hit, oversized clubheads that allow golfers to achieve more distance and low spin in the long game and higher launch and control in the short game. The fact that instead of 2- and 3-iron they included 4- and 5-hybrid speaks about the company's intention to provide high handicappers with more enjoyment on the course.
Features
The whole iron set is oversized, which for golfers who struggle with distance and accuracy means an increased possibility to finally see the ball reaching further. The key technology from the original Baffler was also utilized in these women's golf irons with many upgraded elements. What you can see are the rails on the sole which allow better turf interaction. The E9 Face Technology ™ delivers variable face thickness that progresses from short to long irons, intended to bring more distance even on off-center hits. The center of gravity is positioned low because of the 20g tungsten weighting which is positioned low and back to deliver higher launch trajectories and high MOI. The graphite shaft with ladies flex and Lampkin grip complete the overall playability of these irons.
Cost and Value
Even though this upgraded Baffler version isn't very recent, thanks to the superb game-improvement technology integrated into the irons, they are still one of the best ladies golf irons. They allow any woman golfer who is either beginner or looks for an easier way to get the ball high in the air to spend productive time on the course without feeling that she wasted her time there. The price it has now is way lower than it used to be, but they are still keeping the higher end.
8

. Pinemeadow PGX Single Length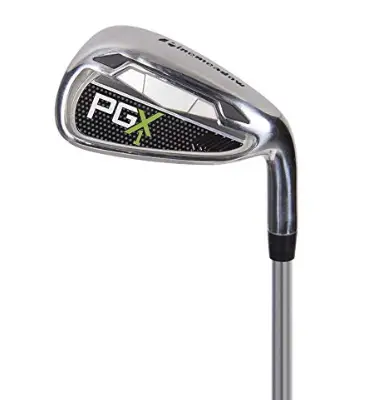 Single-length golf irons for women
There are 7 clubs in the set from 5-iron through the PW and GW
The length, the weight, and the lie angle match those of 7-iron
Balanced center of gravity, wider sole, and massive sweet spot
Much more forgiving and consistent shots
The set doesn't include a sand wedge
Single length clubs are increasing in popularity and even though it is not a new concept, it was revamped right after Cobra launched its first one-length iron set. Partly because of the influence the company has in the golf-industry and partially thanks to the excellent marketing, the demand for one-length irons is growing day by day. However, none of it would have been effective unless these clubs work in the way they are advertised. So, Pinemeadow decided to follow the trend and they launched their single-length golf irons for women and men to provide maximized enjoyment on the course.
Read more
Performance
We have already discussed the benefits of the single-length irons in this buying guide when we described Cobra F-Max, so we'll just shortly provide the overview. Much research has been carried out about golf irons and the most playable iron from the range. It was proven that it was iron-7 which has been the most favorite of all, so the designers took its length, weight, lie and made all the other irons with the same specifications. This is believed to drastically increase the playability of the irons as golfers keep the same setup for all the clubs. The main performance feature in one-length irons is the ability to bring consistency and more accuracy.
Features
These are all single length clubs that are 36.25" long with a graphite shaft and ladies flex. The whole set includes golf clubs for women starting from 5 to 9 irons including a pitching wedge and a gap wedge. All of the irons feature a balanced center of gravity which enables golfers to hit the ball easily from different lies and turf conditions. These golf irons feature wider sole design for improved turf interaction and the massive sweet spot for more forgiveness.
Cost and Value
Pinemeadow is a company that has been recognized as a budget company with high-quality golf products. Throughout the years its product range has considerably increased and these latest single-length golf irons for women prove that the company is moving forward. And, besides growing in quality, the price range they sell their products is steady, so these women's irons are very reasonably priced and affordable.
9

. PowerBilt Women's EX-550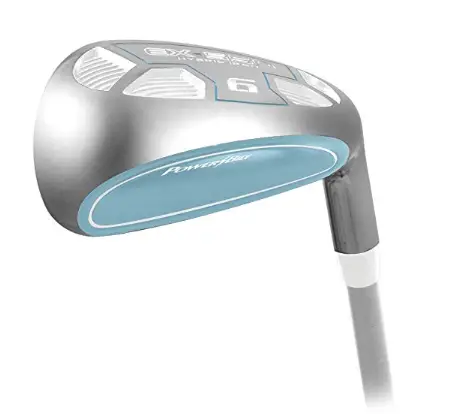 The set of irons for women includes 4-PW (hybrids) and an SW
A progressive sole design which is narrower at short irons and wider with the long irons
Very forgiving on miss-shots
If you feel desperate with your irons, and you are at the verge of giving up, perhaps the best golf irons for you would be an alternative hybrid set that replaces all the irons. This is exactly what the PowerBuilt set is comprised of - a full hybrid set that ranges from 4-iron to 9-iron, including a pitching wedge and a sand wedge. For many golfers, this is the best variety of golf irons for women because hybrid clubs are game stimulating, and they allow you to launch the ball high in the air.
Read more
Performance
These hybrids-irons will finally bring your confidence back as they are designed with much larger and more forgiving clubheads than their matching irons. Even if you don't know much about golf, you must be familiar with the fact that hybrids represent a substitute for irons and they combine the looks of the woods with the lofts of the irons. This means that their oversized clubheads extend the chances for a successful hit while the low center of gravity makes it easier for golfers to launch the ball higher.
Features
This is a complete set which is designed for starters and has turned out to be very effective in this regard. All the clubs are characterized with a wide sole design on the long irons and narrower sole on the short irons that deliver more precision and feel. The hollow cavity design allowed the engineers to make the face thinner which creates more flex which creates more distance. The only iron that has kept the traditional design is the sand wedge for more control on the greens.
Cost and Value
Not only are they easy to play but they are the most inexpensive women's golf irons on our list. If you are experiencing issues with your irons then this might be the solution to your problem for good.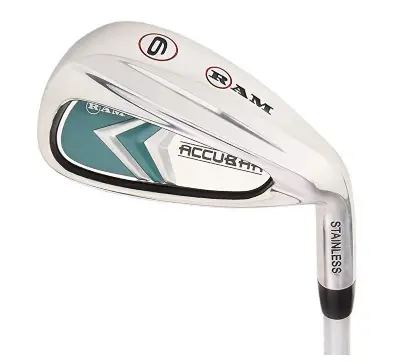 Premium golf irons for women set engineered with game-improvement technology
The set includes 5-PW irons and 24 and 17 degrees hybrids
Made from stainless steel and cavity back design
Very forgiving and consistent
Graphite shafts with lady flex and standard grips
The set doesn't include a sand wedge
Many women golfers have taken up golf for solely relaxational reasons since it is one of the rare sports that isn't overly intensive when it comes to physical activity, it is a sport that engages people socially and it allows you to enjoy the finest of nature. So, its popularity is understandable. Ram Accubaris a set of women's golf irons which is made to allow women golfers to get fully engaged into the game without feeling overwhelmed because of the difficulties that arise from the irons.
Read more
Performance
These irons incorporate the game-improvement technology within their design and allow extreme playability and forgiveness. Their design resembles in a way the design of the hybrids as their oversized clubheads and the lightweight design yield unsurpassed easiness with every shot. You are most likely to see improved distance, high flying trajectory and more control over the ball with the short irons too.
Features
This set of women's golf irons include seven irons ranging from 6-iron through pitching wedge and 24 and 27 degrees hybrids with headcovers. The hybrids, which feature an innovative and easy-to-use design, replace the hard long irons and offer golfers more distance and speed without adding more effort. The irons are lightweight, made from stainless steel and cavity back design with perimeter weighting. This design makes them very forgiving and consistent, so even if the center-shots are your weakest point, with these clubs you will still have the chance to achieve distance and accuracy. The graphite shaft with lady flex even further enhances the playability of the clubs.
Cost and Value
If you are a recreational golfer who is looking for a set of golf irons for women who are designed to meet women's needs and their specific performance demands for a reasonable price tag, this is where your search ends. The total amount of money you'll have to pay for these irons is the amount of a single iron that comes from premium manufacturers.
Criteria Used for Evaluation

Features
Majority of women golfers are characterized with slower swing speed, less overall strength, and weaker grip. In order to overcome these physical obstacles, golf manufacturers have engineered golf irons for women that will particularly meet their needs. There are certain aspects that distinguish them from men's irons, such as:
Lightweight design- since women's natural physique (there are many exceptions though) limits them to achieve as fast shots as men's, one of the preconditions for achieving more successful shots is their lightweight structure. Golf irons for women are made from lighter stainless steel, cavity design, graphite shafts with lady flex that are more lightweight compared to steel ones and feature larger grips.
More forgiveness - the number of women who can swing as powerfully as Leslie Thomson is less than 2% of the total number of women who play golf, so companies have realized that it is more than necessary to engineer their clubs with more forgiveness and larger clubhead design so that all those miss-hits feel like actual hits.
Hybrids- many iron sets for women replace the long irons with hybrids and some manufacturers have included the option of complete replacement of all irons with corresponding hybrids. Hybrids are easier to hit because they are higher-lofted, oversized and more forgiving.

Ease of Use
All those features that we have discussed above are integrated into the clubs design so that they make the whole game much more enjoyable and fun. This means that the iron sets are designed to be particularly easy to play with. When golfers use them they can be confident that with each shot they will get the ball airborne with a considerable speed which will result in more distance. Plus, the fact that they are lightweight will allow golfers to have a certain amount of control over the club so that they can perform well in the short game too. The golf irons for women that we have included on our list are very easy to play and the score next to each model confirms it.

Release Date
When it comes to products that their performance depends on the available technologies that created them, then the release date is of considerable importance. The last decade has been marked with constant new releases as every year we see a new, premium design that moves the boundaries and delivers something new. The release date tells us roughly what we can expect from a certain club since it usually marks an innovative trait which allows for better performance. The score next to each product regarding this criterion designates if the product was released this year, which means it has 100 scores, and the further it goes back in the past the score decreases by one.

Value
We have discussed this criterion many times in other buying guides, and every time we talk about the price of a certain product, we always emphasize the importance of the product worth and the quality it has in relation with the money you pay for it.
The technologies and the innovations that name-brand companies integrate into their golf irons mean higher value and when these are combined with premium performance materials which are very expensive too, you get a highly-priced product.
On the other hand, there are also very good golf irons for women which don't boast all-inclusive tech-packed features, but they do deliver performance and quality which is more than the average standards for a much lower price, so many golfers think they deserve their position among the best.
Frequently Asked Questions
q:

What is the main difference between golf irons for women and men?

a:

Throughout this article, we have mentioned the main differences several times, but shortly, the differences can be seen in the lightweight and more forgiving design of the irons, shorter length and softer flex of the grips.
q:

Can women play with men's irons?

a:

That depends on the women's size. Men's irons are about two inches longer and heavier. If the woman golfer feels that the clubs fit her, there's no reason why she couldn't play with them.
q:

What is the difference between men's and women's grips?

a:

Since the size of men's and women's hands is obviously smaller, then it is expected the grips to be different too. The golf irons for women come with grips that are smaller, thinner and softer.
Subscribe to our Newsletter