Wilson Men's Profile XD Complete Golf Set with Bag
Is golf a sport you've always wanted to try but could never find the right set of clubs to start with? If you are new to this sport, we believe that investing in a good set of beginner golf clubs is very important for several reasons. First, the set that you choose will be the set that you will use for at least the first couple of months to a year until you feel most comfortable before upgrading. Ultimately, you will want to break them in and get used to them so you know what areas you need to focus on. Golf offers many features and you will learn what they are while developing your skills. 
Many professionals recommend that you do this before investing in a set that can run close to, or over a thousand dollars. With that said, you came to the right place because here at Hombre Golf Club, we've done extensive research on a set that we believe would work perfectly for you, Wilson Men's Profile XD Complete Golf Set. This set is one of their most popular options because it is a unique custom fit in a box system. Not only does this set include everything that you need to start off on the right foot, but you don't have to worry about finding all the right individual clubs. 
After extensive research and reading hundreds of reviews from users themselves, we believe that this set is designed for beginners and intermediate golfers. We learned that this set features 13 different custom options from lengths, flexes, lofts, grip sizes, and bags. These options allow users to find the perfect fit for them. It is also available for men, women, seniors, and teens. This is very attractive for many new golfers because like we stated above, everything is included in this set. Therefore, if you are looking to start playing and learning about this amazing sport, this option by Wilson is a great first choice. Continue reading to learn more about this exceptional option!
Pin for later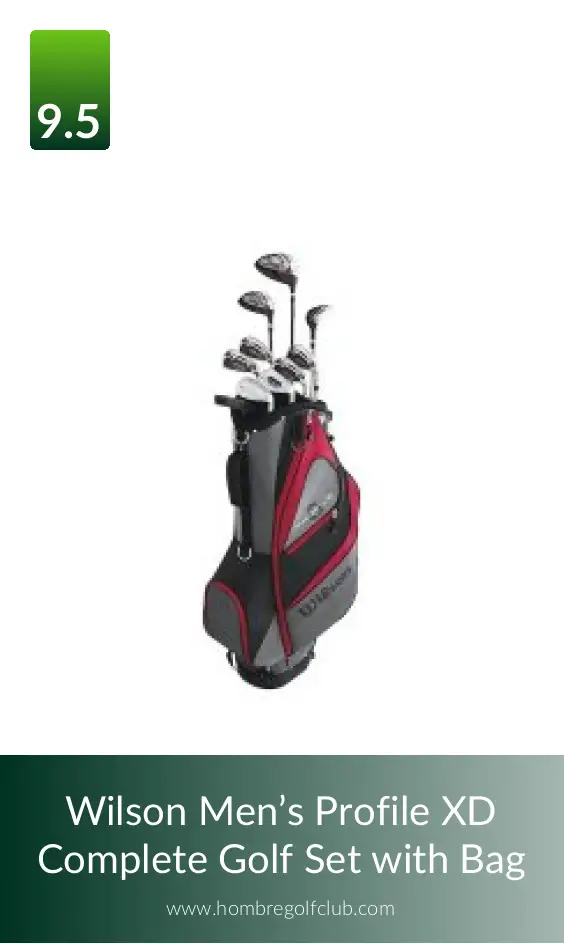 Editor's Pros & Cons
This set is known to improve your overall game with Wilson's advanced technology 
The clubs cavities are designed with depth to assist in accurate swings 
Wilson has focused on control and distance with this set
Custom set of clubs that come in a box
Recommended use for beginners and intermediate golfers
This set includes an exceptionally designed bag that is lightweight and aesthetically pleasing to users
Available for men, women, seniors, and teens
Its price is very affordable
Some users have complained about its overall durability
Headcovers included are not as popular as others on the market 
Subscribe to our Newsletter