Ten Best Wilson Clubs Reviewed
last updated:
Sep 17, 2019
The game of golf is at its full-blown popularity and more and more players decide to take up this game as their featured dedication to keep a healthy lifestyle and to be in line with modern trends. There are so many reasons why the game has gained in popularity over the last 20 years, and it is at its peak nowadays.
Due to rise of golf, everybody is looking for the right golf gear and Wilson golf clubs are definitely up there in the top spots.
If you're looking for the right Wilson golf set, scroll down below to find detailed reviews!
This is the best product on our list that is currently in stock: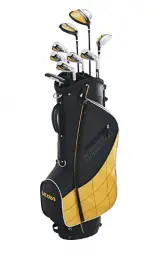 Ultra Complete Package Set, 2017 Edition
Why is it better?
High-quality stand bag with many pockets and dividers
Clubs that provide greater performance
Irons with lower center of gravity
Alignment putter that makes the aiming easier
In a
Hurry? Editors choice: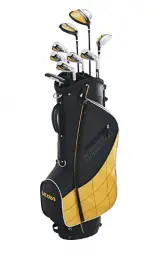 Test Winner: Ultra Complete Package Set, 2017 Edition

25
Researched Sources
1000
Reviews Considered
15
Hours Researching
20
Products Evaluated
Value
Advanced Features
Durability
Effectiveness
By Default
Top 10 Picks
1

. Profile XD Complete Set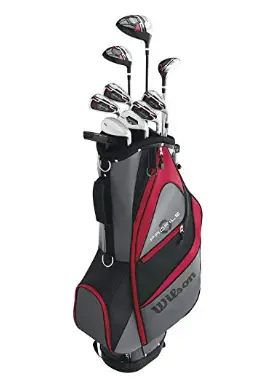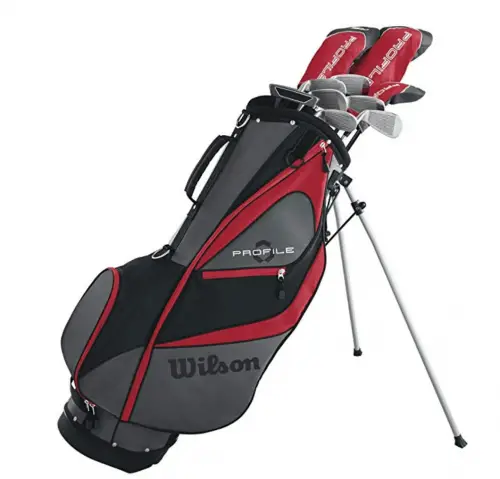 Customized fit to match individual golfer's needs
The set includes a stand/carry bag and ten clubs
Designed to improve you game and your swings
Some buyers have reported quality control issues
We are starting our list with the most popular and one-of-a-kind set that is currently being sold. It belongs to the line of products that Wilson offers to customize your fit and select the length that will best suit your size and your needs. They have even developed a male and female version of the sets and adopted them for the individual needs of the golfers. This Wilson golf club set is the man's version of the offer and bellow we will also represent the female's one. This line of sets features technology that is developed to improve the game in terms of length and distance and enable golfers to achieve better scoring.
Read more
Set Details
The set is called Profile Package Set which offers 13 options for you to chose from in terms of the length of the shafts, the flexes, the lofts and the sizes of the grip in order to fit different golfers' needs and match their individual physical characteristics. These sets are available for men, women, seniors, and teens. Each set includes a driver, number 5 fairway wood, hybrid number 5, three irons number 6,7,8, 9 and a pitching wedge, a putter and a sand wedge. The clubs come in a well-designed stand bag that has extra pockets for your extras and a strap to be carried around. There are three covers for the three most important heads.
Clubs Performance Features
These clubs have improved design and technology and are specially engineered to enhance the speed of the swings. The aggressive design is particularly made to help golfers better focus on the distance the shot is aimed at and to achieve increased control over it. The irons are made of steel and feature deep cavity which is an important feature to improve the accuracy of the shots. The clubs' shafts are made of graphite which is an excellent choice for golfers who don't really have fast swings. All the clubs in this set exhibit semi-pro look and behave as such, so they make an excellent choice for moderate golfers who spend hit the course several times a month.

Cost and Value
Many buyers say that this set is one of the greatest sets suitable for golfers who are not considered to be pros, but who frequently hit the course. It includes every club that a golfer might need on the course. Besides that, you can choose the length and the size preferences of the elements to suit your needs. As some customers say, this set is even underprized regarding the quality it offers. It is definitely an excellent value for your money.
2

. Ultra Complete Package Set, 2017 Edition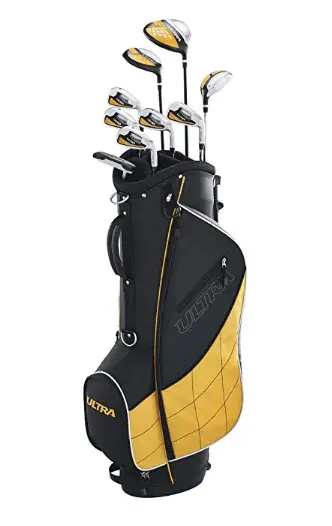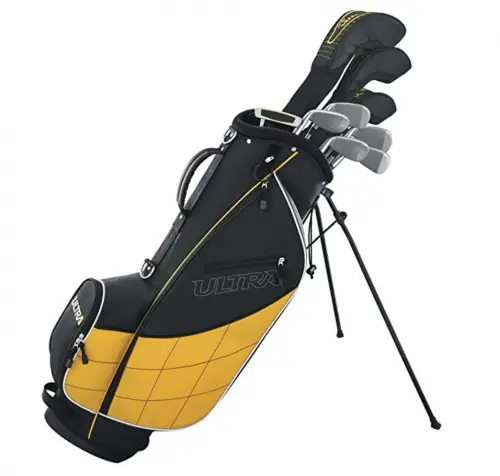 High-quality stand bag with many pockets and dividers
Clubs that provide greater performance
Irons with lower center of gravity
Alignment putter that makes the aiming easier
The set lacks a sand wedge
The second on our list is one of the most popular and up-to-date beginners set that novices can benefit from. It can be fairly difficult when you are a beginner golfer to decide what would be the best set and what to focus on, however, if you have already determined that golf is the activity that you'll dedicate to than this is an excellent starting set. Wilson is also popular among budget players since they have excellent set offers for fairly affordable price.
Read more
Set Details
This set includes everything a starter would need and some plus too. The set comprises of a high-quality bag that has six dividers and plenty of additional storage space and pockets to better organize your stuff. It is actually a stand bag that is of great quality and ergonomic design. With the bag you get a driver, a fairway wood, four hybrid irons sizes 6,7,8 and 9, there is also a pitching wedge, a heel/toe putter and three headcovers for the driver, the wood and the covers.
Clubs Performance Features
There have been several improvements to the overall design when it comes to beginner clubs. The irons feature much larger sweet spots having perimeter weighting which allows better performance even if the hits are off-center. The driver is a large Titanium matrix 460cc that has a lower center of gravity and hot face to make the ball easily airborne. The putter has a soft grip and an alignment to improve the aim and the distance of the ball. The shafts are graphite shafts and lightweight providing greater speed of the ball which is especially important for those with lower speed. The only drawback is the absence of the sand wedge, but regarding the quality of the other clubs, it is all in all excellent offer.
Cost and Value
This is an excellent beginner set that will make you love the game even more. The club heads are designed to provide increased performance by creating larger forgiveness area and lower center of gravity, suitable for beginners. Plus, many satisfied buyers claim that it is an excellent choice for the money you pay since it is extra affordable.
3

. Ultra Complete Package Set, Standard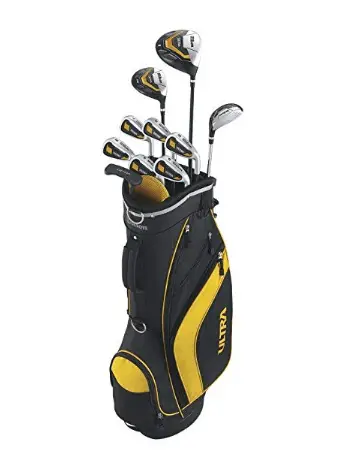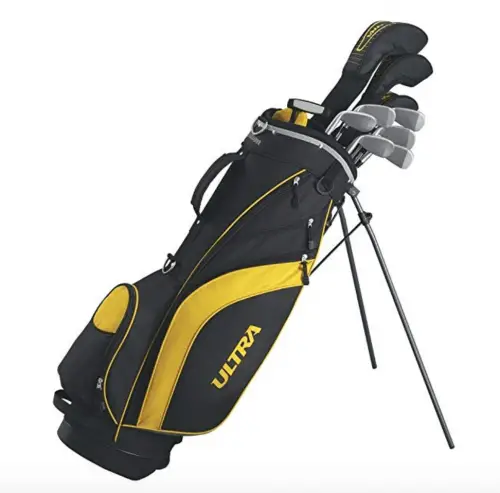 Excellent stand/carry bag that provides you with a lot of space for your extras
Includes everything that you need for a good game of golf
There are three head covers
Decent quality
If you are a golfer that is returning to the course after a long break or if you are a serious beginner who shows preferences to advance in the game, this set is made just for you. It comes with a complete set of clubs and a stand bag that can be carried as well. It will enhance the achievement due to the quality of the club heads and the greater forgiveness area to accommodate you better. This set is excellent to develop your style of playing and to learn all the aspects of the game.
Read more
Set Details
It is a very compact set that includes everything you need to excel in your game. The set comprises of a stand bag that can be carried on stripes with an auto stand. The bag is lightweight featuring many pockets to store your things and ergonomic stripes to allow better transfer of the weight. The bag comes with ten clubs that are made with a greater area of sweet spots and higher chances of getting the ball high. So, inside the bag, you will find a driver, 3 fairway wood, five irons numbered 5, 6, 7, 8, 9, and the pitching wedge and a putter.
Clubs Performance Features
This is a well-made set designed to meet the needs of beginner golfers or moderate golfers. The shafts are made of steel which might be more difficult to play with, especially if you are a beginner with slow swing speed. However, they will develop your sense of how well you hit the ball and the way you control your tempo. Besides this, the driver's shafts are graphite and some find this as an advantage, but others consider it to be a drawback. Regardless of this fact, they all have a large forgiving area and will help you develop more consistent shots in the long run. The pitching wedge is the most favorite among the buyers claiming that it has an excellent loft and helps you succeed to reach your score. Yet, the pitching wedge is the only lowest lofted club, so after I while you might need to get yourself a sand wedge which is not included in the set.
Cost and Value
As this is considered to be beginners set, it does an excellent job of providing the basics of the game and for learning and training purposes. It will help you obtain consistent shots and master the tricks and tips of the game. For the purpose it has, the compactness of the clubs and the excellent quality of the bag, the price is more than affordable.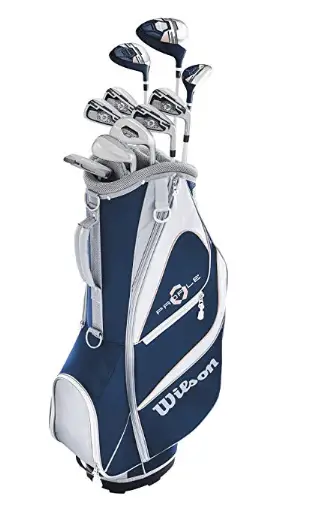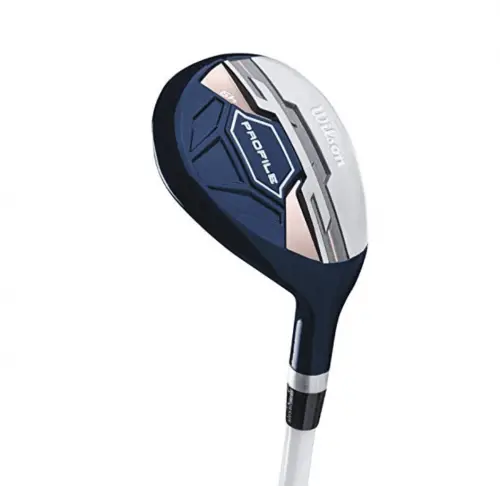 Personally customizable set
Improved technology for
improved and long-distanced shots
Includes 10 clubs
Excellent seven-way top bag with many additional pockets
The bag is only a single-strap carry bag
The first set that we introduced was the customized line of clubs made for man. This set belongs to the same line of products, but it is specially designed for women's needs. As with the previous model, it allows you to select from 13 options regarding the length, the lofts the sizes of the grips and the flexes. It is an excellent opportunity for moderate golfers or golfers who are seriously starting to get engaged in golf. Let's take a look at what features this set boast about.
Read more
Set Details
As we previously mentioned this set is part of the line of sets that offer a customized approach to individually selecting lengths and sizes of the clubs to fit personal characteristics. Wilson has decided that one size can't fit all so they offered this unique possibility of customization. Regardless of your preferences, the set includes a fairway, a hybrid, six through nine irons and a pitching wedge, a driver and a sand wedge, including three covers for the driver, the wedge and the hybrid. They are fitted in a very stylish and modern single strap carry bag which has an ergonomic design and beautiful color choices. The bag features seven-way top and several roomy pockets excellent for storing your extras.
Clubs Performance Features
The clubs are of high quality and are particularly designed for women who are recreational players but who appreciate good quality and design. The driver is oversized and has broader forgiving area and larger sweet spots. The power weighting technology enables achieving longer distance, and this refers to the hybrid too which launches the ball with a higher trajectory. The irons are made of stainless steel and they feature much greater perimeter weighting and in addition to the huge sweet spot, these clubs become more forgiving and much more powerful. For the short game, the pitching wedge is strengthened with the spin technology so your performance will be improved. The blade putter will help you easily align the ball and achieve greater accuracy. The last club is the sand wedge that has low weighting design and very wide sole which are a great help when the ball is in the bunkers. The grips are softer and the shafts are flex, designed especially for women.
Cost and Value
This women's set represents a mixture of excellent quality and design together with great functionality and performance. It will provide you with professional experience for a price that is three times cheaper than the Pro sets. You get more than you pay for, at least that is what customers think about it.
5

. Profile XD Complete Teen Set, 2017 edition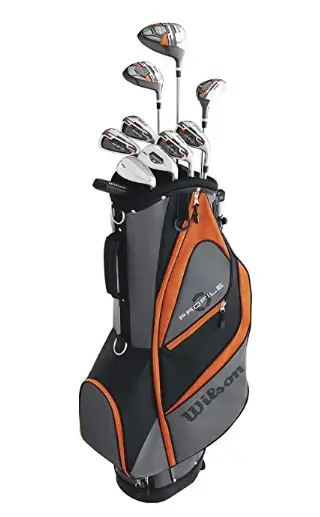 Features the latest game improvement technology
Specially designed for teenagers
Greater sweet spots and larger forgiveness area
Stylish carry and stand bag
Some buyers reported denting of the driver
Teenagers have some very specific requirements when it comes to golf equipment because they can't really benefit from the junior sets, but have hard times using adult sets. Due to this, Wilson developed specific line of golf clubs intended to meet teenagers' needs. This line of products comes from the same production line that we have previously introduced and which features game improvement technology. It is designed for keen players who approach the game seriously.
Read more
Set Details
The elements in this set can be selected in accordance to the height and the size of teenagers, especially when it comes to grips and fixes they need to be adopted in accordance with their physical characteristics and their swing. The set includes a driver, four irons number 6,7,8,9, a hybrid number 5, fairway wood number 5, a pitching wedge, a putter and a sand wedge. They are all well sat in a stylishly designed stand/carry bag that has many pockets and a stand mechanism that is self-activating. The set includes three headcovers for the driver, the wedge and the hybrid.
Clubs Performance Features
All the clubs in this set are designed to increase the level of performance and improve the scoring results. The driver is oversized allowing for greater forgiveness area, as well as the irons too. They have a lower point of gravitation which makes the ball easily raised in the air which means greater trajectory too. The sweet spot is much larger compared to ordinary ones which make the ball contact more effective. The pitching wedge features improved spin technology for enhanced shots and the blade putter allows the ball to be aligned easily to increase the putting accuracy.
Cost and Value
This semi-pro set is intended for teenagers who are keen players but still not too fast to invest in a professional and much more expensive set of clubs. This is a very affordable option which provides them with every piece of equipment that a golfer might need.
6

. Unisex Profile XD Senior Set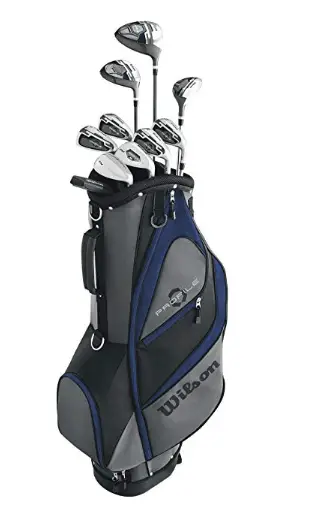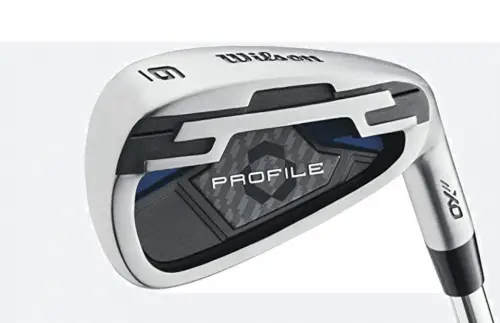 Full-set of 10 clubs and a cart bag
The set features customized fit for seniors' needs
Improved distance technology allows for longer distance shots, and larger forgiveness area
The bag does not include a stand mechanism
This set is made for senior golfers and even though it belongs to the same technologically featured production line as some of the previous models that we mentioned, the clubs made for this set are for a senior standard level featuring some additional specifications. The physical properties of seniors and their swing characteristics were taken into consideration when this set was designed and because of this fact, all the shafts feature flex graphite material.
Read more
Set details
This set is intended for both, man and women senior players who hit the course rather regularly. The Wilson golf club set includes a nice looking cart bag which unfortunately does not have a stand mechanism. However, it does provide a place for storing many accessories and comes with a single padded strap. There is enough space for all the clubs and even some more. The bag includes irons number 6,7, 8,9 and a hybrid number 5, fairway wood number 5, a driver, a pitching wedge, a putter, and three head covers. Since this set can also be customized, seniors can adopt the size and the length of the shafts, the grip, bags, and lofts to fit their personal preferences. The set is made appropriate for seniors in the sense that the grips are made larger in diameter, the shafts are made of flex graphite and the bag is very lightweight.
Clubs Performance Features
These clubs are manufactured by the latest Wilson power weighting technology developed to improve the distance and the swing. Such great improvement has been made to the driver which is made of forged Titanium composite which features improved distance and larger forgiveness area. The fairway wood features a lower weight with a stronger loft which means that it can be used for fairway and rough shots. The hybrid has improved launch technology, stronger head and that makes it dominant over long irons. The irons are made of stainless steel that have extra strong perimeter weighting and thus they have a larger sweet spot for greater forgiveness. The pitching wedge also features improved spin technology that will provide for a better score on the green and the sand wedge has a very wide sole appropriate for bunker balls. The putter has heel/toe weighting and it has easy-to-align point which is intended to increase the accuracy in the putting stroke.
Cost and Value
This is a decent set of clubs designed to meet the needs of regular senior players without exposing them to an immense financial burden. The clubs are well made and function in accordance with the description. They might not be for some very experienced and top player golfers but they do provide extra quality for the price tag they have.
7

. Deep Red Tour Complete Set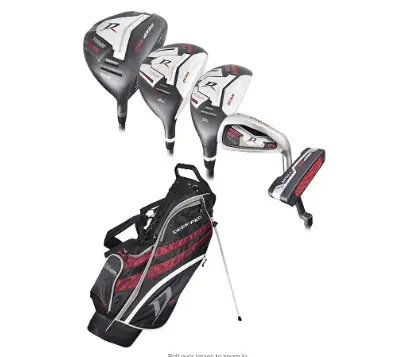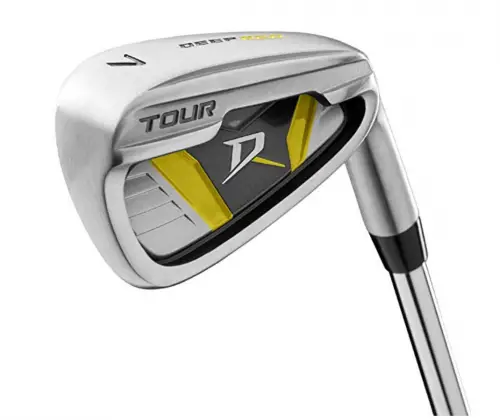 Top-line set with premium features
All-inclusive set with all clubs for various occasions
High-quality and sturdy stand/carry bag with many extra pockets
More expensive compared with the others
If you are looking for a complete set but you don't want to spend thousands of dollars on a top-line set, then this could be the best choice for you. The set features excellent performance features and all those bells and whistles that characterize top-notch professional sets. In addition to this, you will have the expert feel with these clubs too.
Read more
Set Details
The complete set includes a premium cart bag that features seven-way top divider, it is sturdy and of high quality featuring extra pockets to store additional items. Together with the cart, you get the complete master set of a driver, a fairway wood, a hybrid, 6W irons, sand wedge, and a putter, together with headcovers for the driver and the hybrids. The set comes equipped with a head cover to protect your clubs from a sudden splash of rain.
Clubs Performance Features
As this is a premium set, it includes all the clubs needed for every occasion. To start with the Titanium driver with a large face that features a larger sweet spot for greater forgiveness, then there is the fairway wood with a lower center of gravity for higher balls. The hybrid included in this set functions as a replacement of the long irons in order to provide greater accuracy from distance. The 6-W irons are made of stainless steel and are perimeter weighted and when it comes to increased accuracy on the green the pitching wedge will be the best option. The sand wedge is excellent for bunker hits and the last club included in this set is the alignment putter that provides a greater number of successful putts. All the clubs feature weather grips which are suitable for all weather conditions and the shafts are made of graphite for a faster swing.
Cost and Value
If we compare this set with the others on the list we can easily notice that this one excels in its quality, design and advanced premium technology. Even though this is not a complete pro set it acts as such and will give you the satisfaction to feel like a master on the course. It is more expensive compared to the other ones, however, it is more advanced too.
8

. Profile Complete Junior Set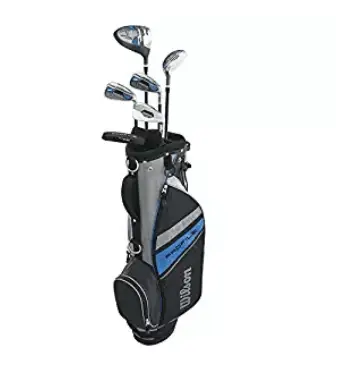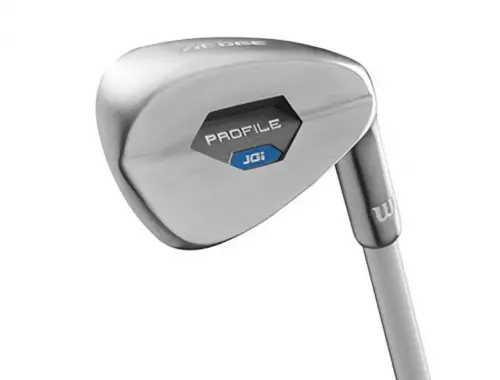 Customized set regarding the length and the weight of the shafts
Lightweight stand/carry bag
Clubs provide larger sweeet spots for greater forgiveness
Some buyers reported shaft breaking issues
Wilson is not only popular among adult players, but it is also among the leaders in children's equipment and sets. Since the purpose of this guide is to represent the best sets made by Wilson we wouldn't like to miss the opportunity to include something for young players that might find this recommendation helpful. So, the set is made by the latest performance improvement technology that is dedicated to providing the most of everything for as little as possible.
Read more
Set Details
This set will surely provide the children with the feeling of being into the professional side of the game. Even though it is intended for young children aged 11-14, it includes serious equipment designed for children to feel like pros. The set includes a very stylish and of a high-quality bag that has a stand mechanism and a single strap to be easily carried. It is surprisingly lightweight and children have no problems carrying it. It comes with a driver, long and short iron, a wedge, a putter and head covers.
Clubs Performance Features
This set can be also customized in terms of sizes and length of clubs elements. It is true that if the equipment doesn't match children physical characteristics they won't enjoy the game in a proper manner and the level of performance and satisfaction will drop. Everything in this set is designed for a young player, including the flex of the shaft, the club weight, even the diameter of the grips. The heads are made with low CG to provide for higher and easily airborne balls with longer distance allowing for larger sweet zone and forgiveness. With this set children will have plenty of time and room to get into golf.
Cost and Value
This is a beginner set for children who are getting into more serious beginner level and who are curious and eager enough to continue with the game. It is inexpensive and it won't be a financial burden upon you. For the money you pay, you to get an excellent set.
9

. Ultra Complete Package Set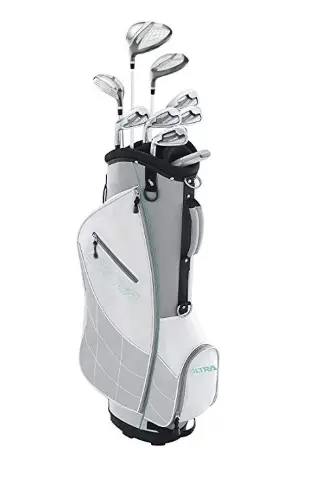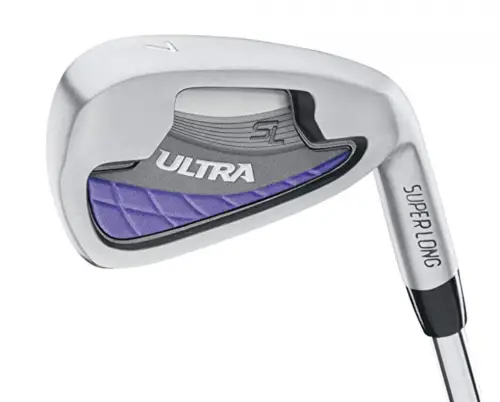 Good value for the money you pay
Excellent set for beginner
golfers who want to have decent clubs
Stylish one strapped cart bag
The set doesn't include a sand wedge
So, as the name itself implies, this is a women's set that includes everything you need for a good round the game. It is made for those who need a longer length of the shafts and you can choose both, left or right orientation. It comes with a nice, sturdy cart bag that can be also carried. There are several color choices that you can choose from regarding this model, so make sure you indicate the right color for you. It is not a pro set, it can suit well random players or beginners who want to seriously dedicate to the game.
Read more
Set Details
This set comes with a stylish cart bag that is equipped with many zippered pockets and which is sturdy enough to provide reliable storage for everything you might need. There is a single strap that can be attached to the bag so that you can carry it. Inside the bag, you will find a driver with a head cover, a fairway wood with a head cover, irons ranging numbers from 6 to 9, a pitching wedge, a putter and a hybrid with a head cover. Since this is a beginner set it does not include a sand wedge because it is rarely used by beginners.
Clubs Performance Features
The driver is made of steel with a graphite shaft for more distanced hits, especially if the golfer has slower swing speed to help her increase the performance. The fairway wood is made of steel too featuring steel-made head and lower weighting. The irons are also made of steel guaranteeing longer durability and featuring a large sweet spot for greater forgiveness. The hybrid is number 4 and it has a steel shaft for a better insight of the golfers' performance and better feel. The putter is a mallet type putter featuring steel shaft. The Wilson golf club set comes assembled and it can be instantly used.
Cost and Value
This set is very reasonably priced one, and it is among the most favorite women's beginners set. In case you are not sure if you are going to consistently hit the course but still want a decent set that will provide you with all the benefits of playing a good game whenever you feel up to it.
10

. HyperSpeed Complete Standard Set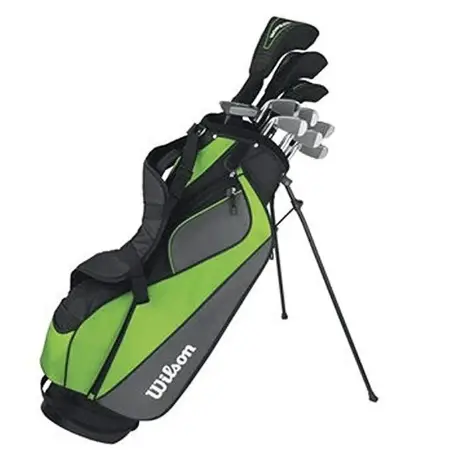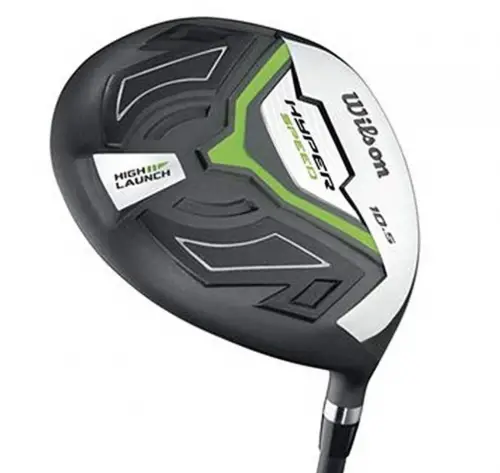 Carefully made to meet beginner golfers' needs
The stand bag is of an excellent quality and offers room for much more to add inside
The clubs are designed to enhance golfers' perform
The set doesn't include sand wedge
We are closing this list with another functional set that is very popular among golfers who are new to the game, but who approach the game eagerly and with a lot of dedication. The clubs are thus designed to increase the speed of the swing and to increase the level of satisfaction and motivation that the players have. The set includes all the clubs that are needed for complete play and a stand bag.
Read more
Set Details
The purpose of this set is to introduce novices to the game and to provide the best possible outcome out of it. When you are a beginner, you need reliable equipment more than anything because it is during those moments when the initial spark is created and you develop a desire and motivation to proceed with the game. This set is designed to help you achieve a better score in a much easier way than any other set. It includes everything you need, except for the sand wedge. However, don't get taken aback, that is a club that requires skill and experience to be used, so you won't be needing it for sure.
Clubs Performance Features
We have already mentioned that Wilson golf club sets are popular among beginners due to the fact that their golf clubs have a much larger sweet spot and with this, you'll get greater forgiveness. In other words, the clubs will contribute towards successfully getting the ball airborne and achieve greater distance. and a better swing. The driver features high-speed launch performance, the hybrid has a steel shaft that can help you get sensitive to your shots speed and strength, the 5 through PW irons are designed with the lower center of gravity for increased achievement and the putter has weighted head and alignment for increased accuracy.
Cost and Value
Being among the latest sets that this company has offered on the market, it boasts with high quality and durability of its elements. The bag is ample enough to allow you to store extra items and even clubs, the headcovers match the set and the clubs are durable and made to enhance your performance. On top of it, it is a very reasonably priced piece of equipment.
Criteria Used for Evaluation

Value
Wilson is known to offer good quality products for a good price and that is an aspect that we definitely observed when we considered the sets. The price can vary drastically from set to another due to many different factors, such as the consistency and the materials used in their production, the number of clubs used in the sets, the implemented technology, the sophistication of each set and the quality and type of the bag. Nevertheless, even the cheapest set on this list can boast of its quality and performance.

Advanced Features
This is the core of each club set and the crucial factor whether we are talking about a good one or a low-performance one. There are various clubs for different aspects of the game and the more you have each specific for the purpose club, the higher are the chances to score higher. So let's go deeper and see what we can expect, broadly speaking from each different type of a club.
Drivers– they are the clubs the enable you to score better in the longer part of the game and a good driver is made of titanium 460 ccs with a low center of gravity for longer distance and higher trajectory. The best drivers can be adjusted too and their shafts are mainly made of flex graphite for an improved swing.
Fairway Woods – the woods usually launch the ball from the fairway and in these sets, they have been made with the lower center of gravity so that launching of the ball is more accurate and effective
Hybrids– since hybrids combine the best of long irons and woods. They are intended for long shots from the rough and any time the golfer considers using a long iron but doesn't feel comfortable to use any of them. The hybrids used in these sets are with a larger head that allows for greater forgiveness.
Irons– These sets include mid-irons and usually start from number 5 to 9. The irons in these sets are designed with larger sweet spots that offer greater forgiving for off-center shots. The irons are made of steel with a deep cavity designed to transfer the weight low and back and thus to increase accuracy.
Sand wedge– this is one of the clubs that many golf sets lack due to its limited use. As it is used for balls that are in bunkers, it can be often replaced by the wedge. However, the best sets undoubtedly include this one to
Pitching wedge-they are used for shorter, but higher shots with a little backspin. The pitching wedges that are offered here are of high quality and of low CG.
Putters– there are commonly three types of putters, mallet, semi-mallet and blade putters and the basic purpose of the putters is to put the ball in the hole, .i.e. they need to enhance the accuracy.

Durability
It wouldn't make much sense to include products that fail to meet these criteria. When we talk about durability we mean the length of the time the set will be used and the conditions of the set within that period of time. So we expect that the sets are likely to last for many seasons without any significant damages besides the expected wear and tear. This durability is closed tight to the quality of the materials and their resistance to impacts. When it comes to clubs, the materials of high quality would include titanium, steel, graphite, and wood. Regarding the bag, it is usually a reinforced and double stitched type of fabrics resistant to wear and tear.

Effectiveness
Many sets distinguish solely on the items they provide in the set. There are sets that include about 8 items (usually children's sets) to the most inclusive sets that feature up to 15 items. An all-inclusive set would be the set that has ten clubs, a cart or a stand bag and three head covers. There are premium sets that feature an additional rain hood which would be the fifteenth element in the set. So, the more all-inclusive the set is, the better the rating of the product and the higher the chances are for you to perform better.
Expert Interviews & Opinions
Most Important Criteria
(According to our experts opinion)
Experts Opinion
Editors Opinion
Users Opinion
By Default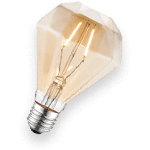 Longevity
Everything depends on the circumstances, but in case the set is optimized within the normal ranges of frequency, it is supposed to last for about 3 to 4 years before considering a replacement.
features
All bags are different and feature different accessories. However, only a few of them provide this feature. For a specific model, please refer to the specifications provided by the manufacturers.
Other Factors to Consider

Bottom Line
The interest of the game spread contagiously around drawing not only men and women of different age groups and social statuses, but also young children that eagerly have been showing their potential ever since. The increased popularity led to more advanced courses, developed innovative technologies which started producing innovative equipment and gear that is focused on inventing better conditions for better swings.
Indeed, this game is all about advancement and sophistication in performance. Thus many companies set their foot in golf gear, equipment and apparel to provide enhanced product offer. Among the companies that stand firmly as one of the best is Wilson, a company that is well-reputed and much preferred on the course. The reasons for this might lay in the fact that this company creates very durable and high-quality equipment for a reasonable price and make the golfing experience affordable adventure for everyone without posing any prejudices
Frequently Asked Questions
q:

How long is a set supposed to last when used normally?

a:

Everything depends on the circumstances, but in case the set is optimized within the normal ranges of frequency, it is supposed to last for about 3 to 4 years before considering a replacement.
q:

Some sets exclude sand wedges for beginners. Is that a very big drawback?

a:

Mainly no, since sand wedges are needed for bunker balls that require advanced skills and precision. That's the reason why they are absent from some beginner sets.
q:

I am a returning golfer with inactivity for about 15 years. I have decided to return on the course, so I was wondering if I should use my old clubs or buy new ones. What is your recommendation?

a:

No sport has shown such great improvement and advancement as the game of golf when it comes to equipment and technology. There have been made many improvements to clubs as well which provide great enhancement in performance, so it is highly recommended to get yourself new ones.
Subscribe to our Newsletter