Under Armour Storm Contender Backpack
There are a lot of things you should consider when obtaining a new backpack. How often will you be using it? But overall, the main focus should be on what its sole purpose will be. What will it's primary purpose be? Will you use it for everyday use like work or golfing? Or will you use it for more active purposes? Deciding this is essential in understanding what you have to have in your new backpack and which areas (like durability or storage) are essential.
If it's for outdoor uses, like golfing or trekking, then having a bag which is water resistant will be an added bonus in sudden downpours of rain. If it's for your day-to-day life, then you need lots of smart storage. If you're searching for a product that will transition between different uses and purposes, then this may be the piece for you.
Under Armour's Storm Contender Backpack has a sleek and sports luxe style that most people will find irresistible. It's overall form and structure has been adapted to better suit people who need it for everyday purposes, such as work, traveling and exercising. Its simple but smart design means its the perfect backpack for transitional use and promises to take you from the office to the golf course in no time at all!
While the Storm Contender is not a hundred percent waterproof, it does prove itself to be a vital must have in your life.
This backpack has been made to provide you with lots of essential storage thanks to its many useful compartments. With a small selection of colors to choose from, you'll find something that will coordinate with your daily style and fashion preferences. It will be your new go-to backpack. These are a few of the many reasons why the Storm Contender is a real contender for your new backpack!
Pin for later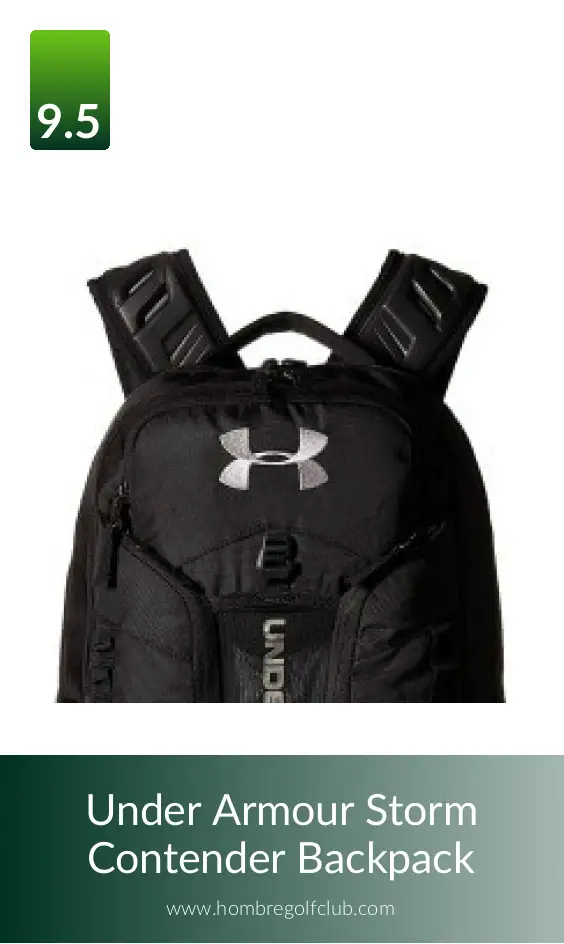 Editor's Pros & Cons
With the numerous sections located all around the backpack, it offers smart and essential storage ideal for everyday use and serves well as an overnight back.
Weightless and compact, which means its perfect for outdoor activities like hiking and golfing.
The front loops are ideal for storing things like lanterns, umbrellas and other essentials that need to be easily accessed.
The padded and adjustable straps add an extra layer of comfort that can be adapted to fit your body more effectively.
Because it only repels water and isn't 100% waterproof, you should avoid using it in places where it will become soaked with water.
Aesthetic
A backpack has to be functional, this is its primary purpose, but of course, it has to look good too. After all, it may have every solution to your storage needs but if it's not to your taste you'll be more reluctant to buy it or even wear it.
Thankfully the Storm Contender's aesthetics are not an issue here. With a decent selection of different colors to pick, this bag is a truly stylish addition to your
wardrobe
and everyday style. Whether you're simply in need of a black backpack, or a pop of color while on the golf course, there is a verity of choices for you to pick from.
The designers have given this bag a trendy athletic aesthetic alongside an overall minimalist structure. But despite its sporty style notes, it is still a top pick for a work and college backpack.
As mentioned previously, this bag has plenty of useful compartments for you to use, including mesh side slots, which are excellent for carrying bottles or anything you need quick access to. Dimensions of this bag are 19'' x 13'' x 10'". Its compact size means that it is ideal for an overnight back, as well as handling any day-to-day essentials you may have with you.
Thanks to this remarkable piece, you'll be ready for practically anything.
Purpose
So the Storm Contenders looks great, but does it hold up when in use?
As we've mentioned beforehand, this
backpack
isn't designed for some outdoor pursuits. It won't perform well during a hike in heavy rain, it won't hold all your equipment for a weekend away camping, and it won't work as a heavy duty product. But despite this, it has many useful traits which enable it to perform flawlessly in other aspects.
If you're looking for something that is varied and will serve many different aspects of your life, whether that's for your job, school or a day on the course, then this is for you. This backpack can carry all your daily essentials, gym clothes, snacks and so much more. That's why it's perfect for your day-to-day needs.
Unlike other backpacks, this piece doesn't have a headphone port, which may be a downside for some would-be wearers.
The front loops allow you to attach different tools onto it, like torches, lanterns, ropes, a compass, anything you may need quick and easy access to really. This bag is not ideal for certain activities, its weightless feel means that this piece is perfect for other lightweight ventures.
With lots of internal and external compartments, storage and space is not a problem. It's a top pick for anyone wanting to buy a truly transitional backpack. It's ideal for work, play, school and so much more. The possibilities are truly endless with the Storm Contender.
How Comfortable Is It?
How comfortable a
backpack
is also an important thing to consider when buying a new one. Similar to its appearance, if the bag isn't comfortable to wear then you'll simply avoid carrying it, which is especially true if you're intending to wear it during intense moments. Or, planning to fill your bag with textbooks, your laptop, and other bulky items.
Some of the comfiest backpacks available on the market these days are ones that sit close to your chest. This can be achieved by adjusting the bag's straps to adequately fit and support your shape for improved comfort. However, this can be an issue if the backpack doesn't have adjustable straps.
Thankfully, this isn't an issue for the Storm Contender
bag
. Both arm straps and front straps can be adjusted to accommodate your shape, adding an extra layer of comfort while you're wearing it.
Traditionally, bags that fit and feel right are ones that sit near your torso. To get the best fit, the bag needs to closely fit this area of your body, or it should be adjustable in order to achieve a snug feel that supports you. This is even more of a necessity when you have a heavy bag.
This bag is perfect when it comes to mixing aesthetics and comfort.
The arm straps are attached at the top and bottom of the back for a cozy fit that doesn't rub or irritate your neck, an added bonus for wearing it for extended periods or in warmer weather. An additional bonus is that they let you have more freedom and movement while wearing the bag.
Both the straps and the rear of the backpack (which rests against your back) are suitably padded. The quilted back means you'll hardly (if at all) feel your bulkier items press against you, another great feature that wearers will profit from.
Endurance
When you're spending capital on a new
backpack
, you want to be certain that it's a longlasting bag. If you want a bag you can really invest in and rely on then this bag could just the thing for you. It was designed to be an enduring addition to your accessory wardrobe that truly lasts.
Not only durable, but it also offers an abundance of space for your items. No matter if it's for work, school, golfing or the gym, it's perfectly suited for your needs.
As we've mentioned before, this bag isn't
waterproof
, however, it does repel water, which is ideal for tackling an unexpected drizzle or a tiny leak from any liquids you may have inside.
This bag is also ideal for storing lighter necessities like clothes or a spare pair of pumps.
Of course, if you're looking for longlasting endurance, then it would be good to avoid constantly overloading the bag. Packing this bag with heavy and bulky items can decrease its durability, leading to wear and tear, shortening its lifespan.
Across this backpack, there is a vast range of pockets for you to use. All of them work together to optimize internal storage, another perk for wearers with lots of tiny necessities to store.
Storage
Backpacks are there to provide you with optimized storage for your things, that's effectively the name of the game. However, not all backpacks utilize smart storage, leaving you wanting a little more room for all your things.
With the Storm Contender backpack, there is plenty of room for your items without overloading your bag. There is even a handy laptop sleeve within the main compartment which can accommodate a laptop up to 15". There's also plenty of room for your other smaller electronics like a tablet, e-reader and digital notebook within this sleeve if you don't want to utilize it for your laptop.
Because this backpack is multipurpose, it has lots of smart and creative storage anyone will benefit from. Like two side pockets, suitable for water bottles or other essentials you need quick access to, or the mesh compartment located at the front.
The loop straps on the front also provide clever storage for ropes, lanterns, and similar items.
This bag has four sections for you to use, the main safely holds your laptop and electronics with its specialized sleeve. Even when this sleeve is occupied there is still plenty of room for other items within this compartment.
In the second compartment are a few slim pockets, which are suitable for notebooks and similar items. In this section, there is even a key fob, which is perfect for connecting any keys you need easy access to.
The last two compartments are identical and placed at the front of the
bag
. This serves as additional storage for smaller items.
All of these sections work together to separate secure and arrange your things in an ordered manner.
With various pouches and a roomy central compartment for you to utilize, this piece will guarantee your things are secure and organized.
Support
How well a bag supports you, particularly when filled with a few heavy items, is a hallmark of its high quality. A bad backpack will offer no support and could potentially damage your back and posture.

The wide padded straps work to transfer the weight within the bag, this is further helped by the guilting within the straps. Cushioned for additional comfort and support, the straps are non-slip, staying in place for optimized support. The center front strap also helps position the bag correctly while worn, ensuring the bag (unless improperly organized within) stays in place.

The rear of the bag is also padded to prevent your back and spine from being prodded by any bulky items within. This lessens stress on your back and comforts and supports it.
Key Features
Created with a vast range of features, from useful interior storage to handy mesh side pockets, this bag is perfect for safely carrying your essentials. If you're looking for a new backpack, then this is the ideal thing for you.
This backpack holds 34L and can hold a reasonable amount of weight, making it ideal for multipurpose wearing.


Machine Washable


Resilient, abrasion-resistant base paneling prevents damage.


Smooth-lined electronic sleeve, holds a 15" laptop.


Water-repellent fabric protects your items from light rain.


Adjustable and padded straps.


Bottom Line
If you're searching for a new bag which is comfortable to wear while golfing, hiking or during your commute, then look no further than the Storm Contender backpack.

The padded straps are adjustable and hug your shoulders, even after a long day of wearing it at work, school, or while adventuring outside.

With a wide range of colors for you to choose from, you'll find the perfect look to effortlessly match your style. Its many compartments will help you keep your stuff organized with this bag.
Subscribe to our Newsletter