Titleist Flex Golf Glove
Growing up most of us were told that practice makes perfect. While that is largely true in of itself, it's not completely realistic. While you're right to think people who practice harder and more frequently tend to become better at whatever they're doing, there are some exceptions to this. In the golfing world, you can be a relatively talented player, but your performance will lack some polish here and there. This is where your golfing equipment comes into play. Golf manufacturers are constantly updating and redesigning products to ensure they're not only top of the line, but also that they're effective when it comes to giving your performance on the course a little extra shine. Think of these things like the cherry on top of an already fantastic cake.
One of the best products to invest in, if you're a keen golfer, is a good golf glove. They are the ultimate way to help ease and enhance your execution while on the golfing green. Golf gloves work hard to help add some flavor to your performance and also assist you in terms of grip.
But sadly, this crucial piece of golfing equipment is often overlooked by many golfers these days. It's an odd thing to forget about, and while I agree it's in a different league in comparison to golf balls, tees, and clubs, it is still by no means not important to the overall smoothness of the game. So, why shouldn't you spend some time and effort into finding the perfect golf glove for you and your game?
As mentioned, golf gloves help improve your grip of the club, which works to enhance the nature of your golf game, resulting in better performances.
When the quality of your glove is higher, the more efficient it is at preventing blisters, sores and other undesirable side effects of an ill-fitting (or no) glove.
If you want to get a good glove, then you need to understand that it has to be both relaxed but also fitted to your hand. This offers a snug yet comfortable fit. As we previously mentioned, maintaining a firm hold on your club is an essential must, so if you want to be able to do this then you'll need a good glove you trust to do so. They work to effectively aid and enhance your swing. But, sadly with so many golf brands available on the market these days, decided which to go for can feel like a daunting task.
If you're looking for a strong performing golf glove then you should consider the Titleist Flex Golf Glove. Over the past few years, Titleist has become well known for its high-quality products and impressive designs, adding affordable luxury into your golfing equipment and accessories. This product maintains its superior fit and comfort thanks to its use of oh-so-soft synthetic leather and satin reinforcing technology in the cuff and thumb (which also helps enhance tear force).
This glove comes with a large list of features and details which will help assist your performance while on the course. There's little wonder why this product is highly rated by its wearers.
Here are just a few reasons why you should choose the Titleist Flex Golf Glove to defend and alter your swing and grip while on the golfing course.
Pin for later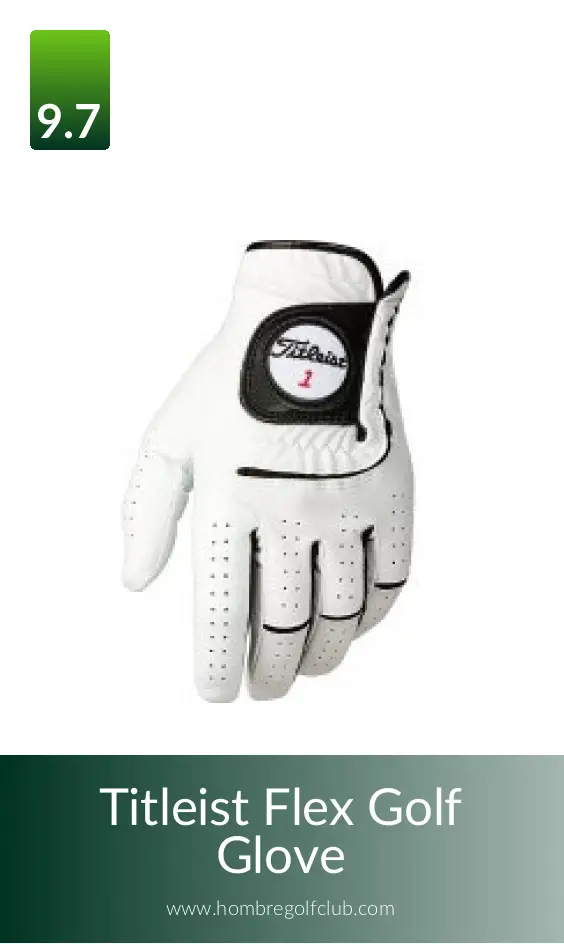 Editor's Pros & Cons
The satin net panels within the golf glove sit comfortably across your knuckles and the rear of your hand for additional comfort, support, and enhanced grip and force.
The upper fabric is resistant to moisture, perfect for sweaty hands or a sudden downpour of rain.
Specially designed to fit your hand comfortably for long periods of time.
This glove offers impressive flexibility, endurance and is breathable just like real leather! This makes it ideal for warm-weather wearing.
No specially molded inserts to assist players with issues like arthritis, so if you struggle with this issue then you may want to look at other gloves.
Aesthetics
The primary purpose of golf
gloves
is to enhance your grip and provide a certain level of comfort. They need to be ergonomic in order to be truly effective. However, this doesn't mean how they look won't influence your decision to purchase them. After all, these gloves could have the best features available on the market, but if they don't look the part you won't consider them an option.
As we've mentioned previously, golf gloves are there to improve your grip on the club, to enhance your overall performance and influence your swing force. So, there's little wonder why the creative minds at Titleist put so much time into the design and creation of the Flex Golf
Glove
.
This glove has an understated, yet desirable style appeal, which promises to perfectly blend into your golf wardrobe. If you're looking for a glove with a bit more style or something to help you stand out, then this is not the glove for you. It's true that the Flex
gloves
look practically the same as other golf gloves available on the market, but these
make up
for what they lack in the style department.
These gloves offer unlimited comfort alongside an almost perfect fir (for most players). However, they also work to eliminate common problems some wearers struggle with while golfing, such as grip and overly sweaty hands.
Throughout the glove, you'll find satin lining which increases your strength and grip while wearing them. This also helps prevent the development of unwanted sores and calluses, a common problem for golfers with ill-fitting
gloves
. This satin net section can be found across the back of your hand and towards the cuff.
This design choice also helps you control your hold of the
club
, which in turn helps produce more accurate shots.
The style of this glove has been kept low-key, giving a streamlined and sporty feel to your golfing look, which is perfect for anyone who is looking for an adaptable product to blend in with their wardrobe.
Innovations
Some golf gloves out there are jam-packed with padding and specially molded anatomical inserts which are designed to assist players with certain
grip
related issues. However, more often than not, players who utilize gloves like this tend to complain about the bulky fit and feel of these gloves. While it makes sense that the glove would be bulky (that padding has to go somewhere) it still diminishes the gloves form and feels while being worn.
To get around this the designers of the Flex Golf
Glove
have gone back to basics. Instead of filling it with padding, they've chosen specialized satin netting to help assist grip and enhance comfort all while it sits comfortably within the glove. They've created a thin, practically weightless glove that was designed to fit comfortably on your hand. This means its perfect for wearing over long periods of time, an ideal bonus after you consider the fact that the average golfers spend anywhere between 4-6
hours
on the golf course during each visit.
Not only that but the lack of specialized padding has also assisted the gloves boundless flexibility and breathability. The glove's breathability adds a level of comfort to the wearing experience while offering additional support in warmer conditions.
Not only that, but the glove's location of seams help contribute a solid and sturdy grip on the club. This is also helped with the use of satin reinforcement, which is located at the cuff and thumb for additional strength and durability.
As I've mentioned previously, this glove may not be suitable for wearers with issues with their hands, such as arthritis. However, the soft synthetic
leather
offers an oh-so-soft fit and feel that it's perfect for wearers who have dry, chapped, eczema hands. But aside from this small inconvenience to some potential wearers, the Titleist Flex Golf
Glove
offers unlimited comfort to its wearers.
Care & Maintance
One of the biggest things that affect the overall durability of a product, particularly one made from fabric, is the care and maintenance (namely whether a lot is being put into it). But, the requirement to constantly maintain the condition of a product can also be an indicator of its poor quality. Essentially, if you're having to put in more work than the bare essentials, then it's not really a good product. High-quality products tend to look after themselves more.
If you want to lengthen the life span of your
gloves
, then you will need to put some effort into their care. This is primarily done by ensuring they are clean, dry and regularly washed. Washing can be done with the assistance of certain cleaning products which are currently available on the market, but it can also be done through hand and machine washing. Unlike some golf gloves accessible at the moment, these gloves can be washed both by hand and with the assistance of a washing machine. Because the primary fabric used is not real leather, it offers more durability in terms of washing and cleaning.
Because these gloves have a velcro tab on them, you should avoid washing them with other fabrics or clothes that the velcro can latch onto. Alternatively, wash them in the washing machine inside a sock bag. This allows the gloves to become clean without causing damage to your other garments.
In terms of drying, you should avoid machine drying. If possible hang them up to air dry for a couple of hours for proper and effective drying.
Avoid storing these
gloves
in dark, damp areas too as this will encourage the build-up of nasty bacteria and wipe clean when in contact with dirt, grime, and mud.
Performance
As previously mentioned this glove wasn't designed to be worn by people who require additional support and padding to help with orthopedic issues. But despite this, the end result is still exceptional. This glove has some incredible features, such as the satin netting which offers comfortable support, while the synthetic leather upper ensures breathability that works to assist you in warmer/sweatier conditions. Because these gloves don't rely on relief pads and other forms of padding, it ensures that the gloves maintain impressive flexibility, which is ideal for a strong grip. Overall, Titleist has managed to create a glove is not only comfy to wear but is also strong.
These gloves also work well at preventing sores and blisters in part thanks to its use of buttery soft, yet durable synthetic leather. This really helps defend your hands while enhancing your hold and grip of the club.
The overall adaptability and fit of this glove are exceptional. Not only does it fit the shape of your hands with little issue, but it is one of the thinnest gloves on the market. It has worked well for many different players who want to control the grip of their
club
. Thanks to this glove you'll not only see and improvement in your grip and overall strength but in your comfort and pinch strength too.
Key Features
This is a wonderfully innovative, yet low-key product that promises to become a fast favorite of yours. Whether you'll use it during every trip to the golf course, or just here and there when you need extra support, this glove will consistently impress you. The durable and soft synthetic leather is utterly astounding and serves as the perfect bonus everyone will benefit from.
Not only that, but the sleek and thing structure, alongside its minimal design, offers a stylish, sporty feel many golfers will appreciate.
Key Features


Unique moisture repelling fabric which works to prevent damage and damp.


Leather-look synthetic which is placed at the rear of your hand.


Synthetic material perfectly mimics true leather.


Offers superior comfort and fit each and every time.


Signature satin reinforcement located at the cuff and thumb, this helps enhance tear force.


Bottom Line
In summary, these gloves are high quality yet still and affordable purchase for the average golfer. They're supportive, comfortable to wear, and a top pick for anyone looking to buy a new golf glove! Not only that but they maintain a good grip on your club and full flexibility and breathability too.
Subscribe to our Newsletter