ThinkBaby Sunscreen
Do you plan on spending a few days out of the week or even a few weekends on the golf course this summer? Well one thing for sure, don't forget to pack some sunscreen. You might not think you need it, but even on cloudy days, it is recommended that you use it to protect yourself from the sun's harmful ultraviolet (UV) rays. Research shows that up to 80 percent of the sun's harmful UV rays can still pass through your skin on these not so sunny days.
From our research, we found that these harmful UV rays can potentially cause skin cancer. We also found that the American Academy of Dermatology estimates that one in five Americans can potentially develop skin cancer in their lifetime. With that being said, skin cancer is very serious and can target anyone, no matter your age, race, or gender – everyone AND anyone is at risk.
With all the different options on the market today, it may be overwhelming to decide on which product is the best for you. Well don't worry, we did the footwork and reviewed this highly recommended option by ThinkBaby. As stated by many reviewers, this product is one of the best because it contains an SPF of 50+, is safe to use and will provide maximum coverage when applied correctly. This option is great for everyday use and will give you the peace of mind you are looking for on the golf course. With this product, you know exactly what it is made of versus other options that are very questionable. It is ready to use out of the tube and it can be applied effortlessly. No more having to worry about burning on the course with this product!
Pin for later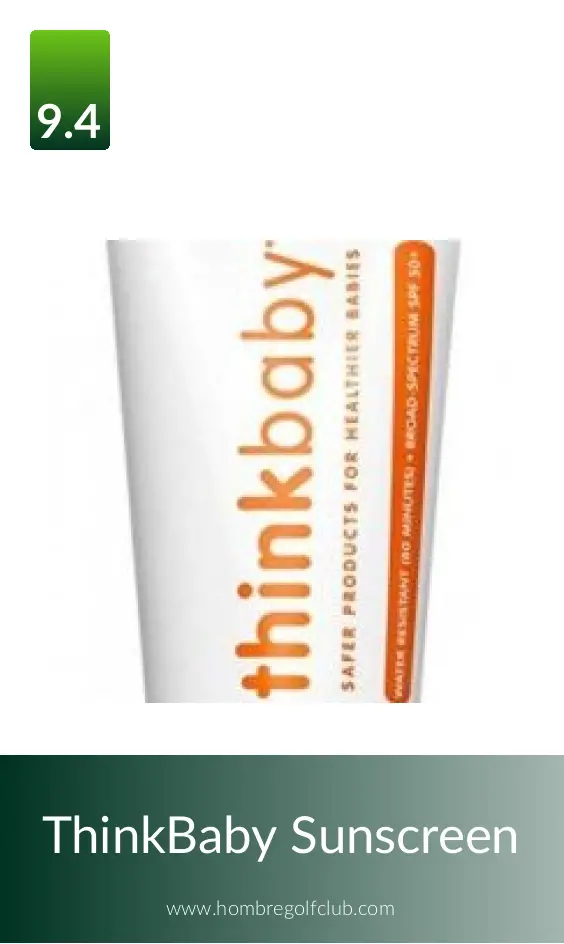 Editor's Pros & Cons
Free of toxic and harmful chemicals
Contains an SPF of 50+ as well as maximum coverage for both UVA and UVB
80 minutes of water-resistant protection
Compared to others on the market, this product contains a mineral based formula with active ingredients such as zinc oxide, natural oils, and Vitamin E and C
Recommended and safe to use for all skin types
ThinkBaby has won more awards for their sun care line than others on the market today
This product is not oily or greasy
Cruelty and gluten-free
High-quality vegan option
Passed the requirements for Whole Foods Premium Care
A tad bit more difficult to rub in once applied on your skin
Some buyers that have purchased this product have said that it did not work for them
Material
When
thinking about sunscreen
, the first thoughts that come to mind for many of us is "what is this product made of?" and "is this product safe for my skin?". We found that this option by ThinkBaby is created with a mineral base formula and also includes additional
natural ingredients
that are indeed safe for you to use.
The manufacturer indicates that the active ingredient in this product is zinc oxide. Zinc oxide contains absolutely no titanium or zinc nanoparticles which are the safest to use on your skin. But also keep in mind, we found that ThinkBaby practices the Precautionary Principle strategy because there are still studies being held on whether or not these nanoparticles are making their way into the bloodstream. As of today, there is no data to prove that this occurs.
This product also contains natural inactive ingredients such as Vitamin E and C, sunflower, olive, cranberry, raspberry, jojoba oils, and magnesium sulfate. Studies show that these inactive ingredients not only protect you from harmful UV rays the sun gives off but it will also keep your skin smooth and moisturized. Reviewers say that the only downfall of having all of the best ingredients in this product is the fact that when you apply it to your skin, it will take a little longer than usual to rub in and fully allow your skin to absorb.
Ease of Use
When you think sunscreen, you don't think complicated to use, right? Well, with this option by ThinkBaby, it is incredibly easy to use and can be applied within seconds. Compared to others on the market, there is no need to shake the tube, all you have to do it openly, squeeze, and apply.
We do have to say that you will have to put minimal effort into its application. With this product, it is critical that you make sure it is rubbed onto your skin evenly. If it is not evenly applied on your skin, the parts of your skin may not be fully protected making the application not as effective as it should be.
It is also recommended to apply a generous amount and again, make sure it is rubbed in all the way for it to be most effective.
Your skin will absorb
the sunscreen as you continue to apply it, so you just have to make sure it is rubbed in. Also, this product will leave you feeling less oily and greasy compared to others on the market today.
Protection
Sunscreen is designed to protect you from the sun. As we stated above, sunburns can cause damage to your skin and will leave you exposed to serious health issues if you are not well protected. Keep in mind, for sunscreen to be most effective you should apply to your skin at least every 2 hours. This cream is water resistant and will protect you up to 80 minutes. If you tend to sweat more than others, you can reapply as many times are you want to keep your skin protected.
This product by ThinkBaby surpasses the guidelines proposed by the FDA and contains SPF 50+. It provides the best
broad-spectrum
formula found on the market today, which covers both UVA and UVB. If you are not too familiar with these terms, no need to worry. UVA rays, also known as aging rays are just as they are named. These are rays can not only pass through glass windows but they will cause your skin to age faster, develop more wrinkles and leave age spots on your skin. On the other hand, UVB rays, also known as burning rays, are the rays that cause sunburns and cannot pass through window glass.
Protecting your skin from the sun, not only on the golf course but every time you are outside is very important. We highly recommend this product by ThinkBaby and believe this would make a great addition to
your golf bag.
Advantages
When deciding which sunscreens are the best we took into consideration the advantages of this product by ThinkBaby has compared to others on the market. First off, it is always a good idea to wear sunscreen if you're planning on spending some time outside- no matter if you are just taking a walk or playing a few rounds on the golf course. At the end of the day, research shows that everyone should wear sunscreen because everyone is susceptible to getting skin cancer if not properly protected.
From our research, we believe that this option by ThinkBaby is the best because it is safest to use. This is the first advantage that sticks out to us because it is made of natural materials and contains a mineral based formula. The next advantage we'd like to point out is it's UVA and UVB broad-spectrum capabilities. We found that a handful of companies on the market advertise their products to provide maximum protection for your skin because they have extremely high SPF like 80 or 100. Compared to a lower SPF like 20 or 30, a higher SPF is not always the best. A higher SPF may provide 90% or
more protection
against UVB, but keep in mind, you also want your sunscreen to protect you from UVA as well. Lastly, if you are looking for a product that is not greasy, oily, or gives off unpleasant smells one applied, this option by ThinkBaby is your best bet.
Quality
This premium product has a handful of other qualities that other options on the market do not have. First, if you shop at Whole Foods we are pleased to share with you that it has passed the requirements for their Premium Care line. It is
Reef friendly
and has not been tested on animals. One of the best parts is also knowing that this product is biologically toxin free of harsh chemicals such as phthalates, avobenzone, oxybenzone, etc. Not only is this product environmentally safe but it provides maximum protection against the sun while you are outside.
Water Resistant
Like many sunscreens on the market, there is not one product that will provide protection to your skin all day unless you reapply. Well, with this option by ThinkBaby, you will not have to reapply as often as you may think. The manufacturer recommends that you reapply every 80 minutes for maximum protection and effectiveness.

We found that there are three different levels of water-resistant sunscreens: non-water resistant, 40 minutes of water-resistant, and 80 minutes of water resistant. If you tend to sweat a lot, we recommend that you reapply more frequent and never wait longer than 2 hours.
Effectiveness
Based on thousands of reviews, we have concluded that this product by ThinkBaby is extremely effective and should be highly considered on your next walk or day on the golf course. Our research shows that it is very important to reapply after 80 minutes being out in the sun. We believe it is important to protect yourself from these harmful UV rays to prevent skin damage or even skin cancer. You will not regret investing in this quality product.
Cost and Value
Overall, we highly recommend this option by ThinkBaby. We consider this product to be on the higher end of sun skincare options on the market in the USA today. But don't worry, it will not break your bank because it is surprisingly exceptionally affordable.

This broad spectrum coverage sunscreen should be considered if you are looking for maximum protection against UVA and UVB rays. Also, say goodbye to the oily and greasy feeling other options give you when applied. Not only is this product safe but it is cruelty and gluten-free. We guarantee that this quality product will meet your expectations, making it worth every penny.
Key Features
Being on the golf course on a bright and sunny day for hours can leave you with unwanted sunburns and possible skin rashes. Sunscreen used properly is designed to protect your skin against the harmful UV rays from the sun that can cause these issues. This product by Thinkbaby is not only one of the safest options on the market but it has also won an average of more awards than its other competitors.


Mineral based formula and use of natural ingredients


Water resistant for 80 minutes


Protects against harmful UVA and UVB rays from the sun


Exceptionally priced


Not oily or greasy when applied


Bottom Line
There are so many options for sunscreens on the market today. After doing extensive research, we believe that investing in this product by ThinkBaby will not only protect you from the sun's harmful UVA and UVB rays but it comes with a whole list of benefits.

This product comes in a user-friendly 3-ounce squeeze bottle is that is very convenient to slip into your backpack or golf bag. Having the peace of mind, knowing that your skin is protected will allow you to focus more on the golf course and will save you from sunburns or rashes. The last thing you want to happen is to be out of commission on nice bright and sunny days due to a sunburn or rash.

If you are searching for a top quality product, this option by ThinkBaby is the one. Keep in mind, for this product to work effectively you must reapply every 80 minutes. If you are sweating heavily you will have to reapply sooner rather than later. Research shows that 1 ounce is recommended for most adults, this is equivalent to 1 full shot glass. Many people forget to place sunscreen on their face, ears, and neck, so it is important that these areas are covered as well.
Subscribe to our Newsletter