10 Best Golf Clubs for Teenagers
In a
Hurry? Editors choice:
Test Winner: Callaway XT Teen Set

While looking for golf clubs for teenagers, did you know that the number of actively involved teenagers in golf is the highest than ever and it is continuously growing? Golf is more than ever available to children all age, defying and challenging the most wanted teenagers' activity-playing
video games
! It is entertaining, it is socially active and keeps the children outside for several hours, in addition to developing their physical strength and abilities.
However, the teenage years represent the crossroads of kids' lives and while being swept under the turmoil of hormonal chaos, teenagers need more than ever an anchor of stability and balance. And this is where golf steps in, offering firm ground for physical and mental involvement as the game is all about focus, concentration, and strength. Therefore, for full engagement, they need excellent golf clubs made just for teenagers' needs. These are our recommendations.
Standout Picks
Criteria Used for Evaluation
Features
When choosing the best golf clubs for teenagers, it is important to bear several things in mind, as wrong features can contribute towards the deterioration of the overall performance instead of improving it. I believe you are asking the same question that everyone who is looking for good-quality golf clubs for teenagers is asking: "What makes a good set?".
The most important thing is the length of the clubs. This is important because if they are too long then they won't be easy to swing and achieve the desired distance and accuracy. If they are too short it might lead to unnatural posture which will result in fat shots and no feel. So, always pay attention to the length of the clubs and if they are a match to your child's size.
Next important thing is the weight of the clubs and the type of the shaft and the flex. As teens are still growing and developing their strength, they need lightweight clubs with graphite shafts that feature teen flex so that they can easily achieve 360 degrees, full-blown swings.
Another important feature that you need to look for is the type of technology used, i.e., if they are made with game improvement concept, featuring oversized club heads, large sweet spot and low and deep center of gravity. Also, take a look at the lofts, as teens, especially the younger ones, need a higher lofted driver and low-profile woods and fairways.
If all these features are included in a set, that model gets the highest score.
Ease of Use
Many children are having their baby steps in the game of golf when they become teenagers. And, as we mentioned at the beginning of this article, if the clubs are not easy to use, then it won't be easy for the young golfers to get better and gain confidence which often leads to disappointment and eventually, they give up. The manufacturing companies have realized that and the clubs that they produce nowadays are much easier to play with as they are more forgiving, lightweight, with easy to hold grips. The selected best golf clubs for teenagers on our list are reviewed as very easy to use and particularly suitable to the particular age group that starts somewhere at the age of ten, up to the age of sixteen.
Versatility
Versatility, within our subject of discussion, refers to the number and the types of clubs included in the set. Here, the list varies and there are sets with as little as five clubs, but there are also sets that include a full number of clubs, up to 13 in the bag. However, this number is closely related to the skill level of the teen golfers and what their purpose will be. The lowest number of clubs are mainly intended for those golfers who are at the entry-level of the game, and who don't need as many clubs as the intermediate or advanced golfers would need. Broadly speaking, the average number of clubs is about eight to ten, so everything lower is considered below average and everything more is considered above average.
Value
Golf used to be considered the most expensive sport and only the selected few had the chance to enjoy the game. Fortunately, with the development of new technologies and with the rise of many new companies, the super-high prices got gradually lower, making them more affordable and available for almost anyone. That's actually one of the reasons why more and more children gladly accept golf as their main activity. Yet, it is still one of the most costly sports compared to some others, which can be seen from the prices of these golf clubs for teenagers. Our list includes some budget-friendly designs and some more expensive than the average. However, all of them represent excellent value for the money in relation to their quality, the number of items included in the set and durability. We are all aware that children quickly outgrow their clubs, so we wanted a full range of various offers so that everyone is able to find a set that matches their home budget.
Effectiveness
The effectiveness of a certain club is seen in the possibility to use it over and over again, without durability issues and frustrations. Also, we can see its effectiveness through the ability to enhance the performance and deliver improvements in all aspects of the game. If the clubs do not deliver enough forgiveness, flex, feel and control, it is hard to lower the score and beat par from time to time. As this is a criterion that is the hardest to measure, we relied on golfers reviews and experts opinions in order to be able to adequately attribute the score that each set has within this criterion.
Top Rated Teen Golf Clubs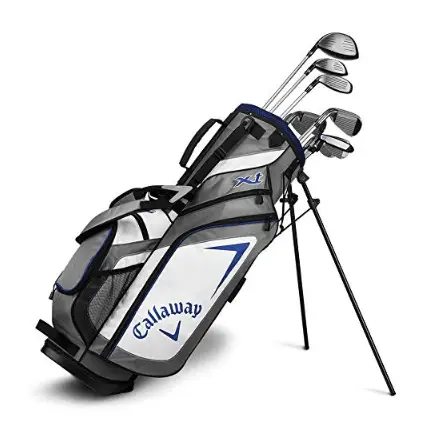 When your aspiring golfer shows an intense interest in the game, it is your obligation as a parent and caregiver to provide him/her with the best golf clubs for teenagers within your possibilities. And this Callaway set is designed to deliver the best from these clubs by utilizing their latest technologies to offer young golfers unmatched performance and reliable club-quality that will take their performance to the higher level by helping them achieve more distance, more control, and more playability.
Read more
Set Features
This is the latest upgrade of Callaway teen golf clubs that are particularly designed for teenagers that need boosted performance on a more serious level. The set includes a very stylish stand bag that includes many zippered compartments and a dual shoulder strap that can be easily carried. The bag includes a driver, a fairway wood, four irons, two wedges, and a putter. This makes it a complete course coverage which will deliver confidence for all types of shots.
Clubs Features
Teens don't have very powerful swings and distance seems to be the first obstacle that they most often deal with. Therefore, the titanium drive is oversized and made with the proprietary Calaway technologies that expand the sweet spot, bring more face flex, increase the forgiveness, and together with the graphite shaft yield more yards than ever. The fairway wood and the hybrids will deliver more distance too with more control, while the forgiving irons are made with more precision, control, and less fat shots. The mallet-style putter is also very forgiving, and well-balanced.
Cost and Value
We are going to be straight when it comes to the price of these teen golf clubs. It is probably one of the most expensive sets when it comes to this category of players, but it also one of the best-performing ones. It is highly recommended for those golfers who have been seriously dedicated to the game so that they can take advantage of all the benefits that this set offers.

2

. TaylorMade Rory Junior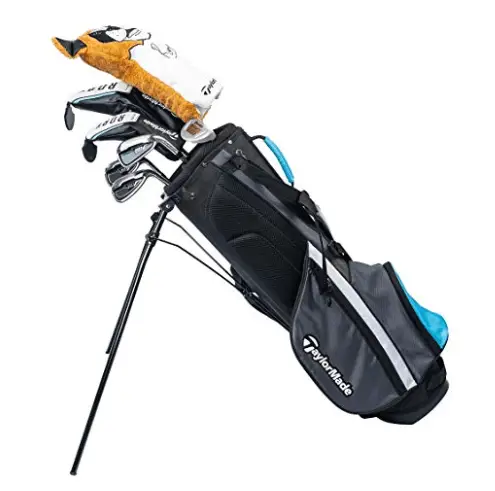 Many teens need an extra boost when it comes to being fully dedicated to the sports they have taken up, and this refers to golf too. If you want to encourage a budding golfer to keep on playing it, one needs to make sure that the equipment is fully adequate and fits their needs. And if you want to super-boost your child's involvement in the game of golf, get him/her TaylorMade teenager golf clubs set designed personally by one of the greatest golf players today, Rory McIlroy. He created this set to provide children with the best possible tools to score low on the course and at the same time to have a great time on the course.
Read more
Set Features
When you see the branding of TaylorMade, it means that you can expect a lot from these teenager golf clubs. It is a unique set that includes a premium stand bag with double and ergonomic straps and easy to carry handle. What is striking about this set, is the outstanding St Bernard driver headcover which will definitely make kids happier and proud to have it on the course. In addition to this unique headcover, there're two more for the wood and the hybrid.
Clubs Features
These teenager golf clubs have been made with the use of the technologies seen in all TaylorMade clubs, with special attention to deliver teen-specific lofts, optimal lengths and flexes so that kids develop proper swing mechanics and overcome the common obstacles when playing golf. Being driven by the basic principle of entertainment, staying active and playability, these clubs are very forgiving and easy to play with. They feature great versatility with the high-degree titanium driver, easy-to-hit, low-profile hybrid, stainless steel irons with 2 degrees more loft and center-shafted mid-mallet putter with easy alignment. All the teenager golf clubs come with graphite shafts which are flexed to suit junior swing speeds.
Cost and Value
Even though there are two differently-sized clubs, for the purpose of this discussion we are reviewing the one that which is aimed for children aged 8+, i.e., as there is no specific age limitation, it can be used by anyone who is from 52" to 60" tall. As this is a TaylorMade product, you can expect premium performance and reliable quality which comes with a more expensive price tag compared with some other products on this list.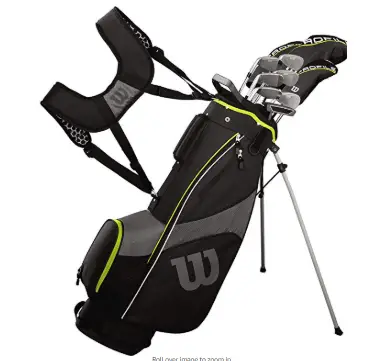 Even though there's another Wilson set reviewed in this list, they differ in the number of the clubs included in each, as well as in the age group they are intended to. This set is aimed for young adolescents as it is particularly fitted to suit teen swing characteristics in order to deliver more speed and distance and provide each player with pleasurable experience on the course. When it comes to golf clubs for teenagers, Wilson Staff is known to have among the widest lines of various skill levels and different age groups from the youngest to seniors. The 'custom fit in a box' line offers golfers adjustability and personalization which will help them improve their performance.
Read more
Set Features
Since this is a full set of teen golf clubs, it comes with a bag which is a stand bag, very lightweight with Air Flow shoulder straps which are adjustable for teens who are in a process of growing up. The bag has many differently-sized pockets and self-activating stand. With the bag, you get a driver, a fairway wood, a hybrid, irons 6-9, a pitching wedge, a sand wedge, and a putter. There are headcovers for the woods and the hybrids too.
Clubs Features
The teen golf clubs included in this set offer a lot of forgiveness as they are made with a super game improvement technology designed to boost performance and playability. The irons follow the same concept too and are made from 431 stainless steel with deep, perimeter weighting, positioning the center of gravity very low in order to improve the accuracy and distance. The wedges are also cavity back, designed with a very wide sole for optimized short game playability. The putter is heel/toe weighted, featuring alignment grip for superior feedback and accuracy.
Cost and Value
When considering the value of certain teen golf clubs, the quality and the number of items you get for a specific price do matter and this is what this Wilson set offers. Being a Wilson product means that it has guaranteed quality, playability and game-enhancing performance. It is affordable and very moderately priced.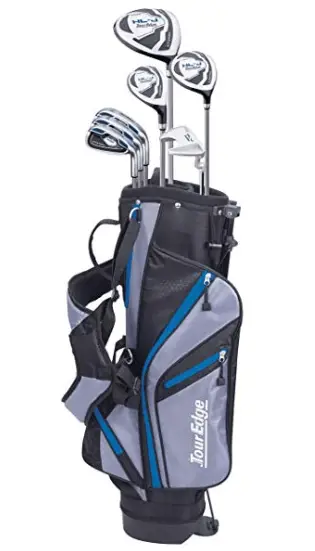 As Tour Edge is continuing to grow and having some really nice, award-winning releases, the company decided to address the youngest players, and make golf clubs for teenagers that will meet their needs and allow them to enjoy the game. These golf clubs that are particularly made for teenagers are closest to regular ones, just in an oversized version and more forgiveness. They are made with the Tour Edge technologies that guarantee more success and fun on the course.
Read more
Set Features
All children, and particularly teenagers, love imitating the grown-ups and using their stuff. At that age, they become increasingly aware of their surroundings and many of them are getting more and more self-conscious, so the items they use need to fit their criteria. And that refers to golf equipment too. From the bag to the teenager golf clubs, teens appreciate uniqueness and style specially designed to look teen-like, but at the same time to resemble the original 'grown-ups ones'. Therefore Tour Edge included those teenager golf clubs that will allow them to enjoy the game from all perspectives and get the sense of achievement.
Clubs Features
The set comes with a bag and eight clubs. The teen golf clubs include a driver, a hybrid, a 3-wood, a putter, 7-9 irons and a pitching wedge. All the clubs are designed for teenagers, meaning, they are characterized with oversized heads, enlarged sweet spot, perimeter weighting, and high MOI. The irons and the hybrid feature advanced hybrid technology that yields a wide sole that positions the center of gravity very low. The driver and the fairway-wood feature high-flying technologies which make the launch of the ball easier, while the putter is mallet-style with an alignment aid.
Cost and Value
According to the buyers who are using these teen golf clubs, they are of excellent quality and perfectly meet the needs of the young golfers. The only complaint that they have expressed refers to the bag, however, when it comes to the clubs' quality they are of great quality. As Tour Edge is one of those companies that never overprice their products, the set features a very affordable price point.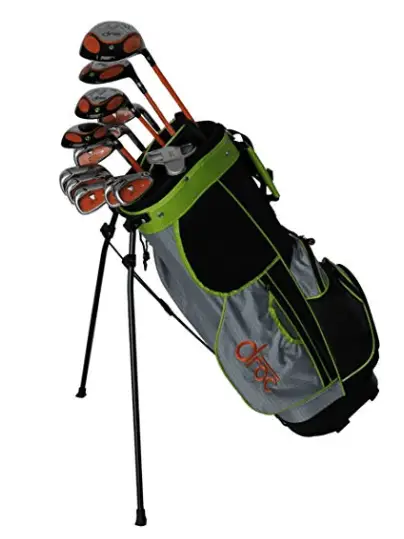 This is one of the most inclusive sets on our list as it includes mainly all the teen golf clubs that a bit more advanced teen would like to use on the course. As children pass the beginner stage, they often need an upgrade of their clubs and this usually involves buying clubs individually since it is often hard to find a complete set. Droc, on the other hand, offers a full set with specifications that match the needs of intermediate-skilled golfers.
Read more
Set Features
This is a complete set that totals 20 pieces if you include the headcovers. The current offer includes a very lightweight and stylish stand bag which is, unfortunately, included for a limited time only in the set. Besides the bag, there are thirteen clubs, and amazing seven covers for the driver, the two fairway woods, the two hybrids, wedges, and the putter. The set is made for teens aged 11 to 14 and there are two color varieties that they can opt from. All the teen golf club come with 100% graphite shafts.
Clubs Features
Even though the titanium driver is oversized with 460cc clubhead size, it is 10.6 degrees, which implies that the children who are going to use it need some solid experience to be effective with it. Made like this, it features a very large sweet spot which makes it highly forgiving and the graphite shaft makes it easy to swing. The 4 and 5 hybrids and the 3- and 5-woods, as well as irons, are made from stainless steel and fitted with graphite shafts. They guarantee high launching ball flights and more distance when it comes to the long game and much more control, feel and accuracy regarding the short game.
Cost and Value
As you could notice, we have included golf clubs for teenagers that differ in skill levels and the number of clubs included in the set. This set is the one that includes the greatest number of elements and clubs, so it is one of the more expensive ones on this list. Plus, this set is intended for teen golfers who have previously played golf and gained some skills. Bearing this in mind, the price tag it has seems to be reasonable and within the average range.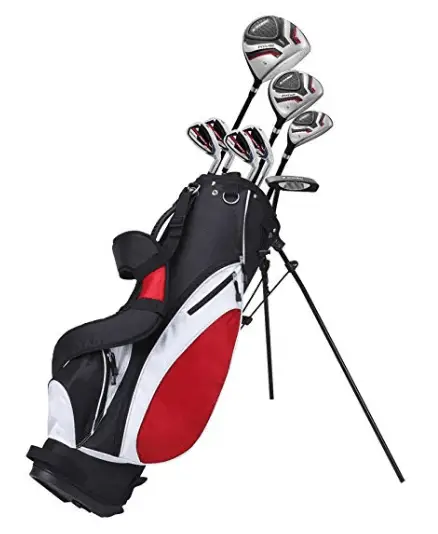 When you take a look at this set, you realize that it is designed to be used by boys and girls equally, as it integrates the most popular unisex colors and appeals to both of the sexes. It is classy and trendy at the same time, and it includes as many golf clubs for teenagers as they would be normally using on the course. It is made for right-handed golfers whose height is between 5'1" and 5'6".
Read more
Set Features
This is a classy set of teen golf clubs that includes a stand bag with several zippered pockets where golfers can store their accessories and valuables. It also has a shoulder-padded strap that makes it easy to be carried as a rucksack. The bag comes with a driver, 3-wood, 24-hybrid, 7-9 irons, a pitching wedge, and putter. There are also 3 matching head covers for the driver, the wood and the hybrid. Plus, the driver, the hybrid and the wood come with graphite shafts, while the irons and the putter come with steel shaft with teen flex.
Clubs Features
The driver is oversized, featuring a teen golf club head of 460cc with a large sweet spot for the easier launch of the ball high in the air to reach further distances. The wood and the hybrid are also easy-to-hit, forgiving and lightweight, allowing teenagers high flying trajectories and more distance. The irons are made from stainless steel, and like the rest of the clubs within this category, they feature a cavity back design with perimeter weighting with a very low center of gravity and much more forgiveness so that teens develop more feel and control over the ball which leads to more accuracy. The putter is designed with alignment aid to provide much more precise putts.
Cost and Value
This is a very classy set that can be used by boys and girls equally, and which offers excellent performance and playability. It includes everything that children that belong to this age group might need in order to enhance their performance. The price is on the low end which means it is affordable and suitable for everyone.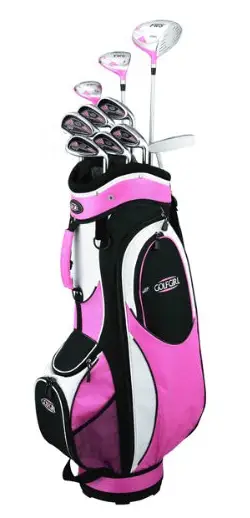 As the name implies, this set is made to appeal to girls as it is sized and designed for girls' specific needs. The pink color in combination with the silver edges and dark cavity irons makes it a great, stylish option for young girls on the course. This set contains golf clubs for teenagers and ladies who are from 4.9" to 5.5" tall and includes a greater number of teen golf clubs than the usual teen sets. So, read below to find out more.
Read more
Set Features
This is a broader set as it is made to meet the needs of teens older than 14 and generally, all female golfers who are at a beginner to intermediate level. There are 11 teen golf clubs in the set including a driver, two hybrids, a wood, six irons, and a putter. There is a very nice pink bag that is designed to attract anyone's attention on the course. It is a cart bag that has several differently-sized zippered pockets and a strap to carry it.
Clubs Features
Featuring 460cc oversized head, with a large sweet spot and a graphite shaft with a lady flex, the driver is designed to bring more distance and a straighter trajectory. The 3-wood is low-profile and excellent for high-launching ball flights, while the 3 and 4 hybrids come with graphite shafts too and are excellent for the long approach shots. The cavity back, stainless steel irons are very forgiving, enhancing more feel and control and they also come with graphite shafts. The putter features blade design with offset and alignment aid, offering a great balance and feel.
Cost and Value
Being on the budget side, this set offers a lot. From high-quality teen golf clubs to the well-designed bag, you will find much pleasure in playing with it. It is very lightweight, sized particularly for girls, and the graphite shafts add up on playability. One buyer commented that you can't beat the price in relation to quality and we agree on that too making this set an excellent value for the money.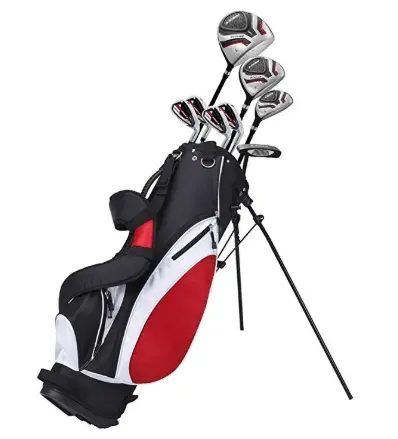 When you intend to buy golf clubs for teenagers, besides looking for quality, they pay equal attention to the style of the clubs too. The designers from Precise made sure that style, in addition to the functionality of the teen golf clubs, makes this set an attractive offer for teenagers. As teens need an extra enhancement to keep the focus on the things they do without quickly losing interest, having the right equipment is one more piece of the puzzle for improved performance.
Read more
Set Features
So, what does this set include? Firstly, it comes with a very stylish, three-color bag that has many different zippered compartments for storing accessories. It is a stand bag that has straps for carrying it like a backpack. Then, the bag includes a driver, a fairway wood, a hybrid, 7-9 irons, a pitching wedge, and a putter. There are three headcovers for the driver, the wood and the hybrid. And finally, the woods come with graphite shafts, while the irons and the putter have True Temper shafts.
Clubs Features
The game improvement concept is the base for these teen golf clubs, so you'll find a lot of forgiveness and playability in each of them. The Titanium driver is oversized, with a large sweet spot which helps the players launch the ball high in the air. The wood is low-profile and it easy-to-use to deliver flying high trajectories from the fairway. The perimeter-weighting, stainless steel irons deliver good feel and control which is crucial for the short game aspect. The mallet-style putter has an alignment for better precision.
Cost and Value
This is an excellent set intended for teens aged from 13 to 16. It is easy to use, well-made and convenient for young golfers. The teenager golf clubs are made to deliver the right amount of distance, feel and control and boost their performance. It is an affordable set, keeping the low price point, making it available for anyone.

9

. Wilson Profile Junior Set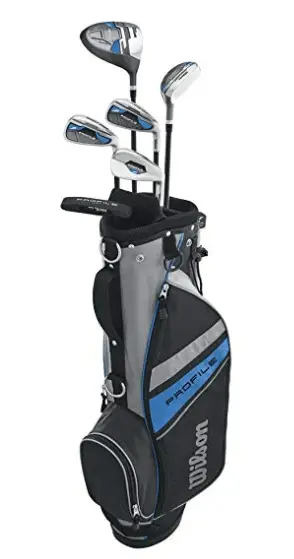 Wilson has had very successful feedback with its Wilson Profile series as they offer "custom fit in a box" which includes about thirteen different customization choices for the golfers to choose regarding the size, the length, the weight and the lofts of the clubs. This model belongs to that line and allows teenagers to choose from several different possibilities. Their logo implies that one size can't be a good option for everybody, which led many golfers to turn to them.
Read more
Set Features
Clubs fitting is one of the highest imperatives that young golfers need in order to inspire them to indulge in the game with as little frustration as possible. So they come in large, medium and small size, specifically divided for boys and girls. They come in a trendy stand bag with several pockets for storing accessories and a shoulder strap to be carried around. The set includes a driver, a hybrid, one long and one short iron, a wedge, and a putter. The driver and the hybrid come with a headcover.
Clubs Features
This is a beginner set that has the most necessary teen golf clubs that a young golfer would need for a proper introduction in the game. Even though limited in the number of clubs included in the set the young golfers will have the chance to practice each aspect of the long and the short game with these teenager golf clubs. All of them feature very forgiving club heads, designed with a large sweet spot and game-enhancing concept. The driver comes with an oversized head and a shaft that has a junior's weight, length, and flex.
Cost and Value
This basic junior's set mostly fits young players aged from 11 to 14 and it is specifically made to be an introductory set that will be used until they evolve in the game much further. It is of high quality and very appealing price point which indicates that Wilson really wanted to bring golf closer to as many new players as possible.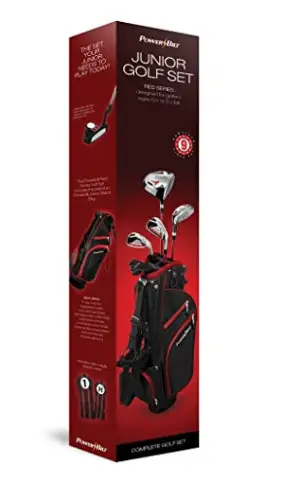 Is your teenager having his/her first steps in golf? If he/she does, then it would be a great idea to have his/her own set of golf clubs for teenagers which will provide him/her with sufficient and adapted feel on the course. Many experts say that novices often give up because they start playing with teenager golf clubs that are not suitable for them which leads to inconsistent shots, ineffective play and slow or no progress at all. When it comes to growing teens the frustration is even more emphasized as they tend to take things for granted and very personally. So, this PowerBulit set for ages 12+ is very basic, but it will deliver young golfers enough initial feel to have a good start.
Read more
Set Features
PowerBilt offer four different age group sets, made to meet the needs of the youngest children to teens. We are reviewing the set intended for teens older than 12 who are over 5" tall. The set is very basic and the company included only those teen golf clubs that a beginner could use. So, what you'll find in the set is a bag with a five-top divider, very stylish and elegant with several large pockets and a shoulder strap to be carried as a backpack. The set also includes a driver and a hybrid that come with a headcover, 7-iron, a wedge, and putter.
Clubs Features
Even though the number of teen golf clubs is very limited, the designer is confident that these are the clubs that a novice would most frequently use as all the other remaining clubs are actively played with during the later stages of the learning process. The clubs look very professional, they feature a low center of gravity with a large sweet spot and even greater forgiveness. The iron and the wedge feature a cavity back design with a large sole for better turf interaction, more control, and accuracy. The putter has alignment aid for better precession.
Cost and Value
If you are looking for the most basic set ever that is not going to burden you financially for your entry-level teen golfer, this is a good set for launching the interest in the game. The bag looks great, the teen golf clubs deliver decent performance and it won't feel like wasting money in case they quickly lose the interest in golf as this is the least expensive set than all on this list.

Subscribe to our Newsletter