Srixon Z Cabretta Leather Golf Glove
Since you are reading this review, then it is more than obvious that you are interested in getting yourself a good golf glove. Even if you aren't, and you're reading the article out of curiosity, you'll find it very useful since it elaborates in detail the quality design of Srixon Z Cabretta Leather golf glove which is one of the most sold gloves on the market. 
Srixon is becoming one of the most influential golf companies and even though the company started modestly, focusing on golf balls production, it now offers varieties of clubs and accessories. Srixon has been aggressively imposing its presence on the market, and their decision to endorse Tiger Woods as the person who is on the cover of their best golf balls has turned the attention of golfers around the world. In addition to the indisputable quality of the Srixon golf balls, the company is one of the best manufacturers of utility clubs and irons that offer new concepts and new performance features. 
When it comes to golf accessories, Srixon tried hard to gain trust from golfers from different levels by offering a wide range of golf gloves. Their golf gloves are one of the most popular on the market, being in the same class with some premium designs like Titleist or FootJoy. 
Advanced golfers are aware that their performance could easily suffer if they are not wearing good quality golf gloves, and they do pay close attention to the quality design of the gloves they wear. But, playing with golf gloves is not only recommended for seasoned golfers. It is the number one accessory for everyone who fancies playing good golf. The better the golf gloves, the better the grip on your clubs which leads to more impact stability and certainty that there's no risk of slipping the club. 
Therefore, to be able to get the maximum from a golf glove, you need to know how it is made, and which materials it has been made from. This is why we took a closer look at Srixon Z Cabretta Leather golf glove, and analyzed in detail its construction and performance features so that we bring it closer to you. 
Pin for later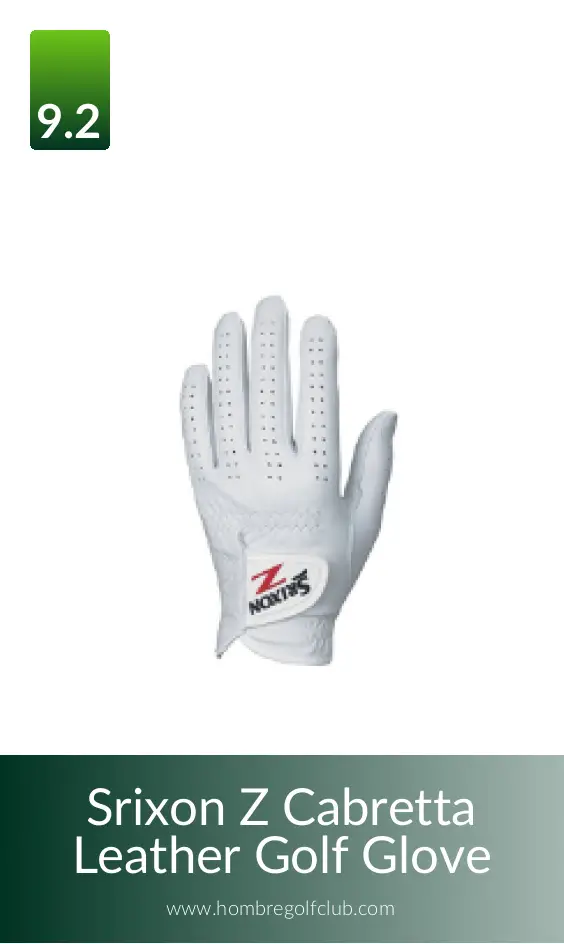 Editor's Pros & Cons
Made from super soft and premium Cabretta leather
Comfortable and pleasant feel and optimal grip in any weather condition
Resistant to moisture and abrasions
Lycra inserts along knuckles for increased flexibility and comfort
Multiple sizes and adjustable fit
A few golfers complained about its durability
Grip
It is a complete misconception that golfers need to wear gloves only during wet weather. Maybe this belief has its roots from the past when the gloves were quite uncomfortable to wear, however, current models are very far from what they used to be. This refers to the Srixon Z Cabretta leather glove, which is one of the most comfortable golf gloves on the market. It has been designed to match different weather conditions without causing discomfort or over sweating.
So, why would you need a golf glove during supposedly 'normal' weather conditions? There are plenty of reasons. Take for example playing golf during summer. It is hot, humid and you'll be playing for about four hours. Your palms start sweating and you lose the stability of your grip. If this situation continues, your performance is likely to be affected greatly. This means that the conditions change as you proceed with the game, so you'll never know when your grip will be affected. This is one of the main reasons why golfers need to constantly have a
high-performance golf glove
, such as this Srixon model. The grip that this glove provides is stable and it is not affected by the weather in any way, so you can reliably play with it throughout the seasons. The fact that it is an all-round golf glove made with premium quality materials positions it among the best offers you can find on the market.
Material
You can rarely see a Tour golfer playing without a glove and this fact speaks itself about the absolute necessity of wearing golf gloves. But not any golf glove is a good golf glove and golfers should pay close attention to the material the gloves are from. The Srixon Z Cabretta Leather Golf Glove has a very high rating which is directly influenced by the choice of the material and the way the glove is constructed.

The material used for this Srixon glove is Cabretta leather, one of the softest and most durable leather materials. This leather is the most long-lasting compared to other leather gloves, it is close-fibered, and boasts very impact-resistant features. Because of its purpose, it is enhanced with synthetic fibers for added durability. This material is not only impact-resistant, but it is also water-resistant too. For the purposes of making golf gloves, it is combined with synthetic fibers that make it more resistant to impacts and wear and tear. And, as it is true for all fabrics, it is not just the material itself, but the technology used to put it together and the added features that the technology applies to the material.

The main material used for Srixon Z Cabretta Leather golf glove is the Cabretta leather, but it also features Lycra inserts across the knuckles to make the glove more flexible and to protect it from easer wear and tear since that is the place where the material gets the most stretching. Lycra is known to be performance material, durable and easy to dry, so it provides great breathability and airflow in addition to its stretch feature.

The material, which is known to be one of the softest, delivers maximum breathability, air-flow, and moisture-wicking features. These features are of significant importance for golfers who often face perspiration issues. So, wearing this Srixon glove means that it will deliver all the comfort without causing any discomfort or making you feel hot and wet.



Fit and Use
Wearing a golf glove only makes sense If the glove that you are wearing fits you perfectly and creates the feeling of a second skin. This is important because the glove needs to enhance the gripping properties of the palm in a way that it will create a maximized anti-slip effect. It is understandable why the fabric needs to be thus designed so that it stays snug on your hand without being too loose or too tight.

Regarding its usability, it is a glove for all weather conditions, since the material isn't too thin or too thick. The water-resistant feature makes it appropriate to be used during rainy weather or when it is too humid since it won't affect the performance of the glove. At the same time, the material is very soft and flexible so you won't feel it too have on you. This is also valid for hot weather conditions as it won't create the feeling of overheating thanks to the specifically designed perforations on the finger area which allow the skin to breathe naturally and prevent over sweating.

The Srixon Z Cabretta Leather golf glove comes in nine sizes that range from small to XX-large including cadet sizes as well. This is a men's model that offers left and right-hand options depending on your preferred playing style. According to multiple golfers' reviews, the sizes are a perfect match to the designated size, so if you are worried if it is going to fit you, this glove is true to its size so leave your worries aside.


Design
Many golfers pay close attention to the design of the golf glove as they keep to their personal style and often tend to match their outfit to the style and the design of the glove. There are also golfers who completely disregard the looks of it but focus on the performance and the materials used in their production. One way or another, the bottom line is that good quality gloves are often well-designed and convenient as well.

When it comes to the looks of the Srixon Z Cabretta Leather golf glove, it looks stylish and modern with sophisticated elegance and sharp look. It comes in white color and it features a Velcro tab closure on the upper hand section for maximized fit and comfort. The cuffs are flexible too, with a peculiar stitching pattern. On the tab, you can see the name of the company and the letter Z to better understanding the model of the glove.

Besides being adjustable and made from a durable material, the model is well sown and with very unnoticeable seams that don't obstruct the comfort of the glove while playing golf. The added Lycra reinforces the construction but at the same time makes the overall design soft, moisture-resistant and flexible.

Durability
Purchasing a good quality golf glove means that you invest in the quality of your performance and prevent the risk of slipping the club. There are many golfers who underestimate the importance of the good golf glove but eventually if they keep on playing they realize the importance of it. So, once you get to know the importance of a high-quality golf glove, then you start looking for the most durable one as you need a model that will be able to hold up to at least several rounds of golf.

Srixon is a company that pays close attention to every single detail, including the durability of their products, so this model boasts high durability and performance that you can rely on. This is also confirmed by many golfers who have been using the glove for quite some time and claim that when it comes to durability, it is a full shot.

The company also claims that the quality and durability of the model are at its highest, guaranteeing unsurpassed performance. This is, indeed one of their most reputed models and if you consider the way it is made and the stitching with the blend of the Cabretta leather and the Lycra, it does look promising. The only complaint that a few golfers mentioned is the thin construction, but it doesn't affect the performance of the glove.


Maintenance
You can't talk about the durability of a golf glove if you don't take good care of it. So the use of Srixon Z Cabretta Leather golf glove will be optimized provided you follow the maintenance instructions. This model is made from Cabretta leather, one of the most delicate leathers, so despite the fact it is durable, it is also prone to damage if not adequately treated. This includes washing it only when it is absolutely necessary by using mild detergent and lukewarm water. Hand washing is better than machine wash and if you chose machine wash, then make sure that you use the delicate mode. Drying should be on its own, without being directly exposed to the sun. When not used, store it in a dry and dark place.

Key Features
Srixon did an awesome job with Z Cabretta Leather golf glove, as it follows the highest standards of a premium golf glove suitable for all weather conditions and circumstances. It is the model that every golfer should have in their golf bag. It is made from the softest and one of the most durable materials that guarantee long-term use while providing an optimized grip. It is flexible and easy to use, it wicks moisture away and provides sufficient breathability.
Key Features


Made from super soft and premium Cabretta leather


Comfortable and pleasant feel and optimal grip in any weather condition


Resistant to moisture and abrasions


Lycra inserts along knuckles for increased flexibility and comfort


Multiple sizes and adjustable fit


Bottom Line
If you are looking for a glove that offers excellent versatility and superior fit, then Srizon Z Cabretta Leather golf glove is a very good model to consider. It is durable, comfortable and delivers a superior feel. It doesn't make you feel hot or wet since thanks to the breathable and moisture-wicking material it boasts. It is a premium model for a very good price and according to golfers, it is an excellent value for the money.
Subscribe to our Newsletter