Best Puma Golf Sneakers and Shoes Reviewed & Rated for Quality
In a
Hurry? Editors choice: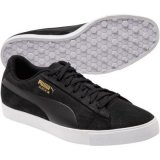 Test Winner: Suede

Do you like Pumas? No, not the animal, the shoe! To start off, we want to say that we are big fans of this brand. Not only have they developed a brand synonymous with quality and sportiness, but Puma golf shoes are also known as one of the most comfortable and unique shoes in the footwear. In fact, even Mercedes, BMW, and Ferrari have partnered with them to develop specialized footwear.
Standout Picks
Criteria Used for Evaluation
Durability
To ensure durability, there were many different factors that we considered as part of the construction, such as the formation of the Puma golf shoes and how well they can withstand the elements. Other factors include the stitching of the shoe, the upper construction, the grip and traction bottom, the insole and the outsole, the laces, and the width and construction of the overall tip and toes of the shoe. With this, we found that this brand has two design elements that make them unique. They not only create narrow and long-toed shoes, they also develop more rounded traditional golf shoes to appeal to a wide audience of golfers. Which brings us to another important aspect that we took into consideration.
Traction
When it comes to golf shoes, what is one of the most important aspects to consider? The upper is one, but the primary and most important aspect is the grip and traction of the product. Without a proper grip, the shoe will not only be rendered useless but on the golf course, a golfer may find it dangerous to walk. With that in mind, this brand focuses much of their expertise on developing shoes with specialized tractions and grips to ensure better quality footing and stability.
First, they have spikeless and spiked golf shoes. These Puma golf shoes are designed for individuals that want different kinds of quality outsoles. If you happen to be more of a fan of hilly golf courses and want extra cushion and traction, golf shoes with spikes may be for you. If you tend to golf in more flat courses, then spikeless golf shoes will do. With that, there is a second element when it comes to the grip and traction that this brand produces quite well.
This brand has designed with many of their outsoles a shock-absorbent rubber design that ensures better footing. With this, individuals feel more secure when wearing the shoe and also feel fewer stress-points in different areas of their foot. Which leads us to the last criteria!
Breathability
Breathability is something every golfer might want to consider when choosing their golf shoes. When you are out golfing in the hot sun, the last thing you want to do is add discomfort when you're trying to concentrate. Instead of focusing on your shot you're going to focus on the heat and how sweaty your feet are if you don't have breathable shoes.. Breathable shoes will not only be more comfortable when golfing but can also prevent athletes foot or other bacteria growth. It is important that your feet get ventilation. A golf game can last an hour or more so you don't want to be walking around in soaking wet socks and shoes. Puma is a brand that takes breathability into consideration when designing their shoes.
Comfort
Some brands have mastered the perfect blend of comfort and design and this is one of them. The designs of all Puma golf shoes are expertly crafted to stand out and offer endless value to the individual. With that, we can only say that the design also is detrimental when blended with comfort. Different design elements from this brand when it comes to comfort is that they focus much of their quality styles on lightweight and breathability.
Style
Another factor that this brand has mastered when it comes to design is the cushioning and insole quality. All of their insoles are designed for shock absorbency, energy transfer, energy return, and a better overall walking experience. They have designed quite a few styles of shoes that are lightweight, durable, and will last you through many rounds of golf. They have a variety of designs, and colors to choose from so you have plenty of options to choose from.
Top 10 Best Puma Golf Shoes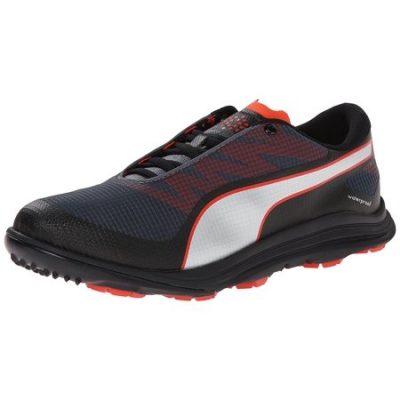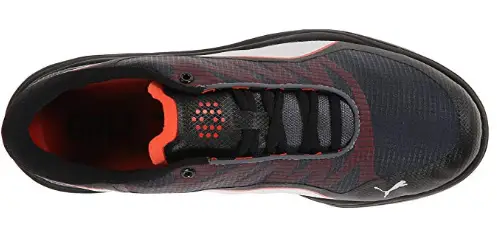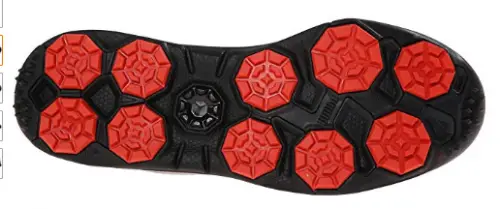 As the first Puma golf shoes on this list, our goal is to raise the bar high when it comes to this brand. Alone, this brand has long been touted as one of the best suppliers of sportswear shoes. With that, we want to discuss two unique features of the first golf shoe from the Puma brand. This is the Men's Biodrive Golf Shoe. Let's begin!
Read more
The Grip Design
Part of what makes this brand unique and different is their ability to take a product and spin it in a way that is modern and new. This item has a very unique grip compared to many different other brands out there. The traction outsole bottom is designed with connected octagon pods for better grip and flexibility when on the course. Essentially, this design skips the spikes and introduces a different way to ensure proper grip.
Waterproof Design
These Puma golf sneakers, as many golf sneakers are, actually waterproof. Individuals can expect this footwear to be designed from one of the best and most durable materials for a better experience overall. With that, the performance mesh enhances the quality of the footwear and the way individuals feel when wearing the product. It is comfortable, aesthetically pleasing, and comfortably designed. Overall, we highly suggest this product.
Cost and Value
To discuss cost and value for this first shoe, we believe that it is a quality product that is comfortable, and individuals will appreciate it. With that, it comes in a variety of colors and it is well designed for the price. Expect the pray to vary depending on the size and color, but overall, it is well worth it as a daily sports product. For golfers that want comfort and breathability, this is the item to get.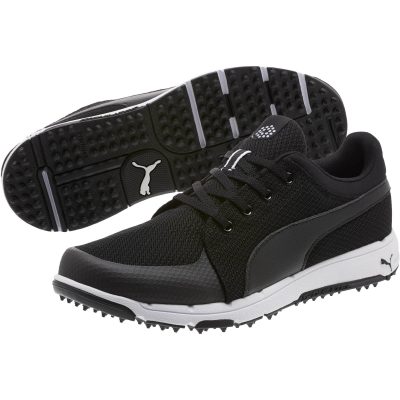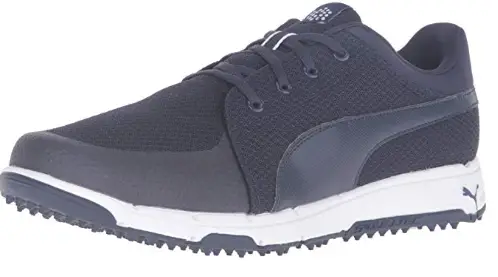 As Puma golf shoes number two, we want to introduce a more modern but refined golf shoe from the Puma brand. This item is designed to look like a sporty sneaker that can also be worn with comfortable and formal clothing. Let's talk about the Men's Grip Sport Golf Shoe and two features individuals can expect from this item today.
Read more
Mesh Top
Part of what makes this item one of the better-designed shoes from this brand is the mesh top. The mesh top is actually surrounded the whole product, unlike some shoe brands that only do the toe region. The mesh is actually wrapped around the whole shoe to ensure maximum comfort and breathability. Alongside this, it is very lightweight because of the design.
Carbon-Rubber
Have you ever heard of carbon-rubber? Neither did we until we started researching this brand! The rubber outsole of this item is made from a high endurance rubber known as carbon-rubber. This material is highly abrasion-resistant and it has been said to perform better grip than regular rubber outsoles. With that, it has long-lasting durability and it is ensured to last the test of time.
Cost and Value
These Puma golf sneakers may be a bit more expensive than the last but not by a lot. The fact that you are receiving a well designed and detailed product that has plenty of positive benefits and it is designed to be more durable than most, we believe it is a well-designed item that is meant to last. With that, you have many different color choices to choose from and overall, it is highly appealing and matches with almost all clothing.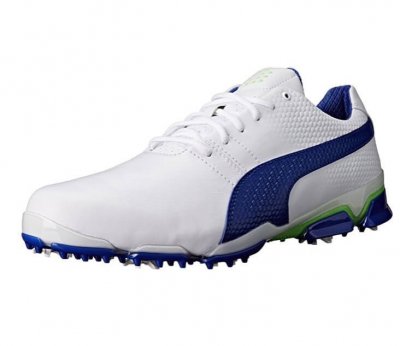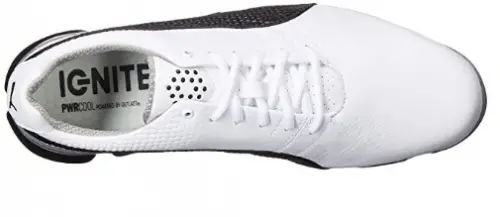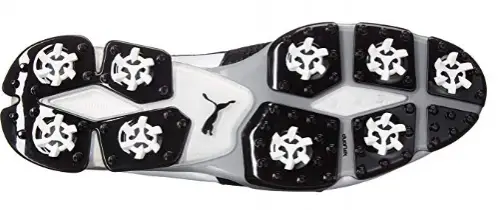 This next product may be designed as one of the best in the industry with the signature Puma look. The Men's Titantour Ignite Puma golf shoes are designed with a comfortable and sleek performance design to ensure a better-quality golfing experience. Not only that, but it looks extremely cool. Overall, there are many benefits to this item and we are eager to share two of those benefits. Let's begin!
Read more
PWR Cool Insole
So, this is a new feature that we have not discussed before. Part of what makes this item such a high-quality product is the PWR Cool Insole interior. The insole of this item is designed to increase daily comfort and regulate the temperature inside of the shoe to ensure better comfort and less heat. With this, an individual can wear the shoe all day long and feel comfortable.
Ignite Foam
Another quality aspect of this product is the Ignite Foam material. This brand has introduced a new type of insole that is designed for better responsive comfort and energy return. With this type of material, an individual can expect a better superior step all day long and better comfort while out on the course. The new foam ensures also better durability and a better overall form-fitting fit for the individual's foot.
Cost and Value
As we discuss cost and value for this item, we believe that it is a high-quality product that is well designed and made from premium materials. In fact, the exterior is made from full-grain leather that is long-lasting and made for durability. Alongside this, the stitching is excellent and designed to last a long time. There are a few colors to choose from where the only major difference is the side stripe's color is different.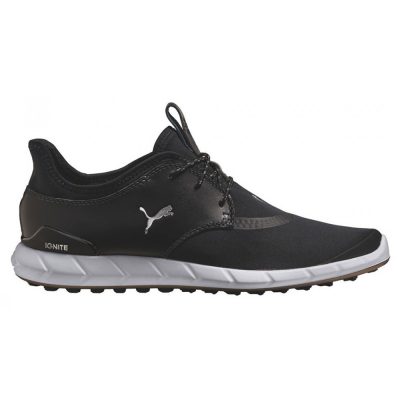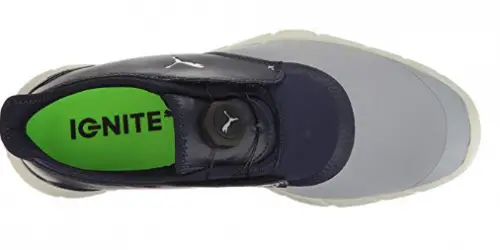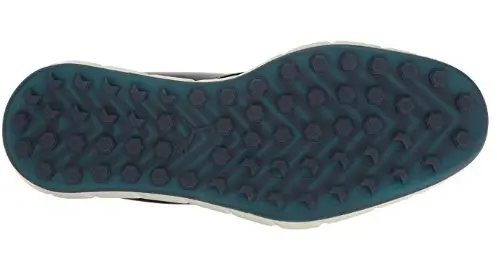 We believe that this next Puma golf shoes may be one of the most modern and aesthetically pleasing shoes in the industry. The Puma Men's Ignite Spikeless Golf Shoe makes headway for brands to introduce the modern narrow tip look and high-top design. Not only that but the brand has designed it with new materials to ensure a long-lasting and innovative product. Here are two features of this item.
Read more
Ignite Foam
As we have said above, Ignite Foam is this brand's method of introducing quality comfort and innovation. Well, they have succeeded! Ignite foam is designed for extreme comfort and shock absorbency. However, with this product, they have taken it a step further by introducing responsive stability and better energy transfer when moving your foot or stepping.
Performance Mesh and Leather
Have you ever heard of a brand blending durability and luxury with breathability and comfort? Well, they have done this with this product! The four-way stretch design is due to the mesh upper that is also waterproof. Yes, waterproof! With that, the durability is introduced due to the leather material quality that ensures a better overall product and durability. Alongside this, the design is ensured to be breathable and offer waterproof performance. In fact, the brand is so secure about it being waterproof, they included a one-year waterproof warranty.
Cost and Value
As we discuss cost and value for these Puma golf sneakers, we can say that this is one of the best-designed shoes in the industry due to the modern innovation and quality design. Overall, if you want comfort, durability, quality, and a sporty design, this is the shoe to get. With that, there are many different color choices and the price is a bit above average for this brand, but well worth it.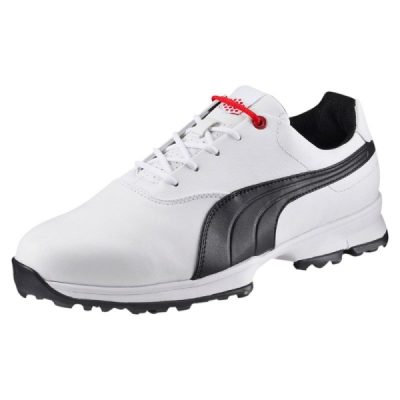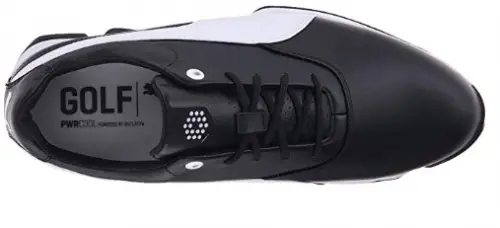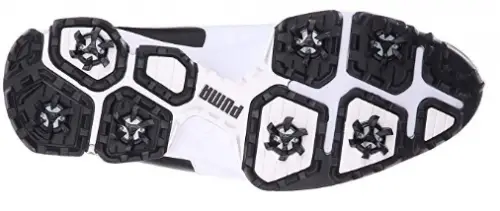 This next shoe may be one of the best designed if individuals want modern comfort with a traditional golf shoe design. With the large rounded toe design, this is a quality item that is designed to withstand the test of time. Let's talk about the Puma Men's Golf Ace Golf Shoe and what makes this a traditional but stylish product.
Read more
The Outsole
So, this particular item actually has a removable outsole cleat. Why is this a benefit? Even without the cleats, the product has unprecedented traction due to the long-lasting multi-directional lugs. However, with the cleat bottom, individuals can expect to receive more traction. Part of the removable aspect allows individuals to wear the product as they so choose, in either hilly courses or lower flat courses where the cleats will not be necessary.
Premium Leather
Another important aspect of this product is the exterior design. The exterior material of this item boasts a premium full-grain leather upper that is designed for better performance and quality. Alongside this, the durability is better designed for performance and ensured quality. One last aspect of the full grain leather is that is overall it is crafted for a stylish and sporty design quality.
Cost and Value
As we discuss cost and value for this item, we are happy to say that this happens to be one of the most affordable products from this brand. Overall, the price will vary slightly depending on one of two color choices and the size, but it actually is quite affordable compared to many other shoes from this manufacturer. Overall, we highly recommend it for the quality and the comfort.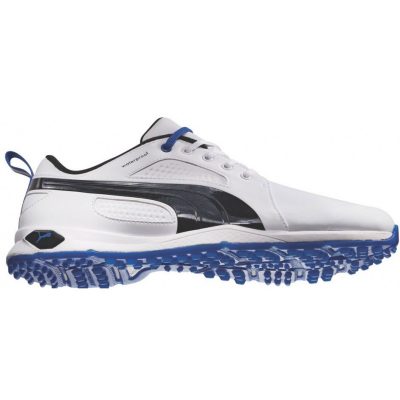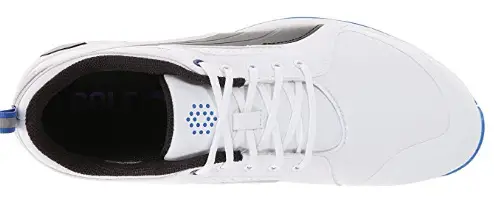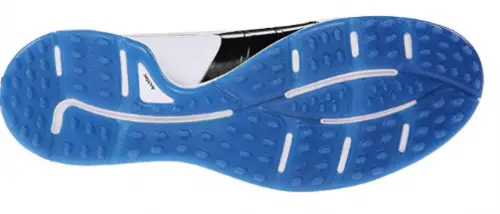 These next Puma golf shoes are quite different from many that we have shared. It has a unique design, it is modern, has different structural value, and has a high-gloss finish on certain aspects of the product. Let's talk about the Puma Men's Biofly and what makes it a different product than most on this list. Here are two features!
Read more
EverTrack
What is EverTrack? EverTrack is this brands' method of introducing quality in the outsole part of the shoe. It is an innovative design that ensures the outsole is abrasion-resistant and higher quality than most products in the industry. With that, part of what makes it such a quality addition feature to this item is that the high abrasion points make it high traction as well.
ArchTec
What is ArchTec in Puma golf sneakers? ArchTec is known for this brand's aesthetic design to improve better arch support. Essentially the interior insole and design are ensured to give better arch support to the overall product. Alongside this, the specifically molded design shapes to the foot, better-giving individuals an overall better and more secure fit. With that, we believe that individuals will have improved confidence when wearing this product.
Cost and Value
So, we have some good news and bad news. The good news is that this item's price does not range at all! The bad news is that it only comes in one color choice, and as of now, in a size ten. Therefore, only specific individuals will be able to purchase this product. Overall, it is well designed, made for individuals with wide and larger feet, and designed to withstand the test of time. For the price, we can see it as a great value to many golfers.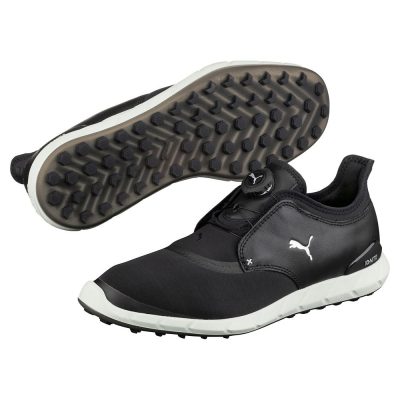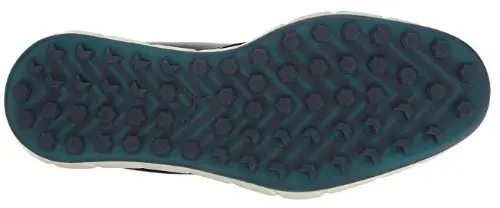 Does this particular shoe remind you of any other from this brand? Yes! Well, boasting somewhat of the same qualities as the Ignite series, this is known as the Puma Spikeless Sport Disc Shoes. In fact, the design is only the major difference between this and the other fan favorite shoe we have discussed. With that in mind, let's talk about two quality features that make this product worth your consideration.
Read more
Ignite Foam Technology
We have introduced this quality design in many of the shoes above and with this one, it is no different. This product boasts the IFT design which is designed to ensure better energy return, better walking, foot traction, and also stability. With that, the item also has a one-year waterproof warranty.
The Exterior Materials
What makes this product such a high-quality item is the well-designed exterior materials. This item has the performance mesh and premium leather upper which is designed for better durability and flexibility. Alongside this, it also makes the item more breathable and allows for better heat management inside of the shoe for individuals that happen to be wearing the shoe all day long.
Cost and Value
As we discuss cost and value, these Puma golf shoes are much like the sister and have a higher price tag than most shoes from this brand. However, it is well worth it and the unique design ensures better quality footing and comfort all day long. For the value, the price is well worth it. If you want quality, expert craftsmanship, excellent cross-stitching between mesh and leather, and of course, traction for the golf course, we highly recommend this golf shoe.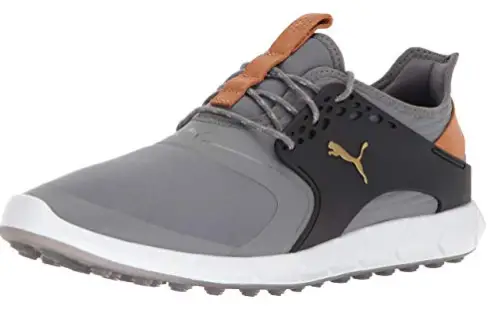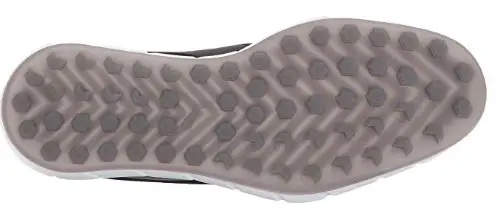 Let's talk about what can be considered the big brother of the Ignite Series. This is the Puma Ignite Pwrsport Golf Shoe and there are two particular reasons why individuals tout and love the quality of this excellent item. Here are two feature of this highly valued shoe and why golfers have made these their go-to golf Puma golf shoes.
Read more
PowerCage
What is PowerCage? Well, it is a highly durable and extremely strong TPU saddle inside of the shoe that ensures better support. Not only that but it allows for better stability and energy transfer in different points of the shoe so your feet and leg can receive better traction and stability when swinging or walking. With that, it is a well-designed shoe that ensures better daily comfort and it is excellent for hilly courses.
Spikeless Performance
These particular Puma golf shoes happen to be made to be a spikeless design. With that, the traction is still highly excellent due to the TPU PWRCAGE and PWRFRAME design that blends maximum traction with a quality outsole that ensures no step is every undercut or overestimated. With this design, individuals can feel comfortable all day long as they walk through the course hole to hole.
Cost and Value
To summarize this series, we believe it is one of the best series that this brand has produced. The Ignite products are known for comfort, durability, and modern aesthetics. This one, in particular, has different design elements and comfort elements that make it a well designed and highly trusted product. With that, we highly suggest this shoe if you want comfort and quality. There are different colors available and different sizes to choose from.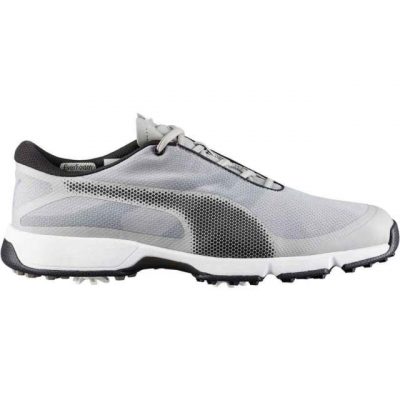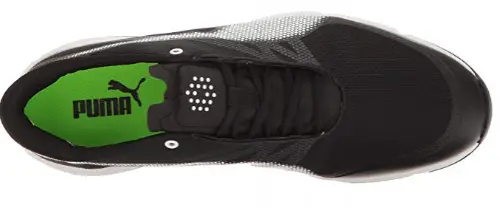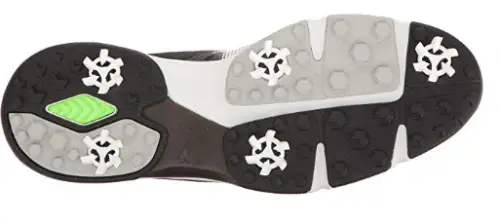 The next Puma golf shoes are different and more unique than most of the shoes from the Puma brand. Resembling a different kind of brand, this is Puma quality with reserved aesthetics. It is a simple shoe with quality design and overall synthetic material that is lightweight and easy to wear all day long. Don't let discomfort ruin your game, this is the Puma Golf Men's Ignite Drive Sport Shoe.
Read more
Performance Mesh
Part of what make this item one of the best is the performance mesh quality. Overall, the mesh is designed to withstand the test of time and also designed for better breathability on the course. Alongside this, the mesh is textured for an improved feel and ensures moisture-wicking qualities. With a one-year waterproof warranty, individuals can wear this all day long for improved comfort and appearance.
GripZone Traction
This item has a different kind of traction bottom design. The traction of this product is known as GripZone and it ensures a spikeless bottom design, but it does have cleats. Overall, the traction is a layout of plugs that make it easy for an individual to go uphill or downhill. With that, individuals also receive a better interior experience with the Fusion Foam interior design.
Cost and Value
To discuss the cost and value, this item is one of the more traditional products from this brand. Overall, it is a well-designed shoe that has different qualities that make it unique. However, it does not boast any special qualities other than refined comfort and a sporty appearance. With that, it has close to five stars so it has peaked the charts as a fan-favorite item due to the reserved quality appearance and the traditional craftsmanship that this brand is known for.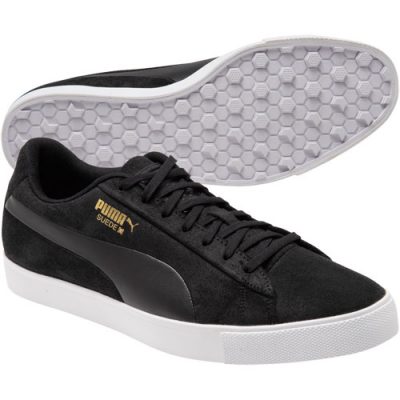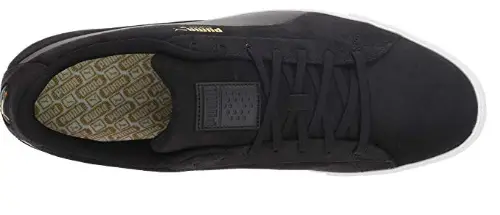 As the last Puma golf shoes on this list, this product is very simple and very common for this brand. The Puma Suede Golf Shoe is a traditional sneaker design with a few innovative features that individuals will tout and appreciate. This item boasts some of the best design elements alongside the sneaker look that individuals like. Let's talk about the two features!
Read more
Suede Exterior
The most common appearance, because the name gave it away, is that this item is made from suede. So, yes, it is a high-quality product. However, it is not made to be waterproof. Suede will get heavily damaged when wet. With that, it is still very comfortable to wear and boasts a high-quality look and appearance.
Pro Fit Insole
Part of what makes this item worth considering is the Pro Fit Insole. The Pro Fit Insole, although not as cushioned as Foam Insole or Ignite Foam, has a quality design and it is very durable. With that, it is a form fitting shoe that is aesthetically pleasing more than comfortable.
Cost and Value
These Puma golf shoes have a very different look than many we have shared. With that, we can expect it to be very high quality, but, it is not as durable as most on this list. For the price, individuals are paying for the suede exterior more than anything else. But, if you love the look, go for it!

Subscribe to our Newsletter