PING G410 Plus Driver
Golf is an incredibly relaxing hobby. It's the perfect excuse to get out of the house, catch up with your friends and just spend some time away from the daily grind and chaos. With that being said, it's so easy to see why so many golfers spend a large amount of time on the course during each visit.
But despite being a relatively relaxing past time, there are a few tricky (and sometimes stressful) issues you need to consider when it comes to your golf equipment.
The first thing you need to consider is what equipment do you already have, namely how old they are too. If you have hand-me-down clubs, then you will definitely need to purchase something more modern. While these family clubs hold great sentimental value, they're not really built or made for modern golfing. They're also not made with day-to-day golfing issues in mind.
Golf companies are constantly creating new and updated versions of clubs, golf balls, and other golfing equipment, with the purpose of being better than anything before it. Not only that but a lot of time is spent in the design process to help you deal with modern golfing and to help iron out the golfing problems most golfers face today.
The second thing you need to consider is if your current golf clubs and equipment are actually working for you and with your style of golf. This goes along with what we've previously mentioned. Manufacturers are constantly updating their products, creating a number of game improving products for different styles of players. If you currently club are not really adding any spice to your game, then you should consider updating your current set for something more influential on the course.
Another small thing you need to consider when buying new golf equipment and clothing is the look and style. While we probably wouldn't imagine it, golfing isn't just about the actual sport, it's also about the presentation. No matter your skill level, if you look the part while on the golf course, your peers are more likely to see your performance (whether its good or bad) in a more favorable light. While we wouldn't say it's a case of 'keeping up with the Joneses', you still want to look the part. It's similar to those novelty golf club covers. While they make hilarious presents to golf obsessed relatives, you're highly unlikely to spot them on the course.
If its finally time for you to update your golf clubs, and you need something that will not only look good but also add a little spice to your performance on the green, then you need to consider the PING G410 Plus Driver. This game-defining club is the ultimate must-have that you've never known you've needed before.
With the G410 Plus Driver, PING has finally done the one thing we golf lover lovers never expected them to do. They have finally implemented moveable weights within the clubhead, which is a huge deal. PING have resisted implementing this new design feature in their clubs for a long time over fears of it causing a loss of CG (Center of Gravity) and MOI. But thankfully, PING has figured out a way of implementing the adjustable weights without sacrificing those things!
The G410 Plus has been specially designed to increase forgiveness and help you reach faster ball speeds, while also maintaining incredible accuracy on your shots (even the mishits). There's little wonder why the golfing community has gone crazy over this product. It's utterly remarkable, and a true game-changer that every golfer will benefit from no matter their skill set.
Pin for later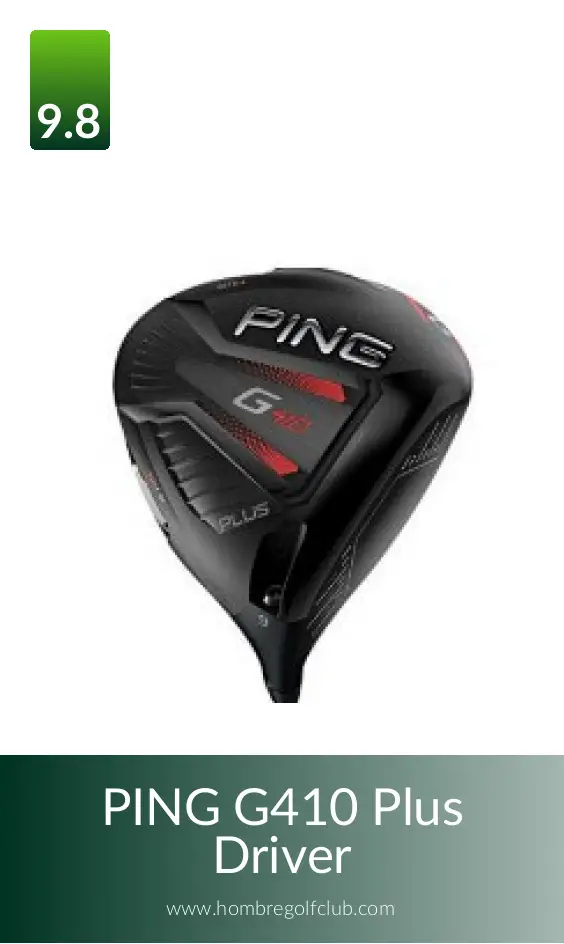 Editor's Pros & Cons
The G410 Plus is arguably one of the most forgiving drivers available on the market this year.
The modified and perfected aesthetic of this golf club gives your golf green look a stylish finish.
This driver offers faster golf ball and swing speeds alongside consistently accurate shots.
Sound and Feel: Quiet, yet solid sound upon contact with the ball while it offers a sturdy and firm feel.
Some golfers will have an issue with the faster swing speeds as there is no LST chose available. Which means it gathers marks from the tee upon the sole readily.
Technology
Modern golf
clubs
are nothing without the incredible incorporation of technology that is within their foundation. As we mentioned previously, golf clubs are regularly updated in order to improve their performance on the course while also enhancing your overall skills at the same time. They also help smooth out those irritating and common golfing problems. These issues could be an issue of CG or inconsistency. Thankfully for all of us, the G410 Plus
Driver
has a lot of features which work towards improving your overall performance on the golfing green.
This particular driver incorporates weights in three custom locations providing you with incredibly high frequency. Not only that, but the back weight shift helps you move the CG location by a tenth of an inch in each of these specialized locations.
This helps improve and influence your shot's direction by roughly ten yards, however, there are twenty yards of improvement between the Draw and Fade settings.
Due to the positioning of the weight within the clubhead, you will notice a change of inertia, especially in comparison with the original G400. This adds additional range as well as forgiveness.
This driver also utilizes trajectory tuning, which is both weightless and aerodynamic. This feature increased from five to eight settings, which offers a variety of loft and lie alterations which work to give you better ball flights.
There have been a few different materials used within the construction of this club too, from cast Ti 8-1-1 body to an adaptable and light aluminum hosel.
The construction of this
club
also uses specially heat-treated and uniquely forged T9S+ face. This specialized treatment means that the club's face is both slimmer, but also offers more influence (especially upon impact with the ball). It also offers optimized internal geometry, offering a more powerful sound and feel.
The shaft also features top of the line Alta Counter Balancing, which offers a higher launch. With a counterweight (specifically eight grams) placed within the grip of the shaft, this helps move the center of gravity within the club. Offering high ball speed and improved forgiveness for overall improved performance on the course.
With all of these incredible innovations with the G410 Plus Driver, there's little wonder why this club is considered to be one of the best Drivers of 2019 has to offer!
Performance
Overall, the G410 Driver performed excellently straight off the bat, which is remarkable in comparison to other drivers that have been made available this year. Obviously, it goes without saying that this is due to a few different things. But, despite this, it's clear to see that the designers at PING really have put a lot of time and thought into this club. Which is one of the reasons why it is such a game-changing driver and an absolute must-have.
On average you will see consistently high launches, relatively low spin, and effective caries. Not only that but you will notice a level of forgiveness unlike anything seen by other golf clubs. Mishits also see strong ball speeds and high trajectory too! Not only that but the range offered to you by this
club
is remarkable.
The G410 Plus has been designed to be more adjustable, this is is very noticeable thanks to the moveable weights within the clubhead. This helps improve MOI and CG. These weights can be placed in three positions: draw, neutral or fade. Reportedly there is a 20-yard difference between the draw and fade setting. The adaptability of the placement of these weights greatly affects your ball flight.
Also, the Trajectory Tuning offers up eight positions that allow you to add or takeaway loft (up to 1.5 degrees). You're also able to change the lie angle too.
PING has also provided you with a verity of shaft options, all of these shafts have additional purposes. For example, the Alta CB Red 55 offers counter-balancing that has optimal launch and is incredibly lightweight.
The overall performance of this ball is utterly remarkable, offering advantageous ranges, high ball, and swing speeds, as well as accuracy and consistency. It is everything you could hope for all within one
club
.
Sound & Feel
In comparison to its predecessor, the
PING
G400, the sound and feel have improved greatly. With the G410 Plus, you have a more sturdy, firm feel and a quieter sound upon impact with the ball.
The noise created upon impact can only be described as a clapping sound, but with a mild bass that is still fairly solid. On mishits, the feel is very stable, while still providing you with accurate feedback in your hands. It is important to note that there isn't much of a change in terms of sound regardless of you're hitting a center shot or a mishit.
Style
Obviously, it goes without saying that the look and feel of a golf club has an influence on your decision on whether you want to buy it or not. After all, if you find it repulsive aesthetically, are you really going to want to be seen with it? That's why you need a club you want to be seen with. One that is stylish and also matches your other clubs while they're all together in your golf bag.
PING is generally speaking well known for creating clubs that stand out, and of course, the G410 Plus is no exception. The form of the heads is both a reasonable size and it's also very aerodynamic in terms of its design and structure.
The chosen colors can be considered relatively safe, however, it also means that this club will blend in amongst your others while they're in your golf bag. The choice of matte black lends itself to PING's signature color while also offering a classicly stylish feel.
The turbulators are located on the club's crown, which according to PING, makes it more aerodynamic, improving ball speeds. However, the preference of the tabulators will vary depending on your preferences as a golfer. Some prefer them, others hate them.
Overall, the
PING
G410 Plus is an utterly stylish driver that is fashion-forward and an absolute golf caddy must-have that you won't be able to live without!
Key Features
Generally speaking, the G410 Plus Driver is a very stable product that provides you with a great deal of forgiveness, and offer unbeatable ball and swing speeds alongside improved MOI.
The inclusion of the adaptable weighted clubhead has really been a key stand out feature, which is still relatively new to PING products, as they've often avoided this feature due to fears over lessened club benefits.
This club outperforms any PING club that came before and offers a slimmer clubface and faster performance that is utterly unbeatable. The overall design and construction is very appealing, and will certainly be desired by a wide range of golfers (regardless of their skill set).
Thanks to the club's impeccable level of forgiveness, distance, consistency, and accuracy, it's set to be this year's must-have club.
Key Features


Adjustable weights placed in key Center Gravity locations.


High-tech Trajectory Tuning Version 2.0.


Use of specialized materials within the foundation of the club for added flexibility, weightlessness and improved ball speeds.


Patented, heat-treated T9S+ clubface.


Wide range of shafts for you to choose from.


Bottom Line
It's clear to see that PING truly has created a game-changing club with the G410 Plus Driver. This club offers improved CG and MOI thanks to its adaptable weighted clubhead. It's a truly impressive addition to your golf caddy, one which we're sure you'll appreciate.

It's one of the fastest, accurate and consistent drivers available on the market these days, and it will certainly help you squeeze a few extra yards of distance with each hit.

If you're in the market for a new driver, and you want to improve your performance on the golfing green, then you certainly won't go wrong with this club!
Subscribe to our Newsletter