Ping G400 Hybrid
Take your next round of golf up a notch with the G400. This incredible club works towards improving your range on the course and offers incredible forgiveness too. Already this club promises to be an incredible addition to your golf equipment.
Providing you with astounding feedback, the creators of this incredible club have prioritized user-friendly features that many golfers of all abilities will benefit from.
There only really appears to be one negative side of this club, and that rests in solely in its looks. The appearance of this club isn't exactly the best, especially in comparison with its peers that are currently available on the market.
The main goal of many hybrids is to launch your ball higher than any iron you may have in your bag. They try to do this with a simple and easy hit on the head, which means it lands steeply enough that it lands on the green. Thankfully, the G400 hybrid does just that.
As I mentioned, the G400 aims to help you maximize your ball flight and tighten your dispersion pattern. Ping has managed to achieve this with the use of Maraging Steel. This has majorly reduced the thinness of the club's face, which results in an increased ball speed of 2 miles per hour.
With a thinner face, the creators of this club have been able to save weight, relocating it elsewhere in the head. This then increases MOI, reduces twist to help you create straighter shots and tighter dispersion patterns.
As you can see so far, the PING G400 hybrid is already establishing itself to be an updated version of its predecessor, the G Hybrid.
Pin for later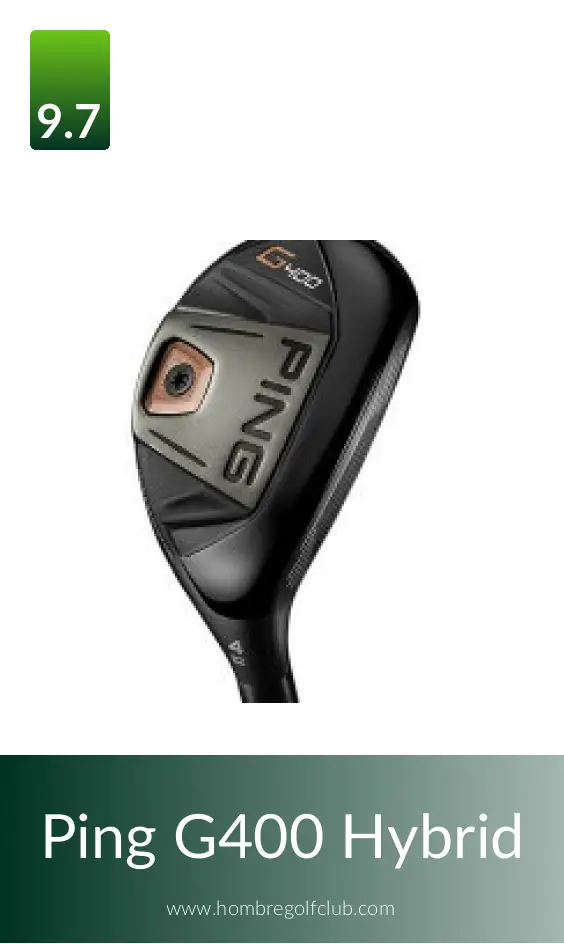 Editor's Pros & Cons
The range gained with some assistance of this Hybrid is astounding.

This is an amazingly forgiving club and provides good feedback on your hits.

There is a lot of potentials, chiefly with longer hybrids.

The audible feedback is quiet yet sturdy. This is great for creating a seamless transition between clubs.
The unusual design isn't initially alluring, especially when contrasted to different hybrids that are obtainable at the moment.
Appearance
As you can see, the
club's
head is softened, more rounded when you first look at it. You'll also be able to see that the turbulators have been enlarged and placed on the crown.
While this doesn't hold any particular aerodynamic benefits in the head (especially one of this size), this design choice does match the aesthetics of the G400 by framing the
shot
on the address.
While this style and arrangement may not be to everyone's taste, for some golfers it will certainly hit the spot. The white and black grooves work to develop alignment and do a good job of this, while the rough face surface decreases spin.
This club has a small gold weight which is located towards the rear. This
hybrid
is made from 30% denser materials, so the weight helps to increase efficiency and weight placement.
The weight is also removable, leaving its place within the club to your discretion.
The changes within the club, especially in terms of technical changes, can be seen almost immediately. Because of the use of Maraging
Steel
, this club is 11% thinner, 35% more flexible upon impact, and 10% lighter. It also helps you gain an increased ball speed of up to 1.5 miles per hour.
This is one of the first instances where the creators have used Maraging Steel within the face, combined with 0.48mm thin 14-4 Stainless Steel. This choice allows you to save weight within the top of the crown, positioning it lower and towards the rear of the sole, increasing launch and forgiveness.
The depth of this head is exceptional, which means it will suit
players
of different abilities.
Control & Performance
When investing in a new golf club you need to ensure the end result itself is going to be a relatively successful one. Particularly in terms of how it handles on the green and getting the results you want. Higher speed and greater distance.
The G400 promises to deliver on the course. It even proves itself to be a life-changing club which works towards developing your skill set as a golfer. Who wouldn't want that?
As previously stated, the goal of hybrids is to improve your
ball
launch. The G400 is certainly becoming well known for its consistently impressive and successful outcome. Regardless of the environment or position, most golfers and testers have found no problem with thrusting the ball into the air. Though there were some who found the trajectory of the ball to be moderately sharp.
There are some players out there who substitute their larger irons with a combination club, this is due to the fact that some golfers have grapple with their irons in order to get them high. As a result, they're unable to hit the ball as far away as they'd wish to. The G400 Hybrid promises to help players to gain some much-needed
range
and trajectory.
Remarkably the ball's reach and height held itself to be true, despite moments when the strike itself has been a bit thin, underpinning its high level of forgiveness. The ball speeds produced by this club are steady. You're even able to gain a few additional
yards
(5-10) in terms of distance.
Both the noise and feel of this club are impressive, falling somewhere between a solid thud sound and a volcanic crack. This pleasing feedback is also incredibly detailed and
essential
.
The creators have also put a lot of attention onto the club's potential, especially in terms of stopping power. This club has incredible stopping power, especially in comparison to other clubs that are available at the moment.
This was accomplished using a new substance within the face, Maraging C300. Alongside this, they also used a unique center of gravity anchor which is not only profound but depressed as well. This way you are able to get a more effective launch. The finished product is a
greater
trajectory, allowing golfers to operate from longer distances.
Build Quality
The bottom of the
club
has a golden weight, which is significantly smaller than its black equivalent, which can be found on other hybrids. This difference is the result of the use of denser material. As we've previously mentioned, this weight is removable. But it's important to leave any modification or changes to the hands of an expert.
It's the first hybrid that uses Maraging Steel within the construction, which is 11%
slimmer
than it's predecessor. It also has increased flexibility and is lighter in comparison.
The use of 17-4 steel also streamlines the appearance of the club, creating a thinner aesthetic. Not only does it create a sleeker and thinner appearance, but it also creates additional flexibility within the
club
face.
Because the weight is positioned deep within the head, this lowers the center of gravity, adding additional forgiveness to the club.
Golfers
who use the G400 will also see an improvement in terms of ball speed and additional forgiveness.
The incredible performance of the G400 is completely down to the incredible design, innovations used within its construction. The combination of all of these things works towards developing and improving your skill set on the green, as well as achieving incredible ball speeds, launches, and
distance
.
Ball Speed
Compared to its predecessors, the
G400
Hybrid promises additional range and quickness, ranging within 1.5 to 2 miles per hour. This incredible advancement in terms of
ball
speed is the result of the creators using Maraging C300.
This is one of the best and toughest materials in the world. Upon impact with the face of the hybrid, it is 35% more flexible. The increased faced flex produces greater trajectory and faster speeds for many players, regardless of their skill set when it comes to golfing.
Technology
What makes the G400 so
incredible
is its constructions. You can tell that the creators spent long and hard focusing on the construction of this club. Working hard to create something that will benefit you and your performance on the green. With this particular product, you can see and appreciate all the advancements incorporated into it.
Using the latest available to them in terms of design and
technology
, the designers of the G400 hybrid have been able to create something truly innovative and beneficial to golfers of all abilities.
To create more flexibility and a sleeker finish, the designers have used innovative maraging steel within the face. This creates a higher ball speed, alongside greater distance. It also has an incredibly thin crown, which utilizes 17-4 stainless steel for a weight saving feature. This optimizes and lowers the center of gravity, increasing your total MOI and forgiveness. The turbulators and groove formation also provide a captured look.
Reduced spin is achieved through the face's unique texture, while the cascading sole optimizes the flexibility of the face for a grander launch.
Alongside that the back weight also works to increase the MOI and forgiveness of the club, maximizing stability and enabling you to customize your swing weight.
The last key piece of technology used is the Alta CB Shaft. This is a unique counterbalance design which allows for more mass in the head, thus increasing energy transfer.
Value
With all the incredible features and benefits of the G400 Hybrid, there's no wonder why so many people are raving over this club. It's a considerable step up in terms of technological advancements and performance. Ping has once again done an incredible job creating a perfect, yet elusive balance between feel and forgiveness.
The G400
Hybrid
is worth investing the money, especially if you're searching for a club you can depend on time after time.
Key Features
The G400 Hybrid is a solid club, which is no surprise when you consider how incredible it's predecessors within the G400 family have been in the past.
It's small structure and traditional aesthetics, alongside its low-key graphics, finish this beautiful form. With a lot of incredible tech, innovative design, you'll make short work of lengthier approaches, plays from tough lies and tee shots.
The G400 promises to be the ideal game-developing club suitable for golfers of all abilities.
Key Features


This Machined Back Weight is thick and works to enhance your MOI, maximizing stability. It also enables you to customize your swing influence.


The incredible thin head, created with 17-4 Stainless Steel, maintains density and improves the center of gravity, boosting MOI.


Slimmer and amenable Maraging Steel Face produces distinguished ball speeds and range.


The use of a textured clubface works to decrease turn, which also works to develop face flexing which ultimately creates an exceptional launch.


Bottom Line
Ping
claim that the G400 Hybrid is the only one of its kind that you'll ever need in your golf caddy. It proves to be stable, sturdy and designed to increase range and launch.
As previously mentioned, it was created using a wide range of technology, including maraging steel. This steel is a toughened steel alloy which, when you hit the 'sweet spot' your shots will go further and be more consistent and accurate.
The most noticeable feature of this club is the interchangeable weight system within. This allows you to customize the center of gravity to fit your playing style. All you need to accomplish this is additional weight and screw. Within seconds you'll be able to change the weight distribution of the club, remarkable isn't it?
However, please be advised that it can be easy to affect how the weight distribution feels. Particularly if you are uncertain of what you are doing.
This club may not be ideal for some beginners, but it's generally perfect for many others.
Overall, the G400 Hybrid prove themselves to be a worthy investment and an absolute must-have for anyone looking to develop their skills on the course and enhance their performance. With its long list of incredible features, higher ball speed, improved distance and much more, this club is a game changer.
Subscribe to our Newsletter