PING G400 Crossover
First started in the 1950s out of a garage in Redwood City, CA, PING, is known for their ground-breaking innovations in the golf community. We found that they have mastered exceptional concepts which include custom fittings, investment castings, cavity back designs, heel-toe balance, and much more.
Founded by Karsten Solheim and his wife, his mission was to use "the simplest laws of physics and mechanics" which will create a putter that would significantly advance his game on the golf course. From this moment on, the company began to evolve and grow into the top quality company it is today. With that being said, we have reviewed another one of their most popular models, the PING G400 Crossover.
After conducting extensive research on this product, we have concluded that many users agree with its immense improvements in speed and forgiveness. This is very attractive to all advanced golfers because at the end of the day, who wouldn't like to hit longer and higher. Also, another feature that stood out to us was the increase in the way the golf ball stops with this club. Therefore, if you are in search of a new iron to add to your collection, this option by PING is a must-have.
Pin for later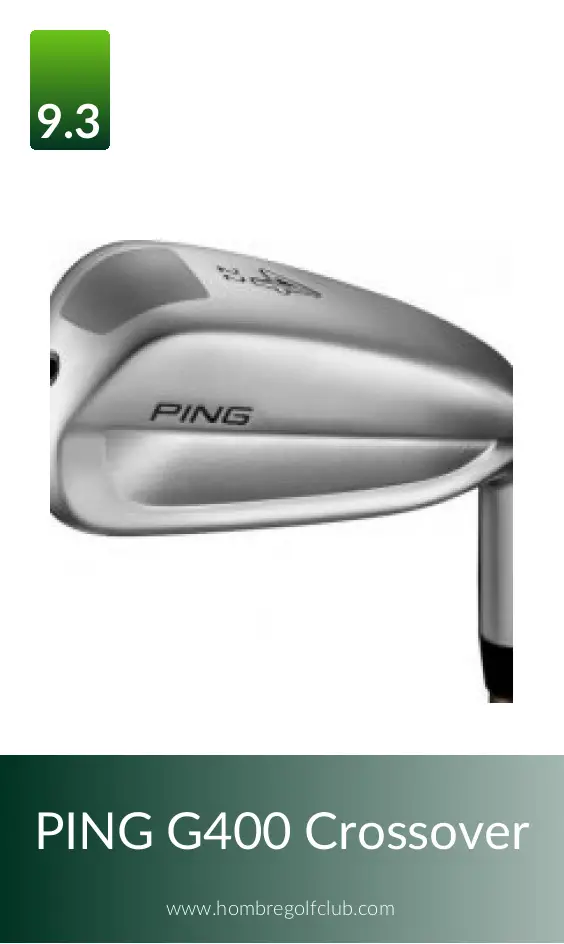 Editor's Pros & Cons
We guarantee that this crossover will increase your overall performance on the green
Increase in speed and forgiveness
Thinner sleek design, almost like a hybrid club
Hydropearl Chrome, top quality finishing which reduces friction by 40%
Users say it is easy to align and set up square
The durable material used to construct this product is top shelf
Comes with a headcover
3,4,5 iron options available
Customizable shaft and grips available
Recommended to use by the more advanced player
A tad bit pricey for a crossover model
Build Quality
Compared to other G Models, this option by PING is designed to be a replacement between fairway woods and long irons. Specifically, we found the head profile to be much slimmer than previous models. With a thin hybrid sole, this ultimately reduces the bounce and camber. When these two features are reduced, this will allow you to achieve more consistent interactions with the turf and increasing forgiveness overall. Also, with this product, you will actually be able to see the tungsten weight in the toe as well. PING designed a 20-gram tungsten toe weight that assists in increased forgiveness and tighter dispersion upon hit.
After doing extensive research, what makes this product by PING stand out the most in our opinion is its Hydropearl Chrome finish. Not only is this aesthetically pleasing to everyone's eyes but with this finish, it has been tested to reduce fiction by 40%. The reduced friction can improve your launch, especially if you are launching from rough or wet grass. As this product is a crossover, we also saw that this option has Iron-like gearing. With that being said, this improves your spin consistency by 40% and helps create less shot bends in total. With its flat face, you will easily be able to square and align each time.
Also, this option by PING is designed with a fancy copper shaft, Alta CB. This feature will allow you to have more head mass which follows with increased energy transfer. This
uniquely colored golf shaft
is copper but when you put it down against the golf ball it almost looks black. This is a pretty cool feature if we must say. Overall, this 2nd generation crossover is a great choice if you are looking to add a lightweight, aesthetically pleasing and well-rounded iron to your
golf bag
.
Performance
Are you looking to improve your initial launch? Well, look no further, this option by PING will not disappoint. We discovered that with this crossover, you will not only be able to hit the ball high and see it travel very fast, but you will also notice how it lands exceptionally soft on the course.

When searching for a new club to add to your collection, we found that these features, in particular, are the most important in everyone's search: ball speed, height, playability, and forgiveness. With that being said, this club was designed with all those features in mind. PING discovered that you can increase your overall trajectory by at least 15% if you increase the loft 1%. As for forgiveness, the C300 maraging steel face also promotes faster ball speeds in combination with stopping power of up to 30%. Not bad at all.

Overall, we found the primary function of this club to be its thick tapered face compared to its different bottom half. Again, this design allows for the ball to be hit very high in the air. One last thing we'd like to make note of performance wise is its sole. Users indicated that the sole of this crossover helps reduce the bounce and camber. You may be wondering what that means, right? Well, this feature will allow players to have better consistent interactions with the turf and increased forgiveness. At the end of the day, if you prefer an iron, we guarantee that you will enjoy this one.
Materials
Investing in a product that is made with top quality materials will not only increase your performance on the green but it also means that the product will last longer. The last thing you want to worry about on the course is your club breaking or falling apart during a match. From their interchanging shafts to
maraging steel
faces, PING's clubs will help you achieve higher scores on the golf course.
Throughout the years, we found that PING is becoming more and more innovative in their styles and designs. They are a family owned company that is standing their grounds in creating top quality products for us consumers. With that being said, it is evident that compared to last year's model this product has made great improvements. All in all, PING knows exactly what they are doing and is why they are very well known and trusted in the golf industry.
Ball Speed and Control
As we've mentioned above, this product by PING will allow for your initial launch to be high and fast. This crossover promises stable and straight trajectories on the green, allowing you more control at the grip. Since PING decreased the bounce of the sole with this club, you will immediately notice how fast and how high the ball will fly once you hit it.

Also, again we'd like to note that the thinner soles play a huge role in this design as well. Users and reviewers all state that the thin sole allows for increased forgiveness, which is always a plus. You may also be wondering, do we gain any distance with this club? Yes, some have stated that they have gained up to 10 additional yards.

Stopping power is another feature we find important to mention to you. We were surprised to find that when you use this crossover, the ball lands surprisingly soft and fast. That control is quite impressive in this sport. We compared this to others on the market and there is not much to compare it with.
Technological Advancement
Like all of PING's products, you can automatically assume that you will be receiving a well-constructed product. PING not only stays up to date with the advancement of today's
technology
but they also make sure they get feedback from their consumers. This allows them to tie today's evolving technology with your feedback to create products that will improve our game overall. With that being said, if you are a mid-handicapper, this option by PING is a great choice. It is a no brainer that this product will improve and make your shots consistent.
Sound and Grip
Surprisingly, the sound of how the club hits the golf ball is another feature that avid golfers take into consideration before buying a new club. Well before heading to your local golf store, we'd like to share with what current users described the sound as. From our research, we found that this option by PING is very audible and clunky when hit. Some users don't like the sound and some do. For those who don't like it, they've noted that it sounds too loud and can be a distraction to other golfers. On the other hand, those who do like it, like it because it makes them feel like the hit was solid and straight.

As for grip, we discovered that users are very happy with how this model feels in their hands. We find this to be another important feature because the size of the grip will highly influence the action of your wrist and will ultimately affect the direction of where the golf ball will go once hit. PING offers a wide variety of different grip sizes and styles and we are positive that you will find one that fits your hand size. If you are concerned with the fades and slices, it is recommended to choose a grip with a smaller diameter. On the other hand, if you are concerned with draws and hooks, the larger diameter grips will work better for you.
Value and Cost
If you consider yourself a mid handicapper golfer, this product by PING will make a great addition to your golf caddy. Also, if you plan on improving your skills, we highly recommend taking this crossover into consideration. Yes, crossovers sit anywhere between your long irons and hybrids. With that being said you get the best of both worlds, the forgiveness of a hybrid and the feeling of control of a long
iron
.
Even though it is a tad bit pricier than other options on the market, it is evident that its benefits cannot be compared to its price. From all the reviews, we can confirm that these products multi-functions are highly effective. In conclusion, if money is not an option, we recommend giving this crossover a try.
Key Features
With all the different options on the market, choosing the right club for you might seem challenging. Well, after doing extensive research in PING's G400 Crossover, we believe that if you are looking for a club that has an outstanding initial launch with impressive stopping, this is the one for you. Continue reading to learn about our key features:


Its Hydropearl Chrome finish is their top quality finishing which reduces friction by 40%


Increase launch, ball speeds, and forgiveness


Compared to last years model, you can visibly see that it is tungsten weighted in the toe, 20 grams


With this product, you can change the loft and line angle on it to customize its fit specifically for you


This club glides through the turf


PING is one of the leading companies in the golf community


Optional grips and shafts available for customization


Bottom Line
As we mentioned above, even though this option by PING is aesthetically pleasing, it also performs exceptionally well. This product is easy to use for advanced golfers and will help you keep your shots solid and consistent throughout your time on the green.
We already know, PING is a leading company in the golf community. They have invested hours upon hours designing the best golf equipment out there. From other users, we found that PING does a great job getting feedback from consumers and golf professionals. This is important because this allows PING to design products based on the consumer's needs, making a perfect fit almost every time.
In conclusion, we hope that you found this review to be of some help during your search for your next new club. We can assure that if you choose this product you will be exceptionally pleased. We recommend this option to avid and professional golfers. But don't worry, if you are a beginner and interested in this product you can still give it a shot. Furthermore, even though there are so many options on the market today, if you prefer an iron club over a
fair wood
or hybrid, this crossover by PING should be highly considered.
Subscribe to our Newsletter