Ping G Irons
If you're interested in purchasing a new set of golf irons, then you should consider the Ping G iron set.
Made using the latest in golf technology, Ping has combined COR-Eye technology, previously used in the GMax irons, and the compact G iron for a more high tech approach to your next golf game.
The COR-Eye technology used can be seen towards the back of the iron's head. The use of this tech increases your ball's speed.
Compared to previous irons, such as the G30 iron, the face of the G iron is 32 percent slimmer. This means that the iron is able to bend much more upon impact.
The use of COR-Eye technology is not the only highlight of this iron. Because it uses Hyper 17-4 Stainless Steel within the iron's head, it's able to keep up strength while maintaining its thinness. In order to be 40% stronger than traditional stainless steel, the 17-4 Steel has undergone 6 hours of heat treating, reaching temperatures up to 1040°C.
With a deeper cavity, the face of this iron appears to be free standing. Using CTP (Ping Custom Tuning Port) is positioned towards the following sides of the hollow. This is used as a weighted pad, which alters the club's center of gravity, making it slightly deeper than traditional irons. All of this works to alters the MOI. However, it also helps with resistance and off-center hits.
Pin for later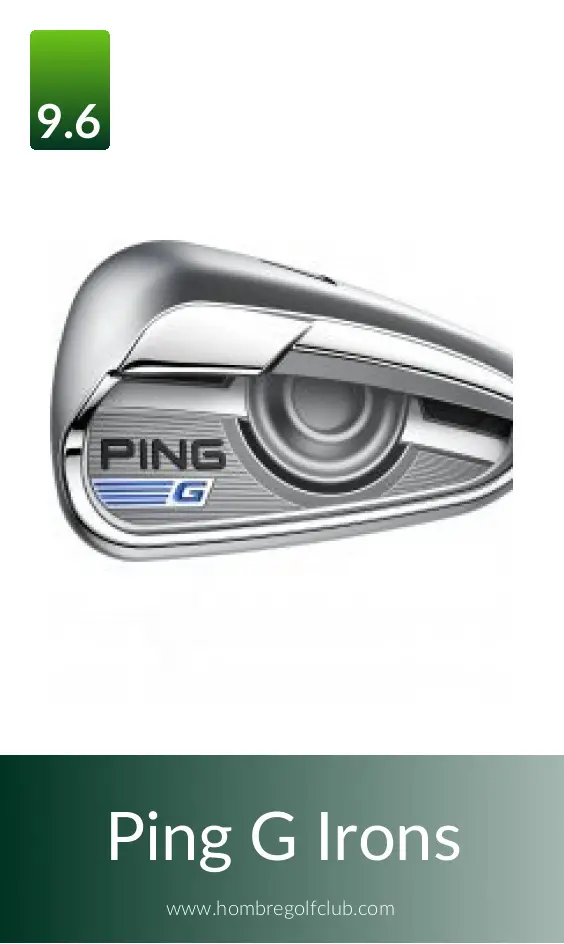 Editor's Pros & Cons
Using the latest in golfing technology, the Ping G iron promises improved MOI,
The sleek construction of the iron ensures it is 32% slimmer than Ping's previous designs.
40% stronger than traditional irons thanks to the process of heat treatments in order to create the Hyper 17-4 Stainless Steel.
Promises improved distance and forgiveness.
The design can appear bulbous and insipid.
Appearance
Compared to previous Ping irons, such as the GMax or the G30, the G iron has a similar
appearance
. The main difference in the G iron is the more compact face, and a difference in color as the G has a lighter finish in terms of its color. The blade of the iron is also shorter in length. Despite the shorter length, this
iron
promises the same loft as its predecessors.
The profile of this iron is also more sleek, particularly thanks to its slimmer appearance, especially when you compare it to the GMax and the G30. It's thinner construction is thanks to the rounded top line, which sleeks its form.
The updated color of the G iron is partially thanks to the recently released
Ping
I iron. The similar color profile means that you can blend the G iron in with your other golf clubs, such as the Glide wedges.
Another incredible perk of this iron is that its amply sized sole of the G iron, along with the restructured cavity, allows more
weight
to be pulled back.
Compared to the GMax, the fuller adhesive on the back of the head gives you a 22% greater surface area. As a result, the feedback given from the iron (in terms of sound and how it feels in your hand) is exactly what you'd anticipate. Thus, making it a must-have iron for anyone looking to
improve
their game.
Ball Speed
Ball speed is one of the most important things you need to consider when choosing a new
iron
set. At the end of it all, you need to be certain that your iron is both
accurate
and effective, especially when it comes to ball speed.
The G iron uses COR-Eye technology to generate a higher ball speed, especially in comparison to the G30. The
COR-Eye
even gives a noticeable variation in club speed.
This iron, in particular, has gone further than the Ping i-iron. However, you need to take into account that the six
iron
set has a slightly weaker loft.
However, when you compare the G iron's loft to the G30 and GMax, you'll see that they're relatively the same.
Comparatively, the G iron and the GMax perform similarly to one another, except for one area. The GMax has a larger head, which generates further MOI. Meaning the accuracy in the GMax gives higher dispersion results compared to the G iron. Despite this, this particular iron still produces decent MOI in comparison to other irons.
Lastly, according to PING, the use of COR-Eye technology
increases
the face's flexibility. This makes this particular iron quadruple times more flexible in comparison to the G30 iron.
Technology
This
club
has been created using recent improvements in the golfing industry. This was done to assist golfers to achieve further range as well as consistency amidst their hits. The main advancements handled within the G
iron
is the COR-Eye. As we mentioned beforehand, this increases flexibility. Because of it's improved the flexibility it generates a greater ball speed more frequently.
This works to gain more speed and range, as well as creating perpendicular landing points. This promises to keep your ball on the course.
The sound and quality of this iron was something Ping put a lot of time and consideration into aswell. Why? Because they realize that it's an important quality to the average golfer. By giving the G a slimmer profile, they can significantly reduce the volume of weight in a specific area. This weight is then dispersed to the low toe, including the edge of the club. This creates a
greater
MOI, thus increasing
forgiveness
.
An extra piece of key technology used is the Ascending
Weight
Technology shafts. This improves the overall performance. This assists golfers with squaring the impression, ensuring they're able to achieve a higher swing speed. However, it also works to improve the character of the club as well as promoting trajectory.
Sound & Feel
Performance
In order to access the overall
performance
of the G iron, we need to consider three key things: distance, playability, and
forgiveness
.
The length of the G
irons
are long, however, they tend to land more softly compared to other distance irons that are available on the market. This is perfect for increasing your scoring potential throughout your game. While they may not be the longest irons available to you at the moment, they're long enough for any
distance
obsessed golfer.
When compared to several different irons the g iron offered a longer range. On average there was a difference of five yards. It was also shown that there was an increase of ball velocity of 1.25 miles per hour, alongside a 0.5-degree loftier launch angle as well as a reduced spin rate of 250 rpm.
They even work to overcome
ball
speed forgiveness on off-center strikes. The overall ball speed is excellent and very desirable to have.
The average ball flights with this club tend to be straight and reasonably high, offering a perpendicular landing angle. More experienced players can use this club to their advantage, shaping shots to a certain degree.
A wide sole helps cleanly scoop shots out of rough terrain and fairway bunkers.
If you're searching for an easy to hit the club, then look no further. This is one of the best clubs for any golfer trying to improve their game. Offering minimal loss in terms of ball speed of off-center hits, this iron proves itself to be an impressive champion.
This
club
, in particular, has a tendency to rescue severe heel and toe misses. This is mainly due to the positioning of the CTP, which produces higher flexibility and higher MOI.
Launch/Flight
If I had to sum up the
launch
of this particular iron in two words it would be consistently high. While that may seem like an overstatement for anyone who hasn't used it yet, be rest assured that this particular club lives up to its reputation.
Delivering an impressively high launch was one of the main design goals in the creation and construction of this
iron
. So naturally, this information should come as no surprise. This club was designed to ensure the ball goes high and maximize playability, regardless of the hit.
Within the set structure, the CTP (Custom Tuning Port) allows the club to push the center of gravity lower. Thus, the overall launch angle is increased, changing the MOI for extra forgiveness. Alongside this, you also have the AWT 2.0 shaft, with its change in weight. This is designed to help you control and increase the ball launch.
Within the longer irons, you have a lighter shaft, while they get heavier into the wedges. The mix of these two things make for a more appealing iron and increased ball flight. A desirable advantage for struggling
golfers
who need a helping hand.
Structure & Materials
The overall structure of the G iron has been
rounded
out. Not only does this give the design a refreshing touch, but it's also hasn't been overdone. With the use of COR-Eye and the circle depression, there is a lot happening within this
club
. It's unique and interesting structure is certainly a focal point many golfers notice about this piece. The majority of the technology used in the construction of this is visible, meaning you're able to see it in action. While this may be an undesirable feature for any golfer who is interested in maintaining a sleek and simple design, this complex and layered structure will be of interest to others.
The rounded structure of this iron creates a smooth finish, while the main body of the club holds their own throughout whatever testing you put it through.
Key Features
The G iron is a must-have if you're looking to improve your game. Not only is it accurate and reliable, but its also a club you can depend on. It's incredible design and inspired use of technology means that hitting the ball on the club's sweet spot is easier than before. Generating a higher ball speed and gaining forgiveness on any off-center hits is simpler to achieve.
While naturally high-hitting golfers may find the trajectory too high, many other golfers will be able to use it to their own advantage.
Key Features


Improved flexibility thanks to the incredible use of COR-Eye technology


Heat treated Hyper 17-4 Stainless Steel works to strengthen the club.


Deepened CG (Center of Gravity).


Specially placed Custom Tuning Point.


Additionally, support due to Ascending Weight Technology.


Soft and crisp 'click' sound upon impact with the ball.


Bottom Line
The G iron lives up to its reputation as an incredible game-changing club. It's an incredible improvement from the previous model, G30, and continues to deliver with its high-quality performance. This club is not only a must-have that delivers in more ways than one, but it is also a club that was designed to help you with your golf game. It's a real advantage to have this in your caddy.
It's a worthwhile investment that promises to benefit your ability as a player and helps to make your next game of golf a more pleasurable experience.
Not only will your shots go further but it'll be more accurate and consistent.

With its impeccable design and structure, this iron promises to earn your favor from the very first swing. Not only is it simple to swing, but its handy length promises to assist you.

If at the moment, you're struggling to achieve a desirable distance and speed, and you're looking to improve your game, then you need to seriously consider trying this head-turning club.
Subscribe to our Newsletter