Oakley Gascan
Golf is very enjoyable, and for many golfers a relaxing game, despite the fact that it is approximately played for about four to six hours. And, if you are just a recreational golfer, then you probably tend to play golf during warmer and sunnier days of the year. But if you are a year-round golfer, and if you play under different weather conditions, you still need one of the most needed accessories for any sport outdoors (including golf)- the sunglasses. It is unimaginable to play golf under the sun, and this is why today we're reviewing Oakley Gascan, the most versatile and the most protective sunglasses on the market.
Sunglasses are definitely some of those product categories that feature extreme versatility in terms of design and quality, which directly influences the price range they have. From irrationally expensive to insanely cheap, you are bound to find anything on the market. However, we are not going to focus on the extremes, as Oakley is a reputed company that is known for its high-quality products, including sunglasses, that are often mid-priced. In fact, Oakley Gascan shades are the ones that, according to many golfers, are underpriced as they feature exceptional quality and durability.
And, as a golfer, you must have come to the point to seek the unprecedented and uncompromised quality since spending more than four hours on the course for many golfers has been a grueling experience when the sunglasses they wear don't provide them with the sufficient protection. As a golfer, you'll be exposed to the sun and oftentimes you'll be facing the sun too, which is super disturbing, and in case you are adequately protected from the harmful sun rays, you won't be able to focus on the ball and have a centered shot. 
Needless to say how frustrating it can be for any golfer to be prevented from producing good shots only because the sunglasses he/she is wearing fail to provide adequate protection. Therefore, we are set on a mission to present you with some of the most recommended golf sunglasses– Oakley Gascan, so stay with us to get to know what they have to offer.
Pin for later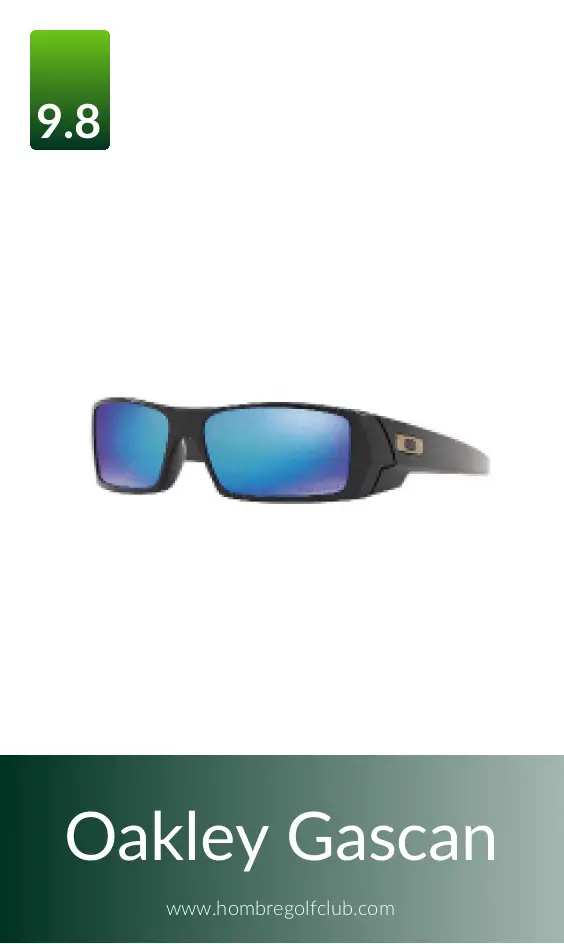 Editor's Pros & Cons
The lenses are made from Plutonite material
Maximum, 100% UVA, UVB, and blue light protection
Patented High Definition Optics (HDO)
O Matter impact-resistant, extremely flexible and shape-retaining frame material
Multiple frame and lenses colors and patterns
Available in prescription
General Description
Oakley has been on the market for quite some time, and its product range is quite wide, ranging from sunglasses, goggles, apparel, watches,
golf backpacks
, and other accessories. It is a proud owner of more than 600 patented designs which positions the company among the companies that invest a lot in research and development, and which offer unique and advanced designs and solutions.
When it comes to their sunglasses range, the number is very high, and you can find multiple shapes and colors. But, it isn't just the shapes and the colors that distinguish them, since once you start reading about a chosen product, you realize that the scope of innovations goes beyond design features as there are multiple technological advancements, and innovations utilized within. The choice of the materials and their blend extends the limits of their ordinary features, making them much more advanced and better performing.
The Oakley grip which was the first of its kind is still being used today, of course, accompanied by many advanced innovations as well. The Oakley's Gascan features several technologies that provide them with features that are hard to beat, such as impeccable 100% sun protection, unique aggressive shape design, and extreme versatility.
Frame Design
This model is a wrap design and that's what makes them sport preferred. The wrap design is usually recommended for high-intensity sports and sports that have sudden movements or multiple movements. But, you might think there are many wrap models, and they all perform the same function, and yes, you'd be right. However, the Oakey Gascan is the model that has reshaped the traditional wrap shades into their unique design.
You'll see that that the traditional soft curves have been replaced with straighter edges and much more emphasized lines. They are the first wrap-style Oakley's shades and one of the most sold on the market. They give an impression of sturdy and slightly aggressive
polarized sunglasses
with an attitude of 'we rule the world'. The robust-looking hard frames wrap your face around protecting the edges of your eyes and your peripheral vision from the UV radiation, the glare, and the blue light.
Another interesting feature that we need to mention is the design of the hinges which looks ultra-modern and if you are looking for something drastically different from your grandpa's sunglasses then Oakley Gascan is the go-to model. The hinge mechanism is sculpturally integrated, featuring a dual cam action that makes them stylish and functional. This way, people with larger face shapes can easily wear them without worrying too much about breaking them.
Frame Material
At first, glance, what an untrained eye might spot, is just some plastic, making no additional difference on the type or the quality. And, we have to admit, for many people out there, plastic is just plastic, not a very popular type of material. Unless it is O Matter plastic. You see, this proprietary Oakley's high-end plastic which features different properties compared with the ordinary plastic.

Firstly, they are considerably lighter compared to the common plastic material used in ordinary, no-name sunglasses but at the same time considerably more durable. The material is very tough, and it is almost impossible to break it, while at the same time it is characterized by maximum flexibility, so you could easily bend then without being afraid that they might break. This material quickly regains its shape and can be worn on any head shape.
Frames Colors
We previously mentioned that the versatility of this model might be the highest among the manufacturers since they come in about 30 different color options. This is an incredible variety and even the pickiest can find something that will suit them. The frames come not only in different colors but they also come in different patterns as well. So, buyers can choose from different camo patterns, polished black, grey and brown, matte black, white, grey and brown, Multicam, and even blue. These frames are perfectly combined with equally varied lens colors.


Lens Design
The frames are definitely important to enhance the style and the fashion appeal to buyers, however, it is the lens quality that makes these sunglasses exceptionally functional and effective. The lenses offer 100% protection from the UVA and the UVB harmful sun rays, and the blue light. This is extremely important to emphasize since the UV radiation can cause very serious deterioration of the eye health and in extreme cases, it can be a direct cause of blindness. In addition to the UVA and UVB sun rays, the blue light exposure increases the risk of macular degeneration and damage the retina.

The lenses feature polarized High Definition Optics (HDO) which delivers impressive optical clarity with a boosted razor-sharp vision from every possible angle. The material used for the lenses is Plutonite, one of the most impact-resistant polycarbonate materials that mimic the function of the glass, just it is incomparably tougher and more durable than the glass. When the dye is applied, the Plutonite is broken into micro-segments so that it gets the same coloring everywhere. Made like this, it gets uniformed consistency in all angles. This material additionally provides clarity and UV protection from many different angles. However, it is the patented Prizm technology that makes all the difference and that we are going to discuss it further.

Prizm ™ Technology
All the benefit of wearing the Oakley Gascan comes from the lenses which have been made with the use of Prizm ™ technology. It is the technology that makes the difference in terms of seeing the world around which completely modifies the perspective and clarity. Many reviewers claim that they saw a color spectrum that they didn't know existed while the clarity of the world around gave the impression as if you were wearing prescription sunglasses.
This technology is able to change the light spectrum through the use of specific dyes, making it possible to block certain colors of light and light spectrum at specific nanometers to either increase the contrast or
to decrease the glare
which is specific to your environment. What this means is that there are multiple different lens types, from deep-water polarized do no polarization at all. They have been able to modify the lenses in line with the environment around you, so if you are finishing you'll need completely different lenses than what you would normally use if you were playing golf. When it comes to golf, for example, there are two different types of lenses that are very specific in their use, clearly designed to enhance the color spectrum of the surrounding area by adjusting light and dark so that you could see things as clearly and with as much contrast as possible.
Polarization
There's been confusion over the polarization thing, and many buyers come up with the conclusion that if they buy Prizm lenses they are automatically buying polarized lenses which are not actually the case. Prizm lenses come in both varieties, polarized and non-polarized and this is very important to look at when buying your Oakley Gascan sunglasses since in case you don't choose polarized ones, you might get disappointed.

The process is actually rather complicated and Oakley's engineers have done a lot of research to make sure to apply visual segments, including polarization to make sure athletes get the most of the shades. For sports like fishing, or snowboarding, they offer only polarized models since glare is seriously reflected on the flat and shiny surfaces, so it is necessary for the athletes to have adequate glare protection. Everyday models offer dual option, you can choose from a polarized and non-polarized variety, while the golf intended sunglasses mostly come non-polarized because Oakly's engineers consider their particularly designed golf sunglasses sufficiently optimized to provide all the possible protection that golfers need on the course. Polarized shades are a bit darker and in certain situations, they can affect depth perception, which is very important for golf for example.
Prescription Availability
This is an awesome opportunity that Oakley provides as most of their Prizm lenses, regardless of the use, come in prescription. Although not every single color lens comes in prescription, there are more and more available models that get this feature. Prescription is also available in the three Oakley's family models, the ski goggles, sports and everyday shades, which is not a very common feature among other manufacturers.

Key Features
It is obvious that Oakley Gascan is above and beyond lens tech, it is more like the future of premium quality sunglasses that deliver much-enhanced colored world around. They are extremely versatile, distinguishing multiple frames and lenses patterns and designs. Made with Prizm Technology, you are bound to see unrivaled images, much more enhanced than what you generally see. The wrap design makes sure that the sunglasses stay firm on you regardless of the intensity of your activities, while the extremely durable and impact O Matter frames will make sure that they will stay with you for a long time.
Key Features


The lenses are made from Plutonite, proprietary and extremely durable polycarbonate material


Maximum, 100% UVA, UVB, and blue light protection


Patented High Definition Optics (HDO) delivers maximum optical clarity


O Matter impact-resistant, extremely flexible and shape-retaining frame material


Three-Point Fit makes sure that lenses are aligned in a precise optical fit


Multiple frame and lenses colors and patterns


Available in prescription


The sunglasses come with specially-woven electrostatic Micro clear bag for storage and cleaning


Bottom Line
The Oakley Gascan is a superior sunglasses model that features Prizm Technology that offers the best contrast of dark and light and which delivers crisp clear images taken from every point. The quality, the durability, color choice, the possibility for prescription, every aspect of this model is more than superior and it is what puts them on the top of high-end sports sunglasses.
Subscribe to our Newsletter