Oakley Elemental 2.0 Golf Polo
Golf is a game of style, elegance, and refinement. From the smooth and elegant, yet powerful swings to the outfit presented in the most subtle way, golf has always been the Haute Couture among sports. It has been the widest and the most natural runway as many sports and fashion companies have decided to invest and promote their unique, golf (and off the golf course) apparel, footwear, and golf accessories. Partly this has to do with the still preserving opinion that golf is the rich men sport, even though current trends show getting it closer to the average person. 
Since our website is dedicated to bringing closer to golfers the best golf-related products and gifts, we got interested in Oakley Elemental 2.0 Golf Polo because it is one of those models that golfers seem to love. There are several things that make it attractive: it comes from one of the highly reputed golf companies, it is stylishly designed and peculiar, and it is made with a blend of materials that dictate maximized comfort for free swings. 
If you have never thought about the importance of wearing high-quality golf apparel, or if you thought it is just one of the gimmicks that companies use to increase their sales, after reading the reviews of this popular Oakley polo you'll think otherwise. Golf clothes need special features that make them suitable for the golf course since the comfort of your clothes dictates the way you are going to play the game and the level of your self-confidence. If you just think that the focus is the key factor of playing better, you'll understand what uncomfortable clothes can do to your performance.
After scrutinizing the way the Oakley Elemental 2.0. is made and going through the reviews, we understand why this shirt is among the most popular ones among golfers. Therefore, we invite you to read the review below and get to know this exceptional model. 
Pin for later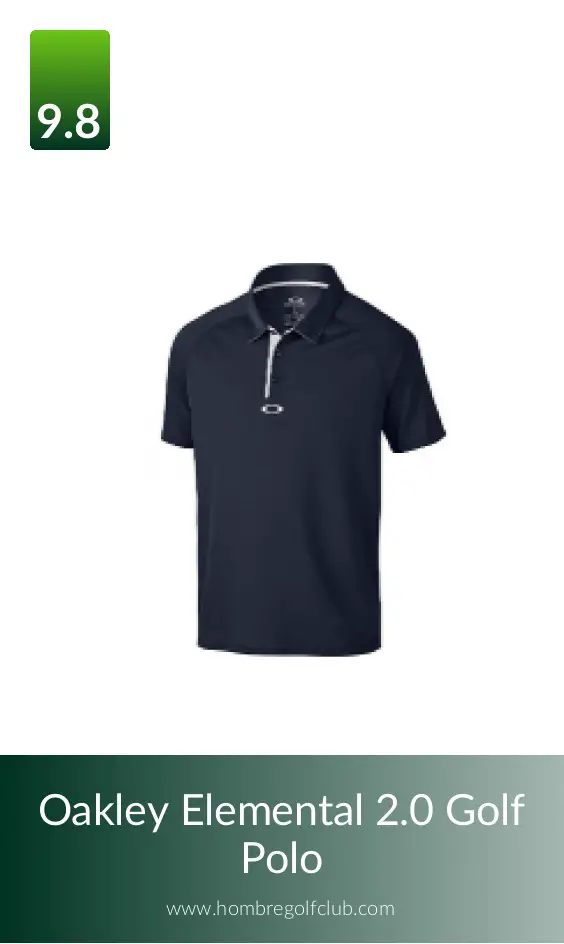 Editor's Pros & Cons
Made from 100% polyester which is flexible, lightweight, and delivers maximum performance for a full-blown swing
Moisture-wicking material that draws the sweat away and it dries faster
UPF 50+ material for complete UV protection
Anti-bacterial material that kills the odor creating bacteria
Raglan sleeves follow the natural body contours and make it much more stylish
Eight wonderful color options to choose from
Some golfers consider the collar to be very big
It runs slightly small
Material
Even if you don't know anything about materials, most of you are able to distinguish between sports fabrics and other materials used for any other purpose. The material that is the most frequently used in sports apparel is polyester. This material has taken over and much of the sports garment is made from it. Of course, just stating that the shirt is made from polyester means that it is a
performance polo T-shirt
, and if you don't know much about polyester you might not be aware of the performance features it has.
So, let's say a few words regarding polyester. It is the material that has sports enhancing features. This material is super light but very durable and resistant to wear and tear. It resists moisture and it dries very quickly, so when enhanced with the technology that the company has developed (which we'll be discussing in the next section), it increases the performance features of the material. Also, this material doesn't wrinkle very easily, so there's no need for ironing if it is left to dry on its own, and it is very easy to maintain.
Therefore, being made from 100% polyester, this Oakley polo shirt ensures a pleasant feel and maximized performance. Unlike cotton shirts that soak moisture and retain it within the fibers, polyester allows it to dry extremely quickly, and therefore make golfers comfortable. Another feature of this material is its extreme flexibility and ability to stretch without deteriorating the looks of the shirt.
O Hydrolix ™ Technology
Oakley is a company that has developed multiple technologies that add additional benefits to the materials they use for their apparel,
eyewear
, and accessories. Most of them are patented and offer unique characteristics to their products making the company one of the most influential on the market. We have previously discussed
Oakley Guscan
sunglasses and we have included more information regarding the company and their technologies, so here we are going to discuss the O Hydrolix ™ technology which is utilized for making performance apparel.
As we have previously mentioned, the technologies that companies develop ensure added durability of the material and enhanced performance with much more emphasis on the most beneficial properties. This technology focuses on enhancing those features that allow golfers to play during hot and humid weather conditions when comfort and cool feeling are the most needed. What this technology does to the interlock knit fabric is to enable it to transport the moisture from the skin to the outer surface of the material so that it can easily evaporate. This way, the material doesn't retain moisture, it dries incredibly fast and it protects golfers from overheating by delivering cool feeling as the moisture is being drawn to the surface.
Antibacterial Properties
What everyone resents while doing sports is the
excessive sweating
and the bad odor that usually goes with it. While sweating is a completely natural process that occurs to help us to regulate body temperature, and you can't prevent it completely, the bad odor that people associate with sweating is absolutely preventable and it doesn't come with the sweating. The main culprit for smelling bad while sweating is the odor creating bacteria that live near the sweat glands and which get fed and activated once we start sweating. So, this implies that we need to get rid of these bacteria in order to set ourselves free from the bad odor.
In order to maximize golfers' experience on the course and the feeling of being fresh, Oakley's designers have made the fabric with a special treatment that has the ability to kill the odor-creating bacteria. This means, once the sweat starts to reach the material, it will automatically neutralize these bacteria and they won't be able to create any bad odor. This is a significant feature and an incredible aid in preserving the focus on the game and boosting golfers' confidence.
UV Protection
Many people consider golf to be the game that is mostly enjoyed under the sun (even though this is far from the truth), and many recreational golfers decide to play only during hot and sunny days. But the sun is not what it used to be, and it can cause severe sunburns, so it is recommended never to leave your home without high-quality sunglasses, such as Oakley sunglasses and
high protection sunscreen
for the exposed body parts. That's all great, but this doesn't mean that you are completely protected.
In case you started to wonder, let's shortly explain the type of UV rays that the sun emits. The UVA rays are constant, with the same strength more or less throughout the year. This means their intensity will be the same in February as it is in August. Plus they can penetrate through windows and clothes into the skin. Therefore, the need for protection of your body parts is as imminent as the need to protect your hands. This is why this Oakley polo features UPF 50+ UV protection that shields your skin from these rays allowing you to be confident that even though you'll be spending more than four hours on the course, your skin is protected regardless of the sun's intensity.
Design
This is a
golf shirt
and it has been designed to meet golfers' needs in all their peculiarities. What golfers seriously need on the course is an unhindered performance for effective swinging. You already know that a full-blown swing requires a complete 360 degrees rotation of the golf club which means you need to move your upper body part accordingly. To help golfers never have issues with their shirts, Oakly's designers made the shirt extremely flexible and breathable, adding side vents at the hem and raglan sleeves. Plus, as we have mentioned several times that golf is a game of high fashion and style, this shirt has been made to please golfers on and off the course.
It has a remarkable fold-over collar which is slightly bigger compared to some other shirts like Nike golf shirts or Under Armour golf shirts, and the standard three-button placket which delivers the traditional polo look. The ellipse O letter, which is the company's logo, is positioned right under the placket and it provides a modern and stylish look.
Style and Fit
Despite being a classic golf polo shirt, tiny details make this Oakley polo especially attractive among golfers all ages and this is the reason why it has been so popular. The polo shirt comes in one plain color with striking contrasting color on the button base and the logo in the same color as the lower placket. The Reglan sleeves and the front forward seams make it look modern and suitable for different age groups.

Regarding the sizes, it comes in multiple sizes starting from Small to XX-large. It is a regular fit, so make sure you properly select the size that matches your body. Some of the golfers claim it runs slightly small, but this is not a common opinion, meaning that subjectivity is a factor here. Our advice is to always make sure you are ordering the right number.
Cost and Value
Depending on the model, it is not uncommon for Oakly to assign particularly high price tags to their products, but it is understandable if you consider the quality and the durability of everything they offer on the market. However, the price of this model isn't as expensive as you might expect, especially if you compare it with some other, similar model with much higher prices.

As it often happens when you buy apparel, the prices change with the availability of the models, so this model has variable price tags determined by the color choice and the selected price. Some offers are particularly lowered, so it would be a great bargain if you order your new Oakley polo as soon as possible.
Key Features
After discussing all the features that this Oakley Polo shirt is endowed with, we will quickly review all the important features that are characteristic of this Oakley Elemental 2.0 polo shirt. It is a performance shirt made from 100% polyester which is easy to dry, stretches well and doesn't retain moisture. The material features moisture-wicking properties which means all the sweat will be transported to the surface of the material where it can easily dry out. Also, you can confidently play under the hottest sun because the material has the maximum UPF 50+ protection which means the sun's rays can' t penetrate your skin. The anti-odor property helps to increase the level of self-confidence as the material is made to kill the odor creating bacteria. In addition to this, it is very stylish, comes in eight color choices and is designed to appeal to all age groups.
Key Features


Made from 100% polyester which is very lightweight, flexible and stretches


Moisture-wicking fabric that allows the material to get rid of the sweat and it dries faster


UPF 50+ material provides complete UV protection


Anti-bacterial material which resists the odor creating bacteria


Raglan sleeves follow the natural body contours and make it much more stylish


Eight color options to choose from


Bottom Line
If you are a golfer that understands and appreciates quality materials and exceptional styles, then this Oakley polo will get the prime position of your most favorite golf polos. The lightweight and stylish design are bound to get your attention, but it is the performance itself that makes it stand out. You will feel comfortable, fresh and cool in it while at the same time, you'll play with the confidence that even the hottest sun won't be able to harm your skin thanks to the UPF 50+ protection it delivers. In a nutshell, the popularity of this Oakley polo goes hand in hand with the quality design and the ultimate performance it delivers, so this is a product that is recommended to any golfer.
Subscribe to our Newsletter