10 Most Comfortable Golf Shoes Reviewed
last updated:
Nov 12, 2019
No other sport requires as much walking as golf (if you don't use a cart), so it is more than a necessity for golfers to choose the right ones. Also, the issues with muscle fatigue, aching heels and blisters are related to inappropriate shoe selection. Sometimes golfers choose a particular model because of its popularity, good advertisement or because a celebrity wears them, undermining their own comfort and the specifics of their own feet.
But the dilemma is even greater: spikeless or spiked? When it comes to footwear used for this sport, besides the various models and styles that manufacturers feature, nowadays they have been more successful than ever to make spikeless shoes that offer the same comfort, grip, traction, and performance as the spiked ones. We feel your confusion, so we selected the best ten most comfortable golf shoes for walking.
This is the best product on our list that is currently in stock: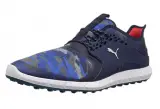 Puma Ignite
Why is it better?
Anatomical last shape, wide forefoot and stylish look
Ignite foam provides a return of energy and a stable cushioning
EVA midsole and ultra-thin TPU frame for strength and durability
Waterproof and breathable mesh
Extraordinary grip and traction achieved by Grip Zone Traction
In a
Hurry? Editors choice: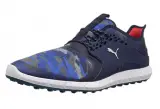 Test Winner: Puma Ignite

28
Researched Sources
278
Reviews Considered
32
Hours Researching
34
Products Evaluated
Comfort
Features
Durability
Materials
Outsole
By Default
Top 10 Most Comfortable Golf Shoes for Walking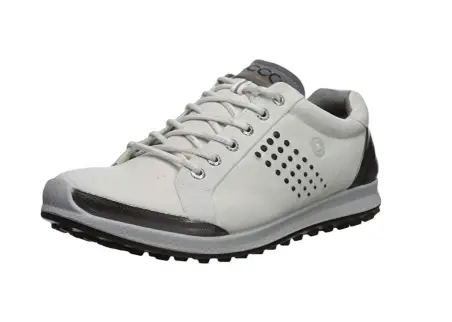 Breathable and moisture resistant
BOA Closure System with stainless steel laces and lifetime durability
TPU outsole which is five times more durable than the rubber
Enhanced grip and durability
If you are fine with the price, then the shoes have no other cons
It does make a difference to know that your comfortable golf shoes have been designed with full attention and analysis to the feet while making the swing and what it takes to feel luxurious comfort once you step inside the shoes. ECCO Biom is made with a combination of many technologies so that your positive feeling enhances positive performance. Ecco has partnered with BOA, so this model features BOA closure for utmost closure without pressure points and no laces-related fuss. ECCO Biom is a dream of every golfer's feet, read below to find out more!
Read more
Features
Regardless of your golfing style, this ECCO golf shoe is made to follow you with every step you take, providing you with the greatest possible comfort that you might expect from a shoe, making you feel confident that your feet enjoy as much as you enjoy your game. The Biom model is highly durable and resistant to weather elements, made from one of the softest leather types, the strong yak leather which is treated with HYDROMAX which means it is water resistant and the anti-stain formula allows easier maintenance and better look. This model features millimeter-precise BOA closure which uses a small diameter dial with stainless steel laces that is able to endure the highest tension and it can be adjusted by using one hand only.
Performance
There's no doubt that Biom's designers put extra focus on every single detail of this shoe to deliver a model that can honestly boast perfection. This shoe features Ecco Dynamic Traction System (E-DTS) which is a hybrid sole having more than 800 traction angles for superior grip in all playing conditions. The outsole is made from highly-durable and wear-resistant TPU which is the most durable material, shock absorbing and flexible. This results in much greater stability, swing power, grip, and traction.
Cost and Value
This is an ultimate performance shoe which will be a delight for every golfer. From the heat and moisture control to boosted performance and unsurpassed stability and comfort, this shoe lacks nothing. Even though the price is considerably high at first glance, the effect you'll have from it makes the model a good value for the money.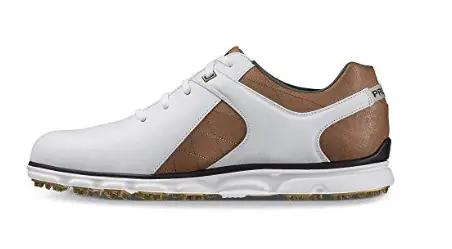 Perimeter weighted outsole for exceptional stability
Laser plus fit
The upper is made fromChromoSkin leather
100% waterproof
A 3-piece outsole made from 2 blends of Fine Tuned Foam
TPU molded sole for boosted grip and traction
What is remarkable about FootJoy is the consistency in their quality over the years, providing comfort to golfers for more than half a century. Designed for pro golfers and all those who feel like a pro, they excel the expectations when it comes to feeling pleasant, confident and comfortable on the course. Designed with laser precision for every detail, these comfortable golf shoes will make you feel as if you were walking on clouds for all the 18 holes. Do you want to know why these are among the most comfortable? Read below to find out!
Read more
Feature
The greatest feature of these sneakers is their extreme stability and maximized lightweight comfort thanks to the perimeter weighted outsole. They feature laser plus last that delivers a full rounded toe area with a standard fit that goes across the forefoot and the instep with a heel that is slightly narrow. The insole is thicker and that allows increased underfoot cushioning making all the walking much easier. The exceptional ChromosSkin leather which is used in the making of this model is super soft, 100% waterproof and extra durable.
Performance
Nothing less can be said about the performance of this model. As FootJoy still holds the throne of being number 1 shoe in golf, this model is as sophisticated as you would expect from the brand. When it comes to the stability which crucial for good performance, it is achieved through the 3-piece outsole which combines 2 two blends of Fine Tuned Foam (FTF) intended to bring more stability and cushioning and enhanced with a TPU molded sole for increased grip and traction.
Cost and Value
When you are looking for undisputed quality which has never changed over the years, then FootJoy can be the brand you can trust to. This model is inspiring, both in the design and the cozy feeling it creates, so that you can indulge in your golfing moments without any blisters or calluses. This pleasure gets you on the higher-end when it comes to their price, but they are worth the money.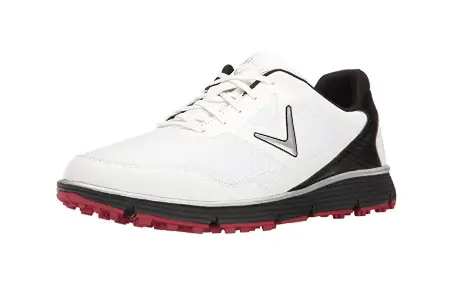 Made from 100% mesh and synthetic
Durable and breathable with a cooling effect
The sock liner and the midsole are made from EVA foam
Spikeless outsole with traction control lungs
Some buyers say that the finish isn't well made
Avid golfers who prefer walking on the course rather than using a cart face the risk of feet pain and conditions related to excessive walking if they fail to choose the right footwear. However, when your feet are nicely treated in the shoes that you well suited them, then the effect is much more varied, and you can expect effortless stroll to the 18th hole. Comfort is the first condition for achieving this effect, but what makes a shoe deliver that effect? Read about Callaway Balboa Vent to find out why this model is among the most comfortable and how it is made.
Read more
Features
During warm summer days it more than necessary to chose apparel and footwear that aren't going to make you feel hot and wet. Callaway considered this and made the upper from a breathable mesh that increases the air-flow and doesn't retain moisture inside. The sock liner is made from 5mm EVA material, particularly designed to add arch support and make every step you take relaxed and comfy. The rubber sole encompasses the Opti-soft EVA midsole which together in conjunction make the whole unit balanced stable and compact.
Performance
Thanks to Callaway's unique on-the-spot experience, the footwear they design matches every particular golfers' need. And one of the most peculiar characteristics that are specific for this type of sports footwear, is the outsole which must deliver stability. The conditions on the course often vary and the turf can sometimes be very slippery which can prevent good swing. Due to this reason, Balboa Vent features dura-rubber spikeless outsole which is made from extra durable rubber to resist wear and tear. Plus, it features multi-directional traction control lugs which increase stability under different weather and course conditions.
Cost and Value
Balboa Vent is a model that is made to provide comfort during warm days, allowing your feet to breathe and keep dry. It will provide the needed cushioning and will work against muscle fatigue. The stability which is a must for most comfortable golf shoes is especially enhanced, making this model particularly suitable for different weather conditions. I'm sure that when it comes to price, you have already supposed that it is changeable, and indeed, it is, so in accordance with the specific color choice and the size it varies, so you can get very good deals.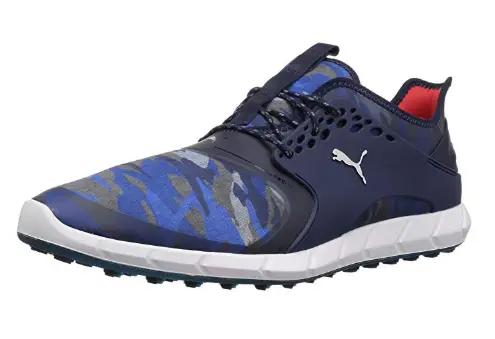 Anatomical last shape, wide forefoot and stylish look
Ignite foam provides a return of energy and a stable cushioning
EVA midsole and ultra-thin TPU frame for strength and durability
Waterproof and breathable mesh
Extraordinary grip and traction achieved by Grip Zone Traction
The waterproof warranty is limited to one year
The world of golf footwear has got substantially dominated by Puma as it is the third largest manufacturer of sportswear. As a matter of fact, if it hadn't been for Rickie Fowler, it might have never overtaken the field of golf, but thanks to his involvement in the design of Puma Ignite, the brand has been soaring in popularity for some time. Puma Ignite for the majority of golfers represents style, comfort, and dominance. Read below to find out why!
Read more
Features
The sporty, sleek design looks sophisticated and refined, while the anatomical last shape and the ample forefoot space delivers maximized cozy feeling and reliable stability. The proprietary and revolutionary PU foam allows energy to return and responsive control which delivers the most stable cushioning that you have ever felt in a comfortable golf shoe. The EVA midsole is encased by an ultra-thin TPU frame which is intended to increase the flexibility and the traction. The upper is made from waterproof and breathable synthetic which is reinforced PWRCAGE TPU saddle which supports the feet.
Performance
Puma Ignite features indisputable style, performance, and unsurpassed comfort thanks to the multiple technologies used in the production. The golfers feel a responsive return of the energy, stability, and comfort that comes from the external TPU heel support, the IGNITE foam, and the padded insole. We can't be possibly talking about stability if we don't mention the outsole which features Grip Traction Zone technology that strategically places lugs in matching zones so that the traction and the grip get fully optimized.
Cost and Value
These stretchy, snug and lightweight sneakers are a perfect match for your summer golf sessions. The breathable fabric and the comfort they deliver will make the 18th hole look closer and less tiring. Plus, the waterproof guarantee makes sure you'll feet stay dry even if you play during rainy days. When it comes to their price, it often varies and it depends on the color option and the size you'd like to order. But, for the quality and performance of this type, it is expected a higher-end price.
5

. Under Armour Performance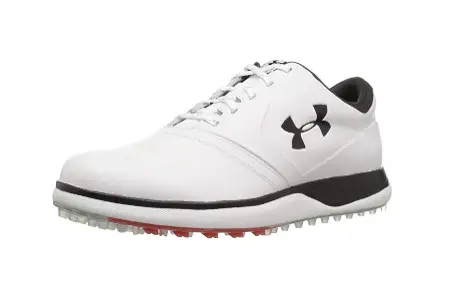 Made from 100 full-grain leather
Two years waterproof warranty
Enhanced moisture-wicking and heat control
EVA molded insole and midsole
UA rotational resistance outsole for greater turf grip and traction
If you know the quality and the excellent craftsmanship that is characteristic for Under Armour, then you should expect the same perfection in this model too. They look elegant and stylish and offer support and firmness along the sole. Plus, unlike many models, they are completely waterproof, not only water resistant which makes them an excellent option for rainy, wet and cold days. Let's now take a closer look at the way these sneakers are made.
Read more
Features
The upper is made from 100% full-grain leather and a very breathable microfiber lining that allows moisture control, breathability, and odor protection. Plus, there's a lightweight waterproof membrane which has a double function, it keeps you cool during warm days but it also keeps you warm during rainy and cold days. The footbed is made from cork covered and molded EVA material which provides an exceptional feel and comfort. The midsole, the greater contributor for the feeling each shoe provides, is also made from EVA foam making it responsive to the movement, flexible and lightweight.
Performance
Walking on the course doesn't have to be an ordeal anymore when you have these Under Armour Performance sneakers. As buyers claim, the extra comfort and the total weather protection will enhance the feeling of confidence and the distraction that comes from the achy feet will be gone. Regarding stability, the outsole is made from UA rotational resistance rubber which brings you lockdown traction and optimal flexibility. In other words, the grip to the turf is excellent in all weather conditions.
Cost and Value
The excellent craftsmanship is more than evident in this model of comfortable golf shoe on the market and most of the golfers are pleasantly surprised by the enhanced comfort they deliver. The quality of the materials and the superior manufacturing process put them on the higher-end when it comes to performance, but also the price. Even though you can come across good deals and lower price compared to the standard one, generally speaking, they are pricey.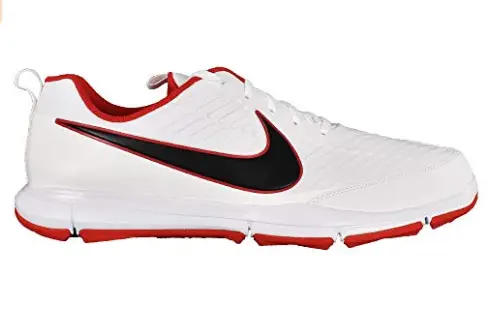 Water-resistant, debossed upper made from leather and synthetic
Full-length Phylon sole provides stability
Rubber outsole made for traction for versatile court conditions
Stylish design
Some buyers think they are narrow at the toe area
Are you looking for an addition to your footwear which will bring extra flexibility and follow the movement of your feet? Nike Explorer 2 is designed to make walking on the course less tiring and more enjoyable. This is a spikeless model which is designed to deliver added stability during your swings, the point where the designers focused the most. They look stable and definitely trendy. Why are they so popular? Read below to find out!
Read more
Features
Many golfers describe them as stylish and elegant. The upper design is most certainly nice looking with the debossed lines which add structure and make your feet stable. It is made of leather and synthetic materials which are water-repellent, a very important feature for golfers who visit the courses early in the morning when the grass can often be wet. The midsole is made from Phylon, which is very lightweight, comfy and stable and which allows full support on your feet.
Performance
If you are a type of golfer who prefers spikeless sneakers with a solid grip and stability these are a nice option. Thanks to the rubber outsole, its construction integrates an aggressive traction system that provides a different area of weighting throughout your golf swing. The bigger and more concentrated spikes are found towards the edges where you put a lot of your weight while there are less and much smaller spikes towards the middle. This design is going to give you stability in various course conditions and increased flexibility.
Cost and Value
There are about different color combinations and choices that this model of Nike offers. The light spikes make it almost spikeless and it belongs to this category. As the accent is put on the added stability and greater grip in different course conditions, it is expected to appeal to golfers who seek practicality and stylish design. As it is the case with most of the footwear, the price ranges from average to expensive in accordance with the model and the size.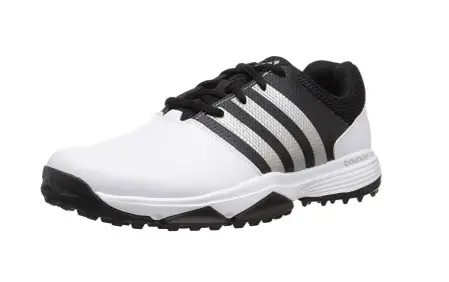 Excellent snug and comfy design
A wider forefoot and rounded toe shape for increased volume
The midsole features full-length bounce foam
PureMotion outsole with strategically placed Adiwear traction for greater grip
EVA cloud foam sock liner for great cushioning
Weather resistant
According to some buyers, they are a bit snug and stiff
I don't know a single golfer who doesn't pay special attention and care on the footwear he/she buys for walking on the course. And I also know that one of the greatest distractions on the course is the discomfort or God forbid-blisters! My point is, never underestimate the power of a good pair of comfortable golf shoes and as you invest in your club, the proper attention should be paid on your golf shoes too! And when it comes to good shoes, Adidas golf sneakers are never out of option.
Read more
Features
There's no athlete out there who hasn't been familiar with the Climalite and Climastorm Adidas concept as a technology that diminishes the external and internal influences on the shoes which lead to increased comfort. The upper looks attractive and modern, made from lightweight microfiber and leather, which deliver weather resistance and breathability. The sole is synthetic, while the midsole has a full-length bounce foam which is known to provide enhanced cushioning and energy return. The outsole is spikeless and features strategically placed Adiwear traction.
Performance
Adidas did a great job when designing this pair of comfortable golf shoes, having the advanced golfers' needs in mind, they made them to deliver total comfort for all those intensive hours on the course. The greatest feet support and cushioning provides the EVA cloud foam sock liner that together with the midsole generates energy return and cloud walking feeling. Plus, the slightly rounded toe shape and the wider forefoot add volume on the whole shoe which makes it stable and pleasant to wear. This stability is further enhanced by the PureMotion outsole with Adiwear traction which makes the grip versatile and much more durable.
Cost and Value
Many golfers agree that if you are looking for a snug feeling on the golf course, you need to turn to Adidas sneakers, you'll most definitely find it there. They will keep your feet dry and warm when the weather is cold, but you can also wear them even when the weather is warm. There are six color options which might feature a different price tag depending on the selected model.
8

. Skechers Go Golf Drive 2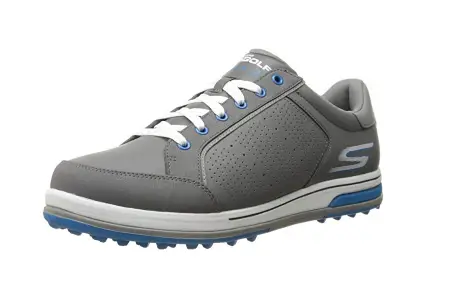 Extraordinary comfort and relaxed feeling
Goga Mat Technology delivers enhanced cushioning
Breathable and moisture-wicking lining that prevents odor
Synthetic rubber with side perforations for increased air-flow
Rubber, flexible, turf-cleated outsole
Some buyers say they make a squeaking sound when walking
Run a bit large
Sketchers have recently upped their game by providing superior performance and different materials and technologies that differ from the other manufacturer. The result has been more than obvious since this brand has been more and more frequently seen on the course. The golf line called Go Golf puts together the urban, sporty style with course requirements for unhindered performance. These sneakers feature the proprietary Goga Mat foam insole which was actually the game changer and which launched the company's ranking to a higher level.
Read more
Features
Go Golf-Drive 2 differs in a few different aspects from Sketchers predecessors such as their low-profile design, multiple technologies used in their production and the outsole sensors. The Goga Mat technology applied on their insoles made a revolution in Sketchers production and many athletes preferred it over some other insole options. The Goga Mat insole uses resalyte material instead of EVA foam, delivering the softest, lightest and the most profound cushioning that you could find in a sneaker. There's a midsole insert for added comfort while the lining is breathable and moisture-wicking allowing your feet to stay drive for all 18 holes. The upper is made from smooth faux leather which is water resistant and which has side perforations for added air-flow and cooling effect.
Performance
Sketchers have approached the game seriously by combining innovation with style and performance. They are no longer recognized as running or fashion shoes only, and once Matt Kuchar stepped on the court wearing Sketchers, it was a clear sign that they are seriously approaching the prime position of golf footwear. We talked about their breathability and enhanced performance, however, what golf footwear need is boosted stability for perfect swings. Drive 2 can boast stability too because of the outsole is made from durable rubber with traction plate, i.e., they feature flexible turf cleats.
Cost and Value
Drive 2 makes an excellent combination of exceptional materials that make your feet dry, unique approach toward cushioning and stability. They will allow you to enjoy walking around the course in a way that you have probably never experienced before, making your feet feel relaxed even when approaching the 18th hole. Surprisingly, the price is very reasonable for what they offer and the pair is an excellent value for the money.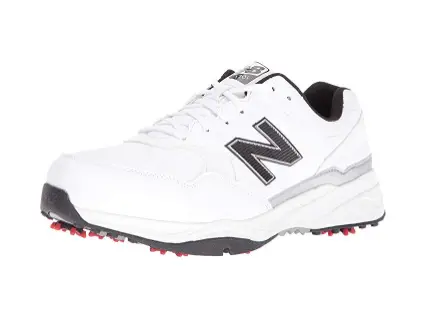 Made from 100% microfiber leather
Rubber sole with EVA midsole for added cushioning
Slim-lock removable cleats
Very comfortable and lightweight
Water-resistant
Run a bit larger
The cleats are hard to be removed
The company that has been dedicated for over a century to help athletes achieve the very best, has launched these spiked sneakers to provide the perfect fit, optimal performance and utmost comfort. NBG 1701 boasts utmost endurance because they are made from the strongest and the most durable materials which will take your course experience to another level. From the outsole to the leather upper, you will make a difference in the way you walk on the course.
Read more
Features
In case you didn't know, New Balance is a company that instead of spending money on celebrity endorsement, they spend their money on research and development. Why is this important to know? It actually makes difference to be aware that every segment of their footwear has been well thought of to fit the needs that golfers have. That can be seen in the upper design which is made from 100%microfiber leather that allows breathability by unobstructed air-flow and heat control. Plus, the leather is weather resistant to protect you from light rain, cold and impact. The midsole, the most significant part of the shoe when it comes to cushioning, is made from EVA foam which is very soft and delivers exceptional feet support.
Performance
What most of the golfers agree upon is the fact these are among the most comfortable and lightweight comfortable golf shoes that they have worn. Many say that they provide such support that you don't feel tired at all after wearing them for the whole round of golf. When it comes to stability on the course, the outsole which is the most important segment for retaining stability is made of rubber with light locking cleat system and removable cleats which are of high quality.
Cost and Value
The reason why this New Balance model is part of our list is more than obvious. They are lightweight, extra comfy and enhance the performance on the course while diminishing the tiring effect. Plus, they will keep your feet warm and dry during cold weather and cool when the weather is warmer. The price is changeable in regards to color choice and the size, but nevertheless, they are a good value for the money.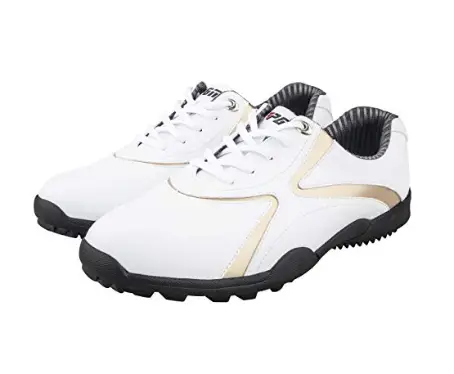 The upper is made from microfiber leather
They boast durability and enhanced performance
Breathable and odor-resistant
Dura rubber outsole with 7 rubber spikes for stability and grip
The spikes aren't removable
This is a relatively new player on the golf scene, however, its appearance has been welcomed gladly by those golfers who stick to the budget side. Rahata stepped up on the scene offering increased comfort, durability and performance. They are made to offer a fresh variety among the steady participants on the court, delivering a blend of the athletic style, sporty elegance, and durability for many rounds of golf.
Read more
Features
Made by microfiber leather, Rahata uses the latest design technologies to enhance golfers' experience on the court. Heat management and bad odor is something that many golfers complain about, so the company designed to be able to stimulate air-flow, wick the moisture away and keep the bad odor at bay. The collar is padded together with the tongue and there is a soft fabric shoe lining. The cushioning is light but very comfortable.
Performance
When the designers from Rahata made this model, they focused on unhindered golf performance through increased comfort and pleasant feel. They are lightweight and breathable, which is a great plus, especially when the weather is warm. Regarding the stability and the golfing performance, they feature Dura rubber outsole which has 7-spikes made of rubber which provides sufficient grip and stability
Cost and Value
These comfortable golf shoes are a deal breaker when it comes to the price they have and the performance they offer, so definitely the stand as a good value for the money. Regarding the comfort they offer, the buyers say that they resemble the name brands, the only flaw that they find is the inability to replace the cleats.
Criteria Used for Evaluation

Comfort
Going to the course wearing improper shoes is a game already lost.
When a golfer prepares for a round of golf, there are few ticks on the box that must be granted before getting there. Besides the equipment such as the bag including everything he/she might need, sun protection items, some food, and drink, the greatest attention must be paid on the footwear he/she is going to wear on the course. Many shoe manufacturers claim that if your shoe fails you, then your performance will be a failure too. And that's the greatest truth when it comes to sports performance. You can't even imagine going to the nearest supermarket with most comfortable golf shoes that aren't comfortable, let aside spending more than 4 hours walking on the course. Since comfort is hard to evaluate based on the materials only, we turned to the most valuable source of information: the buyers!. According to their personal experience and some experts' opinion, we created our score based on this criterion.

Features
The more features a shoe has, the more attractive it is to the customers.
What does it mean when we say features? Those are the unique characteristics that are specific for each product and which make it more functional and effective, which means more attractive for the customers. So, what kind of features do these products have? Let's start with the heat management and the moisture wicking properties. The footwear that has integrated this technology within the manufacturing process allows greater airflow and breathability and anti-moisture retention system. In turn, when the feet feel dry, the odor-causing bacteria will be prevented to thrive, so the greatest problem-the odor, will be eliminated too. Plus, if the shoe has a heat management system, it will provide you with feeling cool during the summer and warm during colder days. Another feature is the style and design of footwear. The court is usually the place where the latest fashion is displayed, so many golfers live up with the idea to always have on the latest fashion. The type and the style of closure are important for many golfers because it provides convenience when putting them on.

Durability
Golfers need extra durable footwear that will make them confident on the course.
Golf is a sport that requires a lot of walking and specific swing movements that shorten the lifespan of the footwear. Therefore, it is crucial for golfers to be able to have shoes that will provide the certainty that the sneakers they have on are going to last for longer period of time without showing any substantial signs of wear and tear. When assessing the level of durability, we took into accounts the golfers' comments and their experience with the shoes, the materials that are used to make them and the ability to endure different impacts.

Materials
Materials determine the quality, durability, and performance of the shoes.
What everybody knows when it comes to shoes is that the right choice materials and the appropriate treatment make them durable and of a high-quality, or vice versa.
What type of materials do we see in our products? When it comes to the materials used for the upper, we mainly come across leather microfiber because it is among the most durable materials. Even more durable are ChromoSkin leather and Yak leather which are exceptionally strong materials that have the capacity to resist any wear and tear, plus they are soft and breathable.
Regarding the materials used for the insole and the outsole, the EVA foam is the most frequently used material which is soft, adapts to the feat anatomies and delivers comfortable feel. Another variety that we can see in the choice of the materials for the midsole is Phylon that is a more sophisticated form of EVA pellets and which boasts greater durability.

Outsole
The outsole is crucial for providing stability, enhanced performance and flexibility.
We have decided to consider the outsole separately because when it comes to golf shoes, it is crucial for providing stability and flexibility. The right outsole design means that you can increase the level of your performance by being confident that your shoes are not going to fail you in any sense. So, what kind of outsole is required for golf? You most certainly know that the traction and the grip are a must because of the versatile conditions on the course. Plus, the outsole should be flexible and follow the movement of the feet without causing any hindrance in the movement. The material that is the most frequently used for the outsole is rubber, however, the best ones are made from TPU, a material which is five times stronger than the rubber. When it comes to the type of the outsole, there are two types, spiked and spikeless which feature removable or nonremovable cleats for the spiked and lugs for the spikeless for greater traction and grip.
Frequently Asked Questions
q:

What does ECCO HYDROMAX stand for?

a:

This is a proprietary ECCO technology which allows the material (the leather) to be moisture resistant. This means that your feet will stay dry from inside and outside all the time while you are wearing them and this effect isn't limited but stays for the entire lifetime of the shoe.
q:

What kind of material is Phylon?

a:

This material is used for the production of midsoles because it is very lightweight, durable, responsive and low-profile. It is made from EVA foam pellets which are firstly compressed, then heat expanded and then cooled in a mold.
q:

Is there a substantial difference between spikeless and spiked shoes?

a:

Besides the obvious difference between the spikes versus lugs, the difference in the last decade has increasingly decreased. In the past, there was a great difference between the two, however, with the modern technologies and new manufacturing methods, companies are launching much more improved spikeless shoes that deliver the same grip and traction as the spiked ones.
Subscribe to our Newsletter