Mission Enduracool Towel
You don't need to be a doctor to know that overheating is neither pleasant nor good for you. Not only can it be an uncomfortable feeling, but it can also negatively affect your health. Unfortunately, many people have a low tolerance for heat and hot weather. Which can make enjoying their favorite past times, and even their job, unbearable in warmer weather. Most of these people have to spend a lot of time in the sun, and sometimes they're without anything that can cool them down properly.
That's why finding a product that can effectively keep you cool in hot temperatures is an absolute must. After all, overheating and heat stroke are no jokes and they pose a serious risk to many people. Typically the best solution to the problem of being too hot is a cooling towel. They are specially designed to bring down your body temperature, cooling you in the process.
According to many reviewers, one of the best cooling towels you can buy is Mission Enduracool. This cooling towel comes in a number of sizes and it promises to add some cool refreshment to your day.
How it works is simple, yet incredibly effective. All you have to do is soak the towel with water, wring it out before snapping it in the air. Which means cool and refreshing protection from soaring temperatures have never been so effortless before.
This towel is a fantastic accessory for anyone who plays a lot of outdoor sports, but it's also a good option for golfers too. Not only does it take very little effort to unleash the cooling effects, but it also matches your golfing style.
There is a lot of hype surrounding the towel, and just how cool it really is when it's being used. To many people who haven't used this product before it does sound a little hard to believe. However, once you've used it you'll see exactly why its earned it's impeccable reputation.
Pin for later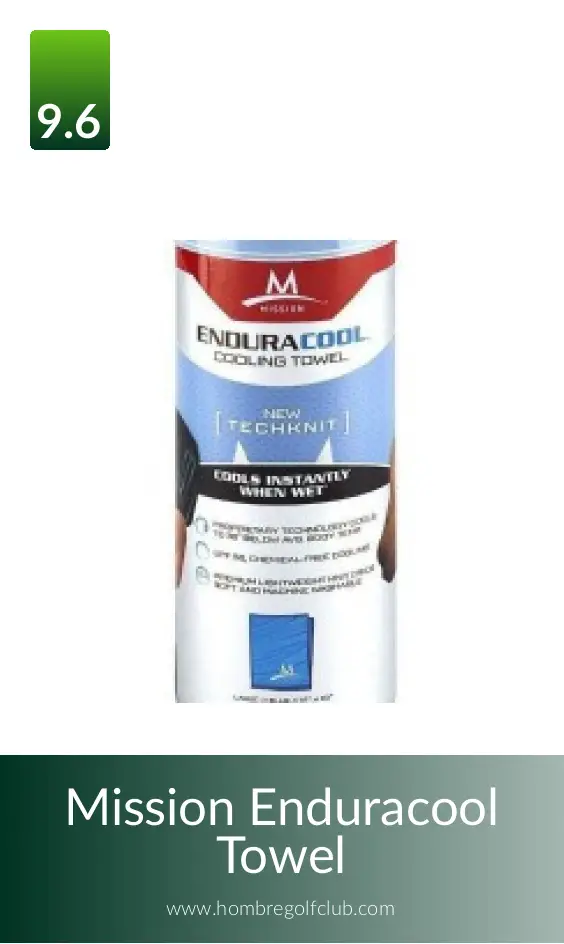 Editor's Pros & Cons
The smooth and incredibly soft material offers incredible comfort and rests comfortably on your neck with no irritation.
Not only does this towel offer long-lasting coolness, but it can cool up to 30 degrees.
UPF 50 offers protection against the sun and warm weather.
Not only is it safe for hand and machine washing, but this towel maintains its velvety feel even after its being dried.
Some people may not find the aesthetic as desirable as they'd like.
Appearance & Build
The overall structure and shape of this
towel
are relatively simple. It blends into your overall golf look and rolls up to form a compact and relatively easy to store and transport bundle.
This piece is soft to the touch and relatively weightless, even when wet. Which means you won't be weighed down while you're cooling or playing
golf
. With a wide range of colors and prints for you to choose from, you're guaranteed to find a style that matches your tastes. Whether you want traditional black, zesty green, a luscious candy red or an eye-catching print, you'll find the perfect piece to match your aesthetic. It's also available in a variety of sizes to suit your needs.
Made from durable and cooling proprietary performance fabric, this towel is designed to become cooler when in contact with
water
. To activate the towels refreshing features, all you need to do is wet it, wring it out and snap it in the air. This instantly activates it's unique cooling properties. The material is made from a blend of polyester (90%) and nylon (10%) to create the soft sensation of this towel.
Care & Maintance
If your searching for a
fantastic
product, then you really don't need to look any further. But you need to be sure that you can properly take care of it, that way it will last and not start to smell and get ruined.
It's machine washable, something we can all agree is a big bonus as it means you don't have to spend a lot of time washing it. Because the towel is highly absorbent and designed to become activated when in contact in water, you'll need to ensure its completely dry before storing it in your
bag
.
If you don't do this, then you a high risk of it becoming moldy, which will ruin it in the long run.
The towel comes with a tube, which is a fantastic place to store the towel when it's not being used. All you have to do is make sure its completely
dry
before you roll it up and store it within the tube.
There have been a few reviewers who weren't pleased when the towel started to develop a smell. This is because it's absorbing your sweat, so you will need to ensure your washing the towel often enough so it doesn't start to smell.
Features
While it may look like a simple towel, the Enduracool is filled with many wonderful features that work together to
cool
you down. All of these incredible innovations have been specially designed and chosen to enhance your experience wearing this towel and to bring you a high-quality product.
This piece was made from utterly soft and smooth fabric, but despite this it still maintains its durability, perfectly matching your active lifestyle and
hobbies
. Not only that but it was created to instantly cool you, and the incredible cooling feature can be activated in just under 30 seconds. As we've previously mentioned, all you have to do is wet it, wring it and snap it. Simple, isn't it?
Some of its other remarkable features include its ability to keep you cool for long periods of time. It's able to stay cool for up to 2
hours
before you need to reactivate it. Once again, simply wet, wring and snap. It's also able to cool up to 30 degrees, which really is a refreshing highlight!
The fabric used provides incredible protection against the sun, with a UPF 50
protection
. It's also made from chemical-free material, which means you are not in contact with anything you wouldn't want.
Durability
When investing in a product you want to be certain that what your buying is going to last. If you want something that will be with you for a while you need it to be durable. Thankfully, this towel is
highly
durable and will maintain its instant cooling while keeping up with your active life.
Whenever it is has been compared to similar cooling towels that are currently accessible on the market, many users have commented on its incredible lifespan. All in all, making it an excellent purchase and a must-have for your days at the golf course.
As long as the towel is taken care of and properly maintained, you won't need to buy another for a long time. As previously mentioned in the Care & Maintenance section, you need to ensure you clean the towel frequently in order to prevent a build-up of
odor
. As we mentioned, smells can be the result of two things:


Damp caused by ineffective drying.


The absorption of sweat.


While the latter won't affect its durability, the former certainly will ensure the longevity and condition of the towel deteriorate faster.
While this shouldn't be an issue for most, it is crucial that you allow it to dry, when it is then you can store it. By doing this you are correctly preventing the towel from becoming damp and moldy.
Protection
The main goal of this towel is to cool and defend you from the dangers of overheating while out in the sun. So when its whole purpose is based upon that idea, it's essential to know that it will live up to the task, even exceeding any and all expectations.
The level of defense the Enduracool towel promises to provide is relatively high. Its also refreshing to see a product that delivers exactly what it promises.
As long as it's wet you'll have access to active cooling tech which will leave you refreshed and cooled in no time at all. Not only is this long lasting, but it is incredibly simple to reactivate once it's worn off. Simple
wet
, wring and snap in order to reset the instant cooling.
To get the most out of this product, you simply have to place it around the rear of your neck. Keeping cool in soaring temperatures has never been so simple.
Not only will this towel protect you from heat, but it'll also protect your skin from the
sun
. Many forget that it is possible to be sunburnt through the fabric. In order to prevent your skin from being damaged by harmful UV rays, it offers UPF 50 protection.
Ease Of Use
The Enduracool is incredibly simple to use. Using very little effort you are able to cool yourself without causing much inconvenience.
After following the wet, wring and snap protocol, the cooling effects of the towel are activated in under 30 seconds. Making it a simple yet effective must-have to have while golfing.
Almost instantly you'll benefit from the refreshing features of this towel, which will last a couple of hours before requiring reactivation.
If you want to activate the towel while on the golf course, you will want to ensure you have a supply of water on hand (ideally a
water
bottle).
Comfort
Since this towel sits so close to your skin (on the back of your neck which is a particularly sensitive area) it's important to know it won't irritate your skin and has some level of comfort to it. Because of its oh-so-touchable and smooth fabric, this piece will feel wonderful against your
skin
. However, that is not the only type of comfort it provides.
It also works to keep you feeling comfortable and relaxed while outside in the heat and humidity. When dry it will absorb any present sweat for a less irritating wearing experience. But when activated it works to bring instant relief from the warm weather. So, whether you're building a sweat in the gym or on the
golf
course, you'll be able to stay cool and refreshed no matter what!
Breathability
Due to the structure of the
material
mainly being polyester, the towel itself is not as breathable as you'd like it to be. Also, the activation of the towel contributes to its lack of breathability. The absorption of liquids doesn't leave much room for air to travel through.
The issues surrounding the lack of breathability can somewhat be remedied by removing it from the neck for a short time.
Key Features
As you can see there are a lot of incredible benefits of using a cooling towel, particularly the Enduracool, while on the golf course. Not only is it a fun addition to your style, but it's a refreshing method of coping with unbearably warm weather.
The most amazing feature of this product has to be an instant cooling effect. Simple wet the towel, wring it out until damp and then give it a snap. In less than 30 seconds, you'll have access to a cool and refreshing sensation unlike any other.
Its compatibility and ease of transportation is also an incredible bonus of this towel.
Key Features


Sumptuously soft and durable fabric.


Instant cooling relief against hot temperatures (up to 30 degrees).


UPF 50 Protection.


Comes in a tube, which is ideal for transporting it around.


Bottom Line
There are a number of benefits to this incredible product. Not only is it a great thing to have handy when on the golf course, but it's also a fantastic little add on to compliment your style. It makes coping with incredible warmth a lot easier and more refreshing.
Instantly refreshing and simple to reactivate, it's an absolute must-have. As long as the towel is wet it will work to lower your temperature with its long-lasting cooling.

If you're searching for a highly durable towel, this is it. Just be sure to take adequate care to help maintain its long lifespan by ensuring it's suitably dried before you use it after washing.
Subscribe to our Newsletter