MDSolarSciences Mineral Moisture Defense SPF 50 Sunscreen
Staying protected in the sun and warm weather is essential to preventing damaged skin, overheating, dehydration and possibly blocking your chances of developing skin cancer. While this isn't new news to many of us, there is still a startling rate of people in the US suffering from sun-related health issues each year. Prevention is better than the cure, so why take the risk when it comes to your own health and wellbeing? Whether you're on the beach, golf course or urban exploring, make sure you're prepared for the sun with a decent and effective sunscreen.
What a lot of people forget that it's very easy to get sunburnt, even if there are a few clouds in the sky or its windy, as long as its hot outside and the sun is brighter than usual, you're at risk of getting burnt. You can even get burnt through your clothes, but this depends on the type of material you are wearing. So, while you may think you're properly defended from the sun, you could be in danger of getting burnt! As I said, we've heard it all before that wearing sunscreen in the wind, rain, and shine is important. But, did you know it's just as important as the type of sunscreen you use?
We've all heard the saying 'you get what you pay for', and it's well-known because it's true. If you only spend a little bit of money on your sunscreen, should you really be shocked when you learn that it's low quality and not really up to the task? Your sunscreen is there to protect you from the sun and prevent skin damage and other health issues. So, why leave that job to a low-quality product?
If you're looking for effective and reliable defense against the sun, then look no further than MDSolarSciences Mineral Moisture Defense SPF 50 Sunscreen. It offers dependable defense against the sun with its UV ray protection, without leaving behind any residue on your face.
The formula contains pure minerals, which works by melting into your skin, providing you with 97% protection against UV rays. The formula is also free of any fragrances, which is ideal for anyone who is easily irritated by perfumed lotions. With a number of ceramides and humectants, your skin will be left feeling protected, nourished and hydrated. This sunscreen is not only an effective companion to your sunny weather regime, but it's also an effective addition to your daily routine too, offering daily protection your skin craves for.
Pin for later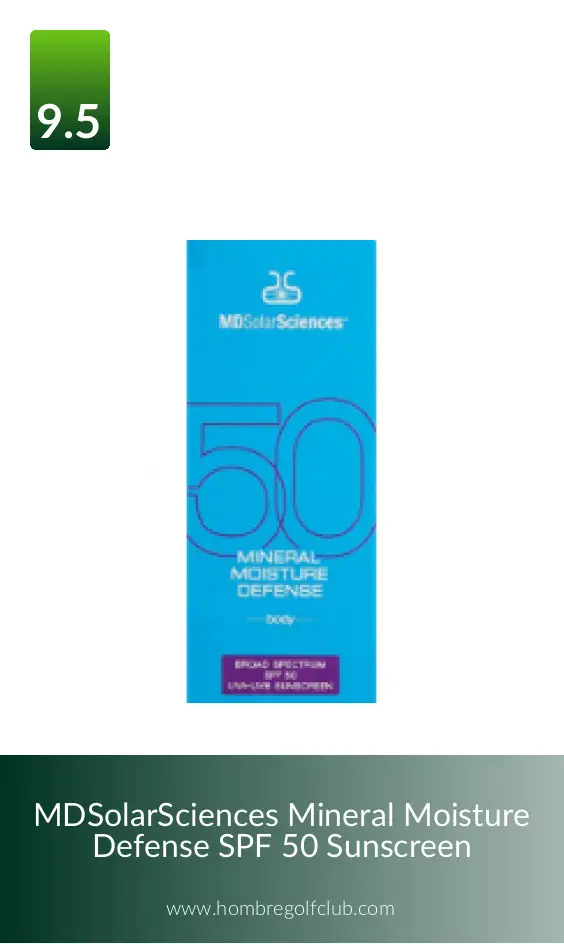 Editor's Pros & Cons
Contains 100% pure minerals for a natural, skin-friendly feel.
Effectively moisturizes your skin while protecting you from harmful UV rays.
Lightweight and absorbent, which means its ideal for layering underneath other lotions or makeup.
Easy and effortless applications, you can apply and reapply anywhere, from inside the car to the golf course.
Can feel a little greasy while absorbing, which may be undesirable to some.
Ease of Use
Over-exposure to the
sun
and damaging UV rays can cause a laundry list of problems. In terms of short term issues, there's sunburn and overheating. But the long term problems tend to be more on the serious side with issues like aging and
skin
cancer.
Thankfully this sunscreen offers a high level of protection due to it's SPF rating of 50. But it also offers a natural, lightweight feel due to its mineral composition, making it skin friendly for almost everyone!
While this product promises almost complete protection from the
sun
and its rays, this is entirely reliant on how it is applied and the frequency of which it is done.
Despite what many people think, the level of the SPF does not dictate when and how often the sunscreen needs to be applied. Whether you're wearing a sunscreen with an SPF of 15 or 50, you're still going to need to reapply the same amount of times.
Reapplication is needed every 2 hours, but it also needs to be reapplied after contact with
water
, as it will damage the quality of the sunscreen when on your skin. When you reapply your sunscreen every two hours you are ensuring you're (almost) fully protected throughout the day.
The application of this
sunscreen
may seem simple at first, you just have to rub it into your skin, right? Yes, but its not just about rubbing it in. You have to be certain that you're putting the right amount of sunscreen to the right areas. Also, you need to consider what you're wearing. If you have exposed limbs and areas of skin, these need covering. However, some clothes can also be easily penetrated by UV rays, which means you can still get burnt. To avoid this, it's also ideal to cover the covered parts of your body too if you're uncertain about the UV resistant quality of your clothes.
It is highly recommended by Dermatologists that you apply close to 6 teaspoons of sunscreen onto your
body
. It is also advised that the sunscreen bottle is shaken well before used and that the application should be done liberally. When you apply this sunscreen onto your skin, ensure it is not only dry and cleansed but that it is done 15 minutes before contact with direct sunlight.
It is important that you cover your whole body, which means the amount of sunscreen you use can depend on your form and size.
This sunscreen has been designed with fully grown adults in mind, but can still be used on children. However, consultation with a doctor is advised before you use this product on children under the age of six months.
SPF Rating
Traditionally speaking, the higher the SPF, the better protection you have against the
sun
and any UV rays. A high SPF rating is also an indicator of how high quality your product is. If it's relatively low, you know you won't be adequately protected. While a low SPF sunscreen is more effective than no sunscreen at all, it's still not the best position to be putting yourself in. Thankfully for you, the MDSolarSciences
Mineral
Moisture Defense SPF 50 Sunscreen has an SPF of 50, offering a high level of protection in the sun.
Ensuring you have proper and effective protection against the sun is vital as it ensures you're defended from both short and long term damage and health issues. The negative effects of the sun are hard to notice right away, but just because you can't see or feel anything happening, doesn't mean it's not happening. That's why it's necessary to be prepared at all times, with a high SPF sunscreen.
It is recommended by Dermatologists that you wear a
sunscreen
with an SPF rating of at least 30, this way you bump your protection against UV rays and the sun to 97%. Of course, no known sunscreen offers complete protection against these things, and this is the highest percentage available.
Once more, it is essential that you remember to apply
sunscreen
every two hours regardless of the SPF rating of the sunscreen you are wearing. Doing so optimizes the level of protection while out and about in the sun. Another thing to take note of is the fact that your sunscreen will need reapplication even if the weather is cloudy, if you've been in the
water
, or you've worked up a sweat.
Composition
There are a lot of things to consider when purchasing a new
sunscreen
, particularly if you're replacing your typical product with something you personally haven't tried before. A helpful thing to factor into your decision over what sunscreen to buy is whether it is a chemical or physical sunscreen. But, this depends on your preferences. While chemical and physical sunscreens may seem like a strange concept, it's actually quite simple. Chemical sunscreens are the typical sunscreens you'd most likely wear everyday or in your local supermarket. There is nothing really wrong with them, they just simply have chemical ingredients within them.
Commonly chemical
sunscreens
solely work to absorb the emission of UV rays. Typically chemical sunscreens have a thicker formula and feel to them, leaving them feeling sticky and sometimes greasy on your skin. On the opposite side of things, physical sunscreens are made from more natural ingredients, like zinc oxide for example.
This sunscreen particular contains Zinc Oxide and Titanium Dioxide, making this formula physical, giving your skin a more natural and nourished feel. They're also really effective when it comes to quickly block and reflecting sunlight, giving it less of an opportunity to penetrate your
skin
. It also works to shield your skin while moisturizing it too, leaving you irritation free while also preventing breakouts of acne.
As mentioned, there is nothing wrong with using physical or chemical sunscreen, they both come with their own list of pros and cons, and your choice of which you want to wear is entirely up to you. However, it is important that you're aware that some physical sunscreens can leave behind residue and white marks on your
skin
. While there is nothing harmful about this, it can be an undesirable side effect some people wish to, understandably, avoid.
The Mineral Moisture Defense Sunscreen is also proudly paraben free, which means issues with dermatitis as a result of this sunscreen are none existent. Not only that, but the lack of parabens means it is ideal for sensitive skin too.
Water Resistant
Despite what many people may think, you are still exposed to dangerous UV rays while in the water. This means you can still get sunburnt. That's why it's important that you are wearing a sunscreen which works to protect you while you're splashing about in the water or during a sudden downpour of
water
.
Some sunscreens offer water resistance, but this is typically limited. While a single application of sunscreen can last you two hours before a fresh coat is needed, most sunscreens will typically last less than an hour. Thankfully, the Mineral Moisture Defense sunscreen offers water resistance up to 80 minutes. This is fantastic because it means you can enjoy the sun and water for longer. However, it is important to note that a fresh application is still required once you are out of the water.
Ingredients
A full and comprehensive list of the ingredients within the MDSolarSciences Mineral Moisture Defense SPF 50
Sunscreen
can be seen on the back of the packaging. This way you are certain of what you're purchasing, and whether the ingredients are something you won't have an allergic reaction to.
The main ingredients include Zinc Oxide and Titanium Dioxide. However, a number of other ingredients have been used in the creation of this product.
It contains Tetrahexydecylascorbate, also known as Vitamin C, alongside Green Tea, Pomegranate, and Cranberry extracts. These work to give you antioxidant protection.
It's important to note that Zinc Oxide is an ideal UVA and UVB blocker, that is non-irritating while offering a wide range of sun protection. Titanium Dioxide also works to provide you with strong UVA and UVB protection.
Key Features
The two years of development that it took to create the MDSolarSciences Mineral Moisture Defense SPF 50 was well worth it as the formula is overall incredible.
The light and natural feeling feel and are refreshing and nourishing. It also offers protection against 97% of UV rays.
MDSolarSciences is a beloved brand, which is beloved by many dermatologists, and its easy to see why. It's an incredible formula, natural feel and water-resistant properties make it a top contender for your new favorite brand of sunscreen.
Key Features


Free of fragrance and parabens.


Kind on your sensitive skin.


Water resistant up to 80 minutes.


Bottom Line
We highly recommend this sunscreen if you're looking to amp up your protection. With a wide range of benefits available to you, this lotion will shield you from the sun, prevent sunburn and other harmful effects, and help your skin feel nourished and refreshed thanks to its antioxidant-rich formula.

Just remember to reapply this sunscreen every two hours for optimized protection onto cleansed and dry skin.
Subscribe to our Newsletter