Best Maui Jim Golf Sunglasses Reviewed
In a
Hurry? Editors choice:

Test Winner: Breakwall

It is almost impossible to go to the course without being properly protected from the harmful sun rays. The protection must start from the top of your head, your skin and of course to your eyes. When we mention eyes, have you ever played without shades on a sunny day?
Probably you have tried and it didn't work out because it is impossible to swing well and precisely with
all that sunshine
and glare which hurts the eyes.
But it is never enough to have just any glasses since what really matters is to have proper ones that will provide UVA and UVB protection and
reduce the harmful glare with polarized lenses
.
Today, we're reviewing the best
Maui Jim golf sunglasses
. Read in-depth reviews below!
Featured Recommendations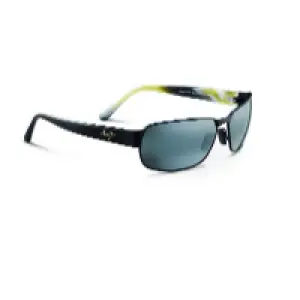 Black Coral
Exquisite quality
Price: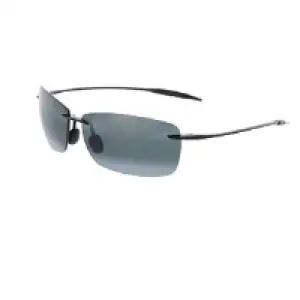 Lighthouse
Utmost protection
Price: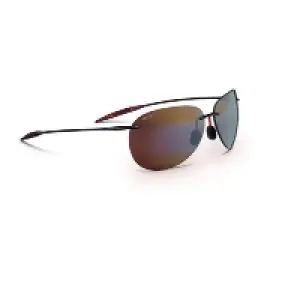 Sugar Beach
Sporty elegance
Price:
Standout Picks
Criteria Used for Evaluation
Effectiveness
Effectiveness means which features.
We will proceed with the criteria that helped us narrow our list down. However, before we do it, let's briefly summarize the most important aspects of all Maui Jim models and the things that they have in common.
First of all, all of them are polarized and manufactured by the innovative and patented PolarizedPlus2 technology that combines six separate technologies into one. This polarization blocks horizontal glare that is reflected from any flat, smooth or shiny surface and prevents you to see clearly. In addition to this, as glare can affect you from the front, it can bounce-back and cause your eyes to strain, the company has developed and patented Anti-Reflective Treatment technology that blocks reflected light and glare from behind.
All lenses have Bi-Gradient Mirror that is applied to the top and bottom of the lens. This mirror helps you get rid of squinting since it reduces the light that comes from above and below and the eyes don't get fatigued.
Gradient lenses are developed as a stylish and more fashionable alternative to Bi-Gradient mirror which features darker application added to the top of the sunglasses and gradually getting darker in a way that it allows needed light to be filtered through certain areas. Blue and Rose lenses feature Fashion Lens Mirrors, i.e. there is a blue mirror coating on Neutral Grey lens and Sunrise pink mirror is applied on the rose lens.
They all provide ultimate UVA and UVB protection by blocking the harmful sun rays and the scattered glare that is reflected by flat surfaces. They also protect from dangerous blue light which is known by the name High-Energy Visible radiation (HEV) up to 400 nm.
The lenses are waterproof and oleophobic, i.e. grease-repellant. They feature CLEARSHELL technology that makes them scratch resistant and more durable.
They are certified to protect your eyes and the area around your eyes against cancer and other harmful conditions caused by the sun and having one pair of shades means investing in the health of your eyes and the area around the eyes.
Almost 95% of the Maui Jim golf sunglasses come in prescription.
All models come with two year-warranty, case for the eyewear and a cleaning cloth.
Features
Features give performance
It's all about good features meaning design plays an important role when choosing eyewear since they are probably the first thing that people notice. It is wise to choose the design that suits you the most, however, some models seem to be much more preferred than some others and the design is the key factor in those preferences. There are some universal one-size-fits-all Maui Jim golf sunglasses that really seem to fit many people regardless of their head size or sex. The best ones fit perfectly on the face, don't seem intrusive and give you confidence.
Durability
Materials aid performance and durability
Even though all materials used in the production of the different models are technologically advanced and provide durability and protection, they differ in the manner of their production and the level of firmness that frames and lenses have. Some of the frames have a high level of flexibility and can be bent without being broken. Other models feature materials such as Grilamid or Rabalon which is extra tough metal very difficult to break. Other models are made of hypoallergenic materials which fit people susceptible to allergic reaction. The lenses too have four types of patented materials that make them protected and more durable.
Value
Value is a broad defintion
As with any product, the price is one of the main determiners that make you decide if you are going to buy the product or not. When it comes to Maui Jim models they have wide price range which depends on the materials used in their production, manufacturing process, their design and season.
Buyers' ratings and comments are a valuable factor when choosing the best products of any kind. They are the first-hand source which provides unbiased and truthful information on the product. We tried to single out those models that have the greatest rating and lowest number of negative reviews as support to our selection.
Top 10 Picks



When you buy shades you definitely expect ultimate sunscreen protection, especially if you spend your days on direct sunlight. This is one of the most preferred Maui Jim golf sunglasses. Breakwall are composite rimless sunglasses that wrap around your face perfectly. Now you can dedicate yourself on your game without glare disrupting your sight, or you can enjoy all day on the beach, enjoying nature in its vivid colors.
Read more
Design
These are absolute rimless polarized glasses with a thin metal frame which make them top of the line when it comes to luxurious design and ultimate comfort. Their smooth wraparound design allows enhanced protection from the glare and stylistic elegance. There are three available color options of the lenses: dark named Gloss Black, brown named Rootbeer and grey named Trans Smoke Grey. The nose pads are very comfortable and don't leave markings as some other models do and the bridge is one of the lightest and thinnest ones found on the glasses. This model of Maui Jim golf sunglasses is literally one of the lightest ever produced and you'll definitely forget that you have them on your head.
Features
As we have already mentioned, all models are manufactured with the PolarizedPlus2 technology that provides unique protection to your eyes. The lenses material is Pure which is the most popular one among lenses material and the reason is that it combines optic supper thin glass with ultra lightweight material that provides shutter and scratch resistance. Since they feature High Transmission patented lens they can be worn even when it is too dark because it provides contrast and color. The frames are extra strong and flexible, made of high-grade nylon so even if they are bent they won't break adding one more feature- extreme durability. Especially recommended for players are HT lenses that provide high transmission of light adding extra contrast and color.
Cost and Value
These super light and extra comfortable eyewear hold the prime position of popularity and purchases. Due to their extra light protection and their unique design to fit almost any face, they will be your constant companion whatever you do. When it comes to their price, they are more affordable than some other models.




As strange as the name sounds, it has a specific meaning that was the inspiration for naming this model. In Hawaiian this name means hospitality and it is related to long-term durability, firmness, and undisputed reliability. You will be 100% protected from the UV radiation, and the reflective glare which can reduce color brightness and ability to see to almost 75% if you are not protected and directly exposed. Wearing eye protection optimizes the clarity of colors, and removes fatigue of your eyes so that you can enjoy your surrounding in the most natural way.
Read more
Design
These are unisex refined rectangular frames designed to fit medium face sizes. This is another rimless model that is also feather light and wraps around your face. There are four available colors, black which is named GlossBlack, blue, named Smoke Grey, gray, named Gloss Black and rose, named Tortoise. They feature saddle-style bridge with adjustable nose pads to prevent marking from wearing them. The material that lenses are made of is polycarbonate, a silicone-based coating that protects them from being easily damaged or scratched. They have gloss finish for a sleek look. The material that the frames are made of is Grilamid, having extreme bending strength that is known for keeping its shape. The hinges are anti-corrosive, made of stainless steel and provide great strength.
Features
Besides featuring PolarizedPlus2 lenses, this model offers Rose lenses that provide a rose tone to make them suitable for full sun to overcast light conditions. When you have this model on you know that your eyes and the area around your eyes is protected by the UV radiation, dangerous blue light, and the horizontal glare and your eyes won't be squinting or watering. The lenses shield your eyes from intense sunlight your eyes will easily accommodate when you move from sudden light conditions to dark ones. They are recommended for fast-moving sports or outdoor activities when there is a possibility of heavy impacts.
Cost and Value
They are just slightly more expensive than the first model we talked about, but as we previously said, each pair has their own unique features that make them peculiar, and this refers to their price too. This model offers higher impact protection and extended durability, it features different design in terms of shape and color and is intended for active and prone to impact places.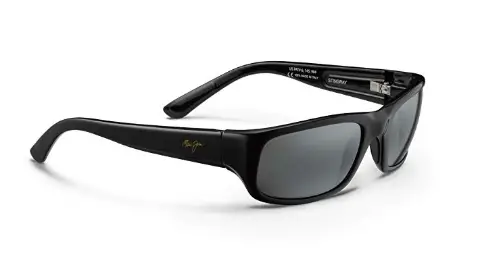 Another excellent pair of glasses specially designed for extremely light and bright sunny days. They are intended for man and women, which means they can fit many different sizes, even though the manufacturer recommends them for small to medium-sized faces. There are hundreds of satisfied costumers praising the high-quality and the effectiveness of this model by reducing the glare and providing proper protection.
Read more
Design
They have modified rectangular shaped frame which suits a wide range of facial shapes and sizes. They are offered in three color varieties, black frames and natural grey lens, named Gloss Black, blue lenses with silver frames, named Crystal Matte and brown, named Tortoise. The lenses material is super thin glass that provides total crispest optics available and they are 20% to 32% thinner and lighter compared to standard glass, offering better scratch and solvent resistance. The frames are made of extremely lightweight, injection –molded plastic which is extra strong and durable. The hinges are made of anti-corrosive nickel or silver springs that provide comfortable and secured fit.
Features
Different color lenses feature different properties. The Natural Grey lenses provide the greatest possible reduction of the light in order to maximize visibility of colors to their fullest and enhance the greatest contrast. The model that features Blue Hawaii lenses has blue mirror coating which give fashionable look and high functionality in providing color enhancement. The brown ones feature HCL Bronze(high contrast lens) which are mostly recommended for everyday use, especially when the weather is changeable.
Cost and Value
This model expresses the build quality of the brand and they are definitely among the most sold ones. The reason behind this is in their excellent durability, extreme UV protection and the price which in line with other models is in the low end.




In case you are into the aviator style, these Maui Jim golf sunglasses might be an excellent option for you. Since these aviators feature a minimalistic style that intermingles sporty and trendy elegance, they can be practically worn everywhere, from courses and jogging tracks to high-end events and they will blend-in perfectly whatever the occasion or your outfit.
Read more
Design
They got named Sugar Beach inspired by the clear and white sands on the Hawaiian beach that has the same name. Their rimless aviator design makes them perfect for a variety of settings offering unprecedented clarity of vision and suitable for any occasion. The lenses feature Pure material which is the most popular one because it puts together optics that are very crisp with ultra light and excellent scratch resistance. There are three available color options: black called Gloss Black, brown, called Rootbeer and light grey that go by the name Trans Smoke Grey. The lenses are coated with polycarbonate silicon-based material that gives extra strength if exposed to external impacts. The frame is build of high-grade nylon that has to bend properties and is extremely durable. The bridge has fixed saddle-style design with non-slip, rubber nose pads which don't leave any markings. The finish is smooth with high gloss received by tumbling them in teakwood and bamboo.
Features
Since these modified aviators come in three lenses colors, each of the features different types of added protection. Neutral Grey lenses offer maximum light reduction intensifying the colors around and enhancing the contrast. The HCL Bronze lenses have added tint and can be worn in versatile conditions, while HT provides extra contrast and color when the light is dimmed. Since they are kind of wrap-around-your-face sunglasses, you won't have the sensation that some light is bouncing-back into your eyes from the sides. And, in case you are a player they won't budge when looking down or swinging and you won't have the distracting reflection of the sun if it is behind your back.
Cost and Value
These are excellent aviators that provide ultimate all-angle protection and fit different face shapes and sizes. Their price is not over the roof provided all the features they offer and many satisfied customers say that the product is well worth the money they paid.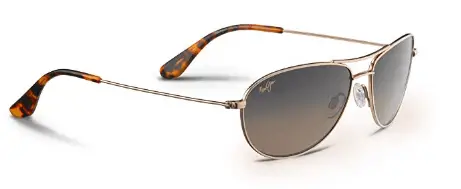 These are another exquisite pair of aviator glasses which offer youth freshness and liveliness. These Maui Jim golf sunglasses are named after the Baby Beach which is the most entertaining, lively and colorful beach there. If you are looking for eye protection that will make you noticed and at the same time share a message concerning positivity and life then these are the perfect choice for you. You can choose from four intense color varieties.
Read more
Design
The material used for this model of lenses is MauiPure which, as we previously said, is one of the most popular materials that combines highly crisp optics with ultra lightweight and extreme resistance to scratch and shutter. The frames are made of pure titanium which is very light, comfortable to wear and strong. The bridge features a double-bridge design that has adjustable and non-slip silicone nose pads. The color options that you could choose from are the following: blue lenses with silver frames, dark grey lenses with silver frames, brown lenses with gold frames and violet (rose) lenses and rose gold frames. They fit people with small to medium head sizes.
Features
As said before, all models are produced with PolarizedPlus2 lens technology that provides ultimate UV, blue light and scattered glare protection and enhances clear vision and vivid colors. The color of the lenses gives additional flare to the way you perceive the world around you. Thus, blue lenses have mirror-coating that not only do they provide a stylish look, but also enhance the colors around. Neutral grey lenses are best for reduction of light and creating sharpest contrast. Bronze ones are the most suitable for changing light conditions and rose-tinted lenses which are named MAUI Sunrise have mirror coating which gives fresh, stylish look offering color boosting features and clear vision.
Cost and Value
The customers, who have bought these, describe them as pricey but totally worth the money. They are extra durable thanks to the titanium frames and the coating the lenses have. Buying those means that is a long-term investment that you won't regret ever making it.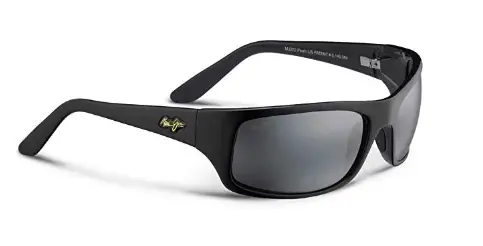 Another unusual name, but very popular in Hawaii which refers to a popular surf break. So, to honor the power of waves, sunshine, and enjoyment the company created these wrap shades for maximum sun protection and unhindered enjoyment even on the hottest and brightest day. These are remarkable eyewear, designed to please the pickiest ones.
Read more
Design
The material that is used to make the lenses is SuperThin Glass that provides the greatest crisp optics available and they are thinner and lighter than standard glass from 20% to 32% and offers resistance to external impacts. The shape of the frame is modified rectangular making them fit people with different shape of their faces. The material used to make the frames is Grilamid, that is a very light and durable polymer that has awesome bending strength and ability to keep its shape, while the temples feature hypoallergenic cellulose propionate and the ends have added rubber to provide better fitting. In addition to this, they come with non-slip silicone nose pads for added comfort. There are four different color choices you can choose from, Gloss Black with black frames and dark lenses, Matte Black with black frames and blue lenses, Tortoise that feature brown (bronze) lenses with brown frames and Matte Black featuring bronze lenses and black frames.
Features
Imagine driving against the sunset and it is piercing through your eyes while you are struggling to adapt your eyesight so that you can see at least something. That is a very awkward and dangerous situation and it is true that the number of accidents that have happened was caused by hindered vision due to direct sunlight. That situation will never happen with these glasses since they are designed to prevent glare from hurting your eyes and impeding your vision. Since this model is a wrap around, there will be no side light entering your eyes and you will be free to enjoy your daily activities. When it comes to color options, if you choose Neutral Grey, then they will reduce the light to maximum and provide clear and natural vision. Blue lenses have mirror coating for enhanced clarity and style, Bronze lenses are appropriate for changeable weather conditions.
Cost and Value
They are middle-ranged when it comes to pricing. Regardless of the price tag, they among the favorite ones manufactured due to their optimal function, practicality, and protection. They are gladly recommended by many.




The main feature of lighthouses is to be seen and to see from there more than from anywhere else. Named after the oldest and still functional lighthouse in Lahaina Harbor, this model reflects their name within their style, design, practical functionality and durability. You can't stay unnoticed when wearing these glasses and you will equally notice everything around you since the obstructive glare won't stand a chance with these lenses. Their firmness and high quality provide durability that can be related to the durability that lighthouses have. It is no accident why they are so popular then.
Read more
Design
This rimless model features universal rectangular frames that fit both, men and women equally, and are appropriate for different head sizes. The material the frames are made of is high-grade nylon which is very lightweight and durable. The hinges are made of anticorrosive stainless steel and in order to provide better stability, they have non-slip rubber nose pads. For the final touch and high gloss, they are tumbled in teakwood and bamboo. The Pure lenses come in three different colors and provide crisp optics with utmost scratch and shatter resistance.
Features
Since they are also designed to wrap around the face and shield the eyes from all sides, they are excellent for unobstructed, color-infused views. You can confidently spend your time outdoors and enjoy the sunny days in their fullest knowing that you are completely protected from the harmful UVA and UVB sunrays, the reflected glare and dangerous blue light up to 400 nm. The choice of the color of your lenses will provide a small difference in the way this protection is carried out. So, as we have said several times, Neutral Grey provides you with maximum light reduction and color enhancement. HCL Bronze is appropriate for changeable weather since it features warm tint and Maui HT are especially suitable for adding extra contrast and color during low light.
Cost and Value
This model comes with a more affordable price tag and it is an excellent opportunity for those who are on the budget side but still want to invest in the health of their eyes. These are excellent eyewear, with maximum protection and durability, stylish design and great comfort that will change your view of the world.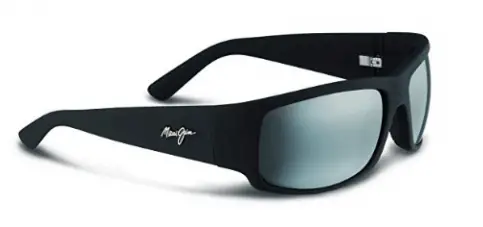 Let's introduce another pair of wrap shades that make difference when worn in terms of style, elegance, and protection. Excellent choice for fishermen and everyone who is directly exposed to scattered and horizontal glare that is especially strong and reflected on shiny flat surfaces and on water surfaces. As a matter of fact, they got their name after the only worldwide blue marlin fishing tournament called World Cup. They guarantee ultimate visibility and unmatched style.
Read more
Design
This model is designed to fit various face shapes and sizes since their shape is rectangular but modified, allowing them to blend in with the wearer's face shape. The frame is made of high-grade injected nylon which is lightweight and extra strong but very comfortable to wear. The hinges are anti-corrosive and flexible to provide proper fitting. The lenses are made of SuperThin Glass that is 20% to 32% thinner and lighter and offers crispest optics available. There are three available color options when it comes to frames and two when it comes to lenses.
Features
These are excellent models for doing active outdoor activities and sports. They provide total protection due to their wrap-around design leaving no chance to the sunlight to reach your eyes. The coating and the structure of the lenses are either Natural Grey color lenses that are known to reduce the brightest light and glare and to boost colors and contrast or HCL Bronze especially recommended for versatile weather conditions or low light. Given their specifications, they are favorite among players, fishermen, tennis players and those who spend long time outdoors.
Cost and Value
These will put an end to all those squinting and watery eyes. Your vision will be restored to the level of almost perfection and as many satisfied buyers say, you will get addicted to wearing them since you will see better than ever. The price tag is a reflection of their true value as you invest in your eyes' health and that is priceless.




These are sporty and fun shades that wrap around your face so that you feel extra comfortable and relaxed to do whatever activities you want without fearing that they might fall off. These are also named after popular surf spot showing the freedom and fun on the waves and sun. There are three color options you can choose from, grey, blue, bronze and rose.
Read more
Design
As these are sports-style models they wrap around your face creating no slipping effect. They have a modified rectangular form of the frames which are made of Grilamid which is incredibly strong and durable with a high gloss finish for a sleek look. The nose pads are made from rubber for added comfort. The lenses are made of polycarbonate which is silicone based hard coating that protects the lenses, i.e. a technology known by the name CLEARSHELL.
Features
Designed to challenge your sports spirit, they are perfect for any active outdoor activities and sports. They stay firmly on your face without slipping even when you go running and the lenses never fog, which often happens with ordinary eyewear. The frames come in four different colors, as well as the lenses. So, the available options are Gloss Black frame with Neutral Grey lenses, Blue frame with Neutral Grey lenses and Rootbeat frame with HCL Bronze and no matter what you prefer as an option you will get 100% UV protection. These are one of the rare models that are not offered in prescription.
Cost and Value
These are a perfect choice for sports people with a youthful spirit. They are designed to stay on your head no matter what and won't fail you. Their price is average when it comes to the brand. They are far from being cheap, but their price reflects their value and they are worth having them.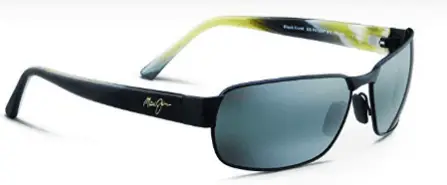 Named after the black coral in Hawaii which is host to unique marine life and designated to be the state gem of Hawaii, they are as shiny and unique as the coral itself. Their design will simply captivate you with their impeccable design and perfection making these sunglasses perfect for golfers. They are designed for people who are not afraid to seek more, people who defy obstacle and know what they want in their life.
Read more
Design
The refined rectangular shape makes these eyewear fit people with various shapes and sizes. These are on the high end in every sense of the word due to materials used in their production. The frames are made of Monel metal which is extremely strong, the alloy is corrosion resistant and there are acetate temple tips. The hinges too are made of anticorrosive springs that make them flexible and secured providing a comfortable fit for everyone. Their perfection can even be seen in the adjustable nose pads that are made of sophisticated Rabalon. When it comes to lenses material, it is SuperThin Glass that is much thinner and lighter than the standard glass and which provides unsurpassed crisp optics available. These lenses are resistant to any external impacts. There are two color lenses available, black and brown.
Features
These top notch models provide unmatched protection to your eyes and the area around your eyes. When you put them on your head you will feel as if you have switched from night to day. The two color options of the lenses are Neutral Grey which is excellent for maximizing the reduction of the available light by increasing the visibility of colors and creating greater contrast, and HCL Bronze that is highly recommended for changing light conditions. Regardless which choice you'll opt for, they will leave you speechless.
Cost and Value
This model is on the high-end regarding its features, style, and design. They are extremely durable and crafted to be worn for a long period of time. The price is also high-end, but bearing in mind the top notch quality of the materials and design, you could expect it. Anyway, you would agree that nothing is too much when it comes to investing in your eyes health and top quality.

Subscribe to our Newsletter