Maui Jim Sugar Beach
When looking at the Maui Jim Sugar Beach sunglasses, the first association that comes to my mind is a scene of a pilot from the 30ies that has just landed, standing by the plane and waiting for his loved one. Probably that's one of the scenes of the Aviator movie, and their design is not identical to what Leo di Caprio is wearing throughout the film set, but the sole fact that these are aviator style sunglasses, validates the association. 
Associations, they may be many, but in case you are a golfer then you must have seen this Maui Jim model being worn by many golfers since it is one of the lightest models that Maui Jim has produced. Besides, Maui Jim is a golfers' favorite brand and they simply love every new release as the company has taken golfers' needs very seriously. Besides, the company itself is positioned on the island of Maui which is the sunniest place in the world boasting the most beautiful golf courses in the world, so Maui Jim's designers are in constant and direct communication with golfers, focusing on their demands and trying to deliver an adequate response. 
What Maui Jim is most reputed, is their polarized sunglasses which are made to provide 99.9% protection from the scattered glare. They were the first that took the glare seriously, understanding that it is the glare that prevents us to see clearly during bright, sunny days, and the glare can be blamed for the intensive short sunlight that can inhibit us from seeing for a second or two when it is reflected from flat surfaces.
This realization has led them to invent technologies that provide 100% protection from the UV rays which can be eye-damaging to the point of completely losing the ability to see, shielding from the glare and even protecting the eyes from the blue light which can also have a negative influence on human eyes. 
In short, this is what the Maui Jim Sugar Beach boast about, but for detailed information read below the product analysis to find about all their features.
Pin for later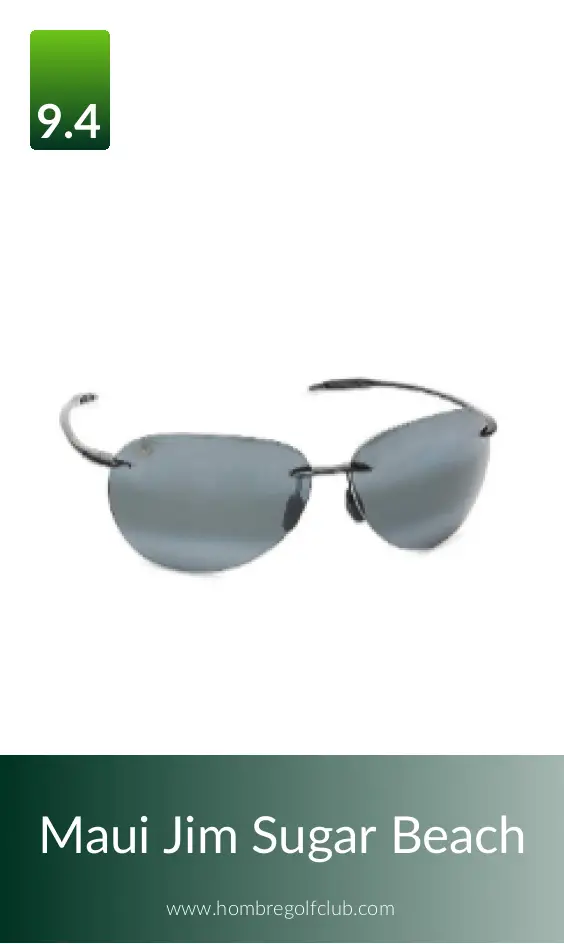 Editor's Pros & Cons
Made with Patented PolarizedPlus2 Lens Technology
Seal of Recommendation by the Skin Cancer Foundation
100% protection from UVA and UVB sun rays and 99.9% from the glare
Modified aviator, rimless design
High-grade nylon temples and bamboo and teak wood finish
Very lightweight and resistant to impacts, scratches
Two-year warranty
Three different lens colors
According to some golfers, they are too fragile
General Information
Style and design are the first things you look at when looking for a new pair of sunglasses, however, there are some other key points that you need to consider before making the final decision. Matching them to your life dynamics is very important because if you are a golfer or an athlete, you need them to be stable on your head without the risk of falling down. Plus, the styling and the color option do matter, and that is the reason why the Maui Jim Sugar Beach offers several lens and frame color options
What Maui Jim is known for is their focus on providing exceptional protection from the scattered glare which bounces off flat surfaces and prevents us from seeing clearly. Their polarized sunglasses offer ultimate glare protection and all their models feature PolarizedPlus 2 anti-glare protection. Durability is another feature that is important when you invest in high-quality shades, and it is understandable why.
Finally, the utmost necessity of the high-end shades is to be able to provide maximum UVA and UVB protection. Complete UV and
glare protection
ensures that your eyes are protected from long term and serious conditions.
Protection
The Maui Jim Sugar Beach sunglasses, like the rest of the company's range, are designed to deliver 100%
UVA and UVB protection
. These two types of sun rays are proven to be exceptionally harmful to human eyes. The UVA rays penetrate deep into the eyes and the skin and modify the cells and structure on long term level. They can impact your central vision by posing the risk of retina damage which is positioned at the back.
The UVB rays get absorbed in the surface area of the eye, i.e., the cornea and the lens. Yet, direct and unprotected exposure to the UVB rays can inflict detrimental effect which is much greater compared to the UVA causing cataract, many eye conditions and if exposed for a long time, they can cause blindness.
But, as we have previously said, reflected glare can be an additional problem, especially during strong and bright days. When the sun is the strongest the glare is reflected from horizontal flat surfaces, your vision can get blurred and you won't be able to see for a few seconds. This effect can be especially negative when trying to hit the ball and can cause off-center shots or if you are driving.
So, it becomes more than clear that everyone needs high quality polarized sunglasses whatever the activities you're doing. Maui Jim Sugar Beach is a model that is made to deliver total protection from the harmful sun rays and 99.9% glare protection.
Technology
The proprietary PolarizedPlus2 technology has turned out to be very successful when it comes to
Maui Jim sunglasses
and this technology integrates six separate technologies into one. The purpose of this technology is to block the horizontal glare that gets reflected from shiny, smooth or flat surfaces, such as water hazards.
Within this technology, the patented Anti-Reflective Treatment technology makes sure that you are protected from the back-bounced glare that has the capacity to affect your frontal vision and this is one of the causes of eye-straining.
Another useful characteristic of Maui Jim Sugar Beach lens is the Bi-Gradient Mirror which is applied on the upper and the lower part of the lens to reduce the impact of the light coming from above and below. This convenient feature helps users stop squinting and reduces eye fatigue.
The CLEAR SHELL technology ensures exceptional lens durability, making them resistant to external impacts and scratches. In addition to their durability, they are also grease-repellant and waterproof which is an excellent feature that always keeps your shades free of smudges when you accidentally touch them with dirty fingers.
Lens Colors
If you thought that the color of the lens serves for the fashion and style purpose, Maui Jim will prove you wrong as their lens feature different purpose. Plus, their color provides a different level of protection for different weather conditions. The Maui Jim Sugar Beach model comes in three different color and frame varieties called Gloss Black, Translucent Smoke Grey, and Rootbeer.

The Gloss Black model comes in Neutral Grey lens color that offers an optimal light reduction, delivering rich color array and intensive sharp contrast. The Gloss Black model is recommended for spending the day on direct and intensive sunlight.

The Rootbeer features bronze lenses, called HCL (High Contrast Lens) Bronze. As you can get from the name itself, this lens type delivers a high contrasting effect with vivid colors. The impressive warm tint is most recommended for daily use in various weather conditions.

The Translucent Smoke Grey model features the Maui HT (High Transmission) proprietary lens made to deliver maximum contrast among colors by enhancing their natural visibility. These are especially recommended to golfers who love wearing them since they can enhance the visibility even in low light conditions.
Materials
The right choice of materials together with the technologies is the guarantee that the shades will be able to resist daily wear and tear. The basic and the most popular lens material, the Gloss Black model combines
ultra-crisp optics
such as SuperThin Glass with a premium lightweight and scratch-resistant coating. The lens material utilized for the Rootbeer is similar to glass in its optics quality, the only difference being its lightweight for one-third. Maui Evolution is the proprietary utilized in Translucent Smoke Grey lenses which is a combination of all the SuperThin Glass features and polycarbonate. This blend of materials delivers impact resistant and lightweight material.
Design
Maui Jim boasts a plethora of designs, counting more than 120 different styles. This is an impressive variety which points to the extreme creativity and observance of everyone's needs. Maui Jim's designers shape and reshape various models to make sure that every individual is able to find the best shape and design for him/her.
When you take a look at the Maui Jim Sugar Beach it is clear that these are
aviator style sunglasses
but with a slightly modified shape. The modification comes as a result of the company's intention to sell them as a unisex model appropriate fro various head shapes.
Their rimless design fits well between the fixed saddle-style design and high-grade nylon temples. For added durability, extreme flexibility and bendability they feature teakwood and bamboo finish. This process gives them a high gloss and smooth design.
Another common feature of the Maui Jim Sugar Beach is the fact that they don't leave any nose marking after wearing them for some time thanks to the rubber nose pads that enhance the comfort of wearing them for a long time. Indeed, they are so lightweight so that you can simply forget that you're wearing sunglasses. The hinges enhance their durability since they are made from anti-corrosive stainless steel which is very durable.
Key Features
The Maui Jim Sugar Beach sunglasses are aviator style model with a rimless, ultra-lightweight design made with the company's patented PolarizedPlus2 technology. This makes them a perfect choice for wearing them all day long or playing golf as you don't even notice that you have them on. They look
stylish and modern
and are popular among different age groups.
With the help of PolarizePlus 2 technology, the lenses boast exceptional optics clarity, scratch and impact resistance, and three color options to better protect you in different light conditions. But, in addition to the style, we must emphasize the superior glare, blue light, and UV light protection which is among the best on the market. They proudly boast the Seal of Recommendation as an effective UV filter granted by the Skin Cancer Foundation.
Key Features


Made with Patented PolarizedPlus2 Lens Technology


Granted Seal of Recommendation by the Skin Cancer Foundation as an effective UV filter


100% protection from UVA and UVB sun rays and 99.9% from the glare


Modified aviator, rimless design


High-grade nylon temples and bamboo and teak wood finish


Very lightweight and resistant to impacts, scratches


Two-year warranty


Three different lens colors


Bottom Line
Maui Jim Sugar Beach is one of the most simple but at the same time very popular sunglasses models which probably blends the key features of
high-quality sunglasses.
Their modified aviator shape seems to be appealing to many different people, men and women, who enjoy the lightweight, unnoticeable feel they deliver. The selection of three color lens is not only for fashion purposes but for different light conditions too.
Made from very lightweight materials they guarantee undisturbed comfort and pleasant feel. They replenish with their originality and unimposing style. What many of the reviewers claim is the fact that in case you are struggling to find the model that will suit your face shape, the chances are that the Maui Jim Sugar Beach sunglasses are your perfect match.
What is even more important is the complete UV, glare and blue light protection so that you can rest assured that wherever you go, in any time of the day, your eyes will be 100% protected. So, basically, this means that when purchasing Maui Jim Sugar Beach you're investing in your eye health. And finally, we're ending this review with a short remark on the price they feature since the cost is often a factor to consider. Luckily, the Maui Jim Sugar Beach is on the lower end of the Maui Jim range, so the investment will be absolutely worth the money.
In a nutshell, if you are looking for extremely lightweight shades that deliver ultimate UV, glare, and blue light protection, recommended by the Skin Cancer Foundation, the Maui Jim Sugar Beach is the model that will fill all the boxes.
Subscribe to our Newsletter