Maui Jim Stingray
I have a challenge for you. If the weather is sunny today, go outside and try to look around properly for some time without any sunglasses. How much time do you think you'll make it? I tried this myself and realized that in the very instant moment I stepped outside, I couldn't keep both my eyes open, as I naturally had to squint so that my eyes got protected from the intensive sun rays. It wasn't a volitional process, but a self-protective mechanism that I wasn't able to control. Well, no wonder why I reached to my Maui Jim Stingray sunglasses. 
You see, the sun is great, it is a life-giver in a way, and we simply love it. More than 90% of the world inhabitants say that they feel happier during bright, sunny days. However, our interaction with the sun should be carefully approached. Regardless of all the benefits, it provides for our planet, it has its negative sides which, when ignored, can have very negative consequences. 
Now, it is literally unimaginable to be playing golf without your sunglasses on as they provide you with the only ability to clearly see what's ahead. And, as all athletes, golfers love when their sunglasses stay firmly on, no matter the intensity of the training or the duration of the game. Maui Jim is one of the most reputable brands among golfers as the company's vivid idea of protection and entertainment brought into shades for all age groups and all styles.
Set in the midst of Hawaii and having the prime opportunity to create their models from one of the sunniest places on the Earth, Maui Jim currently offers over 120 designs, which are unique not only in their design but in the technology utilized to make them and the crisp and bright colors they reveal of the world around you, not revealed with a naked eye.
Maui Jim Stingray is one of those models that once it was launched on the market it was immediately accepted and loved by people all age groups, male and female, thanks to its versatile, unisex design. We have so much more to share about this model, so read below to see why Maui Jim Stingray could be the right choice for you. 
Pin for later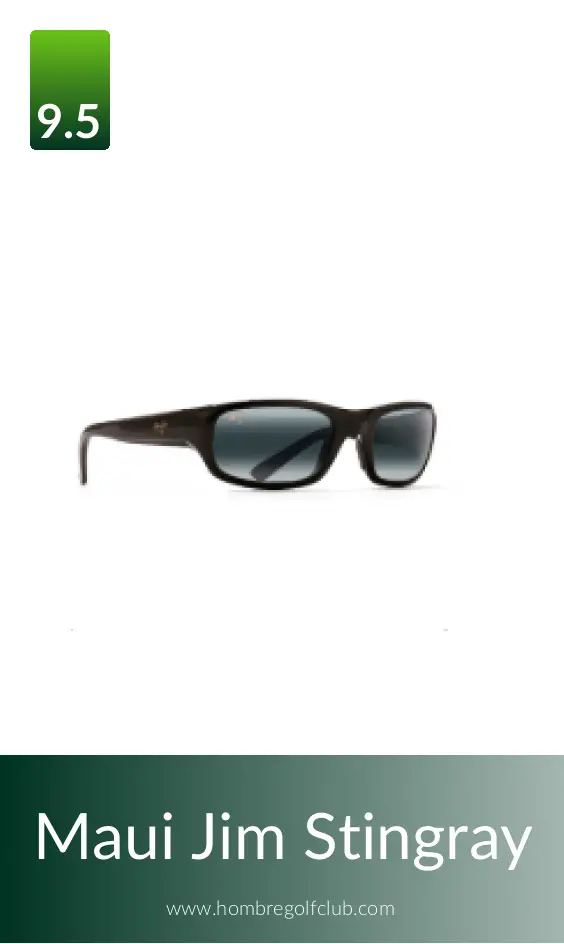 Editor's Pros & Cons
The lens feature PolarizedPlus 2 lens technology
A 100% UVA, UVB and glare protection
Color-boosting technology reveals new world colors
Three lenses and frame colors for more style variety
Scratch, shatter and impact-resistant lens material
Waterproof and greaseproof lenses
The frames are made from strong, injected cellulose which is extremely durable
The purchase includes a 2-year warranty
People with larger head sizes might find them too small
General Info
Many people think that sunglasses are just that-sunglasses, and not many realize that there is a serious technology behind them. At least behind those models made by companies which understand the need for a serious approach when it comes to eye protection, such as Maui Jim. When the company was initially set up, the founders soon realized that not many of the models back then offered adequate and total protection from the harmful UVA and UVB rays, but it was even more surprising to reveal that the number of the models that did offer protection from the glare was down to a bare minimum.

As there wasn't an existing technology that would provide a base for creating sunglasses that would be more than just stylish wearables with some eye protection, the people from Maui Jim created their own. Ever since they have been perfecting the technologies that lead to ultimate protection. This led to creating the first polarized sunglasses which change the way people perceived the world around them. And, the focus has never been solely on providing protection. The Maui Jim's designers have paid special attention to the style and design too, and starting with original seven lines of polarized styles, now they offer more than sixty, making them on of the greatest polarized sunglasses manufacturer in the world.
General Features
We mentioned above that Maui Jim Stingray Sunglasses are one of the most sought-after, and there is a good reason for that. First, we'll mention the style and their design. The fact that they are a unisex model that suits equally well men and women makes them instantly more attractive. Their universal, traditional rectangular shape and the wrap-around design make them suitable for a variety of head shapes and sizes, while the different color lenses do not only add to the style, but they provide different types of protection under different circumstances.
In case you didn't know, most of
Maui Jim sunglasses
can be ordered in prescription too, which is more than a convenient option if you need to spend quite a long time outdoors, such as playing golf for 4 to 6 hours. Plus, this model comes with a 2-year manufacturer warranty starting from the day the original purchase was made, and when bought from an authorized Maui Jim retailer, the purchase includes a large brown case to keep your glasses protected when not used.
Technology
The proprietary PolarizedPlus2 technology is applied to all
Maui Jim latest models
, and this technology is what makes them stand out in the sunglasses market. This technology represents a complex blend of six different technologies which give them the right to be called the best on the market. This technology, as the name implies, delivers ultimate anti-glare protection, not only from the frontal glare but from the scattered, back-bounced and side glare, and eliminates any form of eye squinting.
Anti-Reflective technology is extremely useful in blocking the reflected light and glare that comes from any flat surface. It can be very annoying and disturbing as it can cause momentous blindness which in certain moments can be even fatal. This is the reason why we all need polarized sunglasses, especially if we spend more time nearby flat surfaces like water, glass, shiny objects and similar.
CLEAR SHELL technology provides superior lens coating which protects the lenses from scratches. The lenses are also waterproof and oleophobic which means, in case of contact with water or grease, the lenses will repel them, delivering clear and crisp imaging. Another very peculiar characteristic of this technology is the COLOR ENHANCING feature which boosts the natural light and wearers see the colors around in a much more enhanced way. They open a completely new door of how you see the world around and many users claim that once they put the sunglasses on, saw colors they hadn't been aware they existed.
And finally, the sunglasses feature Bi-Gradient Mirror design, which means that all lenses have it applied to the bottom and the top. The function of the Bi-Gradient Mirror is to additionally reduce the light that comes from above and below to additionally reduce the squinting and eye fatigue.
Design
Even though
maximum UV protection
should be crucial when buying sunglasses, it is the design and the style that attracts buyers' attention, and regardless of the technologies used in the manufacture, if the style is not a match to the buyers' preferences, the chances are less than likely that the model will be bought.
Maui Jim Stingray comes in three color lens and frames options, and each of the colors has a specific function and purpose. This is a complete wrap-around model that allows full side protection from the sunlight that comes from different directions.
Due to the fact that this model has been designed for men and women, it runs smaller, so people with larger head sizes might find them too small, and this is where the negative reviews are mainly directed. However, bear in mind that the company itself recommends them for small to medium head sizes.
Durability
On the plus side though, is the impeccable construction and the superior choice of materials that make this pair very durable and of premium quality. The frames are made from a plastic material with very lightweight but exceptionally strong cellulose which makes them very resistant to breaking and bending. The saddle-style fixed bridge which has embedded nose pads prevent from marking the nose when worn for a longer period of time. The hinges are made from stainless steel which is very strong and anti-corrosive. Add to this the SupperThin Glass Material which is three times lighter than the glass but much more durable and stronger, and you get some of the most durable sunglasses on the market.
Lens Colors
Despite the fact that lens colors play maybe one of the most important roles in attracting buyers, and complement the style and the design, they feature certain properties that attribute them a specific role in providing adequate protection under certain circumstances. Maui Jim Stingray sunglasses come in three color varieties, both in terms of the lenses and the frames, and the three models are called Gloss Black, Matte Crystal Rubber, and Tortoise.
The Gloss Black model comes in the most popular neutral grey lens color which offers the highest available reduction of the light and they are intended for those people who spend most of their time outdoors,
on direct sunlight
. The frames are black, so they have the most versatile use and the most traditional, elegant look compared to the other two models.
The Matte Crystal Rubber is the model that has been made with the proprietary fashion mirrors, which enriches the colors, provides a clear and crisp view and delivers the same quality of protection as the other Maui Jim sunglasses. It features a blue mirror coating that is applied to the Neutral Gray lens. The whitish-grey frames make this model very sporty and attractive, and it is very popular among young people.
The Tortoise model features the HCL (High Contrast Lens) Bronze lens which delivers a high contrasting effect and exceptionally vivid colors with a warm tint. This lens color is suitable for daily use and different weather conditions. The brown frames add more style to the bronze lenses.
Key Features
These wrap-around sunglasses are perfect sports glasses as they stay firmly on without falling off every time you make a sudden move, or if you are a golfer, they won't fall off when you have a full-blown swing. The sturdy but lightweight and flexible material of the frames, which comes in three colors, as well as the three colors of the lenses, make them not only attractive and stylish but also very protective and durable.
The proprietary Polarized Plus 2 technology integrates several different technologies that deliver the most eye-shielding and long-lasting shades that you can find on the market. Thanks to this technology, what you can expect is total
UVA and UVB protection
and maximal glare protection. Since they have a wrap-around design, you can reliably indulge yourself in many different activities without worrying if the sidelight and glare will affect your eyes. Plus, this model comes in prescription which is an exceptionally important feature for the golfers with deteriorated eyesight.
Key Features


The lens feature PolarizedPlus 2 lens technology which represents a blend of 6 different technologies


A 100% UVA, UVB and glare protection


Color-boosting technology reveals new world colors, newer experienced before


Three lenses and frame colors for more style variety


All the lenses are made from ultra-light and super thin material which is scratch, shatter and impact resistant


Waterproof and greaseproof lenses


The frames are made from strong, injected cellulose which is extremely durable


The purchase includes a 2-year warranty and a brown sports case to keep your glasses protected when you don't wear them


Bottom Line
Maui Jim sunglasses
have always been a top selection for many golfers who realize the quality of their design, and who always look for premium quality protection. The company's reputation has never been down thanks to their careful approach in delivering a complete UVA, UVB, and glare protection with maximum clarity and color-enhancing lenses.
Maui Jim Stingray is a very popular model and if you read users' comments you will realize that it is due to the wonderful choice of colors, durable make and the clarity of the lenses, including the protection, that position it among the best.
Since it is a very popular and exceptionally durable mode, the price is on the higher end, however, the splurge will be well paid off when you consider that you are not paying just for the sunglasses, but for long-term protection of your eyes too.
Subscribe to our Newsletter