Maui Jim Pe'ahi Polarized Sunglasses
Overheating, sunburns and dehydration are all hallmarks of spending too much time in the sun without adequate protection. But another area we often forget about is our eyes. Itchy, sore and dry eyes are often a sign of strained and irritated eyes that have been exposed to the suns rays for too long. Both in the short and long term, this is not ideal as it can cause a lot of unwanted problems. That is why it's essential that you're always prepared to defend your eyes from harmful UV rays and glare. You can easily do this by ensuring you have a high-quality pair of sunglasses to ensure your protected no matter what.
But, despite what some people may think, sunglasses aren't just for the summer sun. They're designed for year-round protection against eye strain, unwanted glare, and UV rays, through the sun, rain, and snow. So, no matter where you are or what your doing your most important features are safe. These sunglasses are an essential must-have, whether you're wandering around your garden, at the beach, or playing golf with your pals. It's important that you always have a pair of sunglasses and sunscreen at hand.
Over the years Maui Jim has established themselves as a brand you can trust not only to deliver an unbelievable selection of different styles but also impeccable quality. Their large range of luxurious sunglasses are well known across the world and have become one of the hottest must-have items.
The Pe'ahi polarized sunglasses lend their name from the surf break found on Maui's north shore. In honor of the vigor of these legendary waves, these enduring and stylish frames have been designed with a high level of transparency and durability. But not only that, but these frames are also comfortable and incredibly robust.
These sunglasses come with a branded protective case, ideal for safely storing your glasses, and a cloth.
The Pe'ahi glasses are made using PolarizedPlus2® lens technology, alongside a wide range of other incredible features which work to secure and maintain they're high quality. These incredible traits are also hallmark features which can be seen in other Maui Jim sunglasses.
Whether you're on the golf course or by the sea, you'll rest easy knowing your pair of Pe'ahi sunglasses are not only saltwater safe, but they have also been treated to repel water. You'll literally see the beads of water roll off the lenses!
Alongside this, they also protect your eyes from 100% of UV rays and 99% of glare. They're also made with anti-corrosive detailing, which can be primarily found within the hinges. This means they'll last a lot longer than competitor brands.
They are also comfortable to wear, and you'll find yourself constantly surprised by how lightweight they feel while on your head. Lastly, thanks to their specially molded nose pads, they'll fit comfortably on your face without any horrible pinching!
Pin for later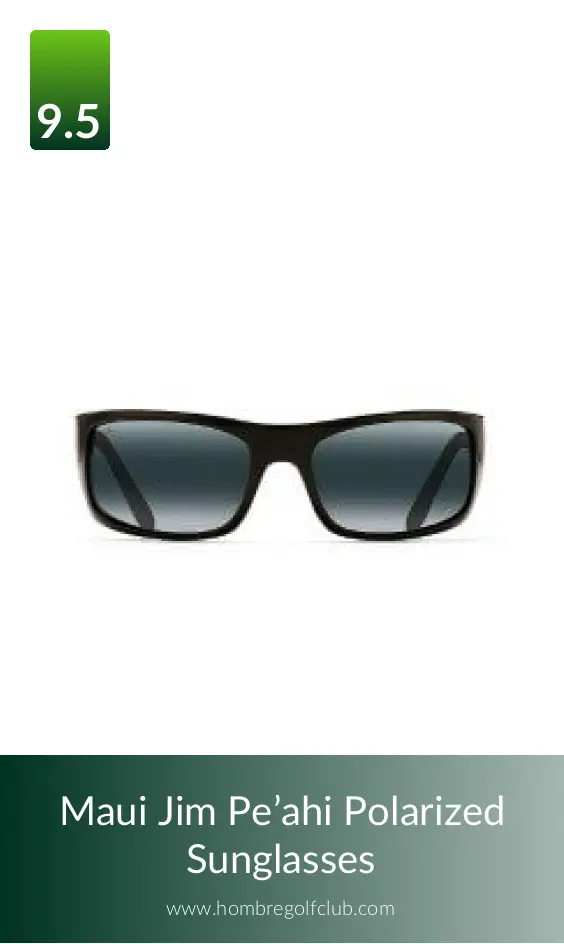 Editor's Pros & Cons
While the nose pads are molded rather than adjustable, they do come with rubber pads which work to secure the frames onto your face for a slip-free finish.
They offer 100% protection against UV Rays.
Their stylized sporty aesthetic offers endless style.
Has an overly bulky feel to them which some people may not like.
Style
When purchasing a new set of
sunglasses
, how the look plays a factor in your decision to buy them. If you don't like their style or how they look while you wear them, are you really going to wear them?
Maui Jim
sunglasses come in a wide verity of styles, from aviators to simple (yet sleek) pairs. However, the Pe'ahi frames are a little different. They have a thick, somewhat bulky aesthetic which is very masculine.
While this may be a downside for someone who is naturally a little more fashion conscious, they're an ideal pair for anyone who likes the
sporty
look.
But despite this, these frames perfectly match your daily life and blends in well with your own personal style. While they may not be the ideal pair for formal events, they're great for BBQs, golfing and sailing.
The frames and lenses have been treated to repel
freshwater
and saltwater protection from environmental damage wherever you go. They're also available in a range of different colors, which means you can pick a pair that are more suited to your personality and individual tastes. But of course, the different
color
lenses also serve another purpose aside from overall aesthetics, which we will get into more detail shortly.
Comfort
Similarly to how they look, how a pair of
sunglasses
feel while being worn is an important factor to consider. After all, if they pinch, constantly slide off your face and cause discomfort, they're not the right frames for you.
Over the years Maui Jim's have perfected comfort with most (if not all) of their sunglasses. They are not only lightweight, but they were designed to be comfortable. An excellent bonus point for anyone who is wanting a pair of glasses they can
wear
all day.
Most of Maui Jim's frames have been built with adjustable silicone nose pads for a pinch-free fit. However, the Pe'ahi sunglasses are one of the few exceptions. They have been built with specially molded nose pads that fit comfortably around your nose. While in other sunglasses this would potentially lead to a pair of frames that are prone to slipping off, these sunglasses are designed to stay in place.
The creators have managed this thanks to the use of rubberized pads which work to secure the frames to your face. Not only that, but they also add another layer of comfort.
Unnecessary pinching in the nose or side of your head can cause discomfort and cause
headaches
and reoccurring migraines. Thankfully, this is not an issue with these frames.
The arms of the sunglasses also sit snuggly against the sides of your head, without pinching or causing discomfort. This alongside their
weightless
form also means you'll barely notice them while you're wearing them.
Getting your
hair
caught in these frames is practically a none existing issue, especially in comparison to other Maui Jim sunglasses. However, it is still advised that you keep your hair out of your face (if you have long hair) in order to prevent damage and smudges on the frames.
Durablity
No one wants a pair of
sunglasses
that simply break apart after having them for a few short months. You want a pair you can trust to be longlasting and durable, especially after spending a reasonable amount of money on them.
Over the years Maui Jim has established themselves as a brand you can truly rely on when it comes to high-quality durability. Built to last, these frames truly go the
distance
. Specially treated to withstand the elements and corrosion thanks to their water repelling properties and anti-corrosive hinges.
The Pe'ahi sunglasses hold up well thanks to their incredible design and innovative features, which work to bring you enduring quality unlike anything else. They were made to last and these details really shine.
The lenses also work well too, with some people reportedly dropping them with no noticeable injuries or scratches.
Of course, while these
glasses
are already well protected, they can only do so much. In order to help maintain their lifespan, you need to ensure they're not put into any situations where they will become damaged or broken. For example, don't throw them onto concrete, sit down on them or anything like that. This will lessen their high level of
durability
.
PolarizedPlus®
One of the best features of the Pe'ahi sunglasses is the use of Maui Jim's innovative PolarizedPlus®
technology
. They're an iconic part of the Maui Jim brand, but they also greatly prevent eye strain and further damage.
This feature completely defends your eyes from harmful UV rays while also lessening 99% of glare. This feature works to enhance the clarity and sharpness of what you see, while also increasing contrast and color perception.
PolarizedPlus® makes a big difference, especially when comparing these frames with other branded sunglasses.
Lenses
High-quality lenses are essential, but sometimes hard to come by. The overall condition of your sunglasses lenses is crucial as it is often a good indicator of the overall quality. Not only that, but they also indicate how well your eyes will be protected.
You will certainly be satisfied with the condition and quality of the Pe'ahi lenses as they combat untourable glare no matter if it's sunny, raining or snowing.
However, blocking out UV rays and lessening glare are not the only benefits of these impeccable lenses.
Previously we mentioned the lenses are available in a selection of different colors. Well, these colors have their own individual benefits. For example, Blue Hawaii lenses offer a stylish finish alongside color enrichment and clarity. Alternatively, the bronze lenses are more suitable for adapting to different climates and
environments
. The High Transmission lenses also offer additional color and contrast enhancements while the neutral grey lens offers a light reduction for improved clarity.
However, all the available lenses are personally designed to optimize your optics. They are 20-32% thinner and lighter than competitor lenses. They are also treated to be scratch and solvent resistant.
Maintance
While the Pe'ahi sunglasses have an incredible lifespan, it can be lessened as the result of a lack of care and maintenance. Essentially, the better you look after them the longer they'll last.
One of the best ways to ensure their durability, you need to store them correctly and prevent scratches and smudges by regularly cleaning the lenses when needed. Thankfully, the level of care and maintenance needed with these frames are minimal. Which means you will spend more time wearing them and less time cleaning them. Just remember to store them in their correct case when they're not being worn.
The Pe'ahi lenses have been specially treated to resist damage from freshwater as well as salt water, the water will simply roll off. Which means you won't have to dry them instantly.
As I've previously mentioned these sunglasses come with their own protective case, which helps you safely transport and carry them, alongside a cleaning cloth.
The lenses have also been coated with oleophobic, preventing further damage.
With very little care and maintenance to perform, all you need to do is store them correctly, and ensure you clean the lenses when
smudges
become apparent.
Key Features
The selection of innovations and features within these sunglasses may be small, but they all work together to provide you with high quality that endures, no matter the environment you're in.
Everything works towards improvement in clarity, colors, and contrast, all while providing you with impeccable protection against UV rays, glare, and eye strain.
These frames not only provide you with a sporty style but also offer a small selection of benefits that's hard to find in competitor brands.
Key Features


The lenses work to reduce glare and completely block out UV rays in different situations and climates.


water resistant lenses work to block water-related damage.


Anti-corrosive hinges prevents breakage.


Each colored lens work to prevent a broad range of issues, such as changing environments, low levels of light and much more.


The weightless frames are enduring and comfortable.


Rubberized pads prevent pinching and ensures the sunglasses stay in place for a nonslip fit.


Bottom Line
Maui Jim has become an incredibly popular brand thanks to their impeccable design and use of incredible technology. All of this works together to improve your wearing experience.

With their saltwater-safe lenses and durable frames, they're a good choice for on the golf course and in your daily life.

While the frames are somewhat bulky, they'll still suit some people's style choice and personal tastes. While they don't have adjustable nose pads, they do have rubberized pads on the nose and arms to prevent slipping and pinching.

Utilizing an advanced polymer frame, Maui Jim has secured a weightless and enduring design which is a vast improvement over other plastic frames.
Subscribe to our Newsletter