Maui Jim Lighthouse Sunglasses
There are a lot of people out there who believe sunglasses can only really be worn in the summer while the sun is out and shining brightly in the sky. But that's simply not the case, they can be worn throughout the year in any instance where glare is an issue. They need to be worn in any given situation where your eyes are starting to strain, which cause problems later in life if left unresolved.
Maui Jim's luxurious brand of sunglasses is well known for producing frames and lenses that not only protect your eyes but look good too. Whether it's sunny, raining or snowing outside, Mau Jim's glasses work to prevent eye strain and reduce glare when you need it most. Because of this, they're the excellent companion to your golfing attire. They look fantastic and they help prevent eye damage while you're on the green.
Maui Jim's Lighthouse sunglasses are named after Hawaii's first working lighthouse. These frames are rimless and made from polycarbonate materials for a stylish, yet durable finish. These frames combine style, endurance, and transparency.
Not only do these frames utilize anti-corrosive hinges, but they have also gone through waterproofing treatments. Similar to the frames, the lenses have also been treated to repel fresh and salt water. They also work to reduce glare by 99% and block out 100% of UV rays, almost completely protecting your eyes while being worn.
With their sleek and rimless style, these glasses perfectly blend into your personal style. However, if you're looking to add a pop of color into your look through sunglasses, they're also available in a small selection of other colors.
Overall, these sunglasses are practically weightless. This means that they are a top pick for anyone who doesn't like feeling weighed down by heavy and bulky glasses.
Pin for later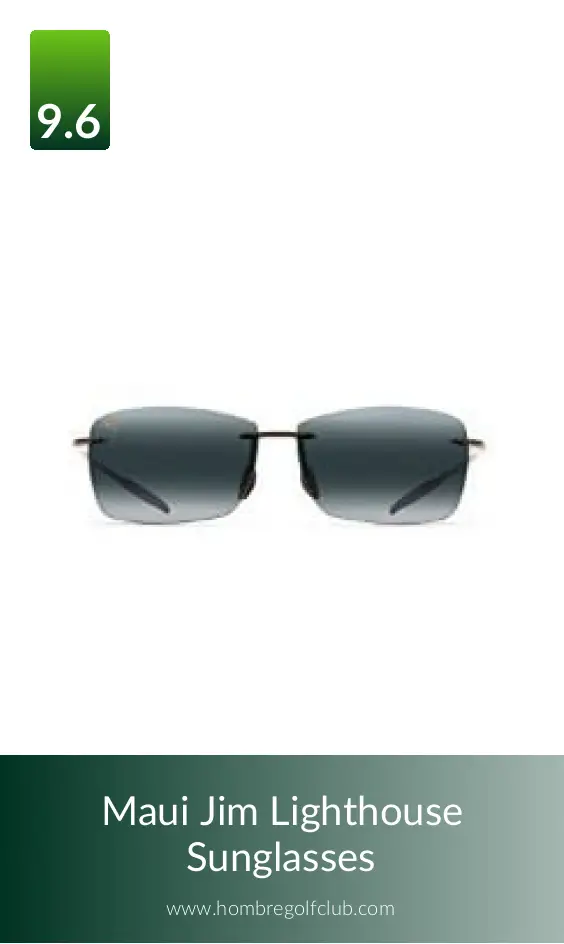 Editor's Pros & Cons
The rimless aesthetic of these frames offer a stylish, barely there look that suits everyone.
The lenses offer long-lasting protection for your eyes while ensuring your vision is still vivid and your surrounding is brightened.
The polarized lenses work to defend your eyes by reducing 99% of glare. They also block out 100% of UV rays, prevent further damage and possible loss of sight.
The silicone nose pads adjust to the form of your nose, which work to ensure a comfortable, non-slip fit that won't pinch.
Some people may prefer more stylized frames that will match their personal fashion and tastes more.
Aesthetics
You want your new
sunglasses
to be effective, durable, but also aesthetically pleasing. While making sure they protect your eyes properly is key, you also want them to look good. After all, will you really wear them if you don't like the way they look?
The barely there, rimless design of these sunglasses offer a streamlined injection of style into your look. They work well with most face shapes and blend in well with most
outfits
.
While the Lighthouse sunglasses promise a hit of refreshing style, its a style type that some people may not prefer. This is the main flaw in its design, however, this is purely down to personal preference. As mentioned in the pros and cons, some people prefer more stylized and structured frames like aviators and such. Still, they offer a refreshing look on the golfing green, in the sun and on the beach.
The lenses have been treated with Maui Jim's signature saltwater coating, which means you can safely wear them by the sea without worrying about damaging your specs.
These sunglasses are also available in a small collection of colors, which means you're able to find a look that suits your style preference and the occasions you'll be wearing them for.
The rimless design offers a sleek and minimal look for an envy-inducing look which we simply love!
Care & Upkeep
The key to ensuring your
sunglasses
longevity is maintaining a high level of care and maintenance. This includes storing them in a protective case and cleaning the lenses. This ensures you don't notice a build-up of smudges, as well as preventing scratches and limescale.
In some sunglasses, you'll find that they require a lot of care and maintenance. Thankfully, you won't find this an issue with the Maui Jim Lighthouse sunglasses.
The Lighthouse sunglasses only require minimal maintenance in order to maintain their impressive high quality. You'll only need to clean the lenses every so often to lessen smudges and lens damage. Simply clean them with the Maui Jim cleaning cloth, which is provided with your sunglasses. It's so simple! You'll also be provided with a
case
which is ideal for storage when they're not being worn.
The lenses have been coated with oleophobic, this works to stop damage. They've also been treated which means they are resistant against fresh water and salt
water
, which is an added bonus for any active beachgoer or sailing enthusiast. When wearing these sunglasses you can actually see the water sliding off your glasses!
Overall, the care and maintenance required in the upkeep of these glasses are minimal and easy to follow.
Comfort
How comfortable a pair of sunglasses feel is a big factor when picking a new pair. Similar to how they look, if they don't fit well and feel comfortable, you simply won't purchase them.
Some of the biggest problems attached to sunglasses and the discomfort they can cause rests mainly in the nose pads and arms. If they fit too tightly, they apply pressure to sensitive areas. This can cause irritation, pinching, and even migraines.
Thankfully, over the year Maui Jim has worked hard to improve the comfort of their sunglasses. This way you're able to rest easy knowing you'll be greeted with comfort, not
irritation
. They've done this by using silicone nose pads which adjust to the shape of your nose. This means they'll no longer slip off your face while moving around. They have also coated the arms of the sunglasses, which prevents pressure and pinching on this area of your head. These sunglasses practically go unnoticed while being worn, and feel utterly weightless.
Some wearers, particularly ones with long hair, may find that their hair gets caught in the nose pads. However, this isn't a major issue and it can be easily resolved with controlled by keeping your hair off your face. But this is always advisable when playing sports or wearing sunglasses as this helps keep them free of smudges.
Lenses
The quality of your lenses is critical, after all, this is what helps improve your vision in overexposed situations, reduce glare and block out UV rays. If your lenses are poor quality, they simply won't do this for you.
The overall quality of these lenses is pretty remarkable, and you'll be pretty impressed with it. It's exactly what you need to battle any unbearable glare that may cross your path, whether you're in the sun, snow or
rain
.
Being able to see through brightness and overexposed situations is a must, especially if you're on the golfing green or driving. These lenses work to give you a more vivid and crisp image, which is utterly remarkable. With these lenses, almost everything, from outlines to colors, is greatly improved.
The lighthouse lenses work to reduce color distortion, and when compared to competitor brands, the difference is easy to see.
Thanks to the polarization of the lenses, glare has been decreased by 99%, which is a highly impressive perk that many of us desire. You'll also notice that eye strain has been lessened while your depth perception and vision transparency has improved greatly.
The color of the lens you choose will also affect how you see in certain situations. For example, the bronze lenses work better in environments that are susceptible to changes in brightness. While the smoke grey lens work best for golfing and low light situations as they offer extra contrast and color.
Endurance
The lifespan of your sunglasses can often be extended by ensuring they are properly looked after and maintained. But this will only help a little bit in the long run. You primarily need a pair that were built to last and that was designed to be durable. That is critical. After all, why should you invest money into a product that will only break a few months later?

You need to trust your sunglasses will not fall victim to sun and rain damage. Thankfully the creators of the Lighthouse sunglasses designed them to be longlasting and enduring. Because the lenses have been treated they're less susceptible to scratches and breakages. They're also water repelling, thus reducing moisture damage. The hinges have also been treated, so they will be more difficult to break or damage.

While you do need to protect your glasses, with the assistance of the lens cloth, protective case, and how you handle them, you don't have to worry too much. They are very durable and resilient, which is always a desirable feature when selecting new sunglasses.

Their resilience is in part thanks to their amazing design. These sunglasses were really made to last! The lenses not only repel water, but they're also resistant to saltwater corrosion. Some customers have reportedly dropped them and have seen no (visible) damage to the lenses or frames. But of course, this doesn't mean you should allow them to fall onto the floor. You'll still need to take adequate care when they're in use.
Value
You can sometimes invest a tidy sum of money into a new pair of sunglasses. But before you commit to purchasing the Maui Jim Lighthouse sunglasses, how good in
value
are they?
Overall, they are well worth the investment you put into them. They're sturdy, reliable, stylish and lightweight. They truly are a high-quality purchase you won't regret making.
Not only do they protect your eyes, but they also enhance outlines for a more vivid image. With a 99% reduction in glare and 100% protection against
UV rays
, you can't beat the price of these sunglasses.
PolarizedPlus® Innovation
The quality of what you see is greatly improved by the use of PolarizedPlus®. It works to decrease glare (99%), while also improving your visibility and the sharpness of what you see. When you're stuck in bright situations, these are incredible features to have access too. All of these benefit your eyesight by working together to reduce strain.
They also make a big difference with the enhancement of color and our perception of them. The use of PolarizedPlus® technology has to be one of the best highlights of these sunglasses, and truly are a standout feature you won't find in competitor brands. Maui Jim has really raised the bar with their PolarizedPlus®
technology
.
Key Features
With the Lighthouse sunglasses, you have quality, improved vision, and clarity, alongside style. Finding a pair of sunglasses that effortlessly combine these three things can be hard, but Maui Jim has managed to do just that. The dimensions of the lenses are 11 mm.
Key Features


Polarized lenses to reduce glare by 99%.


Lightweight and practically shatterproof.
The polycarbonate lenses are highly resistant to damage compared to other competitor brands.


Water resistant lenses prevent build-up for a clearer and crisper image.


Lenses have undergone scratch-resistant treatment.


Anti-corrosive hinges promote durability and longevity.


Adjustable silicone nose pads.


Arrives with case and cleaning cloth to assist care and maintenance.


Bottom Line
What is so special about the Maui Jim Lighthouse sunglasses? Is it their barely-there, rimless style? Their glare reduction lenses that work to increase your visibility in bright situations? Or is it their use of their PolarizedPlus® technology? In all honesty, its a combination of all those things and more.

These sunglasses have been made by leading experts when it comes to the sunglasses industry. Maui Jim are world renowned for their high quality and astounding products, so are we really surprised that this product is simply incredible? No.

There's an old saying that you get what you pay for, and in this case, when you buy the Lighthouse sunglasses you get astounding quality and undeniable style.
Subscribe to our Newsletter