Maui Jim Ho'okipa 407
Did you know that protecting your eyes from the suns harmful UV rays are just as important as wearing sunscreen? Yes, a pair of really cool looking sunglasses are a great fashion accessory that you can add to your wardrobe but its ultimate goal is to ensure that your eyes are protected. If you plan to spend a lot of time outdoors or even on the golf course throughout the year, this is a product you do not want to leave behind.
Us golfers can agree, that on an extremely sunny day it can be a bit challenging to swing when the sun is beaming down on your face. We found that you won't be able to easily swing because of the glare you get from the suns harmful UV rays. Also, while we researched the benefits of wearing sunglasses we came across some serious issues that can potentially happen if your eyes are not protected. From Cataracts to Macular degeneration, it is very important to protect your eyes from UVA and UVB rays.
We believe it is very important to choose a pair that provides the best maximum coverage for your eyes. Not only will it help eliminate the bright glare but it will keep your eyes healthy. With that being said, we did the footwork for you and believe that Maui Jim's Ho'okipa Model 407 is a great choice. Maui Jim is known for their exceptional sunglasses, going all the way back to the 1980s on Ka'anapali Beach in Maui. By using advanced technology, their PolarizedPlus2 lens brightens brilliant colors and brings everything you see to life. Also, this option is one of the most popular styles Maui Jim has designed. It is very sporty, lightweight, stylish, and great for everyday use. We found that users who have purchased this product said it's their favorite pair to wear on the golf course. If you are looking for a new pair of sunglasses for this year, we guarantee that you will love this style by Maui Jim.
Pin for later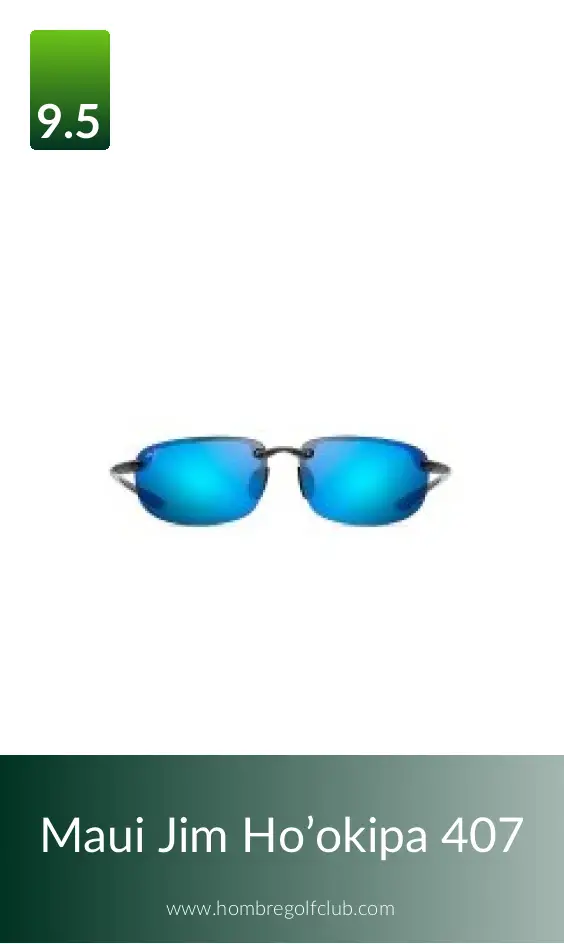 Editor's Pros & Cons
Maximum protection against the suns UVA and UVB rays
Can be worn by both men and women
PolarizedPlus 2 lens technology
Frame material is very durable, made of Grilamid
Provides exceptional customer service
It is very versatile, you can use for golfing and other outdoor activities
2-year manufacturer warranty
Includes a large brown sports case
Enhances color and clarity
This product holds the Skin Cancer Foundation Seal of Recommendations
Scratch-resistant and extremely lightweight lens
Prescription lens available
There is only one size available in each style
Recommended for those with medium-sized faces
Materials
This option by Maui Jim is made with quality materials. From the materials used for its frame to its advanced patented lens technology, PolarizedPlus 2, this luxury option is one to seriously keep in mind.
First, we'd like to mention its Grilamid frames. This
high-performance
plastic material is made to last, making this product durable and perfect for everyday use. From our research, we learned that Grilamid is a very popular material used in sunglass frames today. It is known to be extremely flexible and if bent, it can hold its shape and form without breaking. Another feature of this material is how lightweight it is, making it excellent for all your outdoor activities, golfing, etc.
Next, we'd like to go into detail with the information we learned about their lens PolarizedPlus 2 technology. This technology is patented and is their most advanced. It is designed to eliminate 99.9% of glare and 100% of the suns harmful UVA and UVB rays, all while enhancing the colors around you. With this option by Maui Jim, there are a handful of additional benefits it offers. First, they are guaranteed to shed water and repel grease. This comes in handy more then you think because it is convenient to know that you won't have to consistently clean your sunglasses all day while you are out. Additionally, these lenses are anti-reflective to assist in blocking the suns glare and bright light, which ultimately also protects your eyes. It is also scratch-resistant and is designed to reduce stress to your eyes due to its bi-gradient mirror. All these features were designed and implemented into this option to protect your eyes against the suns harmful UVA and UVB rays, which can cause cancer and other serious issues down the road.
If you are searching for a strong, flexible and fashionable new pair of sunglasses, we highly recommend this option by Maui Jim. is You can see right off the bat how stylish this option looks.
Design
When investing in a new pair of sunglasses, not only is its durability, performance, and cost some features you take into consideration, but its design is just as important as well. We can all agree that sunglasses are meant to look good on you while you're wearing them. With this option by Maui Jim, we can ensure that they will look good and make sure your eyes are fully protected while you are outside.
The Ho'okipal models are one of the most popular choices amongst consumers today but there are a few that do not agree. We found that these select few do not agree because of its one size and one style features. The rimeless design is quite attractive and offers an appealing look
outdoors
, but it is not for everyone. Also, this option is designed more for those with medium-sized faces.
Even though Maui Jim's styles come in one size per style, we found that this model is very versatile and works for both men and women. We also believe that this option also pairs well with all the clothes in your wardrobe so you don't have to worry about buying several different pairs of sunglasses to match your attire. This option by Maui Jim comes with their most popular lens, Blue Hawaii. This lens was designed with a blue mirror coating that tops their PolarizedPlus 2 neutral grey lens. Also, this treatment is designed with premium quality and will ensure clarity, color enhancement, and protection. Another feature that really stood out to us about this options design was its additional color lens options. Maui Jim offers 4 additional colors for this model, Neutral Grey, High Lens Contrast (HCL) Bronze, Maui Rose, and Maui HT, which is a greenish tint.
Performance
After doing extensive research, we learned that this product by Maui Jim performs exceptionally well. From its build quality to aesthetics, you can count on this option to meet all your needs. With that being said, we believe that premium materials support durability and top performance.
We guarantee that you will enjoy this product because it will increase your overall performance in all your outdoor activities. From all the reviews we read, we found that the most important factor that everyone has taken into consideration is the product lenses quality and visual enhancement.
As we mentioned above, this option comes in four additional color lenses. Maui Jim has designed these colors not only for looks but they are designed for specific purposes. For instance, if you are out on the beach or the golf course on a bright sunny day, their neutral grey lens color option would be another great choice. This lens was designed to reduce bright lights and
direct sunlight
to increase the clarity, color, and contrast. Another color they offer is the Maui HT. Users who have purchased this color have said that this is an option is best for cloudy days on the golf course. HCL Bronze is the next color Maui Jim offers. We learned that this color is another popular options amongst their fans because of its inviting pleasant tint which is highly recommended for everyday use. The last color that they offer in this model is, Maui Rose. This color is a pretty rose and will surely enhance the colors you see. Many users say this is their favorite option when playing high-speed sports and activities. Overall, having all these options make it a great choice to find exactly what suits your needs.
Next, we learned that this products bi-gradient mirror feature plays a major role. Do you ever find yourself squinting often when you are outside, even when you are wearing a pair of sunglasses? Well, this feature is designed to reduce that because squinting can put excessive strain on your eyes over time. Maui Jim believes that that bi-gradient mirror acts as a shield that deflects the sun from your lens. This will reduce the light that hits the lens and will ensure that your eyes are not fatigued after spending your day outdoors. This feature also provides maximum coverage against the suns harmful UVA and UVB rays. This is very important because we all know how dangerous these rays are, especially to your eyes.
Furthermore, Maui Jim has designed a handful of great options for you to choose from. Whether you are heading on a weekend getaway to the beach or playing your next
golf
tournament, investing in a pair of these sunglasses will help you increase your performance in all your outdoor activities while protecting your eyes.
Care
No matter what product you invest in, it is important to take care of it to prolong its life span. In this case, we found that this option by Maui Jim can be taken care of with very minimal efforts.
The Ho'okipa model is
waterproof
and oleophobic, which repels grease. This feature allows you to clean your lenses less often than other options today. This is a big plus in our books because this is an added layer of protection to your already high tech lenses and you don't have to constantly clean them. Constantly cleaning them can cause scratches down the road and with this option you will not have to worry about it at all, it is also scratch-resistant.
Also, we found that simply storing them in your storage case, which is included with your purchase can save them from any damages and scratches when you are not wearing them. Keeping them clean and smudge-free is another thing you can do to make sure they stay in pristine condition. Compared to other options on the market, we do have to say this product requires very little maintenance for sure.
Value and Cost
Overall, after everything we learned about this product, we can confidently say that we highly recommend this option by Maui Jim for everyone. We understand that value and cost are two criteria that many of us take into consideration before purchasing an item, so with that, we believe that the value of this item surpasses the cost of it any day.
This option by Maui Jim is a great investment because they are lightweight yet durable, sporty and stylish. Protecting your
eyes
from the suns harmful rays just got easier with this pair. Maui Jim offers a 2-year manufacturers warranty and many people have said that their customer service is beyond exceptional. With 4 different color lens options and all of them offering to increase your overall performance, it is a no brainer. If you are searching for a new pair of sunglasses for everyday use, or simply adding a new par to your collection, we highly recommend this option by Maui Jim.
Key Features
Protecting your eyes from the suns harmful UV rays is important and can help you focus during your next game on the green. By investing in this product, you will not only look stylish but you will feel confident wearing them where ever you go. This option by Maui Jim is designed for convenience and will keep your eyes safe and healthy. Maui Jim knows exactly how to design a durable and innovative product.


Protects against harmful UVA and UVB rays from the sun


Made with durable materials


Advanced PolarizedPlus2 technology


Enhances the color and provides clarity while wearing them


Can be worn by both men and women


Scratch-resistant and lightweight


Exceptional customer service


2-year manufacturer warranty


Bottom Line
If you haven't caught on by now, we love this product by Maui Jim. And we love it for all the reasons we mentioned above. With all the different options on the market today, it might seem extremely overwhelming to decide which one is the best for you. And at the end of the day, it is all up to your personal preference of course.

If you are looking for a pair of sunglasses that will increase your performance on and off of the golf course, this option by Maui Jim will surely help you achieve that. Not only will it increase your overall performance but it will also protect your eyes from the suns harmful UVA and UVB rays. As you read above, this option comes with a long list of benefits and you can really tell that Maui Jim invested a lot of work into their products.

Maui Jim is known for its exceptional products and customer service. If you are searching for a new pair, we highly recommend that you give this option a shot.
Subscribe to our Newsletter