Maui Jim Black Coral Sunglasses
As we get into summer the need to buy a decent pair of sunglasses grows. As we know, overexposure to the sun and hot water can lead to dehydration, eye strain and even heat stroke. That's why it important to be protected in the sun while your own the golfing green with a cooling towel, plenty of water, sunscreen, and of course sunglasses.
Sunglasses are one of the best ways to block out UV rays and reduce eye strain caused by overexposure to glare. But, did you know glare can happen any time during the year, no matter the weather? It can happen through wind, rain, and snow, not just during the summer. With the right pair of sunglasses, you'll have year-round protection and look pretty good at the same time.
Finding a pair of sunglasses that are stylish, durable and effective can be hard. However, when it comes to combining these three things, there is one brand out there with stand out from the rest. Maui Jim has established itself as a quality brand you can trust to provide you with excellent products and incredible sunglasses. The company was originally based within Hawaii's second largest island, Maui, but have since relocated to Peoria, Illinois. Despite their relocation, all the products are infused with the classically easy-going Hawaiian style we know and love so much.
Maui Jim has amassed a large collection of designs since first opening their doors to the public, all of which are inspired by Hawaiian elements. The Black Coral sunglasses are certainly no exception to this.
Named after the Hawaii state gem, the Black Coral frames are a colorful, unique and immaculate creation, just like its real-life counterpart. Their distinctive interior arms add a splash of color, making them the perfect addition to any fashion-conscious wearer.
These sunglasses were perfectly designed with a number of incredible features to bring you a durable and long lasting product. This is accomplished with their use of anti-corrosive hinges, water repelling lenses and lightweight SuperThin Glass.
Pin for later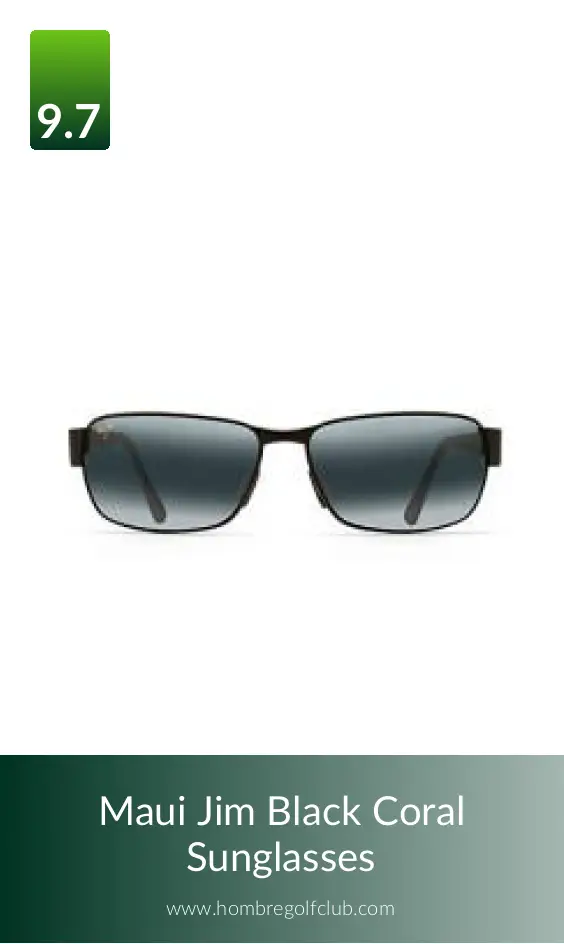 Editor's Pros & Cons
The vibrant arms add a fun pop of color and personality into your look.

The silicone nose pads adapt to the bridge of your nose for a comfortable and non-slip fit.

SuperThin Glass provides crisp optics and improves clarity.

20 to 32% slimmer and lighter for a barely there feel.
The rounded rectangular style will not suit some face shapes.
Durablity
The durability of
sunglasses
and how long they last are primarily related to two areas. How well they have been built by the creators and how well they've been looked after by their owners. While the latter has a greater long term effect, the former works to establish their expected longevity and level of quality. After all, you get what you pay for. You simply can't expect a cheap pair of sunglasses to last you more than a few months without adequate damage to them.
That's why when you're buying a new pair of
sunglasses
and you're investing a substantial sum of money into it, it's crucial that you know you can trust them to be durable and longlasting.
Since establishing themselves as a brand back in 1980,
Maui Jim
has worked hard to establish themselves as reliable and consistent creators of high quality and enduring sunglasses. That's why they include incredible features within the construction of their sunglasses, giving them a sharp edge over the competition.
The anti-corrosive hinges help ensure the sunglasses long life span, while also increasing their durability with specially treated lenses which repel and protect themselves from
freshwater
and seawater.
One reported the highlight of the Black Coral sunglasses is their endurance when being dropped. Some customers and reviewers have noted how well they hold up after being dropped, which is an incredible benefit in of itself.
The frames are been made using monel. This is an alloy of nickel and copper, which makes the sunglasses immune to corrosion.
As I mentioned previously, despite their built-in features, these sunglasses' endurance can be affected by their care and
maintenance
, namely the lack of. If you want to ensure you help these sunglasses be longlasting, then it's important that you ensure they are suitably protected through their protective case, which is provided with every purchase. Not doing this will not only damage the overall aesthetic but also their endurance.
Technology
A good indicator of the quality of your
sunglasses
can be found in the lenses. Poor quality sunglass lenses will produce next to no protection against glare and UV rays, while also being subject to water damage and easily scratched/smudged. Would you really entrust these types of sunglasses to protect you when you need it most? No, not really.
When investing in a new pair, you have to be certain that the frames will not only be durable but that the lenses will supply adequate protection against the elements. Thankfully with the Black Coral sunglasses,
Maui Jim
has stayed true to their esteemed reputation by producing a pair that deliver on all fronts. They not only combat glare and UV rays, but they also offer a wide range of incredible benefits.
These lenses are available in a small selection of colors, Matte Bronze and Matte Black. Both of these colors have their own personal features special to them (of course with some features that overlap). While both lenses provide security against glare and 100% protection from UV rays, they also suit different purposes.
For example, the Matte Bronze lens best suit adapting environments while offering a warm finish to your sight. However, the Matte Black lens offers
the greatest achievable light reduction. This results in the
richest
colors and creates a sharp contrast.
However, both glasses benefit from SuperThing glass, which works to create a practically weightless feel due to their 20-32% thinner structure. The lenses have also been specially treated to not only be resistant against scratches but also to
water
(both fresh and salt).
The best feature of the Black Coral sunglasses, aside from their colorful arms, is the PolarizedPlus® lenses. This incredible feature has become a well-established trait within the Maui Jim brand. This incredible feature works to reduce 99% of glare and 100% of UV rays according to the brand. This offers you near-complete
protection
from eye strain and damage.
Not only does it do this, but it also creates improved contrast and color perception. The use of PolarizedPlus® acts as the cherry on top of an already delicious cake.
Care & Maintance
As we've previously discussed, these sunglasses are remarkably durable and longlasting. However, quality and endurance can be affected by how well you look after them. Obviously, if you're reckless with them, then they will not last long. So, in order to prevent this, it's a good idea to properly maintain them through regularly cleaning the lenses when they become dirty or smudge and by storing them in their protective case. Thankfully
Maui Jim
provides you with a cleaning cloth and branded case, which is ideal for securely carrying your sunglasses without you having to worry about
damage
.
Overall, in comparison with other sunglasses, the level of maintenance needed in order to maintain these
glasses
high quality is very little. Just the odd clean when needed. However, it is crucial that you remember to store the Black Coral sunglasses
properly
when they're not in use.
In order to assist you in the maintenance, once again making it as minimal as possible, Maui Jim has specially treated the lenses so they repel water. Alongside this, they have used anti-corrosive hinges, which means the arms will not fall off after overuse or as the result of deterioration.
They've also been given an oleophobic
coating
which works to protect the lenses from additional destruction.
Aesthetic
Sunglasses not only act as
protection
against unwanted glare and sunlight, but they are also an accessory which you use to accentuate your style and personality. While they have to work in regards to protecting your eyes and being durable, they also have to look good and match your personal tastes. It simply comes down to the fact that if you don't like them, then you simply won't wear them.
Maui Jim offers a vast range of styles that suit a verity of different face shapes, but they also offer some simpler, sleeker styles such as the Black Coral
sunglasses
. The sleek and minimal design of the frames offers an accessible style which will suit most people's preferences. However, it's important to note that the rounded rectangular shape best suits
rounder
face shapes.
The sleek structure of these frames effortlessly blends into your look, perfectly pairing with most of your wardrobe and many different occasions (even formal). While the slim selection of colored frames does somewhat limit your choice, both colors are desirable to many different people. Plus the interior arm colors offer a vibrant yet subtle injection of life and fun into your look. It really does bring all the wonder of the coral reef into your everyday. But generally speaking, you should be very happy with the overall aesthetic of these frames.
As we previously mentioned, the different color lenses assist your vision as well as acting as a fun style choice.
Fit & Feel
Just like with how the sunglasses look, comfort and fit have to be matched to your needs before you're even going to consider buying them. Ill-designed and fitting sunglasses can not only cause pinching in uncomfortable and sensitive areas like your nose but also at the sides of your head. This pinching can cause headaches, migraine and a lot of discomforts which will deter you from wearing the sunglasses at all. If your current sunglasses, or ones you are currently considering buying do this, then they are not the frames for you.
Thankfully for everyone looking for new
sunglasses
, Maui Jim has spent years perfecting their sunglasses in order to create a truly comfortable pair. This is certainly seen in the Black Coral sunglasses as they are practically weightless and barely noticeable on your head. This is perfect for anyone looking to wear these frames over long periods of time.
Another additional benefit which adds to the overall comfort of the sunglasses is the adjustable silicone nose pads, these offer a pinch less fit. They also accommodate the shape of your nose for a better fit and helps them stay in place.
The arms were also designed for additional comfort that won't irritate you in the long run and promises to prevent irritable headaches and discomfort.
One issue some wearers may have with these frames is their hair (if it's long) getting caught in the nose pads. However, this is easily prevented by simply keeping any hair out of your face. Generally, this is always advisable if you're performing in any activity like golfing or boating, but it also helps prevent smudges.
Key Features
Upon closer inspection it's clear to see that the Maui Jim Black Coral sunglasses are a stylish pair of frames, oozing with incredible features which work to improve your wearing experience. Through the use of PolarizedPlus® technology, specialized lens coating, and adaptable nose pads, these sunglasses are a truly luxurious and accommodating essentials everyone needs in their accessory collection.
The pop of color seen within the arms adds a truly unique and stylish feel to your look, perfectly matching your personality and sense of style.
Key Features


PolarizedPlus® lessen glare while providing full protection against UV rays.


Small selection of colors to choose from.


The Matte Bronze lenses adapt effectively to different environments while Matte Black improves light reduction that sharpens your perception of colors and contrast.


Water-repelling lens coating.


Scratch and solvent resistant.


20-32% thinner than traditional lenses.


Bottom Line
If you're looking for a new pair of sunglasses, then you should seriously consider the Maui Jim Black Coral sunglasses. Not only are they incredibly unique and stylish, but they offer incredible protection against glare and UV rays, which is always a desirable bonus.

They ooze luxury, style, and durability. Not only are they resilient, but they also fit comfortably on your head too.
Subscribe to our Newsletter