Maui Jim Baby Beach Aviator Sunglasses
When the sun is out and shining most of us want to ensure we're making the most of it. Whether we do that by going for a trek, hike or enjoying a few rounds of golf with our buddies.
But the sun can be a dangerous risk when not dealt with properly. Sunburn, overheating, dehydration and eye damage are consequences of not effectively protecting yourself from the sun. Before enjoying the sun its important to ensure you are properly defended from the elements. Whether that's with sunscreen lotion, a cooling towel or an insulated water bottle for a refreshing relief from the heat.
But of course, the bright light can often cause eyestrain and even damage our retinas, so it's imperative that we look after them too. By wearing a pair of quality sunglasses you can ensure that you're protected, even on the brightest of days.
Maui Jim are well known for not only their style but also their luxuriously high quality make. The Baby Beach sunglasses are made from a full metal frame, styled in the form of aviators, which is certainly a complementary match for anyone with a more petite face. This classic 70s style has been given an ultra-modern feel. They also come with a branded glasses case as well as a cloth for cleaning.
Made with PolarizedPlus2® lens and given a MauiGradient finish, these glasses will effortlessly match your style on and off the green. They're ideal for attending active events, whether it's on land or by the sea, as they're made to be saltwater safe. However, they also work well for more formal events.
The modernized aviators are an excellent choice for protecting against sun glare, also offering high-quality UV protection. The style has been updated to offer a modern and complementary touch to your look.
Constructed from classic titanium, the frames are practically weightless, incredibly enduring and most importantly, comfy to wear. To defend the glasses from wear and tea, they have anti-corrosive hinges. For additional comfort and non-slip fit, they also utilize adjustable, non-slip silicone nose pads.
Pin for later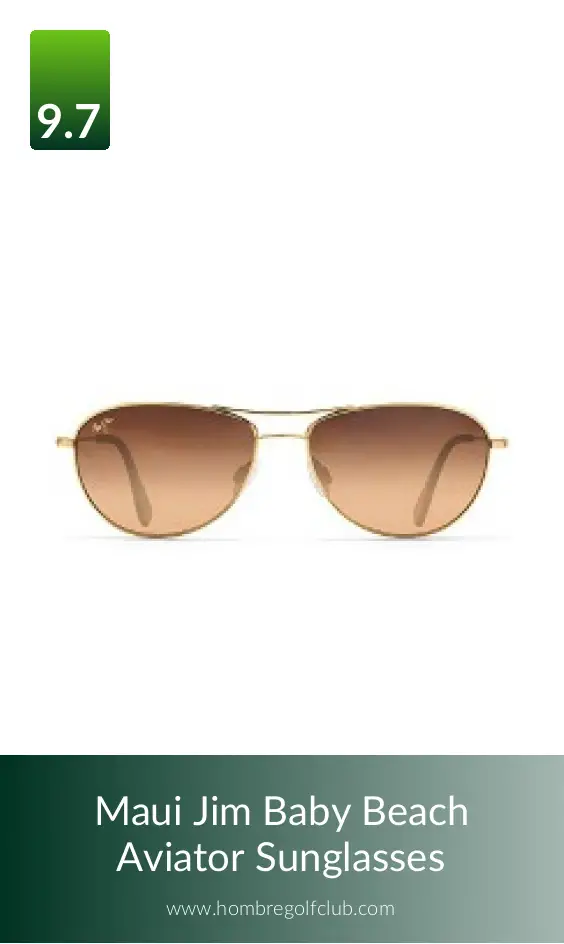 Editor's Pros & Cons
These incredibly strong frames are not only stylish but also incredibly comfortable to wear.
Long-lasting lenses protect your eyes while ensuring everything is more vivid and easier to see in brighter situations.
Incredible polarization works to defend your eyes by reducing your exposure to glare.
The adjustable silicone nose pads ensure a non-slip fit and add an additional layer of comfort, meaning no more pinching.
The style and structure of the frames may not suit everyone's face shape.
Style
When buying a new pair of
sunglasses
you not only want them to be effective when it comes to protecting your eyes, but you also want them to look good too. After all, they could provide the best protection available on the market, but if they don't look good or match our preferences, are we really going to be happy wearing them. While we should naturally care more about the protection of the glasses, how they look on and off your face still plays a big part.
Thankfully the Baby Beach glasses are refreshingly
stylish
, something that will suit your everyday style and golfing look. But their
saltwater
coating also means you can enjoy wearing them on the beach for complete protection wherever you go.
Aviator frames are a classicly stylish look, however, they can come across as very old school in terms of fashion. That's why these
frames
have been given a modern take, offering a look and feel everyone will enjoy.
This look is available in a number of colors, meaning you can find something that perfectly suits your tastes, individual sense of style, and occasions you'll be wearing them for.
Their sleek and streamline structure creates an enviable aesthetic we simply can't get enough of.
Care & Maintance
To ensure the product is long lasting and maintaining its high quality, you will need to ensure you're looking at them properly. By storing them in their case to prevent breaking and scratches, wiping the
lenses
when needed. The maintenance for some sunglasses can be a lot, but thankfully this isn't the case with this pair.
Baby Beach sunglasses require very little maintenance in order to retain their high quality. You simply have to clean the lenses once in a while in order to prevent smudges and scratches on them. Simply clean them with the cleaning cloth provided for a cleaner lens. It really is that simple.
The lenses are coated with oleophobic, which works to prevent damage to them. They've also been treated to be resistant against contact with salt water, which means they're ideal for beachside activities.
Their
water
repelling properties are also incredible. You can see beads of water slide off right before your eyes. An incredible feature to have in waterparks or during a sudden downfall of rain during a sunny day.
Comfort
An important thing to think about when purchasing a new set of frames is how comfortable they are. Just like with how they look, you won't want to wear them if they aren't comfy. A big part of
sunglasses
comfort levels come from how the nose pads and arms sit while you're wearing them. If they fit poorly then they will cause greater discomfort in the long run.
Maui Jim has improved the comfort level of these sunglasses by utilizing silicone nose pads which are adjustable. This means they'll sit just right on the side of your nose. You will barely notice them, and it ensures minimal/next-to-no pinching.
Some wearers have had an issue with getting their hair caught in the nose pads, however, this isn't a widespread problem and can easily be controlled by keeping any hair off your face or in contact with the glasses. Which is highly advisable anyway when using them for sports or keeping them smudge free.
The arms sit comfortably against your temple, which means no nasty
headaches
. They securely position themselves behind your ears, making sure they don't slip and slide off your face when bending over or moving about (a common issue amongst other brands).
Lenses
Ensuring the lenses of your sunglasses are good quality is critical as these are the things you need the most. After all, why have incredible frames with a poor quality lens?
Thankfully, you will be pleased by the quality of the lens on the Baby Beach
sunglasses
. They are exactly what you need to combat the unbearable glare that comes from most sunny days. Being able to see through the brightness and getting a vivid image is remarkable, especially when you're wearing them on the course. One of the benefits of the better quality vision you get from these lenses is that contrast and outlines, even colors are enhanced.
The color distortion compared to other brands is minimal, and the different variety of frames work to enhance different colors. For example, grey lens work to enhance red and green colors.
Due to their polarization, glare has been reduced by 99%, according to Maui Jim, an
impressive
benefit. Wearers will notice that eye strain has been reduced and that depth perception and clarity has been increased.
The
color
of lens you have will affect how you see in certain environments. For example, the grey frames don't work as well in mixed light situations. However, the different colored lenses will match better for these environments. So, it's a good idea to consider the situations you'll be exposed to the most and choose the color of the frames based on that.
Fit
If you want to ensure your
sunglasses
not only suit you, but also fit properly, you will have to consider how they fit on your face.
Typically aviators work best with people who have petite faces, which helps to create the sunglasses oversized and wide aesthetic. While they are incredible for casual use or active outdoor activities like golfing or hiking, they not work well with everyone.
Sometimes larger classes can create a bug
eye
effect (for lack of a better word) where your eyes are somewhat magnified while your wearing them. It's quite rare to find a pair in this style that doesn't have that effect on your eyes or hinder your face. Thankfully, this isn't a concern with these glasses. Their high-performing, suitably stylish and fit and adapt perfectly to your face. It's honestly astounding.
If you want to obtain a new set of frames, but want to know they'll sit on your face with minimal issues, then you should consider these. They're comfy, pinch-free, and don't alter the appearance of your face.
Lens dimensions are as follows:
* Width, 56mm,
* Height, 40mm.
The dimension for the bridge is 18mm and the arms are 120mm long.
Durability
Ensuring your sunglasses are long-lasting and durable is essential. Why invest the money into a product if it's only going to break in a few months? You need to know they withstand the elements, like rain and sun damage. That the hinges won't break easily, and that the lenses won't get broken and scratched.
While you need to be careful when it comes to looking after them, nobody wants to be looking after them with the same level of care that you'd give in looking after a newborn.
So, how do the Baby Beach frames hold up in the real world?
Surprisingly, they hold their own very well, which is all thanks to their incredible design. Made to last, they have been treated to repel water and resist
saltwater
corrosion.
The lenses holds up remarkably well on their own too, customers have reported dropping them and still not suffering from any visible damage.
The hinges have been treated so they are anti-corrosive, which means they won't start falling apart.
PolarizedPlus® Lens Technology
The use of PolarizedPlus® vastly improves the condition of the things you see. They work to lessen glare by 99%, enhance sharpness and visibility, which are all incredible features.
They really do make a huge difference in term of colors and enhancing them. This
tech
is one of the key highlights that make these frames and the Maui Jim brand so unbelievable. They really are ahead of the curve.
Key Features
What makes these sunglasses so special? Its a number of things that work towards improving the quality and adding a touch of quality into your everyday style. Made from pure titanium and incorporating a number of wonderful advancements, they really do stand out from the crowd.
Key Features


Specially treated lenses reduce noticeable glare by 99% in a broad variety of environments.


They work collectively to enhance optical acuity and minimize eye strain.


HCL® Bronze lenses are perfect for unsteady situations, from the sun to overcast altitudes.


Maui Jim PolarizedPlus®2 technology acts as a barrier against illumination and UV rays from all angles. This diminishes and adjusts blue light while supporting colors for additional clarity.


The titanium frames are weightless, longlasting and incredibly comfy to wear.


Nonslip silicone nose pads add an additional layer of comfort.


Comes with a protective case for safe storage and a cleaning cloth to combat smudges.


Bottom Line
These incredible sunglasses ooze vintage-inspired style vibes, which are mixed with fashionable modern elements. Built to be reliable, long lasting and sturdy, these sunglasses are an absolute must-have you won't be able to live without. Whether you're on the golf green, at the beach or hiking, they will be the perfect addition to your look.

The strong titanium frame ensures that they were created to last, but also offer additional defense against accidents (like accidentally sitting on them).
They're also a fantastic fit that doesn't slide off your face or pinch your temples or nose, causing headaches. You'll barely have to adjust them.

The protective lenses work to decrease and stop dazzle and damaging UV rays, which is a desirable feature for anyone with sensitive eyes.

When you buy the Baby Beach specs you're investing in a long-lasting and luxurious item. They were made to correctly defend your eyes from the harsh sunlight, while still being stylish and sturdy. You'll soon fall in love with them and everything they have to offer you.
Subscribe to our Newsletter