Golf's 2017 Majors: Locations and Predictions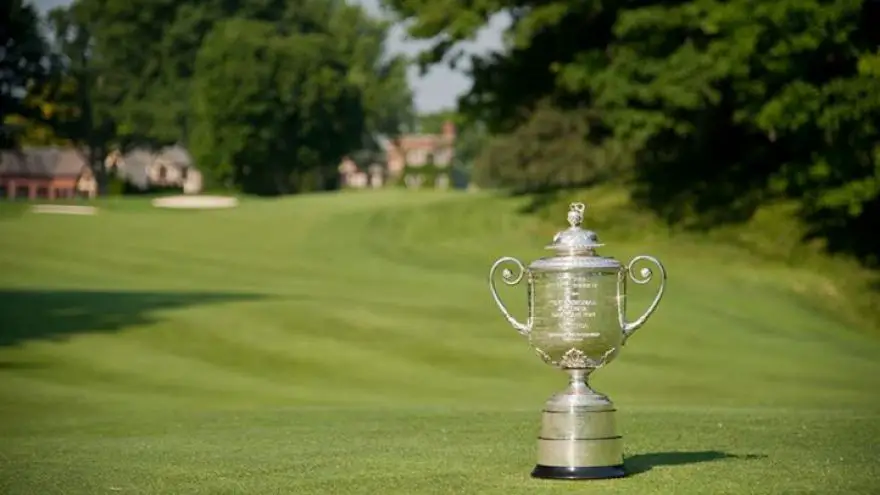 Golf's 2017 Majors: Locations and Predictions
www.hombregolfclub.com
The new PGA season is now upon us with some new talents strutting their stuff. A 59 recorded in Hawaii by rookie sensation Justin Thomas, a physics guru (Bryson Dechambeau) reintroducing the one-length iron idea and a rising star in Patrick Reed looking to climb into golf's upper echelon are just a few intriguing story lines for 2017..
Now is as good a time as any to take a look at golf's major tournaments and step out there with some bold predictions.
The Masters

As always, the Masters will be played at Augusta National. The dates for this years event will be April 3rd through 9th. Last years winner, Danny Willett claimed a three stroke win after Jordan Spieth's dramatic collapse on the back nine on Sunday afternoon.
Predictions:
● Danny Willett will succumb to the pressure and miss the cut
● Jordan Spieth will not be able to exorcise the demons and will falter as well
● Rory McIlroy will be in the hunt but will have to wait for another chance at thecareer slam
● No comment on what Tiger will or will not do
● Henrik Stenson will also be in contention but come up short
● Dustin Johnson will not be a factor
● Jason Day will be the sentimental favorite and may win
● My dark horse pick(s) to win the 2017 Masters-Patrick Reed or Rickie Fowler
The US Open

The 117th playing of the U.S. Open will be played on a public course in Erin, Wisconsin which is located 35 miles northwest of Milwaukee. The tournament will be played from June 12th through the 18th with the final round traditionally being played on Father's Day. The course was designed and built under the supervision of world renowned Dr. Michael Hurdzan. Erin Hills was opened for play on June 10th, 2010. This fine facility hosted the 2011 U.S. Amateur Championship which was won by Kelly Kraft over Patrick
Cantlay. At 7700+ yards from the tips it has the potential of being one of the longest venues to host this tournament. The green fees at this public facility are $280 US and carts are only allowed by special request and must be done so two weeks in advance. Last year's winner was Dustin Johnson who won at Oakmont by three strokes over Jim Furyk.
Predictions:
● Dustin Johnson's length should help him to contend, but alas he will not defend
● Jordan Spieth will have a good showing and be in the hunt
● Rory McIlroy could also fare well if he can keep his driver straight
● Jim Furyk has a history of fine play at the US Open but the course might be toomuch for him at his age
● The USGA will grow the rough long and shave the greens as they usually do inan attempt to keep the golfers from posting low numbers
● My dark horse pick(s) to win the 2017 US Open-Tiger Woods or Henrik Stenson
The Open Championship

The British Open, or simply The Open Championship, will be played July 16th to the 23rd and will be played at Royal Birkdale, located in Southport, England. Last years tournament was played at Royal Troon and was won by Henrik Stenson by three strokes over Phil Mickleson. This will be the 10th time that Royal Birkdale has hosted The Open Championship tying it with Royal Lytham as the most popular venue for this tournament.
The oldest of the major championships, it was first played in 1860. The first winner was Willie Park Snr. The first American to win was Jock Hutchinson in 1921. The last time Royal Birkdale hosted The Open was 2008 and the tournament was won by Padraig Harrington. No doubt that Brits will be cheering for another local boy to host this years trophy. Justin Rose?? Rory McIlroy??
Predictions:
● Tour rookie Justin Thomas burns up the first three days but does not win
● One bad round will cost Rory McIlroy a chance at the Claret Jug
● Tiger Woods (in poor conditions) will not be a factor
● Phil Mickleson will uncharacteristically play poorly
● Sergio Garcia will have his best major showing here but will not win
● Henrik Stenson could very well repeat if he putts well
● My dark horse pick(s) to win the 2017 Open Championship -Justin Rose or Jason Day
The PGA Championship

Quail Hollow Golf Club in Charlotte North Carolina will be the host course for the playing of the 99th PGA Championship. Traditionally the last of golfs four majors, it will be contested on August 10th to 13th. The golf course has undergone a drastic makeover and some tour players are downright frightened over the possibility of how difficult it could play. It is expected to play at approximately 7400 yards. Last years tournament was played at Baltusrol, in Springfield Township, New Jersey. It was won by Jimmy Walker by one shot over 2015 champion Jason Day. The 2016 tournament was moved to accommodate the adding of golf to the Olympics in Rio de Janeiro.
PGA champions are automatically invited to play in the other three majors ( Masters Tournament , U.S. Open , and The Open Championship ) for the next five years, and are exempt from qualifying for the PGA Championship for life. These perks make this perhaps the most sought after tournament win of the year.
Predictions:
● Bubba Watson will lead going into the final round and compete for the title
● Lee Westwood will also play well here
● Rory McIlroy will be hungry to win the last major of the year
● Phil Mickleson may be healthy enough to take a run at Quail Hollow
● If Tiger wins early in the year, this could be a good course for him as well
● JB Holmes seems to always play well in the Carolinas
● Dustin Johnson will be a factor but may fade on the weekend
● My picks to win the 2017 PGA Championship:-Rory McIlroy and Jordan Spieth
It will be interesting to look back on this list after the dust settles in August. Like most golf fans I have a few favorites and others that I definitely do not cheer for. I hope that my bias hasn't shown through in this article. Whatever happens, I for one am extremely excited to see what the season will bring. With Tiger returning to regular play, there seems to be a buzz in the air that has been missing over the last few years.
If this were the Indianapolis 500, I would now say: Gentlemen, START YOUR ENGINES!
Most Read