Best Golf Wedge Clubs Reviewed & Rated for Quality and Performance
In a
Hurry? Editors choice: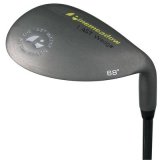 Test Winner: Pinemeadow

For the layman, it may seem that golf is pretty straightforward. There's the ball–all you have to do is grab a club, and hit it into the hole. Right? If you're a professional or a hobbyist, you know better. You know the type of club you select to make a certain shot makes all the difference. If you select the wrong one, you could end up hitting the ball faster and farther than you intended. Remember, you're allowed a set of 14 clubs, of varying lofts and makes and configurations; you just have to know how to use them. What we're going to concern ourselves with today is wedges a unique and very specific kind of club. They're a bit like your conventional iron clubs, but they feature shorter handles, higher lofts, and the heavier heads.

Check out the best golf wedges below!
Standout Picks
Criteria Used for Evaluation
Use
First thing we looked at was pitching wedges.
If you need to hit a short-range shot, this is the kind of wedge you need. Most pitching wedges feature lofts of around 48 degrees–about the lowest lofts for wedges. These offer little to no bounce. They're an ideal approach or layup shots for distances of 100 to 125 yards–but remember that when you see distance ranges like this, they're not a hard and fast rule, they're highly dependent on weather and terrain conditions, and of course the skill and the speed of the player wielding the wedge. And they're used typically from the fairway or the rough. There are several excellent pitching wedge choices on this list. Again, make sure to pay attention to the loft angles.
Style
Gap Wedges
We also looked at Gap Wedges which are pretty similar to pitching wedges. The gap wedge is similar to the pitching wedge in uses, but it features a slightly higher loft angle–usually at around 52 degrees. The loft angles, it should be noted, do vary from manufacturer to manufacturer; these are just roundabout figures. In any case, the gap wedge offers a more moderate bounce than the pitching wedge. In general, the more bounce a club has, the better it will perform on tall grass and soft lies–but it won't perform so well on firm and tight lies. To keep things short and simple, a gap wedge can be used lieu of a pitching wedge in the same sort of scenarios, with the difference being that its distance range is shorter, at around 90-110 yards at a full swing.
Ease of Use
A golf wedge is what it sounds like. It was designed for soft lies–like sand bunkers and such. Typically, its loft falls around 56 degrees and it offers a 10-degree bounce.
Remember, the more the bounce, the better it is in tall grass and soft lies. The club head on wedges is usually heavier, so that you can hit wedge shots fat–that if the ball is buried or mired in sand, you can effectively dig it out on the swing. But don't let the name fool you. It's true that they're most effective in sand bunkers, but you can use them also in other soft lies, like mud or soggy ground. Moreover, these are for really short distances, but a truly skilled golfer can actually reach 80 to 100 yards. As always, you need to know what you want and what you need to work on before making decisions–there are a number of quality wedges on this list, so be sure to do your due diligence.
Effectiveness
Lob wedge
Lob wedges usually have the highest lofts of any club in a player's arsenal. They're typically about 60 degrees
These are to be used only for certain scenarios, scenarios in which a high launch angle is needed or a short carry distance. They're also used if you're aiming for a dead spot spin–or at least a high spin with little or no rolling on impact. Skilled players can use this on a variety of lies, but generally, it's effectively only in very short distances–or instances in which there are obstacles like trees, etc. These distances typically range from 40 to 60 yards.
Durability
Durability is always important when choosing your golf equipment.
Lastly, perhaps the largest factor that played in the making of this list was the construction of each individual wedge. That's because certain manufacturers have their own patented technology that they incorporate into the design of their wedge–which makes it an objectively higher quality wedge than average, shoddily manufactured wedges. The brands on this list, too, were picked for their reputation as well as their prominence among golf players. Pay attention to the specifics. Some come with special head designs or special sole grinds. Remember that every little bit helps. A wider head could mean higher hitting consistency–a wider head is generally more forgiving. Then there's the weight also, and weight placement. More weight on the head, means you have the advantage of greater speed; if the weight is around the edges of the head, then you have an ability to swing through terrain with more ease and comfort without sacrificing distance.
10 Best Golf Wedges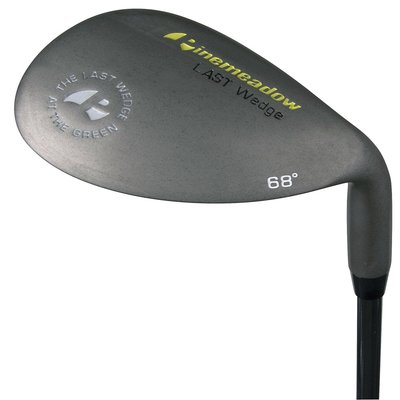 Here's the perfect option for beginners. Pinemeadow is a company that specializes in making affordable, quality golfing equipment for the layman--the person who doesn't care too much about being a great golf player, the person who's only looking to have a good time on the golf course. If you're having trouble with tough lies, this is the golf wedge you need. It features the largest face area in the industry, so even the toughest lies seem easy. Configuration options for the brand spanking new golf player are available as well--it offers a 68-degree loft, something you won't find anywhere else.
Read more
Available in multiple configurations
Choices can sometimes be a burden--especially if all choices are similar. But the choices here stand out significantly. If you know anything about golf, you know that the lower the loft, the harder the club is to hit. That's why some of the lowest lofted clubs in the game--the fairway woods--are only suitable for expert-level players. This golf wedge by Pinemeadow is the opposite: it offers configurations of 52, 56, 60, 64 and 68-degree lofts. The 68-degree loft, by the way, you can't find anywhere else. So if you're new to the game, you might want to take a closer look at one of these.
Large face area
Again, if you're a beginner, you really need to take a closer look at one of these. It features the absolute largest face area of all the wedge golf clubs on the market today, so your hit ratio goes through the roof. Think about it: the more surface area, the more surface there is to hit. It's common sense. And this is a common sense option for the newbie.
Cost and Value
Pinemeadow is truly a company that cares about quality. But more than that, it cares about delivering quality at an extremely affordable price. You'll find that almost any Pinemeadow golf product is only a fraction of the price for similar items. All in all, for the layman and even for the professional looking to fool around, this is a great buy.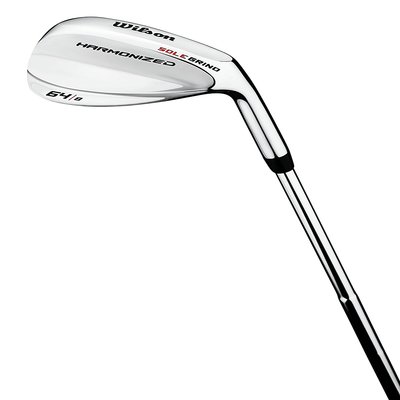 Just like the Pinemeadow golf wedge above it, this too is easy on the wallet. And it's an ideal lob wedge--a wedge that allows for a higher than usual launch angle, a no rolling distance upon impact, and a short carry distance. It's also great for getting close to the pin. It comes in a few different configurations; that is, it offers 50, 52, 56, 60, and 64-degree loft options. A nice, sturdy, great club--that's the verdict.
Read more
Modified bounce angles
Remember, a golf wedge club primarily comes in handy after you've screwed up. If you find yourself in tough or soft lies, you'll want one around. This particular golf wedge by Wilson comes equipped with modified bounce angles to offer you versatility in the rough, the fairway, or even the sand. And when you lob it out onto the green, you can do it with a dead stop spin.
Sole grind
This is a great feature that offers you more versatility on the course. Generally, speaking if you open the blade, it'll give you more bounce. And if you close the blade, you'll get less bounce. So depending on what kind of shot you're trying to make and from where, you'll have the option to adjust and improve your performance significantly.
Cost and Value
Another great, and great looking, product. Just like Pinemeadow wedge before it, this is cheap and effective. The only difference is that pros will find this useful as well. All in all, given the price, the durability, the sleek design, and the functionality, this is a great buy.

3

. Texan Classics Gun Metal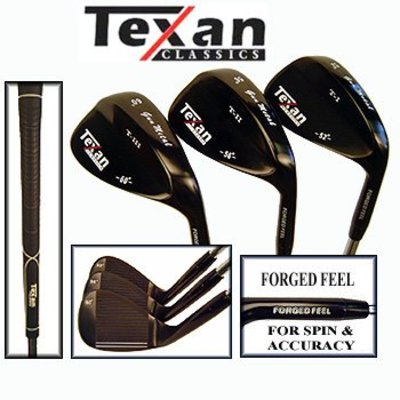 Maybe you're not looking to make too many choices. Like former President Obama, who purposely only wore a black suit throughout his tenure, you want to conserve your energy by limiting the number of choices you have to make. Or you just don't care--you just want to take things easy and have some fun. Well, this set of golf wedges by Texan Classics will do you some good. It comes as a set of three wedges, each with a different loft angle--52, 56, and 60 degrees. This way you can ensure you have an arsenal that guarantees versatility.
Read more
All weather grip
Here's something you might not have considered. Sunshine and clear blue skies are perfect for days out on the golf course--but life isn't always perfect. You may end up playing--unwittingly or not--in wet or humid conditions. In that case, these wedges by Texan Classics could be a game saver. Its all-weather grip will keep the wedge from slipping in your hands and affecting your shot.
Comes as a set
Going by loft degrees alone, one purchase gets you a multi-purpose wedge golf club for an affordable cost. It's not the ideal purchase for a pro, but for if you're a guy--this is a men's set--that likes to spend his leisure time out on the course, having a good time with your buddies, you don't have to look any further.
Cost and Value
Very reasonably priced--downright cheap, even, if you factor in that it comes as a set of three. The price, though, will tell you something about who was meant to buy it. The novice should take a serious look at this; it'll save you money, and maybe even your game. The pro, or someone more serious about improving his or her game, should keep going for better options.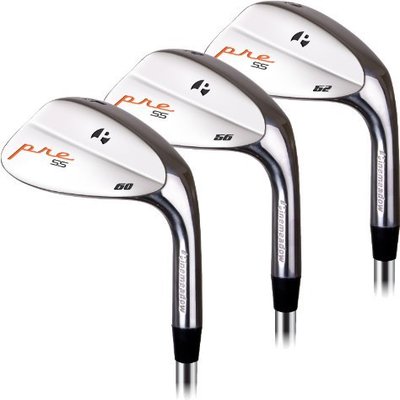 Here's another great deal from Pinemeadow. And there's also another great set of wedges that offer you versatility, conveniently all in one place. Built with Pinemeadow's signature steel, and featuring 125-gram shafts, these three wedges are excellent additions to your arsenal. Perhaps even more durable and dependable than the Texan Classics above it. And like the Texan Classics set, this one comes in three configurations: the 52-degree, 56-degree, and 60-degree loft angles. If it were a little cheaper, it may have even surpassed the Texan Classics on the list, due simply to its superior brand recognition.
Read more
Sleek stainless steel finish
You may be concerned with the size of your wallet and what and how much goes in and out of it, but that doesn't mean you should be expected to settle for ugly, lower quality things. These wedges feature a very sleek design, so you can be sure it at least looks like it's worth more money than you paid for it.
Wide sole
Remember, golf wedges are supposed to be used in jams--when you find yourself facing tough or soft lies, or when the ball gets mired in mud. These wedges by Pinemeadow each come equipped with wide soles at the back of the club head. They narrow towards the toe, which offers you valuable forgiveness on your hits.
Cost and Value
The price of this set of wedges is actually comparable to the set of wedges by Texan Classics. These are a bit more expensive--and by a bit, I mean a bit. Not by a whole lot. That price differential may be worth it, depending on what you want. This does offer a more stylish, sleeker look, after all. All in all, a good, solid buy.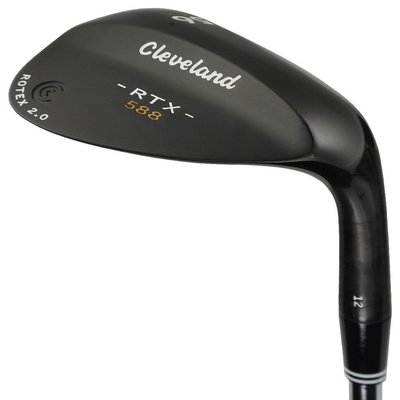 Now we're getting into the real serious stuff. The serious golf player won't spare any expense to get the best equipment. Well, here's a nice start. It comes in a number of configurations, giving you the choice between 50, 52, 54, 56, and 58-degree lofts. Featuring deep grooves and a micro-milled Rotex pattern on the face, it was specifically engineered to give an exceptional spin. And it was specifically engineered to outdo all other similar products on the rough.
Read more
Reaches the USGA maximum
When the USGA gets involved, you know it's serious. They set rigid guidelines that manufacturers of golf equipment must follow and then very tightly reinforce their rules to ensure fairness in golf. To that end, they have a strict policy regarding grooves and marks on a club's face. This golf wedge by Cleveland actually meets the maximum allowed to give you just the edge you need to succeed on rough and inconsistent lies.
Tour zip grooves
When a company actually cares about the product it's trying to sell you, you can tell. You can tell by just how much time they spent thinking about and refining the details. This wedge golf club by Cleveland has so fine-tuned that it features tour zip grooves, so that grass, moisture, and dirt are actually channeled away from the club face for a cleaner contact and a more consistent spin.
Cost and Value
This golf wedge by Cleveland isn't cheap, but it isn't expensive either. It's somewhere in the middle. Overall, for the company's sheer attention to detail, their obvious knowledge about the sport and its ins and outs, and their demonstrated commitment to creating a product that's designed to do one thing best, this is a great buy for the serious player.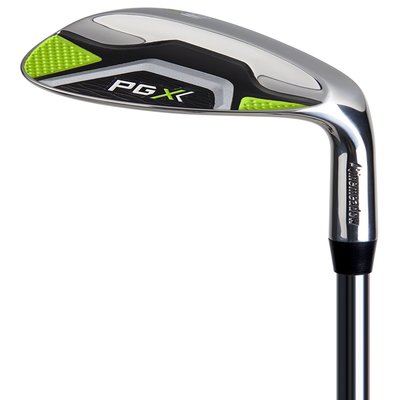 And we're back to basics with the Pinemeadow Golf. Here's another one of their quality, affordable wedges. This one features a steel shaft and a midsize wedge sole, which promotes accuracy across various lines. The wide sole at the bottom of the head narrows to the toe--just like number four on this list--to make the head a more forgiving surface for hitting. To be sure, it's not as great as the Cleveland wedge before it, but if you're a beginner, an amateur, or someone who just wants to play, make sure to give this consideration.
Read more
Great for practice
If you're a beginner, you're going to need something sturdy, something that's built not only to last, but also to build your confidence as a player. That something should allow for considerable forgiveness and allow you to practice your swing without getting frustrated. This is one of those wedges.
Right-handed and left-handed
One thing you'll notice about the golf wedges on this list is that many manufacturers only make right-handed models--especially if they're affordable. This is one of those affordable wedge golf clubs that offer models for all people. So if you're a left-handed novice, stop your worrying: there's something here for you too.
Cost and Value
Maybe one day you'll believe me when I tell you that Pinemeadow Golf specializes in affordable golf gear. And this will be one piece of evidence. This wedge by Pinemeadow Golf is a simple, basic, beginner-friendly one--and the price accurately reflects this.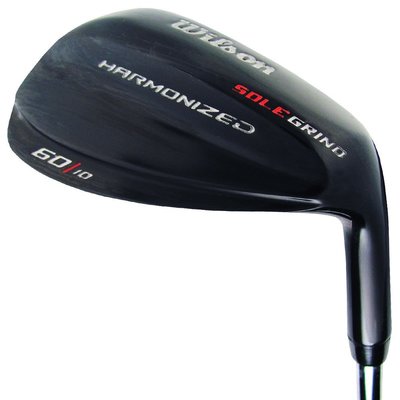 Here's another great choice for beginners. And again, we're back to a wedge golf club that's made only for the right-handed man. But if that describes you, then this a good choice that may fit your budget. It features a steel shaft and a sole grind that allows you to open and close the club face to adjust to various scenarios. It comes in three different configurations: 52, 56, and 60-degree lofts, so you can choose what kind of wedge you need based on what you need to do.
Read more
Anti-glare
If you're out on the golf course, chances are the sun is out and the sky is blue and the weather's hot and hopefully--just hopefully--a gentle wind is keeping you cool. But as you get ready to swing, you find yourself distracted. You find yourself squinting. It's the sun reflecting off your wedge. Now what? Your vision is impaired. You have to rely just a little bit more on luck. Not with this particular wedge by Wilson. It features a durable anti-glare finish, so you'll never have that issue.
Sole Grind
At least two other products on this list have the same feature--and they rank higher, so take that into consideration before making a decision. But with this lovely feature, as I've already said, you're given that added versatility that makes for a great buy and a great, fun game.
Cost and Value
Not dirt cheap but certainly not expensive. It's a Wilson golf wedge after all. It's made more for the layman, the happy go lucky weekend golfer than for anyone serious about the sport. But it's a solid practice wedge and a good wedge golf club if you're just looking to have a good time.

8

. Cleveland Smart Sole 2.0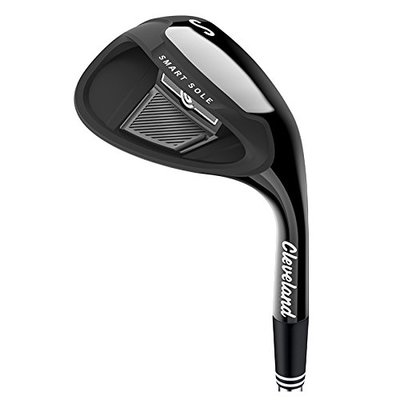 Are you sick of all the golf wedges offered here that are only for beginners? Or primarily for beginners? Or just not the brand you like? You might be thinking that the other Cleveland one on the list is the only wedge worth buying so far! If that's you, I commend you and your discerning taste. Here's another quality wedge from Cleveland that offers a beautiful sleek black satin finish that works to reduce glare and serve as a sharp contrast between it and the ball, so you can work on your alignment until it's just right. Additionally, the whole wedge is designed to place most of the weight around the edges of the club, which promotes consistency and greater forgiveness. It's also designed to dampen vibrations on impact.
Read more
Refined sole design
Remember, wedges are used primarily for tough and soft lies, to get the ball back in the green. So they're all designed to deal with those lies effectively. This particular wedge by Cleveland offers a refined sole design that promotes a smooth turf interaction and a cleaner contact, so you'll actually feel the difference in performance.
Forgiveness
Even if you're the worst sand player in the history of this planet, you'll find this wedge by Cleveland really does improve your game. Its wide sole as well as its weight placement promotes forgiveness and consistency and makes wielding the wedge much easier on your hands and extremities.
Cost and Value
You know what they say--you get what you pay for. This particular golf wedge from Cleveland isn't cheap, but it's absolutely worth it if you're looking to improve your game and consistency. It's an excellent choice for both the novice and the pro.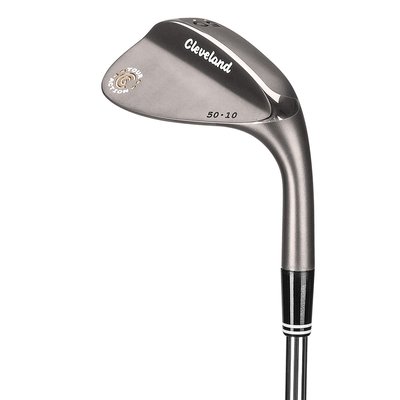 Maybe you want a Cleveland wedge, but don't want to spend the money. Or maybe you're on a tight budget. Still--why should you be left out from using a great brand out on the course? Well, you're not. This particular Cleveland wedge is one of its more basic models--it's made for both the serious player as well as the weekend hobbyist. It features a steel shaft and comes in three configurations. You can choose from a 52, a 54, or a 58-degree loft.
Read more
Precision milled grooves
There's nothing better than a company that's detail oriented and that actually cares about its products. You can always tell the difference. With this wedge by Cleveland, you get precision milled grooves, which will help you score your best shots within 125 yards.
Sole Design
Cleveland is already a trusted brand name, so you know you're getting what you pay for. With this particular wedge, you get a tried and tested sole design that's guaranteed to promote a smooth turf interaction and a consistency in your short game.
Cost and Value
This one's on the cheap end for a Cleveland product. Strip the best Cleveland wedges of their specialized qualities, and this is what you get--a stripped down version of the best. It's a good, solid, durable wedge, and worth the money if you're not willing to actually spend.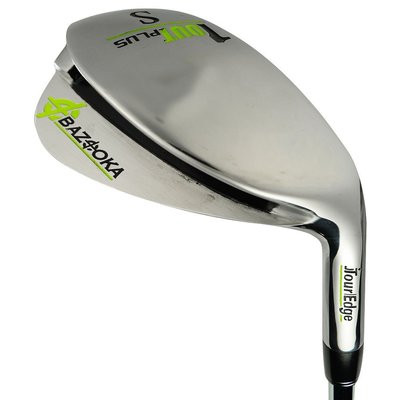 Here's another solid golf wedge. It only features a 56-degree loft, but it's been designed with a very wide sole to aid with sand shots. It also offers two different shaft constructions: the steel shaft and the graphite shaft. Conventional wisdom might be that steel shafts are what the pros use, but if you're sick of the stinging that inevitably follows a mishit, you may want to opt for a graphite shaft.
Read more
Heavy sole
The 1Out Plus Wedge by Tour Edge Golf was made to be functional and helpful when you're in a jam; or specifically, when you're in the sand. Its heavy sole puts the most weight below the ball to promote easy launching so you can get the ball to the green consistently.
Counter-balanced grip
Because the sole is heavy, that may make you vulnerable to balancing issues. Right? Well, not so fast. The 10ft Plus Wedge's design is such that 90-grams of extra weight are on the butt end of the grip--thus countering the heavy head. This will give you added stability.
Cost and Value
Not cheap, but not even close to expensive. The price is on the lower end of mid-range. In the end, if an effective, functional, affordable wedge is what you're looking for, this is as good as anything else.

Subscribe to our Newsletter