10 Best Golf Training Aid for Swing Plane
In a
Hurry? Editors choice: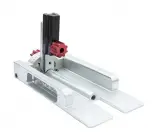 Test Winner: Swing Plane Perfector

One of the greatest and most difficult concepts of the game of golf is maintaining the swing plane which is the baseline for successful performance. Over the years, many manufacturers and motivated engineers have come up with hundreds of golf training aid for swing plane models in different sizes and shapes. Regardless of their diversity, these products have been a
substantial help
for golfers worldwide who have been struggling with this issue.
As the swing plane issue is hovering over many golfers, and since we have always been driven to make things easy for every player on the golf course, we have decided to
explore the topic
and see if we could be of any help regarding this matter. After spending considerable time on research, we were able to select the best golf swing plane trainers which are proven to help golfers improve their swing plane.
Standout Picks
Criteria Used for Evaluation
Effectiveness
The most effective golf training aid is the one which is used by the golfer.
This is one of the most difficult to measure criterion as it usually subjective, and it often depends on golfers' personal performance and experience. Shortly said, what works for me might not necessarily work for you. However, certain features determine whether a golf training aid for swing plane is effective.
The most important thing one needs to do is define what he/she expects from it. Defining your expectations means that you'll measure the performance in relation to the expectations. Next thing which is very important, but often neglected by golfers is the personal effort that you put into reaching the goal. The training aid is not going to make a better golfer if you are not doing your share.
Therefore the golfers' comments, experts' opinion and the design of the products were carefully analyzed so that we could 'measure' their effectiveness and attribute a proper score. It can be seen that all of them feature high score which is why they are on this list.
Ease of Use
Convenient and easy-to-use golf training aids will keep you focused on the goal to become the golfer you have always imagined yourself to be.
Training is a hard process and usually, the greatest obstacle is the lack of motivation to go and do some work. Imagine you need to train with a device that is hard to work with and which causes you more frustration and annoyance than any benefit. It won't be long that you'll put it aside for good.
That's why most of the golf training aids for swing plane are designed to be convenient, portable and compact, and which will allow you to do the practice anytime you need. There are some models on this list that require more space to set them up, however, the benefit they provide, and the actual ease of use after you have positioned them properly were the reason why they were selected.
Durability
It is more than clear why we have considered this criterion. In the vast array of all kinds of golf training aid models, of which many feature almost the same characteristics, we needed to make sure that we will select those that won't fail you after using them for a few times.
Disability is related to the materials that have been used to make the products, the technologies applied, and the way they were made. So, these products are made from high-quality materials, sturdy designs, and many of them have patented or patent-pending technologies.
Support
One of the most difficult concepts and techniques for golfers to acquire is the swing plane, and since our buying guide is focused on selecting the best golf training aid for swing plane, we selected only those that help golfers develop consistent swing plane without straying from the appropriate angle. Some of the selected products have been selected because their purpose is solely to develop the swing plane, others integrate more functions, and are designed to develop and support different swing issues. One way or another, these golf trainers represent excellent support for golfers to help them improve their swing plane and path.
Value
An expensive product doesn't guarantee effectiveness, however, an effective product is priceless.
As you could conclude from the buying guide, there're different types of golf training aids for swing plane, some of them focusing exclusively on the ability to maintain the consistency of the swing plane with every shot, others integrate more practice drills to master the swing performance completely. Since they are very versatile, their price tags drastically differ.
This variety is not only seen in their purpose but also in the materials used to produce them, the innovative concepts and designs, and patented technologies that make them stand out from the others. Consequently, the most expensive ones feature innovation, flawless performance, and assurance that you'll be using them for a long time.
However, this doesn't mean the cheaper products are worthless, if they were they wouldn't have been part of this list, but the reason why they feature lower price tag usually means that the company is newer on the market and it needs self-promotion or, the overall design of the product doesn't integrate as many technologies as some other products do.
Top 10 Picks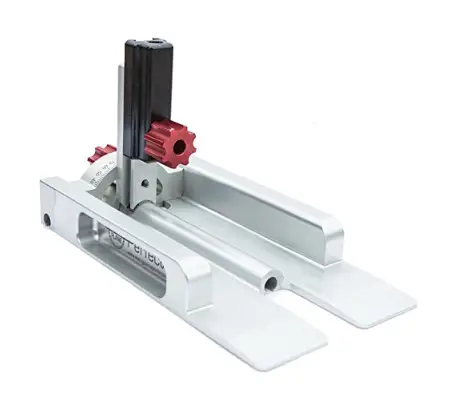 In an attempt to aid golfers in their intention to learn to swing better and more consistently, engineers have come up with varieties of ideas and products. This is one of the best golf swing plane trainer aids, and the one that was designed in the most interesting way. It came out as a mutual effort between a PGA teaching pro and an engineer on his first-class while struggling to perform a good swing. The engineer thought there had to be a better way to help the learners get more precision and after nine months Swing Plane Perfector was born.
Read more
Design
The perfector is a small device that has two rails and a degree-measurement unit on the top of the base which looks like a compass or protractor, and a movable rotating piece which allows you to choose the right degree which you'll find the most convenient. There are three small openings for placing alignment sticks, one is positioned on the movable piece which sets the degrees, one below it where another alignment stick can be inserted and one more positioned in a 90-degree angle. Thus positioned the alignment sticks, allow golfers to get the right swing plane.
Performance
This is a very clever design, made to be used both inside and outside, contrary to some previously used alignment sticks which can be inserted in the course turf only. When the alignment stick is positioned in the degree angle your club features, the golfer has a visual aid that informs him/her about the accuracy of the swing plane and thus the golfer is aware what type of changes he/she needs to make. It is an excellent drill kit which can be used at home, in your backyard or on the course.
Cost and Value
If you are serious and truly want to master your swing plane to the level of perfection, this is the golf training aid for your needs. It is an expensive kit but sturdy and durable so you'll have it for a long time. The five-star rating it has proves that it is an excellent value for the money.

2

. Medicus Dual Hinge 5 Iron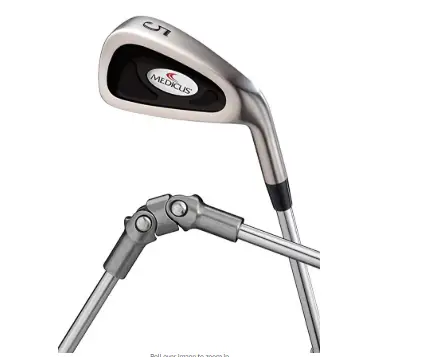 At the very beginning, we'd like to mention that Medicus golf swing plane trainer aid offers the complete dual hinged club selection to practice every single aspect of the game, and the selection of iron 5 is due to the fact that it is one of those irons that are often used on the golf course even by average golfers and that mastering the swing of this iron means that you'll be able to play consistently with most of the long irons. This club has been used by millions of golfers and professionals, and it is one of those golf training aids for swing plane that allows golfers to self-correct their flaws.
Read more
Design
This golf swing plane trainer aid has a very unique design which is a recognizable hallmark of the company. The dual hinges that are positioned near the clubhead function as a coach and corrector which makes you position your arms and body in synchronization, and let yourself maintain a perfect swing plane. The actual design of a real iron clubhead enables you to practice with a real ball, practice ball or no ball, inside or outside. There's men's and women's option to choose from.
Performance
You won't even need a coach to master your swing plane since the dual hinges function as such. The thing is when you hit the ball too early or too late the hinges break, informing you that you have made an incorrect swing. The hinges will continue breaking as long as you keep making the flaws, and once you are able to have a full-blown swing you'll know that you did the right thing. This golf training aid for swing plane will teach you how to find and keep your tempo, the swing path, and control, and will provide you with the feel which is the key to successful shots.
Cost and Value
This golf training aid will function as your personal coach, and according to many golfers, is one of the best that delivers a real feel and utmost performance. It will help your muscles learn the posture and keep the swing plane in the right angle. The fact that it is similar to a real iron club allows you to use it on the course for practice purposes. Considering all the features it has, it is reasonably priced and it is a good value for the money.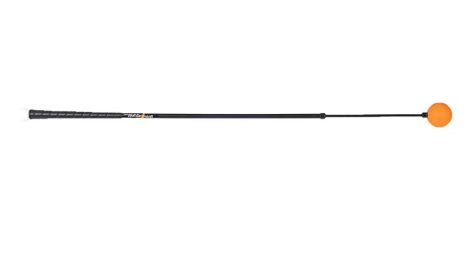 The Orange Whip is one of the most popular golf training aid for swing plane models that you can currently find on the market. It is easy to use, very simple and convenient and it helps you train for long and short-game shots. The golf swing is not easy and perfecting the swing plane means you will be able to exhibit all types of shots once you can control the swing plane. Orange Whip golf swing plane trainer aid will help you develop more balance and coordination so that you can play better golf.
Read more
Design
Orange Whip is a flexible shaft which is designed with two counterweights on both ends of the club. This golf swing plane trainer aid is particularly useful for synchronization of the upper and the lower body part which has the purpose to train goofers to load and release the golf club. The weighted orange ball on the bottom of the club will help golfers get instant feedback about their performance and develop more feel, rhythm, and balance.
Performance
Orange Whip will provide you with instant feedback with each swing because the way you release the club immediately indicates where you need to correct the swing plane, your tempo, balance, and timing. The weighted and the counterweighted system help golfers increase their flexibility, train their upper body muscles and help them avoid injury. By focusing on the natural swing process, the swing plane gets improved and you can square the ball more correctly.
Cost and Value
The fact that Orange Whip is voted the number 1 best training aid for swing plane by the PGA and LPGA professionals tells us that it works and golfers can expect real improvement in their performance. It will keep your swing plane and rhythm in check and develop consistency. However, the only thing that can be considered a deal-breaker is the very high price tag.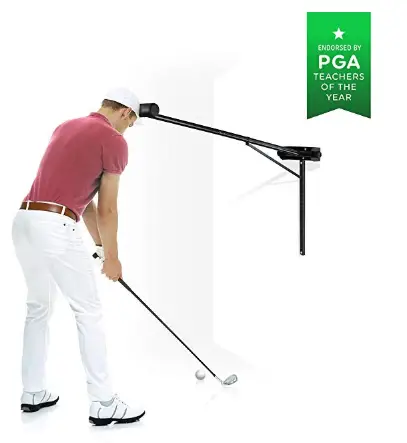 Practice makes perfect, but going to the course regularly requires time and dedication which most of us, average golfers, can't find. Pro Head is an excellent golf trainer that is designed to provide multiple types of exercises and to address 8 most common golf swing errors that golfers make. Pro Head has been endorsed by some of the most prominent golf players as the most versatile, complete, and advanced golf training aid for swing plane.
Read more
Design
Pro Head is a very compact golf training aid model that has two available design alternatives. You can get the portable and foldable version which can be hanged on a tree or a wall, and when it is not used it hangs vertically so that it doesn't take up much space. It is designed with very durable, and weather-resistant materials, so even if it is hanged outside, it can be used for a long time. The other available design can be moved around freely because it has small wheels, and it is larger than the other one. It is suitable for both, left and righthanded golfers and it is adjustable as well so that it can be used by men, women, and children.
Performance
There is a wide range of possible exercises that you can practice with this golf trainer, from practicing the swing plane to short game aspects. The movable foam piece, in a visual and tactile manner, this golf swing plane trainer aid will allow you to correct the bad habits and it will build up the muscle memory so that you develop the habit of hitting the ball as it is supposed to be hit. The instruction manual and the video lessons will allow you to master your performance in no time.
Cost and Value
If you want to have instant feedback and correction of your faulty habits, Pro Head offers maximum versatility to correct all the issues with your swing plane. The price point for this golf swing plane trainer aid is high but considering the versatility of the exercises and the high quality it has, it is a good value for the money.

5

. Rukket Golf Swing Trainer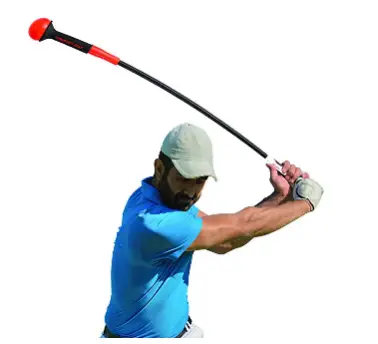 The world we live in is more than hectic nowadays, and many recreational golfers don't have the time they need to practice as much as it is required for improving the swing plane. Most of these golfers are very eager to find a perfect golf training aid which will help them improve the swing plane, get them more rhythm and consistency, and provide them with the most natural tempo to get the right feel. Rukket is one of those swing trainers that has it all and which is very highly rated among golfers.
Read more
Design
This is a fairly simply designed stick and golf swing plane trainer aid which resembles a golf club, just instead of heaving a club head, it has a weighted ball. It has been made from flexible fiberglass shaft and counterweight system which can teach golfers lag and is very efficient in instructing them how to synchronize their body and the arms so that they can have impressive swing off the tee. There are two available lengths, one of 40" that is made for golfers shorter than 5'6", while the 48" length will suit those golfers who are taller than 5'6". It can be used by anyone regardless of their age and handicap, inside and outside.
Performance
If you need to practice your swing plane and if you look for consistency in the shots, and if you need to regain your feel, this is the right golf training aid. It can be used as a training tool or as a warm-up activity before your actual game. The flexible shaft will provide you with the tempo and the control so that you can maintain the swing plane with every shot. The head features a detailed line which informs you if you make square contact when hitting the ball, so if the face is too open or closes you can adjust it accordingly.
Cost and Value
We've got a similar golf swing plane trainer aid on our list and the only difference would be the point of flex. This one flexes along the shaft, while Orange Whip flexes near the tip which is a variety that appeals to golfers' preference. However, the performance and the ability to practice and improve the swing plane of this model are indisputable. The price is lower compared to the other similar product, which means excellent value for the money.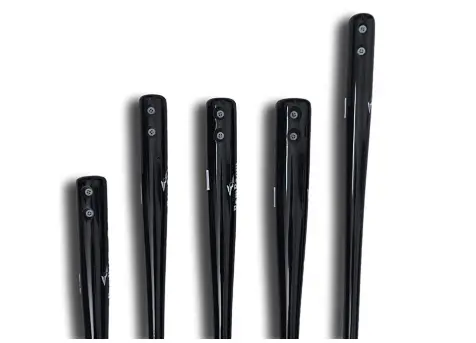 This model is also another unique design that differs from most standard clubs as it looks more like a baseball bat than a golf club. It is another patent-pending golf training aid for swing plane which is endorsed by professional coaches and golfers as a golf trainer that will help you correct your swing plane and improve your performance on the course.
Read more
Design
The 'whistle stick' as it is called, comes in several sizes and weights, and it is suitable for men, women, and children regardless of their handicap. Each club is designed with two audible devices that provide a whistling sound and their purpose is to help golfers increase the swing plane consistency, the speed of the swing and the accuracy. The 'sticks' in this golf swing plane trainer aid are made from genuine bamboo which is known to be one of the toughest materials and it is covered with very glossy paint and hardwearing grip handle.
Performance
The playability and the performance of BamBoom 'whistle sticks' are exceptional as they provide the golfer with an audible whistle, informing him/her that the swing was well performed. The moment when the whistle is generated shows golfers where they get the most power and speed and it instructs them what they need to get better.
Cost and Value
Available in five different lengths and weights, these sticks bring an obvious difference when you swing, as the corrective whistle will inform you about your performance. Made by bamboo, which is one of the strongest materials, it guarantees durability and long-lasting performance. It can be used everywhere, and it is one of the most convenient training aid models that you can find on the market. Since they are made from bamboo, it is kind of expected to be sold for a higher price, however, this is not the most expensive golf swing plane trainer aid, and its price varies with the weight and the length of the clubs.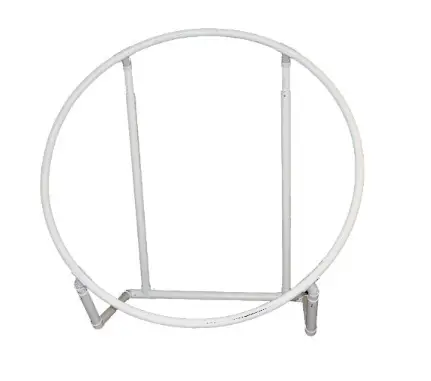 People's creativity is endless and we are witnesses of very interesting and inspiring designs that motivate golfers to give their very best so that they become the golfer they have always imagined themselves to be. Super Swing Trainer is a unique golf training aid for swing plane as it allows golfers to develop their muscle memory and at the same time, it strengthens their muscles.
Read more
Design
This is probably one of the bulkiest golf training aids and you will need a larger area to place it. The circular design follows the rotation of the full-blown swing and it points to the correct movement of the club if you align it with the circular shape of the trainer. This swing plane trainer comes with exercise cords made of surgical rubber bands are positioned on each side of the trainer with the purpose to boost the performance of your muscles and enhance your feel.
Performance
The point of this golf swing trainer is to enhance the muscle memory of golfers so that they get a natural feel at the address. When you stand inside of it, you'll have to stand on the proper swing plane to be able to shoot the ball. The continuous repetition of the correct swing will ignite the muscle memory to remember the right stance and body position. The included exercise cords are designed for the 7 exercises that will enable golfers to strengthen the muscles for more powerful swing and enhanced feel. There are DVDs and written instruction manual to guide you through the exercises.
Cost and Value
The idea and the concept of this golf training aid for swing plane are brilliant and the golfers who have been using it claim that their performance has improved. It is adjustable so that it fits the golf club you'd like to use, and there are two available sizes that you could choose from, medium and large. The price is relatively high and the only thing that seems to be a flaw is a large size and the bulky design that it has.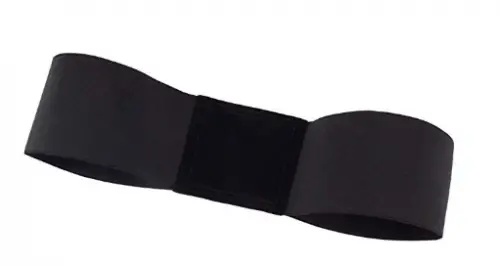 When a person starts playing golf, the inability to keep the arms in coordination and synchronization with the body leads to prevention of keeping the swing plane angle and the person tends to make mistakes. In the ocean of different golf training aid for swing plane, this model enjoys great popularity since it immobilizes the upper arms so that the phenomenon of 'flying elbow' is prevented from happening. This type of golf swing plane trainer aid has helped many golfers, and many beginners to learn and correct all the swing related issues and keep the swing plane.
Read more
Design
As you can see from the photo, this golf swing plane trainer aid is a black band that resembles the infinity sign, but in fact, these are the openings where you place your arms. It is made from elastic, flexible neoprene material which can be stretched to fit anyone's size. It is one size fits all, and most golfers have no issues regarding the size. It is suitable for right and left-handed golfers, and even though the manufacturers indicate that it is for beginner golfers, anyone who'd like to correct and improve their swing plane will find it beneficial.
Performance
What this elastic band does, is to keep your arms and elbows close to your body during the swing. It synchronizes not only your arms in relation with your body, but it also keeps a proper distance between the right knee and the left foot. Positioned like this, golfers will keep the swing plane and will be able to swing the ball properly. It helps improve the distance and accuracy and develops muscle memory after using it for some time. You can practice with it at home, in your office, on the driving range as it is one of the most convenient models of a golf training aid for swing plane.
Cost and Value
If you are facing inconsistency in your shots, your swing plane is not as it is supposed to be, and if you are struggling to have a proper synchronization of your body and your arms, this band will help you learn how to position yourself and correct the swing plane and the swing path. It is one of the most inexpensive golf swing plane trainer aid, so investing in it means more benefits for your performance.

9

. Matzie Assist Swing Trainer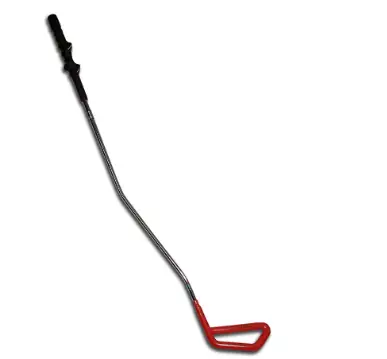 Despite the conspicuously simple design, Assist golf swing plane trainer aid features a patented construction which has helped millions of golfers to reduce the slice and maintain the swing plane. It is a golf training aid for swing plane and any other form of swing flaws. It is one of the world's best selling swing trainers, and it has been recommended by many PGA and LPGA golfers and teachers.
Read more
Design
When it comes to its design, at first glance this golf swing plane trainer aid reminds of a toy as it looks like an iron club mold. However, the appearances are deceptive, and this simple club has a patented design with a precision bent shaft which has the capacity to release force 16 times greater than a 6-iron so that golfers can learn the use of the correct hand, and perform longer and straighter shots. The exclusive grip has a molded design that places the fingers in the traditional V's positions so that golfers gain optimal muscle interaction. The clubhead is weighted, and it is 3.7 ounces heavier.
Performance
What you'll get with Assist is not only a correction of your swing plane, but you'll be able to correct the overall performance of your game. Starting from the grip, it will assist you with the right hold to get more distance, the right wrist release leads to more accuracy, and the faster clubhead speed will get you more strength, muscle memory, tempo, and timing. The results can be seen immediately after using it and if used persistently, you can soon lower your score.
Cost and Value
Assist holds the reputation of being among the best golf swing training aids for swing plane, and it has been equally used by many professionals and amateurs. It comes in different lengths and weights, and the specific color of the head indicates what king of a club it is. It is relatively highly-priced, but it is functional and effective, and it guarantees that you'll improve the swing plane and reduce the slice.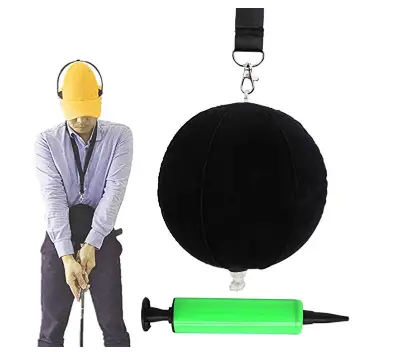 Appropriate golf posture is crucial for a perfect golf swing, and therefore the number and the type of any golf training aid is profoundly numerous and versatile. All these devices are intended to help golfers correct their swing plane and enable them to perform much better on the course and lower their score. Outfandia is a very unique device that was developed by a former PGA Tour player to help beginner golfers and coaches master the body posture and thus correct the swing plane angle.
Read more
Design
This golf swing plane trainer aid is a sealed, eco-friendly PVC impact ball which is inflatable and coated with flocking fabric. It is super lightweight and very convenient to use. Its adjustable neck rope design lets golfers customize its fit and position. Plus, golfers get a hand pump to inflate the ball easily.
Performance
This is easy to use and easy to inflate golf training aid that will help golfers, especially beginners, develop correct body posture and avoid developing a faulty swing plane. It assists players to use the right arm positions so that they play more consistently. When using it, players are expected to develop connected feeling so that they keep proper arm structure when swinging the ball. Even though it is advertised as a must-have trainer for beginner golfers, more advanced players can also benefit from it.
Cost and Value
Among all the other golf training aid models for swing plane, this might be the most inexpensive one. It does perform its function well and golfers find it very helpful in assisting them to correct their swing and improve the swing plane.

Subscribe to our Newsletter