Golf Rules Quick Reference 2021 Reviewed
All sports have rules that make them organized and easy to follow, but we're not going to analyze the importance of rules in sports since their meaning is closely linked with\ the rules that make any particular sport easy or difficult to play. So, yes rules are an important part of the game, but have you ever thought how many rules are there in the game of golf? Many golfers think there are too many, sometimes some of them make no sense, some might consider them to be a pure absurdity, and regardless of how you all feel about them, they are here to be obeyed. And, as of this year, there are new rules that golfers must follow, so this is where the best seller Golf Rules Quick Reference steps in. 
If we trace back the origin of the golf rules, our search leads us to 1744, when the first set of golf rules drafted by the Honorable Company of Edinborough Golfers and which contained 13 established rules. Fast forward 1952, golfers saw the unification of golf rules worldwide even though it was actually the year 1990 that truly put together these rules under one hat. Currently, there are 34 rules in the game of golf, each of which has many additional sub and sub-sub rules.
Anyone who hasn't played golf or treats the game as a mere fun activity wonders about the need for so many rules, but it is indisputable that without them, the four to six hours game would turn into real chaos until golfers have reached the 18th hole. They are very comprehensive and provide golfers with many answers to many issues which spring out while playing again. The sole fact that they are unified and applicable to any country in the world where you play golf, creates a feeling of reassurance that you will be fairly treated regardless of your whereabouts, and that you know what to rely on. 
And, after 30 years, the rules of golf have been once again revisited and new rules have been implemented. Some have undergone some minor changes so it is very important for any competing golfers to know what to do when faced with certain issues on the course. The book Golf Rules Quick Reference is a best seller and has been translated into 20 languages grasping the importance of these rules. We went through the book, analyzed the reviews, so let's dive into the review of the book. 
Pin for later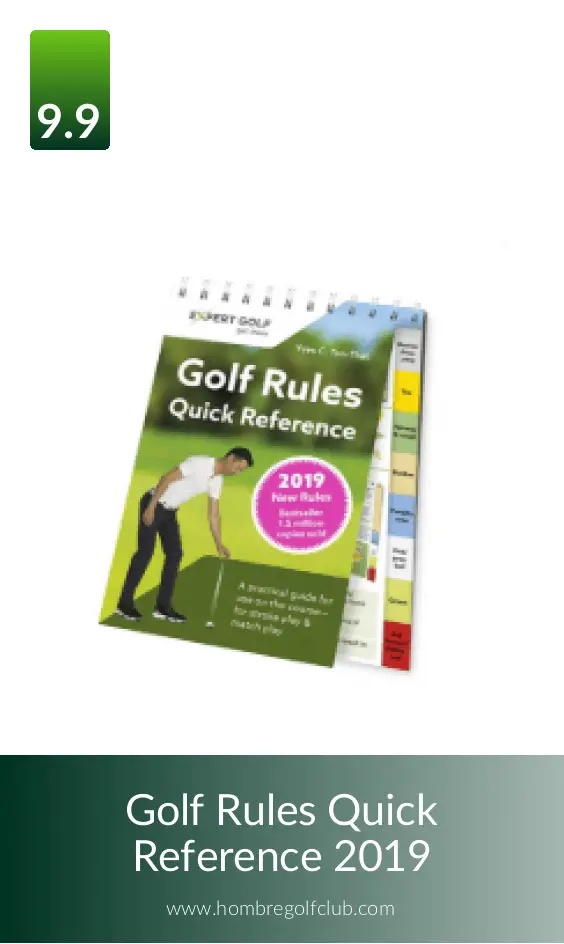 Editor's Pros & Cons
Easy to read and understand, written in casual style in the simplest manner
Handy, pocket-size plastic-coated flip booklet
There are 48 pages and it features more than 170 colored illustrations
Worldwide golf bestseller translated in more than 20 languages
Sold in more than 1.5 million copies
The pages aren't waterproof
Structure
It is sad how our society has changed its attitude towards reading, and many people would rather watch a film than read a book, and it is even less attractive to read a book that goes through a bunch of rules, but, considering Golf Rules Quick Reference book, we have to say, wow! It is an impressive, well-organized, neatly structured book that includes 170+ colored illustrations that change the concept of the traditional rule book and offer golfers a new and very interesting way to get to know with the latest modifications in the world of golf.

The book has 48 pages, resembling more to a booklet rather than a book because of the spiral-bound page organization. It is small, compact and very handy, so you can have it in your pocket or the golf bag. It is a plastic-coated flip guide that is organized into eight sections just like the course is organized. So, it starts with "Basics/dropping", then it continues with "Tee"," Fairway and Rough", then it continues to the rules that refer to the "Bunker", it has an insight into "Penalty Area", then the "Water Hazard" and the "Green". It finishes with the roles that refer to a deflected or moved ball.

About the Author
The writer of Golf Rules Quick Reference is Yves C. Ton-That, a well-known and highly prominent author and an official referee. Prior to writing this
golf guide book
he had also written other rule books that encompass all the changes that had happened in the world of golf. He has been consistently named the best selling author when it comes to golf guide books and his books have been sold in millions of copies. Golf Rules Quick Reference is the ultimate bestseller and has outnumbered the copies of the books that were previously sold.
Style
When you buy a book that describes golf rules, you need clarity and understanding above everything else. Plus, you need to remember those rules somehow, and if they are presented vaguely, or by obscuring the facts, then you won't be able to make a difference between the old and the new rules. This means, not everyone can be a guide book author. Since the writer of this book is a person who has been a golfer, a referee, and an author, he knows what he is saying, but what matters is how he is presenting the facts and the style he uses to make golfers aware about a new rule and how to easily memorize it.

It should be praised the decision to integrate visual representation of every new set of rules. This is particularly useful for golfers who have a photographic memory and who rely on the image representation of the thing they need to understand or memorize. Luckily, the author of the book was well aware of this fact, so he included more than 170 images to better acquire all the novelties that the year 2021 brought to the modern golf regulations.

When it comes to his writing style, he uses very clear, short sentences with simple grammar so that everyone can easily understand what needs to be learned. It is interesting his way of pointing back to the old rule before stating out the new one, making sure that everyone understands what he is trying to convey. The right choice of words and the casual style make the book easy to comprehend and even easier to implement.

Recommendations
Another thing that is very impressive about Golf Rules Quick Reference is the fact that it has been sold in more than 1.5 million copies and translated into more than 20 languages, which is a fascinating notion. So, just imagine, a guide book that goes through some rules that can be found on any official golf page, and yet, golfers chose this book to read, and this book is their guide book when the issues start popping up. Previously, we have talked about his style of writing and the entertaining mode that lingers in the book accompanied by a multitude of photos that indicate the specific change of a rule or an introduction of a new one. These factors, even though insignificant, have greatly impacted the popularity of this book and how it is accepted by golfers

Thanks to all those features, the book has been recommended by golf associations, golf coaches, tour golfers, and all those golfers who have been using. The hard and waterproof covers, the organization of the book and the easy style are among the factors that have greatly contributed to its extreme popularity.

Content
As you already know, the booklet is organized in eight different sections so that you can have an easier insight into the rules that apply to the course and game organization. The first section represents a summary of the key rules changes and what golfers need to pay attention to so that golfers get an overall idea of the new concepts.

When you go through the pages, you'll be amazed by the practicality of the language, and the examples provided with the obvious reference to the old rule and the clear, written in bold, the definitions of the new rules. Plus, the way that the rules are presented is precise, concise and all of them include an example of an actual situation and an illustration. The section of the books is clearly indicated and visible on the right side of the book, colored in different colors so that you can directly refer to a certain rule.


The iGolfrules Smart App
If you are a type of golfers who resists books and doesn't like carrying a book, then there's another alternative for you to always have the latest golf rules, if you are an iPhone owner. Namely, there is an app that iPhone users can download through the iStore and always keep the rules with them
on their smartphone
. It is very easy to use, and it can answer all your golf-related questions in a matter of seconds. Going through the app is also very easy because it usually doesn't take more than three clicks to get to the answer you need. This way, even if you do have the book, you can always quickly find what you need in the shortest period of time.
Key Features
For all those golfers who have already bought this book, it is one of the most useful golf-related books that you can find on the market. It is convenient, pocket-size, practical, and easy to use. Plus, the language, the vocabulary, and the structure in the book are easy to understand and every rule is represented with very clear illustrations that are very comprehensive and easy to memorize. There's nothing from the formal, official style of writing which is characteristic of writing rules and regulations. Plus, each new rule is represented with a reference to the old rule, so that you are aware of the type of the change that has taken place.
The book is organized in eight separate sections following the organizational outlay of the golf course, starting with the basic changes that have taken place so that golfers get a clear overall picture. There are 48 pages and more than 170 illustrations for better acquisition of everything worth knowing. The covers are plastic coated and all the pages are joined together with a spiral-bound format.
The book is officially the best selling golf book in the world, it is an award-winner in multiple categories and it is highly recommended by many golf associations, coaches, tour players, and golfers. It has been translated in over 20 languages and sold in more than 1.5 million copies. In addition to the book, the Apple smartphone users can download the Smart App related to the book and have all their questions answered in just a few seconds and a few clicks.
Key Features


Worldwide golf bestseller translated in more than 20 languages


Sold in more than 1.5 million copies


Easy to read and understand, written in casual style in the simplest manner


Handy, pocket-size plastic-coated flip booklet


There are 48 pages and it features more than 170 colored illustrations


Bottom Line
Regardless of your handicap, if you play golf at least a few times a day, then you need to be aware of the latest changes that have taken place regarding the rules that regulate the competitions and the strokes that golfers perform. What makes this booklet perfect for any golfer, regardless of his/her reading preferences is the clarity it is written and clear to understand illustrations that point to every changed and newly added rule. Together with the app, this guide book is the key to better understanding the rules of golf.

Subscribe to our Newsletter