Best Rain Jackets Reviewed & Rated for Quality
In a
Hurry? Editors choice: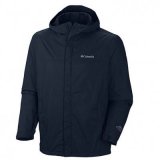 Test Winner: Columbia Watertight II

We often talk about proper protection on the golf course and one element that we can never predict but should always be protected is the rain. Nothing ruins your day more than being excited about golf, getting on the course, and halfway through your game you get a heavy thunderstorm and some rain.

That's why we're reviewing the best golf rain jackets on the market today! Check out the detailed list below.
Standout Picks
Criteria Used for Evaluation
Materials
Of course, this would be the first criteria! The material of the golf rain jacket is what makes headway for the product to be designed for water resistance. With that, we discovered two primary material qualities when it comes to water resistance. The two most common materials that these jackets are made out of are the following:
Polyester
Polyester is a highly breathable, but also water-resistant material that when created specifically for water-resistance can be highly durable and high quality. More so, this material is very lightweight and comfortable and has a fit and finish design that guarantees a premium feel. Now, this material design is among the most common because of the durability and highly water-resistant finish. However, we noticed that many brands will use a double-weave technology or coated exterior design to guarantee the product is fully water-resistant.
Nylon
This material is commonly known among the industry as one of the highest quality tactical materials to consider. Nylon is highly durable and happens to be used in tactical wear. With that said, it happens to be waterproof and individuals can expect it to be more durable than polyester. However, the design is also much heavier than other materials in the industry.
When taking the material of the jacket into consideration, these two are the most common and are vital to the construction of a waterproof jacket.
Style
This next criterion is what really determines whether a product is fully water resistant or not. The reason being is that this criterion focuses on the attention to detail, which is crucial in creating a fully functional waterproof jacket. Now, as far as attention to detail, we want to share with our audience the different aspects to consider when selecting a rain jacket.
Seam-Sealed
A seam-sealed and fully waterproof design will have waterproof seams in areas where water may pass through. For instance, many waterproof rain jackets will have covered zippers that are designed to block out water. With that, many areas of the jacket will happen to be fully seam sealed and designed for waterproofing.
Pockets
As far as the next attention to detail design, the pockets of a rain jacket are crucial to the overall design. Individuals want to be able to protect their items safely from the rain. Therefore, many pockets are also designed to offer water-resistance or waterproofing benefits such as zipper-sealed or happen to be on the inside of the jacket.
Features
The Hood
Another aspect of attention to detail is whether the product has a hood or not. For instance, the hood will determine the overall water resistance and proofing of the product. Many hoods tend to be made to be adjustable, removable, or designed of the same material texture as the jacket to ensure water-protection for the user.
Zippers
Many zippers in rain jackets will not only be seam-sealed and covered but will also be rust-resistance and coated with the best materials to ensure that if they do get wet, they do not rust easily. With that in mind, many pockets will also have zippers as well to ensure maximum coverage and water resistance.
Value
When selecting a golf rain jacket, it is important to consider that you are buying a quality piece of craftsmanship that has a higher durable rating than most garments because of the design. With that in mind, individuals tend to be surprised at the costly price of a rain jacket. However, this price is standard for the value. With that, individuals can expect the value to be well worth the price and the jacket to last years to come. When selecting a rain jacket for you, consider the price and the full benefits of the product as far as design, style, attention to detail, and more.
With this in mind, we hope our criteria has shed a bit of insight as to how to select the best rain jacket for you. Now, we want to answer some of the most frequently asked questions when it comes to this topic.
Subscribe to our Newsletter