10 Best Golf Sports Memorabilia & Collectibles
In a
Hurry? Editors choice:
Test Winner: Rory McIlroy Autographed FootJoy Shoes

Have you ever wondered what all the fuss is about something signed by a famous golfer? Do you know anyone who eagerly collects various pieces of equipment such as
ball markers,
balls or pin flags just to satisfy their thirst of having them all completed year after year? And, if you thought that it is just a waste of time, after reading this article you'll find out how wrong you've been all this time!
Collectors know perfectly well what they are doing since, in the long run, their passion often turns out to be a financially rewarding one. This is particularly true for those items that have been signed by a well-known name from the world of celebrities.
Golf memorabilia and golf collectibles for many are not just any ordinary items, they stand as symbols of significant importance and we recommend the following.
Standout Picks
Criteria Used for Evaluation
Features
Specific features make the merchandise more attractive to buyers.
It isn't an easy job to make a selection of the best ten memorabilia and collectibles since as much as it is a matter of real value, that much is a matter of sentimental significance and personal preference of the buyer. Therefore, we tended to take into account several factors that constitute this criterion, such as whether the item is memorabilia or collectible, whether the item has been signed by a prominent golfer, whether the product has been authenticated by an official institution and whether the product is a rarity or there are many of them. As it is always the case, the value of memorabilia is higher than the one of the collectibles and consequently, these items are among the best ones. The best product on our list is signed by a golfer who is considered among the best, comes with a Certificate of Authenticity and the product is of high value.
Model
The most difficult to find models are the most attractive to collectors.
The model of the product you buy is also significant and many collectors tend to purchase items which are considered rarity or difficult to be found. However, it is also attractive to create a collection of items that represent a certain event, championship, or item that was personally signed by a popular golfer. We chose different types of models such as a cap, a T-shirt, photos representing a significant moment in the life of the golfers or the history of golf, an iron, a map, etc. We made the list as varied as possible so that we can appeal to as many collectors as possible and meet everyone's needs.
Durability
The more durable the items are and the better preserved the autograph is, the higher the value they have.
People usually collect items of significance because they feel a personal attachment to the item or to what it represents. Some collect them in hope that after some time these items could have a much higher value compared to the price they paid to get them. Either way, these objects need to be very durable to stand against the ravages of time or to be adequately protected. That especially accounts for signatures which can be easily erased if they aren't properly taken care of.
Value
Autographs and Certificates of Authenticity drastically increase the value of golf memorabilia & collectibles.
When we talk about the value of these items several aspects are taken into account. First of all, the value of the product itself plays a role, even though it is insignificant and often neglected. The second thing that is considered and which greatly increases the worth of the merchandise is the presence of a well-known golfer's signature. That changes things and over time it might increase the value of the product. But the presence of an autograph doesn't mean anything if that is not a proven authentic signature. Don't get us wrong, replicated ones are ok, but more value holds those that feature a genuine autograph. And here we get to the key factor, the Certificate of Authenticity and which company is providing it. Usually, certificates coming from the nationally recognized companies that are renowned for being thorough and standardized are much more appreciated and valued.
Bottom Line
This criterion is actually a summary of all previous features providing the overall significance of these products. It also includes the value of the items themselves and the price they feature. So the scoring that you can see next to these items regarding this criterion is actually the average of the previous criteria, plus the expert opinion if the product is as worth as it is being sold.
Top 10 Picks
1

. Jack Nicklaus Autographed 1 Iron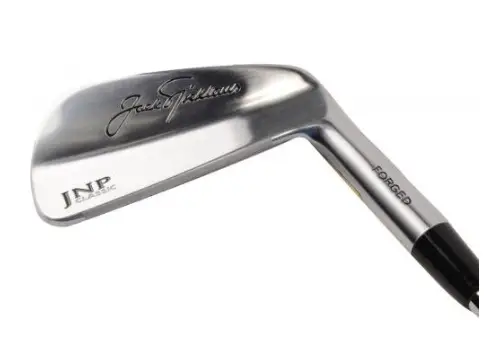 Many would agree that perfect golf memorabilia for a dedicated golfer would be a golf club that has been signed by a prominent, world-known golfer. As a matter of fact, obtaining an iron that has been signed by Jack Nicklaus means that you don't only have a piece of history in your possession but you've purchased a rarity that a few golfers can boast about. Plus, it is memorabilia that has timeless value and precious significance.
Read more
Features
This is JNP classic 1 iron that has been personally signed by Jack Nicklaus. The signature is engraved on the club's head, while his personal autograph stands on the club's face. The grip features his surname as well as the shaft. This is a high-quality iron in a perfect state and looks new.
Features
This iron club is being sold by Golf Sports Memorabilia and it is authenticated by Fantastic Authentic as 100% genuine product and plus it is backed by a guarantee provided by the seller. The club comes with an individually numbered and tamper-evident hologram that is issued by Fantastic Authentic and this hologram can be reviewed online. This way, the buyers get a guarantee that the product is authentic and the possibility of fraud is reduced. This club has officially been rated with excellent grading.
Cost and Value
This piece of equipment is a dream come true for many golf memorabilia collectors and it is considered to be of high value. The price itself tells a lot, but not everyone can boast about having a club that has been personally signed by one of the greatest legends in the world of golf.

2

. Rory McIlroy Autographed FootJoy Shoes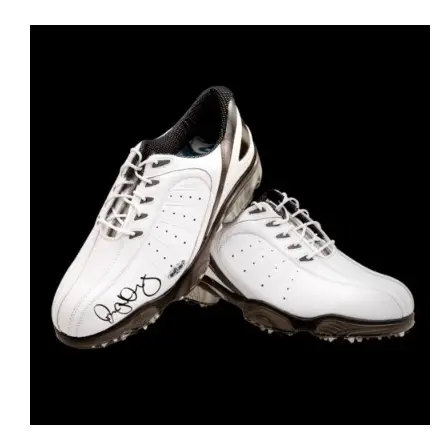 When we talk about impressive golfers and impressive achievements, we hold a special place for the Northern Irish golf prodigy Roy McIlroy who was able, in just a very short period of time, to win the European Amateur in 2006 and top to the World Amateur Golf Ratings at the age of 18 to winning his second major championship at the age 23. With that, he joined the elite group of Tiger Woods and Jack Nicklaus as being the only ones who were able to win six PGA Tournaments by the age of 23. In the Official World Golf Ranking, he was world number one for 95 weeks.
Read more
Features
Everyone who is even slightly into golf knows that right now the Swoosh logo is the symbol of his shoes and apparel, however, his previous sponsor was FootJoy and these stand as a symbol of that time. The left shoe of this white leather pair has been autographed personally by McIlroy with a black paint pen. The future owner would have a real treasure in his/her collection, as these are high-quality FootJoy golf shoes, intact and in an excellent state.
Authenticity
As he was labeled the most exciting young player and the most marketable one, his legacy rose and become very interesting for the collectors, or shall we say, the signed items attracted their interest. Anyway, he used to wear FootJoy shoes in every tournament, so these represent one piece of history related to him. The shoe was signed by Rory McIlroy personally and it has been authenticated by Upper Deck in 5 step authentication process. It has Mint grading, meaning they are flawless.
Cost and Value
Even though Rory McIlroy is a young player, his legacy is huge and owning these shoes would mean one more addition to someone's collection. So, despite being priced high, collectors know that the shoes might achieve much higher value than they currently have.

3

. Tiger Woods Autographed Nike Polo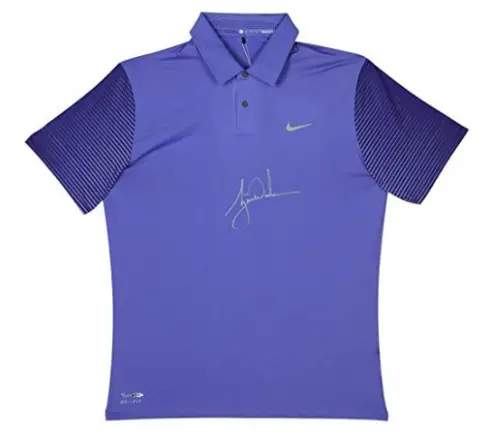 Ever since Tiger Woods won his tournament in 1997, he's been ruling the course, setting new rules and boldly crossing the boundaries and the obstacles. Among all the golfers he is probably the most celebrated and there's almost no person that hasn't heard about him. For more than 20 years he has been a role model form many golfers and an influencer around the world. Therefore, it shouldn't take you by surprise the fact that everything he signs becomes more than 100 times more valuable and of high demand, such as this Polo shirt.
Read more
Features
This is a stylish looking purple haze Nike Polo shirt with striped sleeves. It has been signed by Tiger Woods personally and his signature can be seen in the central part of the shirt which enhances its uniqueness. What's even more attractive about this is the fact that it is limited to only 25, which increases its value.
Authenticity
The most significant feature regarding any memorabilia is its authenticity and if the item has a certificate that proves that it is genuine merchandise that lives up to the description. The company Cardboard Legends Online offers a full seal and a certificate of authenticity, inspected and signed by Upper Deck (UPD). The grading it was given is Near Mint/Mint, which means that its condition is free from any flaws and that the item has minimal to no wear from handling it.
Cost and Value
There's no doubt that this is an expensive product, however, the owners of collectibles are aware that its price might rise much higher, especially with the last victory Tiger Woods had. His reign and dominance in the world of golf, open new doors of possibilities for collectors and as a result, the items with his autograph feature a high price.

4

. Bubba Watson Authograph Signed on Titleist Golf Ball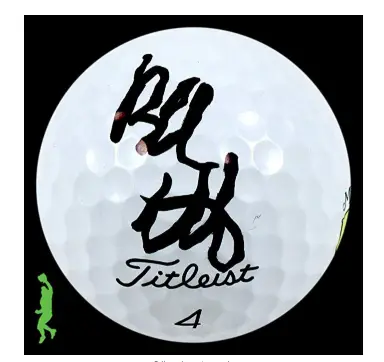 This is one more attractive memorabilia signed by the great Bubba Watson, for his fans around the world. Signed on a Titleist golf ball, this will be a great addition to your collection. The ball was signed during the V1 Masters after the game had finished by Bubba Watson personally.
Read more
Features
It is a Titleist golf ball which on one side it features the name of the brand Titleist, the other side has the map and the logo of the Masters and the other side has Bubba Watson's personal autograph.
Authenticity
This ball is sold by Sports Memorabilia but it has been authenticated by Beckett Authentication Service and has been certified as authentic and genuine. So, with the purchase of the ball, you get the Certification and you can verify the authentication on the company's web site by utilizing the certification number. Beckett is also responsible for its grading and they rated it with excellent grading.
Cost and Value
For the collectors out there, this is not an ordinary golf ball, but it is a piece of history, it is part of their collection and the value it has is not based on the value of the ball of course, but on the autograph and the certification.

5

. Tiger Woods Autographed Orange Nike Hat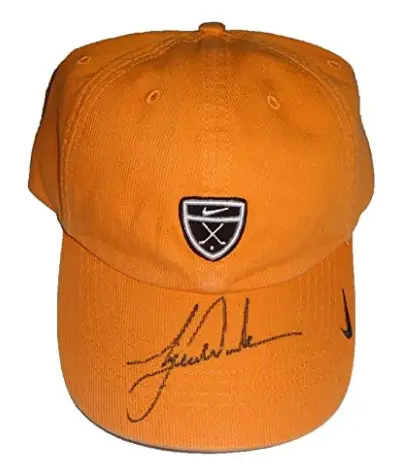 After rising from the ashes and winning the Augusta Masters a few days ago, Tiger Woods confirmed his undisputable reign on the course. This victory after his recovery brought him the title best among the golfers and increased his value. As this happened all collectors rubbed their hands in anticipation of the increased value of their golf-related items that are signed with the handwriting of Tiger Woods himself. This hat is one example of such highly valued that you can purchase for your precious collection.
Read more
Features
Tiger Woods has never been closer to you. This authentic Nike hat signed by him personally will be a precious gem in your collection. It is w/proof and signed during the US PGA Championship. The golf hat was obtained in person and it was signed with a black sharpie.
Authencity
This Nike hat is a brand new model which is a property of and sold by Authentic Memorabilia. Together with the purchase of the hat, you will get a Certificate of Authenticity with a proprietary design of the seller and a picture of Tiger Woods signing the picture without the yellow bars across it. This hat has been obtained in person and the picture testifies it.
Cost and Value
There are different reasons why people invest money in memorabilia. Some consider them to be a personal achievement of interest and love showing their collection to their family and friends. Others see them as a chance of future gain and are willing to risk their money in hope that their investment might pay off. Regardless of the reason, this hat is considered to be very valuable and it features a very high price.

6

. Arnold Palmer Last British Open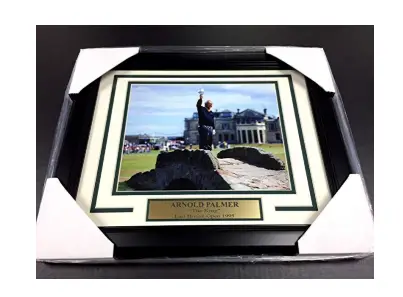 Great names deserve great memory as appreciation for the immense heritage that they have left to the world. If you don't remember seeing him personally on the golf course, you must have heard a lot about one of the greatest and the most charismatic golf players, Arnold Palmer. However, if you are a collector who understands the value of specific moments in history, then you surely understand the significance of this photo.
Read more
Features
In the summer of 1995, Arnold Palmer had his last shot during the British Open Championship. As the tradition has it, after he had squared the ball, he walked through the famous Swilcan Bridge to wave goodbye to his fans, holding the white visor as if trying to say "I surrender". That moment of emotional outburst was captured in the photo that hangs on many collectors walls. It is a wooden frame with the matted photo. Just under the photo, there's an engraved plate with the name of Arnold Palmer, his nickname "The King" and the place where this photo was taken.
Authenticity
Even though this moment occurred at the offset of the last century, you can find videos on YouTube that show the great farewell. As this is the replica of the original moment you might find the quality of the photo lower compared with the present days' extra detailed images. The photo comes with an autograph and the authenticity is confirmed by the seller of the photo, i.e., Baseball Card Outlet.
Cost and Value
Collecting various items can be a tricky thing since it requires time, energy, finances, and risk. For many people these items aren't just things, they are objects that tell a story. So, in order to enrich the number of stories told on your wall, get this photo. It is hard for items like this to say if they are cheap or expensive, especially if the emotional segment is included, so we'll just say that isn't as high priced as some other items of this kind.

7

. Tiger Wood's 2019 Masters Tournament Celebration Photo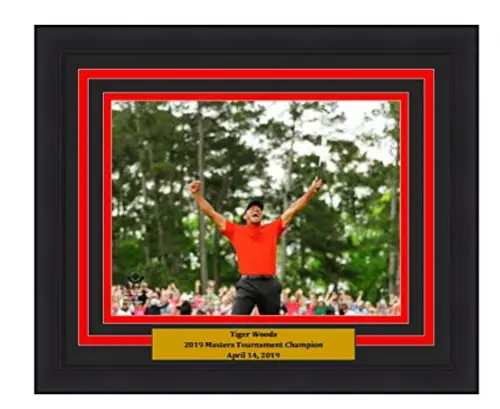 As the world was intensively watching his last putting stroke and the ball rolling into the hole, Tiger Wood rewrote the history by managing to win another Masters with a gap of 14 years. That moment of the final putt and the instant cheering of the crowd was intensely emotional and gave goosebumps to many spectators all over the world. There's no doubt that his legacy is huge and that he's the most cherished and valued golfer. Therefore, we also think that photos that capture a significant moment of Tiger Wood's life are, and will be, of great value too.
Read more
Features
Pictures tell a thousand words, and this photo is real proof of that. You don't have to have any previous knowledge of who the person is, what the achievement was, just look at it and you realize that it is a celebration of a victory. It is a powerful image that stands as a symbol of victory, persistence, and willingness to overcome every obstacle. The picture comes professionally framed and matted and under the photo, there's a commemorative nameplate of the event and the player.
Authenticity
Having a photo of Tiger Woods winning his Masters after a gap of 14 years is encouragement and motivation that will persist for years. The authenticity of the photo is provided by the seller, Dynasty Sports. They also graded it with Mint grade rating, claiming that it is a brand new, spotless photo. It is an officially licensed product, but unfortunately, it hasn't been signed.
Cost and Value
Even though this is the most recent picture, many collectible experts estimate that it would have a higher price after some time. The red frames within the frames are a perfect match with his Polo shirt, and it can find its place in many golf clubs as an inspiration for young golfers or in any home for its golf-themed wall. The price from the present perspective is high, however, it might be valued much higher in the future.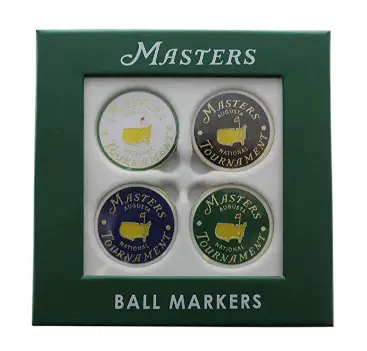 Golf enthusiasts will never stay indifferent to these ball markers made to stand as a remembrance of the Masters Augusta National Tournament. If you are into collectibles which mark a certain game, tournament or an associate them with a famous golfer, this one should definitely find its place into your collection of items. You never know, one day you might get lucky and their value will be much higher.
Read more
Features
This is an official Masters merchandise that comes from Masters Pro Shop. The package includes four different colored and engraved ball markers which commemorate the tournament that took place in 2018. The four of them feature the same engravement, the symbol of the Masters, just the background color is different, i.e., you get blue, denim, white and green. It is a very popular product and it is in demand.
Authorization details
This product has been austenitized by Golf Majors Merchandise and it is rated GM (Gem Mint). This rating has been given to products that have been opened but never used and when they are in their perfect state. They aren't autographed and have been manufactured for 2018 tournament.
Cost and Value
These ball markers are the symbol of every tournament and they are top seller due to their timeless design and quality. These are items that can withstand the ravages of time and they might have much higher value after many years. Priced as they are, they feature a good value for the money.

9

. Jack Nicklaus Signed Photo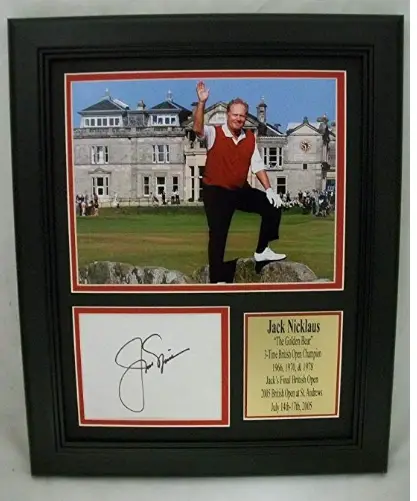 Golf enthusiasts know what's worth having, and in case you've missed the photo of Jack Nicklaus of his last British Open in 2005, here's your chance to endorse your golf themed room. He was called the best player of all times and his legacy is valuable. In 2005 in the well-known court of St. Andrews, he had his last shots as that was his farewell to his fans. Just after he delivered his last drive, he walked onto the bridge to wave the cheering crowd goodbye, when this photo was taken.
Read more
Features
This photo has a huge sentimental value and it captures the moment of closing the last page of the book that represented the professional life of the most renown golfer of all time. It's not just an ordinary picture, that's a moment of the history that has marked the end of the era called Jack Nicklaus. That moment is captured in this photo frame that comes with his photo, a reprint of his signature and information about the event.
Authenticity
This photo frame is sold by Sports Memorabilia, but the authenticity is provided by Fantastic Authentic, which confirms that the product is rated as excellent and that it is a genuine item. As you can see, it comes signed and the seller will provide you with an additional guarantee of authenticity.
Cost and Value
According to many collectors, this historical moment captivates the notion that everything has an end and this picture remind stands as a reminder of that. On the other hand, it is a photo of inspiration and success, a photo that has the capacity to motivate many young golfers to achieve their dreams. The price is high, but if you appreciate the value of this moment, the price will be of the least importance.

10

. Signed Course Map by Lee Wybranski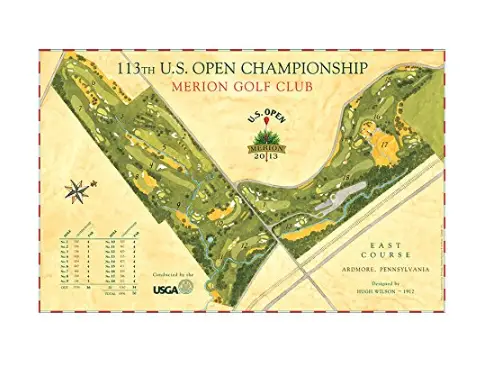 I don't think there's a golfer who hasn't come across the name of Lee Wibranski, the great artist who's been faithfully representing the major golf events, championships, and organizations on the finest venues for more than 20 years. His work mixes the traditional aesthetic which is inspired by the fundamental principles of the great artists of the past. Much appreciated and highly valued as an artist, his work is estimated to be worth hundreds of thousands of dollars.
Read more
Features
This is a map of the famous U.S Open Course of 2013 and represents Merion Golf Club-East Course. It is the site where many famous golf moments took place and where many famous golf players took part, from Jones to Hogan. This map was designed by Hugh Wilson and it has the signature of Lea Wybranski. Buyers say that this poster looks great in a frame and it can be a great addition to a golf-themed wall.
Authentication
This map poster comes in three different sizes, like a mini poster, regular poster and a large one, and all of them come as digital prints, signed by both Lee Wybranski and Justin Rose. The posters are sold by Lee Wybranski Art & Design and the authenticity is provided by the seller too. It has Mint grading and it was made in 2013.
Cost and Value
Golf collectors are always thrilled by the idea of having a piece of an important part of historical moments. It marks one cycle, a championship that brought new players, new talents, new victories. The price depends on the size you'd like to order and is a good value for the money.

Subscribe to our Newsletter