10 Best Slow Swing Speed Golf Balls
In a
Hurry? Editors choice: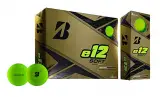 Test Winner: Bridgestone e12

Sports are good to relax, and so is golf. Many players will never make it to a tournament for the simple reason that it is not their goal anyway. But they will still continue to play at least during weekends to relax and enjoy the game.
Having slow swing speed shouldn't discourage anyone, it is an
impetus for improvement
and with the right clubs and the right balls, you can add some more yardages to your shots. Well, golf balls manufacturers seem to be even more aware of this fact, and, as a result, they have developed technologies to produce the right ball for every kind of player's needs. Consequently, the market abounds with golf balls for slow swing players.
The following ten products are considered to be the best golf balls for slow swing speed players who need more distance, straighter trajectories, and distance.
Standout Picks
Criteria Used for Evaluation
Speed
This criterion refers to the speed of the ball after the impact. It is generally known that the speed can be compromised by a bad or slow impact, so it can influence the distance the ball flies. And the low of the physics claims that the key to longer distances integrates the power of the impact, the angle of attack, the moment of inertia and the design of the ball.
When discussing the speed of a golf ball, we must say that the core is the part which determines the speed. So, most of the models we have reviewed here feature a high-energy core, which functions as an engine of the golf balls for slow swing speeds. The transfer of energy from the clubhead to the ball affects its trajectory and if the ball features low-compression core, it flies longer and in accordance with the design of the ball, the layers, the aerodynamic head, and the dimple-pattern some balls achieve explosive distance. We have seen that most of the models reviewed have low compression cores, which work well for slow swing speed players. The core design and featured materials vary, although most manufacturers tend to make them softer. So, the score that these models have, presents the potential of each ball to achieve more speed.
Versatility
Many golfers get easily disappointed from their performance, many are insecure in their skills and abilities, many have higher expectations, and end up dissatisfied. But it is not always up to your own abilities that define your score. To some extent, the equipment plays a role too, and the balls are no exception here. So when you are considering a model, always be aware of the versatility of the model and if it is playable in a short and a long game. And in line with this, we selected the slow swing speed golf balls models which are as versatile as possible and as effective and playable as you would expect them to be. Such models received the highest rating.
Features
The performance of the reviewed models tends to vary, although they are all suitable for more or less the same type of players. Most of them are distance oriented and their features integrate the ability to fly the ball further without a powerful force needed in usual circumstances. Depending on manufacturers' technology and the number of dimples and design of the outer cover, the balls are aerodynamic, giving a penetrating flight for better speed (and distance). The materials from which these models are made are different and they also influence the overall performance on the course. The core is usually made of rubber, some models feature titanium core and rarely from other material. And speaking of the outer layer, the materials mainly vary between ionomer and urethane. The first one is generally found in the cheaper models since it is a less expensive material, while the premium balls usually have urethane cover. So, if the ball is two-piece model chances are that the cover is ionomer, while the three-piece constructions feature urethane cover and Surlyn mantle. Also, the technology used by the manufacturer can be key to the overall playability and performance, since materials well put together create quality golf balls for slow swing speeds. So, for the purposes of this article, we selected those golf ball models that integrate those features necessary for enhancing the speed of the balls.
Effectiveness
This criterion, as usual, can't be measured, as it depends to a high extent on the players' subjective point of view based on personal insight, skills, and experience. However, by carefully analyzing the buyers' comments and consulting experts reviews, we were able to draw a conclusion and represent it in the score next to this criterion.
Value
Golf was considered an expensive sport reserved for wealthy people in the past. Nowadays it has become much more affordable since manufacturers tend to manufacture budget models, so more and more people can engage in the game. Still, when buying your golf equipment you need to be aware on which item you can and should save a few bucks and which one deserves to be paid a higher amount, i.e., when the cheaper version will not do the job for you. For that reason, we have reviewed models that have different price tags, with different qualities, and standards. Keep in mind that what makes the prices go up, is almost always the selection of materials and the utilized technologies, which deliver special features.
Find the Best Golf Ball for Slow Swing Speed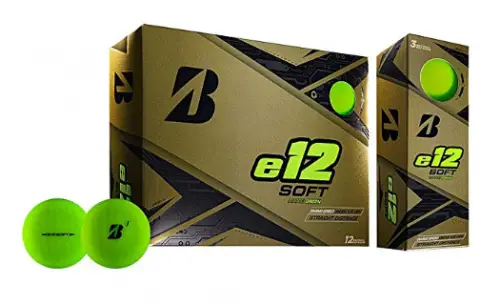 Practice makes perfect and for that reason, we chose this model made by Bridgestone, which is manufactured right for this purpose- practice. And in case you are high- to the mid-handicapper, it is clear that you strive to achieve further distance, but also you should try to keep good control over the ball too. Therefore, this model might be the one that will do the job for you, so see in the review what features it has and how it can help you achieve more distance.
Read more
Features
Bridgestone e12 slow swing speed golf balls feature a three-piece construction, designed to enhance speed. It has an Active Acceleration Mantle, which is composed of a polymer of high performance which has an added surfactant to create improved thrust and high velocity at impact. The surlyn cover features delta dimple design which is Bridgestone's patented dimple pattern, aimed at reducing the ball drag. Its Gradational Compression Core is soft in the middle but gradually becomes firmer to transfer more energy at impact and consequently more speed and distance. Bridgestone has been improving the technology of golf balls for slow swing speed for over a decade, so they have developed more and more advanced technologies to make the game easier players of all levels. They are available in a matte finish in white, green, red and yellow.
Performance
Created for straight distance and reduced spin. The special patented Bridgestone dimple design contributes to reduced drag, in order to optimize flight. And this is the layer that actually allowed Bridgestone to improve core softness while making it more forgiving and decreasing the spin. The 12 in the name of the product stands for the twelve years the company spent on swing data to come up with a perfect design for golfers who need a soft feel, long ball. The surlyn coating makes the ball soft, and also this layer gives a higher initial velocity and increased thrust with ultimately improving distance.
Cost and Value
The impeccable performance of this model, the design that puts more stress on achieving long distance and the relatively soft feel, all these features make them perfect for golfers with slow swing speed. They are an excellent value for the money as their price tag is within the average range.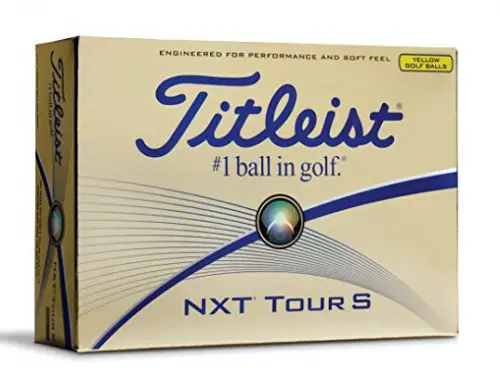 There are different types of golfers with slow swing speed, from beginners to better players, depending on the category they belong to. So, Titleist NXT Tour S Prior Generation is an innovation coming from Titleist to address issues with the swing speed and to enhance distance. These golf balls for slow swing speeds are also designed to decrease driver and mid-iron spin because that is what deteriorates the distance. So, basically this producer has designed a ball which goes straight off the tee but at the same time, it behaves superbly on the greens. Even if you are not very good at achieving ball control, this one would be good for you to play with.
Read more
Features
These Titleist balls feature the proprietary softness and compression, having a highly resilient core which is actually a reformulated, softer compression one. The dual-core, whose center is larger by 66 %, releases greater energy which results in more distance. These slow swing speed golf balls have an NXT Tour soft Fusablend cover which features 302 octahedral dimples, and they are spherically tiled. This dimple design, and the placement of dimples actually, is made to maximize distance. It also provides consistency of ball during flight, regardless of weather conditions, making them very playable. Overall, the design of these slow swing speed golf balls from the core to cover is made to produce a really soft compression, so ultimately they provide a remarkably soft feel.
Performance
While searching for golf balls for slow swing speed, we couldn't skip this Titleist model since NXT Tour S Prior Generation is simply a blend of distance and playability. They are particularly suitable for golfers who are struggling with speed. Titleist NXT Tour S Prior Generation provides soft feel on every single shot, just like the manufacturer itself advertises them- designed for a soft feel and a stable, piercing ball flight. They also have a low driver spin, but high spin and stopping power when it comes to the long game.
Cost and Value
We must confess these golf balls for slow swing speeds are a bit pricey for the range, but they are better quality than many of the same range. And we have even come to testing results which in some segments showed overall better feel and better performance than some more pro-oriented ones. So they are definitely worth buying and trying, although ultimately it is up to you if you would repurchase.

3

. TaylorMade Rocketballz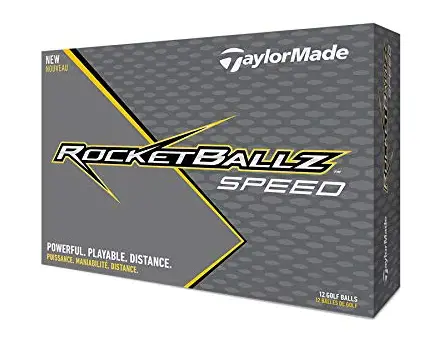 Most of the models reviewed so far were mainly distance oriented. This one is also in favor of distance, but also has another important main feature, it is made to bring together distance and performance and it is made for average golfers who need distance booster. TaylorMade is one of the most influential companies when it comes to golf balls and this model is one more addition to their wide array. Read below the features of Rocketballz to see if this is the model that will suit your needs.
Read more
Features
TaylorMade Rocketballz reactive cover is made from soft ionomer, with a compression of 82 (mid- compression) and extreme energy accumulation. The 360-dimple pattern reduces the drag and makes the ball fly much further. This golf ball for slow swing speed was originally introduced in 2012, but up until now it has undergone an increased number of changes and the final outcome is a super fastball.
Performance
The TaylorMade Rocketballz is made for distance and playability. Its ionomer cover is very soft while its reactive high energy core is designed to provide a maximum distance off the tee. These golf balls for slow swing speeds have a really stable and steady flight trajectory, so fewer slices and hooks are expected. Their distance score is 8.2/10 actually, which is awesome for inexperienced players, and its straight flight is perhaps one of its best features, needed by most golfers who are newbies to the game.
Cost and value
First of all, you get a name-brand, which might for most of you feel like you have invested in a quality which will improve your game. And, to be honest, you are not far from the truth. These TaylorMade Rocketballz are designed specifically for high to mid handicaps, who are willing to achieve improved results on the course. Plus, for TaylorMade model, these are on the lower end and taken overall, they are worth the money if you truly want to see a distance improvement. If you're looking for the best golf balls for slow swing speeds, this is a really good choice.



Are you a player looking for distance (no matter how (in)experienced you are? If yes, we'd like to introduce one of Callaway's best balls for maximum distance. It is designed with a very low compression core, so it flies far and high and that is exactly what a golfer with a low swing spin needs. Callaway is one of the most favorite brands on the market due to the high-quality materials they are using and the proprietary technologies that they have developed. This model has been one of the most successful, so read below to find out more.
Read more
Features
Callaway Superhot feature their proprietary core chemistry to achieve a great result with the combination of soft feel and great distance with high impact energy. They also feature their proprietary Hex aerodynamics for higher flights and longer carry to achieve increased distance. This is a three piece golf ball for slow swing speed with a low core compression which delivers a very soft feel. The surface is made from ionomer with company's hexagonal pattern of dimples, which greatly reduce drag. We must notice that Callaway features some of the most advanced technologies among producers of the same range of products.
Performance
This new cover is made to reduce driver spin, slices, and hooks, but at the same time, it gives good spin and control on short shots, without compromising the feel. Most players who have already played with these golf balls for slow swing speeds say they are perfect for distance seekers, and it's no wonder since the overall design and mix of materials and technologies go in that direction- maximized distance.
Cost and Value
It is a common belief that if you want an improved distance and unsurpassed performance when it comes to soft feel models, Callaway will provide you with uncompromised distance and optimal performance. The price reflects the technology and the quality of the slow swing speed golf balls, so they are not the most expensive, but not the cheapest either.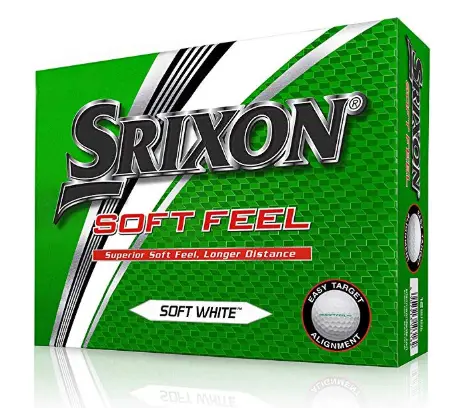 This is one of those models that made Srixon popular among high and mid-handicappers and which has enabled them to get a few yards more distance off the tee. The fact that this model integrates the word 'soft feel' in the name, it tells you a lot about what to expect from them. The low compression core accumulates a lot of energy which, when released helps you get more distance. The company says that they perform better than Titleist, so read below to find out more.
Read more
Features
Srixon Soft Feel features Energetic Gradient Growth which is designed to generate maximized initial velocity for a maximized distance, featuring a compression of 60. It has a two-piece construction consisting of ionomer cover, manufactured to be cut-proof, and therefore very durable, enabling ultimate playability. Its high-quality cover enables you to play in various weather conditions as well. Its 338-dimple design reduces the drag and enhances the aerodynamic features. We have to note that the cover of this Srixon ball for slow swing speed is thinner than the previous 2016 model, in order to generate more spin on chips and pitches.
Performance
The highly energetic core is designed to provide an optimal flight trajectory and thus achieve a tour like distance. This means it is aimed to provide an improved launch while decreasing drag in order to reach better aerodynamics and ultimately more distance, although you need to have in mind that the softer it feels, the loss of distance tends to increase. For this reason, the Srixon soft feel is highly recommended for players who have slower swing speed (at least below 100 mph), as those who achieve faster swing speeds need a bit harder ball which does not compress that much.
Cost and value
First and utmost, you receive a high-quality golf ball for slow swing speed for an excellent performance. At least, if your goal for the game is in line with the purpose of the product's determined by the producer- you have the best buy here. We must note that these are a good value for the money and we highly recommend them due to the excellent features they have for high –handicappers.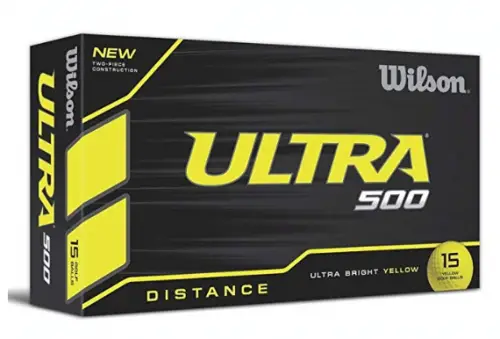 If you are a high-handicapper with inconsistent and slow swing speed, then Wilson might have the ball you need. Well, we'd better say that will provide you with everything you need as their array of products is more than impressive. This is one of the most featured models that Wilson has made and it is excellent for high- handicappers who are seeking more distance off the tee. The dual-piece construction and the long flight are the greatest features this golf ball for slow swing speed boasts about, however, read more to find out more.
Read more
Features
This is a two-piece ball, featuring a high energy core and a durable cover. Its titanium core with a compression rating of 100 delivers explosive speed and maximum distance. The ionomer cover is extremely durable and cut-proof with a 432-dimple design which brings maximum aerodynamic properties.
Performance
It is designed to deliver maximum durability and a maximum distance when playing. Its quality allows this ball to be playable on different conditions. Wilson has designed this product to be suitable for high and mid-handicappers, to give them the opportunity to hit for distance instead of focusing on the spin. If you are inexperienced, it is natural to improve your game step by step, and using appropriate balls for every stage of your game advancement. The featured dimple design of this low swing speed golf ball is made to reduce drag during ball flight. Also, this is a low spin long ball, which means it might be a bit difficult to control on the greens, but again, we are looking for speed and distance-enhancing balls, which makes this model an excellent choice.
Cost and value
You can trust Wilson for the quality, and before we talk about the price let us reflect the features. This a playable, soft and slow swing speed golf ball, making it an excellent selection for the current topic. Plus, it is extremely affordable, so, play it or lose it during the game- these golf balls for slow swing speeds are definitely worth it.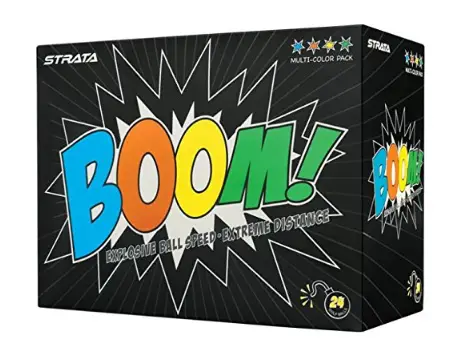 Callaway is reputed for consistently launching innovative products on the golf market, and these balls are the best within the category they belong to. Strata is the new technology-based model designed with high-energy core and, as the name implies, the balls produce explosive shots and great distance. The name and the cover of the package tell everything, don't they?
Read more
Features
They come as one-of-a-kind on the market, completely innovative and inspiring (at least if you focus on the package design). They feature an explosive core made with the new Strata technology- a high energy core which makes all the difference. These golf balls for slow swing speeds are multi-layered, having a thin cover of Teflon, making the surface sleek with a good greenside spin. And this Teflon cover is indeed durable one. They are not very soft, but this is what makes them controllable on the short game. The materials are highly durable, to enable you to use these golf balls for slow swing speeds for many swings until you eventually lose them.
Performance
These slow swing speed golf balls are created to be durable and designed to beat the competition by delivering a perfect balance between immense core power and approaching greenside shots with more spin. In the driver and long irons game they reduce the side- spin which is usually created by inexperienced players at impact. They keep the flight trajectory straight through. These are made to give you as much distance as possible, so they can significantly improve your game in that regard.
Cost and Value
Since they come from a producer which often attributes higher price tags (or shall we say highly values its models), these can be considered fairly inexpensive. We think Callaway has done a great job with this product because it is obvious that they have taken into consideration the needs of the first-time golfers, beginners, and weekend players.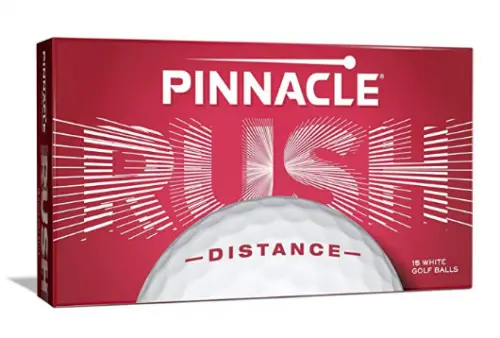 Very soon after starting playing golf you will probably learn some of the features of the balls, and eventually what they mean for your game and performance while you play. However, the first thing that really matters if you are a beginner or a recreation golfer is getting more distance and more control over this golf ball for slow swing speed. Speaking about distance, this Pinnacle golf ball has been one of the most recommended among golfers, and below we provide you with its features.
Read more
Features
Pinnacle Rush features a high energy core, which reacts like an engine of the ball and therefore contributes to achieving faster ball speed for players who struggle to achieve the desired distance. Their ionomer cover combines consistency and a good feel. The surface features an advanced design- icosahedral- with 332 dimples on the cover, which contributes to a powerful flight by minimizing the drag. These are playable on different conditions. You can buy them in white or yellow color shade.
Performance
Pinnacle's model Rush is designed for distance and boosted performance. It basically helps golfers to have a long ball, regardless of their experience or abilities. The ball flight is powerful and consistent, so the iron distance is longer. The feel is soft, thanks to the soft ionomer cover, as well as the quite straight trajectory of a flight tends to keep. The manufacturer states that the core is the engine since it is proprietary and high-energy one, therefore contributing to faster speed, as you hit it with every club.
Cost and Value
Pinnacle Rush are initially designed for golfers who play on a budget but without sacrificing the playability and the good feel. Their price is low, and there are 15 items in the pack, so you will have the opportunity to see some more yardages. Even if you tend to lose your slow swing speed golf balls, these ones are budget-friendly so you won't have the guilty conscience of wasting your money.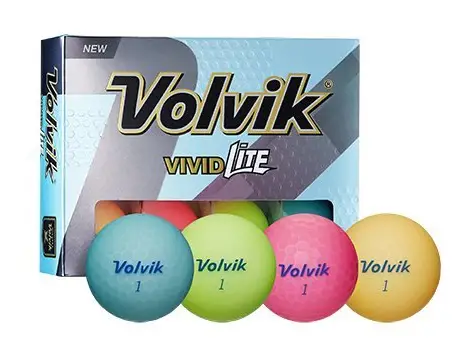 Volvik Vivid Matte golf balls are actually the first best selling golf balls for slow swing speeds with a matte finish. Even if you are new to the game, chances are that you have already come across this model as the company produces an impressive range of color varieties. And the black balls that pop up on the course, the chances are that those are Volvik models. Besides the color variety, this golf ball for slow swing speed has more to boast about, so, read our short review below to see if this product appeals to you.
Read more
Features
Volvik is quite a new Korean manufacturer that has made it on the US market, being there since 2010, and they have many different types of golf balls which are suitable for a range of different players. Volvik Vivid, the model that we are reviewing here, is suitable for beginners. These are 3-piece balls, designed and manufactured with Volvik proprietary technologies. The cover is ionomer, so the surface is softer with 322-dimple pattern design. This also makes it more aerodynamic, providing a longer flight to reach more distance. The bright color and matte finish make it easily visible, so you can basically track its flight. It has a large, low compression core (compression rating 75) for an enhanced soft feel.
Performance
The low compression core, which is large, contributes to achieving a maximum distance on every shot. It has a unique design which doesn't affect the performance, but only adds visibility. The larger core also provides a maximum distance, while reducing driver spin and increasing wedge spin, thus leading to a medium or high, stable and consistent flight. It is constructed to provide a better carry distance and a higher flight of the ball, which is beneficial especially to high- handicap players. Due to their bright colors, some say these are the most visible and easiest to see.
Cost and value
These balls are not in the lowest price range, but there is perhaps a good reason for it. Volvik Vivid are made mostly to boost the entertainment on the course by delivering more distance and less spin. And, according to reviews from users, these are quite long and penetrating golf balls for slow swing speeds.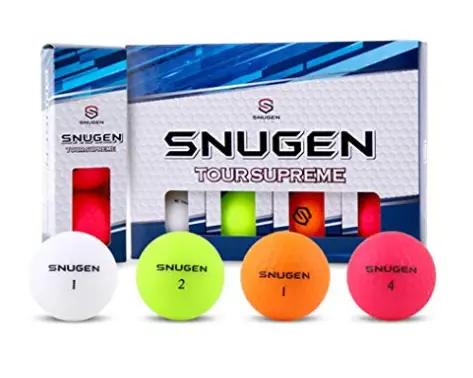 If you are beginner to this game or maybe a recreational golfer who doesn't really want to make great effort but would rather have a good time on the greens, then you might need to pick up some golf balls that would save you bucks, but will still provide you with a satisfying performance during your game. However, improvements never come easy, you need practice, and during practice, you are bound to lose some balls. In order not to feel like you've been throwing away your money (aka balls) in the woods and hazards, we have Snugen TM model which boasts visibility and budget-friendly.
Read more
Features
These golf balls for slow swing speeds are two-piece construction. Their cover is made from ionomer (otherwise known as surlyn), which is known to be a firm material with certain elasticity with a 322-dimple pattern. Its core is polybutadiene rubber, with compression 85-90 or 90-100 (tour ball compression). It comes in a package of twelve in four matte colors available, green, white, orange and rose.
Performance
It is made to achieve distance, which is actually a general characteristic to ionomer covers, and thus minimizes distance loss. This ball gives a soft feel, and you can also hear it by the crisp sound it produces with each swing. Also, its main feature is keeping distance control by the slightly harder core that keeps the ball steady on its trajectory with enough power to fly further.
Cost and value
If you were wondering if you should give them a try, lets quickly summarize their features. The first and utmost is the fact that they are soft and made to deliver distance. Secondly, they come with a low price tag, and thirdly, they have a matte finish to reduce the glare. As you'd probably end up losing half of them in a short period of time, these golf balls for slow swing speeds are a good value for the money.

Subscribe to our Newsletter