Best Golf Ball Display Cases Reviewed & Rated for Quality
In a
Hurry? Editors choice: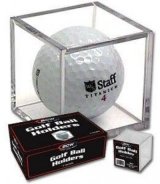 Test Winner: BCW Square

If you have ever golfed before, then you know how good it feels to achieve the goal that you want or be able to play like the professionals. With that said, it takes practice, patience, and dedication to the sport to achieve the results that you want to achieve. But, once you achieve the perfect score, there is a feeling like no other. With that, you always want to remember that feeling and be able to display it.

That's why we made detailed reviews to help you find the best golf ball display case. Scroll down for more!
Standout Picks
Criteria Used for Evaluation
Brand
There are many brands in the industry that tout that their product is the best. Therefore, it is important to weed out the worst and weed in the best. All the brands we have shared are constructing their products from the most notable materials and quality design. Nonetheless, it's important to acknowledge the brand's history, such as if they have a history of creating quality display cases. In fact, many of the brands we have shared have a history in designing display cases for every event, scenario, sport, and more. This is a simple criterion, but very effective in finding out the best brands and products to consider.
Materials
As the next criteria on our list, we want to discuss with our audience the material design. This is an important criterion to consider, especially should you be looking for a specific material. With this, we want to share the most common materials an individual can expect when it comes to a display case.
Wood
Wood is most definitely the most common material of choice. With that, some brands use beach wood and some brands use real wood. However, most brands will actually dye their wood with different color choices to resemble oak, mahogany, cherry, and more. When selecting a wood case, always considering what type of wood it actually is.
Acrylic
All of the cases we have shared are designed with acrylic as the "glass". This design allows for the appearance of glass with the safety that it will not shatter and be highly durable. With that, many of the acrylic cases we have shared are designed to be UV resistant and also designed to be scratch resistant and very easy to clean.
Felt
This is another quality and aesthetically pleasing design factor of a quality case. Many of the cases we have shared are designed with a felt backing or bottom to give off an extremely luxurious feel and design. With that, the felt makes the product look even more genuine and easy to use.
Steel / Stainless Steel / Metal
This is a simple material commonly used in designing products that are placed on walls. Some of the hinges tend to be made of metal or steel while the backing hanging design is made of the same material for durability purposes.
Features
we want to share with our audience, we want to talk about the features and benefits of this product. Our goal is to make it very easy to read and so we will be creating bullet points of the features to consider. These are the many features to consider when selecting a quality display case for the golf course. Here are some questions to ask yourself:
Is the case scratch resistant?
Is the case UV resistant?
Does it come with a lock or is it magnetic?
Does it come with a felt backing?
Can it be both a hanging case and desk case?
Is the case easy to clean?
Is the case polished or matte?
Is the wood real wood?
With that said, we want to share a couple of benefits of having a quality display case.
Value
When picking out a display case, it is important to ask yourself how many golf balls you plan on displaying? From this, you can already weed out a large selection of display cases that are designed for single-ball use. With that in mind, there is a wide variety of sizes to choose from and it is important to consider which is the best size for your specific goal. For instance, some individuals want to only display their best and lucky shot golf balls. While some individuals want to be able to display rare and premium balls. With that, it is important to ask yourself what size you desire. There is a wide variety of sizes ranging from 12 balls to as high as 108 balls. With that, the brand also determines the design and how many balls a case can hold.
Subscribe to our Newsletter