Garmin Vivoactive 3 Music Watch
Almost everyone knows that a difficult job is made a lot easier when you have a great playlist playing. Whether your jogging, swimming or even playing a game of golf solo, a little bit of music can make all the difference. But purchasing a new sports watch is a big investment and you want to be certain your obtaining the right product for you.
The Vivoactive 3 Music is a sports watch with the capacity to hold up to 500 songs, the right amount for making exercise and golfing a little more soulful. Alongside this, the overall design of this piece was specially catered to those of you who may not partake in just one particular sport or mode of exercising.
Garmin created this incredible piece of tech for those of you who want to combine a regular size GPS sports performance watch with an exercise tracker and a heart rate monitor. Thankfully for the latter, you don't need a chest strap to operate it.
The Vivoactive 3 keeps track of your steps, distance, your daily goals which you can personally set, and your calorie intake. It also works as a GPS watch with a wide selection of sports modes for you to choose from. These modes include yoga, swimming, treadmill exercising, cycling, and of course, running.
Not only does this watch monitor your heart throughout the day from your wrist, but it also offers round the clock stress test reporting, providing an insightful look into your stress levels throughout the day.
With its compact design, this watch will sit comfortably on your wrist (13 – 20 cm in circumference). This means it will also suit both men and women alike. It's low profile design also means it is discrete yet incredibly practical.
Its low-key aesthetic helps you transition your look from sports to every day, and even works as the ideal watch for work.
Pin for later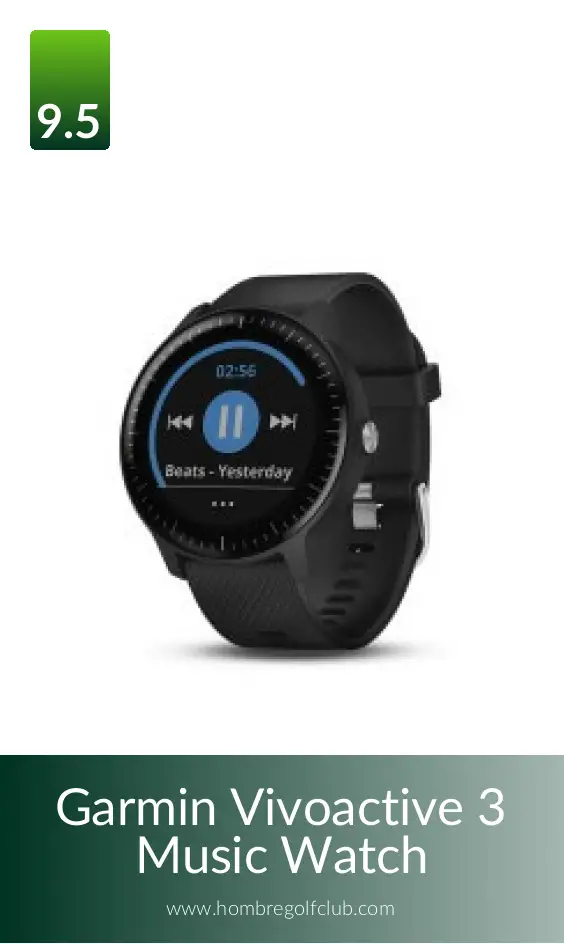 Editor's Pros & Cons
The display is bright, colorful and touch-sensitive, which means you don't have to battle with the screen while occupied with your exercising.
You have access to smartphone functions through your watch, such as live tracking and find my phone.
You're able to download and create your own workouts, which works alongside the many different sport modes.
Because the heart rate monitoring doesn't necessarily require a chest strap, some people may find that it is difficult for the watch to pick up your pulse and accurately monitor it. However, you are able to purchase a chest strap if required to remedy this issue.
Software
In order to navigate this watch, you will need to press a button or alternatively touch the display
screen
. Swiping up or down will scroll through numerous summary screens (like your last activity, heart rate, active minutes and such). All of this allows you to see everything regarding your day and your previous workouts.
If you tap and hold the screen, this allows you to see your battery level, as well as gain access to setting for the watch face, history, stats, and other settings. You can go through the screens by swiping left or right.
The watch's software is very similar to that found on other
Garmin
products. So you won't feel out of your depth when navigating through all of the incredible software features. The Connect IQ store is somewhere you can visit to install data fields and other apps, such as Uber, to personalize the watch to better suit your personal tastes.
The Vivoavtive 3 can be used to monitor your
exercise
activity, and it was designed to work well alongside a wide range of sport modes, such as SUP, indoor and outdoor swimming, hiking and climbing (to name a few).
There's a large number of settings and personalization options for you to play with and utilize for each activity. An example of this is within the
running
app, which can be customized with up to three data screens.
It would be a good idea to spend some time playing and testing the customization features. This way you have a more effective method of knowing what you're doing when the time comes.
Alongside these custom data fields, you can also set control alerts, laps, auto-scroll, and pause. It's quick and simple to use.
If you want to start the run mode, you'll simply need to lift your arms, press the button, tap run and then press the button again once the GPS is connected. If you want to pause the running mode simply press the button once more. When you're finished with your run, press done on the display. This will end your workout in a quick and easy manner.
There's also the choice to pay with Garmin
Pay
on this watch. All you have to do is hold the button, choose the wallet icon and enter your pin. Then simply hold the watch close to the wireless reader in order to pay.
The pin used is your own personal one which you set up when you first activate Garmin Pay.
Design
This watch is a stylish addition to the
Garmin
range. Its discrete and sleek structure means it blends in perfectly with every aspect of your wardrobe.
The watch's band operates on a quick-release system, which means putting it on and taking it off is simple and effective. The silicone
band
is 20 mm wide and sits comfortably against the soft and sensitive parts of your wrist.
The screen can be operated through touch, with only one button available for you. This button can be operated in order to start, pause and stop any sports activities.
The glass screen has also been strengthened, which is very resistant to scratches and damage.
The screen has a resolution of 240x240 pixels. While this is not as compact as smartwatches like Apple or Samsung, it is the current standard for other GPS and activity tracking watches on the market.
The watch is roughly 43 mm in diameter, however, it doesn't look or feel this size when worn, which is in part to its
weightlessness
(weight only 40 grams).
On the back of the watch, you'll see the socket which connects the charger cable and the Garmin Elevate
heart
-rate sensor.
There are also other sensors that work throughout this watch, such as Gyroscope, Barometric altimeter and many more. The list is very extensive and is rather amazing when you consider the price.
Battery Life
You could have the best watch in the world, but let's be honest, if the battery life is poor, most of us wouldn't consider buying it. You need something long-lasting that won't shut itself down when you need it most. But of course, life expectancy can depend on certain factors.
As many of us know, features such as
GPS
and music can often drain your battery, so it's important that your watch is able to adequately perform and last a long time before needing a charge, especially if you're planning on using it for marathons and such.
Thankfully
battery
life is not a pressing issue with the Vivoactive 3. If you're using the watch's full list of features (which are typically known for being battery drainers) such as music, GPS, heart-rate monitoring, you can typically get five to 8
hours
of activity based on one charge. While this may not initially seem to be a huge amount of battery life, it is still incredibly impressive considering this is the battery life of something utilizing a large number of apps and features.
If you're using it for lighter reasons or in your day to day then you can expect the
battery
expectancy to be doubled and far more superior.
Accuracy
The accuracy of the Vivoactive 3 is just what you'd expect from any
Garmin
product. You are able to lock onto your location in a matter of seconds. Sometimes this will be slowed down, however, that is mainly the result of your location and the signal available in that area.
Overall the precision of this watch is good and effective, but some may find that there is a little more than can be desired from this product. But aside from that the distance and time check out reasonably well.
Heart Rate Monitoring
The Vivoactive 3 watch allows you to effectively
monitor
how active you are throughout your day. It gives you a detailed insight into a number of areas such as your stress levels and your heart rate. This helps you understand just how active you have been and if you're on track in terms of activeness.
It discretely takes your heart rate throughout the day, usually doing so every five minutes. If the watch detects an increase in your heart rate, then it is able to get an accurate impression of your activity concentration.
Not only that but it also produces a graph of the last four hours of heart rate, additionally providing a 7-day average resting heart rate graph. This monitors your heart, detecting any symptoms or signs of overtraining or illness.
If you notice you have an elevated resting heart rate for a number of days, then it can be a sign that you are still recovering from an overactive training session or you're coming down with a cold or something similar.
Tracking
This watch is fantastic at tracking your activity over a wide range of different sports.
For example, the Move IQ is an auto event tracker. This brilliant piece of tech recognizes periods of movement which correspond with other familiar exercise patterns. It then tags them as events within your
Garmin
Connect application. However, the activity undertaken has to be over 10 minutes long in order to be classified as a Move IQ event.
The Vivoactive 3 is well renowned for its impeccable tracking features. It's these features that make this watch a top choice when it comes to settling on a new sports watch.
Feedback
Having an insight into your workout and exercise routine can be critical to better understanding the areas in which you need to either improve or ease up. It's also a great way to monitor your recent activity, stress levels, and heart rate. But how effective is the feedback given by this product and the Garmin Connect app?
The feedback given by the Garmin Connect app is impossible to match. The watch's app gives you immediate access to speed, pace, distance and so much more. You'll have access to in-depth graphs, statistics, and reports about your recent exercises and day to day activities like calorie intake and steps taken.
The graphical presentation display key
training
metrics in an easy to read and understand format. Giving you all the important information upfront.
Key Features
Overall the Vivoactive 3 is an excellent sports watch capable of handling your day to day life and exercise routine. With its impressive feedback, use of famous Garmin software and weightless feel, it's a fantastic product.
It also perfectly blends into your golfing wardrobe. It honestly is a must-have essential.
Key Features


Download capacity of up to 500 songs. The watch can also be connected to your wireless headphones via Bluetooth for quick and simple listening.


Garmin Pay allows you to pay for items without having to take out your wallet.


In-depth customization options from apps, exercises and watch faces.


Preloaded sports apps allow you to jump straight into your training.


Battery life of up to 7 days in smartwatch mode, or up to 5 hours in GPS and music mode.


Bottom Line
Generally speaking there is not a lot to criticize the Vivoactive watch for, sparing a few minor issues. It was designed for people who exercise in different manners and take part in different sports, as well as those who want 24/7 tracking and heart rate monitoring.

The added bonus of Garmin Pay is also another handy feature which most will find similar to Apple Pay.

Of course, this watch will not suit everybody, such as people who are hardcore athletes. There are other watches, like the Garmin Forerunner 935 or 735XT which will better suit their needs.
But if you're not an elite athlete than you should highly consider purchasing this sports watch.
Subscribe to our Newsletter