Garmin Forerunner 645 Music, GPS Running Watch
From sports watches to smartwatches, there are so many different options to choose from in the market today. With that being said, before you make that leap and purchase one, you should determine your needs and what you will be using the watch for. This is quite important because, like many of us, we want to make sure our investment lasts a long time as well.
Having so many options to choose from may become very overwhelming, but don't worry, that's why we're here. We have done the footwork for you and discovered that the Garmin Forerunner 645 Music, GPS Running Watch is in very popular demand right now. If you enjoy fitness and working out, you should definitely take this smartwatch into consideration. It is also safe to say that golfers approve of this device. From its advanced GPS technology to its outstanding tracking capabilities, this option by Garmin is a must-have.
Not only is its aesthetics on your wrist very appealing, but it is also very durable and will withstand everyday wear. If you are active and looking for an all in one watch to wear and track all your active movements, this option is a great choice. Users have stated that this watch is simple to use, very convenient, and accurately captures your data. We guarantee that this product by Garmin will not disappoint. Continue reading our extensive review to learn more about this exceptional product.
Pin for later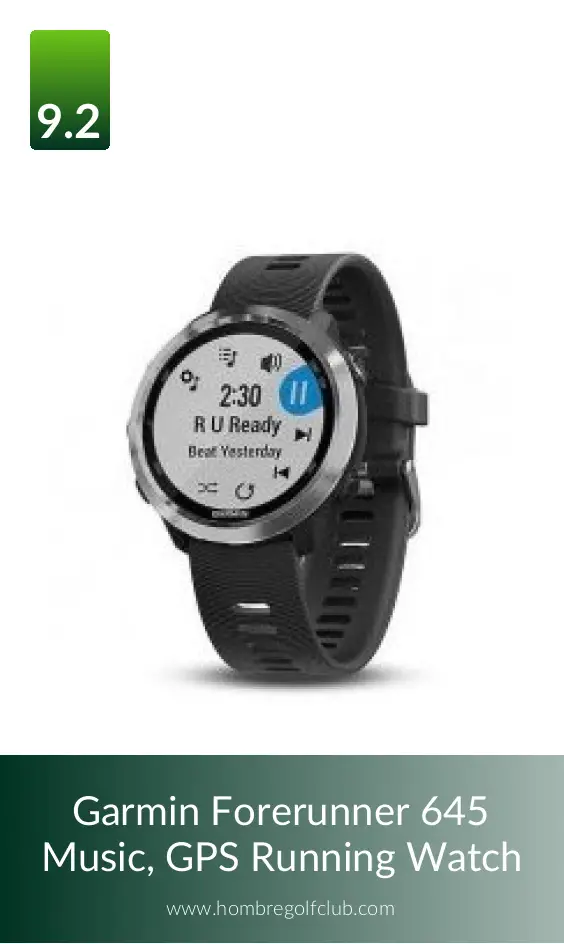 Editor's Pros & Cons
Large 1.2'' color display screen
Built-in Garmin Pay, contactless payment via Bluetooth
Can store up to 500 songs, downloaded from your computer or music streaming service
Premium built-in GPS and sport apps
Indoor and outdoor, multi-sport tracking
Smart tracking and pairing capabilities with your smart mobile device
Accurate metric measurements
Battery life (up to 7 days in watch/activity tracking mode)
Smart technology, notifications, and coaching with Garmin Connect
Smartwatch comes in 5 additional colors and offers different customizable bands
Fully customizable with widgets, apps and face designs via Connect IQ store
The device uses the wrist-based heart rate to connect with training
Made with durable materials to withstand all weather conditions
This product is pricier than others
If you use GPS mode, battery life is only 5 hours
Design and Build
Garmin, known for developing specialized
GPS tracking devices
has incorporated its advanced technology into smartwatches. We were surprised to find how advanced Garmin's
collection
of watches are. Their watches offer a long list of features that make them one of the best brands to buy from.
Garmin knew exactly what they were doing when they designed this one. Even though this option is favored heavily by runners, it is a wonderful option if you prefer
walking
and working out as well. From our research, we found that this product features a very user-friendly interface with 5 buttons. With the 5 button design, Garmin allows users to easily remember how to operate different settings and modes.
The design of this option is very trendy, especially with its 1.2'' color display. Speaking of the display, we'd like to mention the quality of the screen. We found that Garmin used a chemically strengthened glass which is made for everyday use and can be worn in all types of weather. Another feature we found that users loved was, even in
direct sunlight
, whether you are at the beach or in the mountains, there was absolutely no glare and it was very easy to read. For this, Garmin uses its Chroma Display technology to make this happen. We find it amazing how Garmin can create such a sleek and small product with so many features.
As a fitness watch, we discovered that users also seek options that are water-resistant. With this option by Garmin, you will have the peace of mind knowing that it can get wet. Whether you are showering, swimming, or got caught in the rain, you are safe to use this smartwatch. We believe that this is an important feature because are surrounded by water and sweat, so if the materials used for the smartwatch is not water-resistant it will fall apart quicker. We can all agree that, if we are investing our money into a smartwatch, we want it to be durable and last.
Lastly, we'd like to share that, with this product by Garmin, you can also add your own little touches. Garmin offers this smartwatch in 5 additional colors and has an array of different colored bands to match your mood or outfit for the day. And the best part of it all is, switching out the bands are easy, tool-free, and painless. As a rule of thumb, we always recommend doing a test fit of the watch on your wrist to make sure it fits properly.
Battery Life Span
Surprisingly, when using Smartwatch Mode, this option by Garmin can last up to 7 days before needing a charge. Compared to other options on the market, being able to hold a charge for this long is considered pretty good.
On the other hand, if you choose to use its GPS Mode, you will only get up to 14 hours of battery life. And say you want to listen to
music
too, this will decrease your battery life to up to 5 hours. Even though the battery life in this specific model isn't as long, its additional features make this watch worth checking out.
In conclusion, we all know that the more you use the watch, the more battery it will use. So with that being said, if you are in search of a watch that has GPS capabilities and can store and play music at the same time, we highly recommend this option by Garmin.
Contactless Payment
Do you worry about how you're going to carry your phone and wallet with you while you run or work out? Well, you will not need to worry about this smartwatch. We found that Garmin designed this product which uses radio frequency identification, Garmin Pay, that allows users to make secure purchases by simply tapping their watch to the seller's point of sale reader.

Users indicated that this feature comes in handy more than you think. This is a new feature that we are seeing throughout all different devices. Not only will this keep your phone and wallet safe but you'll be able to solely focus on your workout, handsfree.
Running and Training Mode
Since this smartwatch was designed specifically for runners, we took this feature into consideration. As we mentioned above, compared to other Garmin Forerunner models, you can store up to 500 songs on this watch, giving you a plethora of music to listen to on your next run. For the avid runner, we are pleased to inform you that this option by Garmin is equipped with today's advanced running dynamics. From tracking your ground contact time and cadence to your stride length, balance, and vertical ratio, this smartwatch by Garmin will help you improve your overall performance for your next race.
These biochemical measurements are crucial in improving your form. We also found that Garmin offers a heart rate monitor strap and additional running dynamic pods, sold separately, that you can pair with your smartwatch for additional metrics.
Garmin offers a performance monitoring tool, Training Status, which is already built into this watch. Without having to check your progress every second, you can trust that this tool is accurately tracking your exercises and evaluating your workout history. Based on your history, it will then provide you with productivity feedback. This breaks down whether you need to improve in one area versus another and will also let you know if you are overachieving and peaking.
With today's technology, we are not surprised to see such a small device being able to track all your active movements and provide feedback based on your activity history. Garmin believes that this type of
technology
will greatly assist in helping you reach your fitness goals.
Additional Features
You must be wondering, what else can this smartwatch offer after all? Well, like we previously mentioned, you can customize your device. Not only is it easy to change your bands whenever you want too, but you can also download a handful of different apps, watch faces, widgets, etc - for free. Yes, that's right, all for free.
By connecting to Garmin's, Connect IQ Store, you will be able to browse all the different features you can add to your smartwatch and mobile device. We found that new apps are uploaded to the Connect IQ Store daily, so we are positive that you will always find something you can use. For instance, you can add the AccuWeather Minute Cast app to your device and this will help you track nearby storms and inclement weather by the minute. This will surely come in handy by letting you know if it will rain while you are training outside.
Also, for the
tech-savvy
runners out there, Garmin has an app called SmartThings, which will allow you to turn your lights on at home (if your house is equipped with the Smart light bulbs). Isn't this feature pretty cool? With this product by Garmin, you will also never miss a notification either. Once you pair this device to your smartphone, you will not only get your messages on your phone, but it will alert you on your wrist as well. From messages to social media alerts, you will always stay connected.
Value and Price
Even though this option by Garmin is priced on the high end of the spectrum, we believe that its overall features outweigh its price. From being able to store up to 500 songs and tracking your progress, this is where this product shines. Having up to 7 days of battery life when in activity/ tracking mode is also a great feature. Don't let the price tag shy you away from this superior device.

Overall, this product was designed with top quality and offers a lot of exceptional benefits to all fitness levels. We believe that you will greatly enjoy this product once you start using it. If you are searching for a smartwatch that does it all, you can count on this one.
Key Features
We hope that you are excited about this smartwatch just as much as we are. We believe that Garmin did an amazing job implementing today's technology into this sleek and trendy device.
Even though this smartwatch is catered more towards runners, if you are looking for a watch that will help you improve your overall fitness routine, you can definitely count on this one. We guarantee that this product by Garmin will make a perfect addition to your daily routine.


-Up to 7 days of battery life is using activity/ tracking mode


-Watch is designed with contactless pay option


-Smart technology and amazing built-in tracking tools


-Made with durable materials


-Comes in 5 additional colors to choose from and many different colored bands options


Bottom Line
After diving into all that this smartwatch offers, it is a no brainer if you are in search of a training assistant. Besides the limited battery life span when using GPS mode and listening to music at the same time, we couldn't find any other reasons to make you not want to wear this every day.

Its accuracy alone should make you want to give this smartwatch a try. We believe this watch will add so many benefits to your run and workout routine daily. Garmin stands strong behind its technology and we guarantee that you will love this item.

With so many different smartwatches to choose from on the market today, if you are looking for a water resistant, music playing and performance / GPS tracking smartwatch, we highly recommend this one by Garmin. From its durable materials to all its versatile features, you will be glad you chose this one. Say goodbye to your classic watch and upgrade with this exceptional option by Garmin.
Subscribe to our Newsletter