FootJoy WeatherSof Glove Review
If you seek unprecedented quality that comes from unsurpassed experience when it comes to golf gloves production, then FootJoy is the number one company. It was founded more than a century ago as a shoe company, but later on, it expanded into a shoe, glove, and apparel company, and up until now it offers only premium quality goods. Footjoy is the company that has been featured by many tour golfers and it is equally popular among pro golfers and beginners. The reason for this lies in its ability to deliver reliable comfort and performance, premium designs, and new and sophisticated technologies. Among the most successful models that the company has made, FootJoy WeatherSof Glove is among the best selling and the most recommended model.
The company entered the glove business rather late compared to their initial footwear and it wasn't until 1979 that the company had its first golf glove release. Even with its first models, FootJoy gloves set new standards when it comes to golf models. The predecessor of our FootJoy WeatherSof golf glove was the first one made with Cabretta leather, has been the number one golf model for more than 30 years. And, in addition to this model as its main foundation, the company has designed and redesigned multiple models that have brought ultimate success in the golf glove business. 
The FootJoy WeatherSof model has been one of those have-it-all models that have been popular since it was released. The glove boasts offering the right amount of look, feel, comfort, and most importantly, an excellent grip.  All these features are hard to find packed in one model, however, the WeatherSof has them all there. It is the glove that you'd like to wear during cold weather as much as you'd like to wear during hot weather. It is the model that will show off your style as much as it will be the reliable golf glove when the weather gets wet. It is the model that was launched in 1990 and until today it has been the golf glove of about 20% of all golfers. 
Pin for later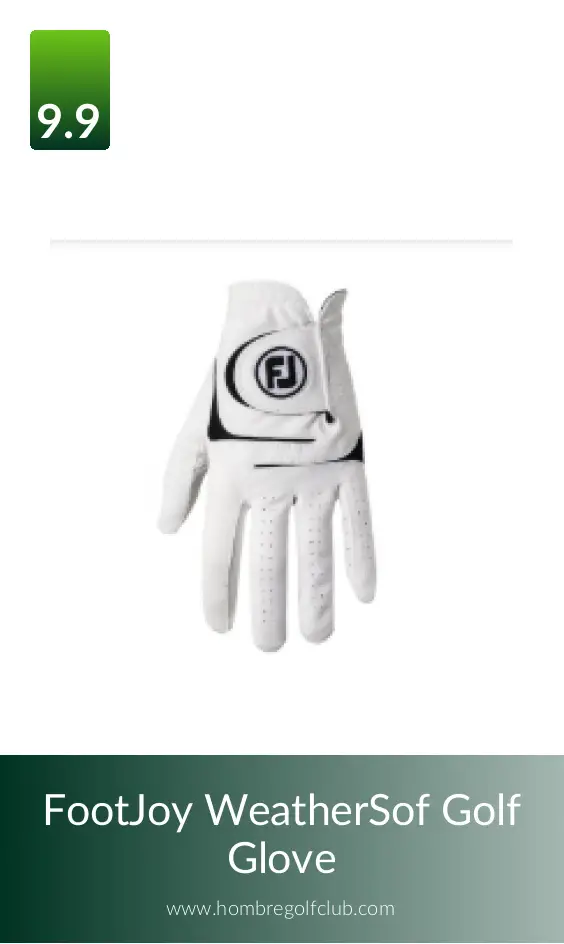 Editor's Pros & Cons
Made from Cabretta leather on the thumb and the palm for excellent durability and gri[
Exclusive FiberSof synthetic material for consistent grip in different weather conditions
PowerNet mesh positioned on the knuckles for greater flexibility and fit
The purchase includes two gloves
Comfortable, 3-directional tab closure
Moisture-wicking material with enhanced air-flow
Suitable for all weather conditions
Materials
Regardless of the weather conditions, golfers need good quality golf glove, and during rainy or humid weather it is almost unimaginable to play with bare hands. This imposes the need of having a trustworthy glove, and when we talk about trust, then the WeatherSof is the one that offers it a big deal. This model has been the number one model year after year, and this is due to the fact that it combines high-quality materials with the perfect way to provide a comfortable feel, maximum grip, and enough flexibility so that every golfer feels it as a second skin. So, let's take a close look at the materials used to make this model.

The fact that this is a weather glove implies that it can be used in all weather conditions, so it does feature material that can defy different temperature and weather elements. The proprietary Cabretta leather comes as a must for the WeatherSof models, and plus there is the exclusive FiberSof synthetic material that delivers exceptional performance in all weather conditions. In addition to the Cabretta leather and the synthetic material, there's soft PowerNet mesh that stretches across the knuckles to improve the overall breathability of the glove, it increases the flexibility and adds more comfort.

The Cabretta leather is performance enhanced and it is used in the most stress-prone areas such as the thumb and the edge of the palm. Cabretta leather is one of the softest leather types and the most durable among leathers. The close-fibered construction boosts its impact resistant features, while the synthetic blend offers incredible comfort with flexibility and excellent grip. This material is also performance material that has super drying properties that enable golfers to enjoy the comfort that is hard to surpass. Plus, it is moisture-wicking material, so the sweat is quickly drawn from the skin to the surface of the material so that it can easily evaporate providing a feeling of refreshment and security.

This combination of materials is an excellent choice for golfers who play golf under different weather conditions as it can serve its purpose, i.e. deliver an exceptional grip during hot and cold weather.


Grip
One of the greatest misconceptions among recreational and beginner golfers is the belief that they need gloves only when the weather is wet and humid. Perhaps this opinion can be traced a long time ago when the golf gloves were more of an issue rather than help, however, once FootJoy approached the market in all their seriousness, things have drastically changed. This model is proof that you can find comfort, flexibility, breathability, all-weather performance and a grip in a golf glove.

So, if you were asking yourself why anyone needs a golf glove when the weather conditions are considered to be 'normal'? This question has several answers. Let's consider summer weather conditions. What happens during hot summer days while playing is palm overheating, so naturally, your palms start sweating which leads to losing the grip and the stability of the golf club. In case you haven't taken a glove with you, you are most likely to produce shots that will be unprecise and ineffective.

How about playing golf during wet, or cold weather without your golf gloves? This is even hard to imagine since you won't probably be able to produce more than a few golf shots. And, it is not a rarity to slip the club and see it flying in the air instead of the ball.

So, it is more than understandable that golfers should consider their gloves to be a must for every round of golf in every season and in every weather condition. The grip that FootJoy WeatherSof delivers is one of the most natural, balanced and skin-like, so you can trust this model throughout the seasons. The sole fact that the WeatherSof is an all-round model that is made with premium materials undisputably places it on the top position on the market.


Fit and Use
To be able to feel all the benefits that the FootJoy WeatherSof delivers, you need to get yourself the glove that is a perfect fit to your hand and which creates the effect of a second skin. Getting yourself the right size is highly important because its function is to boost the gripping ability of your hand so that it produces an optimized anti-slip effect. The glove should stay snug on your hand, not too tight because it will cause discomfort, nor too loose because it will mask your gripping abilities.

Considering its use, it is a glove model that can be used for all weather conditions, thanks to the material which isn't too thick or too thin. This model features a partial water-resistant feature that makes it possible to be used when the weather is very humid, or when it is drizzling without affecting the overall golf glove performance. or when it is too humid since it won't affect the performance of the glove. The excellent heat management of the glove will allow you to play during the summer without getting overheat due to the fingers perforations that allow the skin to breathe and the mesh design that enhances the air-flow.

The FootJoy WeatherSof golf glove comes in ten sizes that range from Cadet Small to X-large. It is a men's glove and it comes in two color varieties, black and white. What reviewers say about matching the size with the actual glove is that it is a great fit with a few exceptions here and there.


Design
There are two extremes of golfers when it comes to the design of the gloves. Some pay little to no attention to the design of the glove as long as it performs well, while others are kind of OCD obsessed to match it with their personal style. And, of course, there are those who appreciate both. The best part about the FootJoy WeatherSof glove is that it is one of the most stylish gloves that perform exceptionally well.
Even at first glance, it speaks style and elegance. Although it isn't an
all-leather glove
, it can rival any such glove with the perfect, smart lines and the exceptional combination of materials that are stitched perfectly into one whole. The three dimensional Velcro tab closure ensures maximized adjustment fit and comfort. The upper part of the finger-area features perforations which enhance the breathability of the glove. The cuff area is minimal and it has a peculiar opening for a better fit. On the tab, you can see the branding and the letters FJ in black. That's not the only black you see on the gloves, as the PowerNet mesh material that is positioned on the knuckles in two lines is also black.
Durability
When you invest in a high-quality golf glove, this means that you invest in more than in just a glove, as your performance an the scores can depend on it. But for maximized performance, you need a golf glove that will provide the same grip in all stages of the game, in different weather conditions, especially if you play the game in areas that are prone to sudden weather changes.
No other company is as highly reputed when it comes to golf gloves as FootJoy is, and it is based on the exceptional quality and the extreme durability they boast. The fact that the WeatherSof has been the most selling golf glove and continuously number one model for over 30 years speaks a lot about their durability and high-performance features. The blend of materials prolongs their lifespan and even after prolonged use you'll hardly see any signs of wear and tear.

Maintenance
The durability of any golf glove is mainly determined by its quality design, the materials used to make it, and the way you take care of it. So, maintenance does play an important role and will save you quite some time until you reach for the new pair of golf gloves.

The FootJoy WeatherSof golf glove is a very durable and hard to damage model, but when it comes to washing it you need to be very careful. Machine washing is not very recommended, and if you do, make sure you wash it with cold water. The fact that it is partially made with Cabretta leather makes them very delicate for machine washing. The best way to wash these gloves is to put them on and then use a very mild detergent and simulate hand washing until they get clean. When you dry them make sure that they aren't exposed to the sun directly and after use store them in a dark and dry place.


Key Features
When a product has been the number one within its category for decades, the facts speak louder than words. FootJoy did an excellent job with the WeatherSof model and it has been the standard that many companies have been trying to reach. It is the glove model that is just a perfect match for any weather condition and it is one of the most durable models that have ever been made. It doesn't retain moisture, it delivers an excellent grip, it is very flexible and easy to use while at the same time it is very breathable too.

Key Features



Made from Cabretta leather on the thumb and the palm for excellent durability and grip


Exclusive FiberSof synthetic material for consistent grip in different weather conditions


PowerNet mesh positioned on the knuckles for greater flexibility and fit


The purchase includes two gloves


Comfortable, 3-directional tab closure


Moisture-wicking material with enhanced air-flow


Suitable for all weather conditions


Bottom Line
If you are searching for an all-seasons golf glove, search no more because the FootJoy WeatherSof is the one. FootJoy is a premium company and this model is their most selling golf glove thanks to its durability, superior fit, and reliable grip. You will never feel too sweaty, hot or cold thanks to its self-regulating material properties that make it heat-regulating, breathable and comfortable to wear.

Subscribe to our Newsletter