FootJoy Hydrolite Rain Jacket
Contrary to the common belief that golf is a game of sun and sunshine, avid golfers around the world know that it can be played under extreme, unfavorable weather conditions. These conditions include rain, cold, winds, and even snow. To be able to perform under inclement weather conditions, you need good protection so that you can endure harsh conditions for about four to six hours on the cold. Such protection offers Footjoy Hydrolite Rain Jacket, which practically shields your body from external impacts, and prevents cold air or moisture from penetrating your body.
Footjoy is a company that has been a leader in golf apparel and footwear for more than a century. It is a company that started as a shoe company, and over time, it got expanded into glove and apparel production. Today Footjoy is a prominent Tour representative, and many tour players wear exclusively Footjoy footwear and apparel. 
Tour players always opt for the finest and most advanced products, and it is an indication by itself that Footjoy offers advanced and sophisticated technologies that are hard to compete with. This refers to all their product range as the quality control check is on the highest possible level.
There are many features that make Footjoy Hydrolite Rain Jacket an outstanding piece of garment, which we will discuss within this review so read further to get to know them.
Pin for later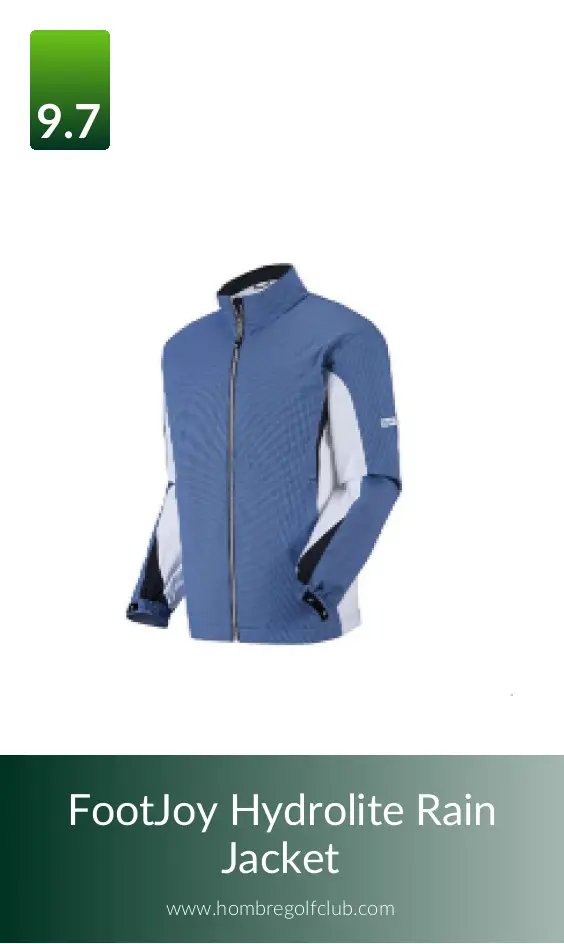 Editor's Pros & Cons
Made from advanced performance materials that yield four-way stretch
Wind-, cold-, and waterproof
It features the Hydrolite system that delivers 100% waterproof shell
It is the lightest jacket that the FootJoy ever made
Versatile use for multiple occasions
Two years warranty of the waterproof feature
Some golfers think it is too thin
Expensive model
General Information
It comes as no surprise that Footjoy Hydrolite Rain Jacket claims dominance in the area of weather protection. The company has a very rich history of developing technologies that provided golfers with decent proofing from the rain, cold, sun, and snow.
For more than 60 years, Footjoy has been the company that has been gaining trust from PGA golfers thanks to their weather technologies. The company was initially developing this technology for its shoe production models. Their gained knowledge was later utilized to produce
golf gloves
. Some of their glove models have been considered the best with ultimate dominance on the glove market also.
With the development of their shoe and glove technologies, the company utilized the experience they gained to developing apparel and accessories that reflect the well-known technology seen in their shoes, socks, and gloves.
The Footjoy Hydrolite Rain Jacket integrates within its design everything a golfer might need on the course without looking bulky and feeling hindered to perform well. It is made with two and a half layer fabric, which has woven construction, and it has multiple purposes for different weather conditions. The thin, but an extremely protective design, can have versatile uses from a layer to an actual jacket, and unlike previous solid-colors-only options, this jacket comes in different colors and patterns.
Design
Footjoy has made a turn in its designs lately, and their offer has expanded into more stylish and modern offers in addition to their solid colors. It comes in nine color varieties with one dominant and subordinate color making an interesting color and design interplay.
The model jacket features a full-zipper design that is weather-proof and which prevents any liquid or air interchange. This is particularly important when you play golf during rainy days when the constant exposure to rain can lead to leakage from the zipper inside the
jacket
and make you all wet. For extra protection and complete wrap-up design, the sleeve cuffs feature an adjustable Velcro band. It also protects from the weather elements ensuring that no matter how hard the rain, the wind, or the cold is, you will be protected from every side.
There are two side pockets for easy to store things, which are not very deep but sufficient to warm up your hands or to have the most needed things at the hand's reach. Inside the jacket, there's a scorecard pocket with a zipper for keeping it safe and protected. In case you don't use a digital scorecard, then it is a safe place for your valuables.
The waist design is open and loose without a down string to tighten the bottom, and that is purposely made so that golfers can freely swing without feeling tight. However, the absence of a drawstring can sometimes be a con, especially during extremely cold weather when you feel the cold air penetrating from below. This feature is definitely not a deal-breaker but just a remark that might inspire Footjoy designers to think about upgrading their design.
Technology
The Footjoy designers developed technologies to make the game possible even when the inclement weather conditions are trying to make it impossible and harsh. They've produced an extremely thin but immensely protective jacket. Their technologies are very advanced and represent a blend of their previously acquired experience, very careful fabric selection, and the use of modern technology.
As the name implies, the Hydrolite™ system combines extremely lightweight fabric with a bonded liner to produce the lightest garment that FootJoy has ever produced. It is because of this technology that the FootJoy Hydrolite Rain Jacket has been the most sold and the most featured
rain jacket
on the golf course. It is a 100% waterproof, windproof, and cold-resistant shell that completely blocks the impact of the elements.
Fabric Features
At first glance, the FootJoy Hydrolite Rain Jacket doesn't look very promising, considering its extremely paper-like thin material and lightweight design. But, we all know that appearances are deceptive, and you'll get pleasantly surprised once you try it on.

The jacket features high-quality performance tech-pack materials that are woven and which feature fibers that provide a complete block from external elements. This means that when you wear the FootJoy Hydrolite Rain Jacket, you won't feel any cold air penetrating inside, nor moisture. It features 2.5-layer fabric, which provides a maximum 20,000 mm waterproof barrier and a smooth finish for maximum wind protection. However, it doesn't create the sweatbox greenhouse effect, as the fabric is designed to allow maximum breathability from inside out. This thermo-regulating process ensures that you are going to preserve your body temperature, but it is not going to make you overheated or too sweaty.

The key component of the jacket is the DWR (Durable Water Finish) finish, which prevents the water from getting into the interior of the jacket. That might not be a new feature as we can see similar technologies in other brands. The distinguishing feature of the DWR finish is the fact that it virtually stops the water from reaching the jacket and saturating it. Therefore, the jacket will stay lightweight and easy to play with, unlike many other similar technologies.

Plus, this coating doesn't impair the breathability of the material as it individually coats each fiber. That means the space between the fibers is left open so that the airflow can freely pass in and out. The seam-sealed design is extremely solid and provides a fixed proofing from elements.
Use
Wouldn't you like to have a jacket that you'll be able to wear not only during spring or fall but every time a jacket is a necessity? This is what the FootJoy Hydrolite Rain Jacket offers. Thanks to its lightweight design, you will be able to wear it on multiple occasions. You can wear it as an outer layer over other jackets when the weather is frigid, or just a layer over a polo shirt during rainy spring and fall seasons.

The jacket has no limitations, and the fact that it is one of the most sold jackets proves that it delivers the performance the manufacturer claims it will. According to many prominent golfers, it is the type of jacket that every golfer must have in his/her golf bag. It is an invaluable piece of clothing.

There's one last thing that characterizes the FootJoy Hydrolite Rain Jacket as particularly golfers' jacket. Namely, the material it is made from is not only completely weatherproof, but it is performance material that features a four-way stretch. Four-way stretch is the type of material that can expand when needed and immediately regain its shape. This feature allows golfers to exhibit a full-blown swing without limitations in the upper body area. That means that not every jacket is made to meet golfers' needs and to deliver the performance you need.
Maintenance
Taking good care of your FootJoy Hydrolite Rain Jacket means that you will be able to use it longer with all its benefits. This jacket doesn't require special care or special washing, and it can be washed in a machine but not tumble dried. This should not be a problem anyway as the jacket dries extremely fast.
The DWR finish has a limited life span, and the company guarantees two years of complete waterproofing. If properly maintained then the duration of the
waterproof feature
is considerably extended.
Cost and Value
FootJoy is a company that doesn't need much reassurance about the quality of the products it delivers. It is more than apparent that when buying a FootJoy product, you're buying the superiority of each and every product, which is rarely found in the competition.
Avid golfers are particularly fond of
high-quality equipment
and gear and FootJoy is the synonym for that. The company doesn't only feature premium quality, but it promotes style and high-end elegance that marks its extravagance. So, this implies that the price point of the FootJoy Hydrolite Rain Jacket is on the higher end, but according to golfers, well worth the money.
Key Features
After the detailed analysis of the FootJoy Hydrolite Rain Jacket, it becomes obvious that this is a premium quality jacket that is particularly made to meet golfers' needs. Featuring four-way stretch material, it will enable you to produce all the shots without feeling hindered in your movement. Made from 2.5-layered fabric and half a layer coating it provides maximum water and windproof and protects you from the cold without making you feel hot and sweaty thanks to its team regulating system.
Design-wise, it comes in nine color varieties with different patterns and color combinations. It is seam-sealed so that it delivers complete waterproofing. The sleeve cuffs feature adjustable waterproofing and the zipper is waterproof too. It is one of the most stylish FootJoy jackets.
Key Features


Made from advanced performance materials that yield four-way stretch


Wind-, cold-, and waterproof


It features the Hydrolite system that delivers 100% waterproof shell


It is the lightest jacket that the FootJoy ever made


Versatile use for multiple occasions


It comes in nine different color varieties


Two years warranty of the waterproof feature


Bottom Line
Most of the golfers who have this jacket agree that every golfer needs to have one in his golf bag. It is multifunctional and can be worn as an outer layer, a mid-layer, or a jacket. It is a guarantee that you will be protected from the elements. Unlike the standardized solid color models that come from FootJoy, this one draws a new line and offers versatility in terms of patterns and colors.

The most distinguishing feature is the Hydrolite technology that delivers a 100% waterproof and windproof protection in different weather conditions. It also prevents the cold air from getting inside the jacket, and it is one of the most lightweight jackets that the company has produced.

Considering all the features mentioned above, we can easily conclude that it is a premium jacket designed for the best.
Subscribe to our Newsletter