Best FootJoy Golf Shirts Reviewed
In a
Hurry? Editors choice: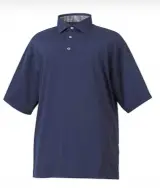 Test Winner: Lisle Self Collar

Have you ever considered the importance of the outerwear and the comfort or the discomfort it is likely to cause? If you are a pro in golfing then probably you know all about it, however, many novices never get the point of how truly significant it can be until they
get involved in the game.
That's we reviewing the best
Footjoy golf shirts
!
First of all, every golf shirt is expected to be functional and provide an unhindered range of movement for full-blown swings. But what does functional mean? Let's take an example. If you are on the golf course and spend approximately four hours walking and playing the game than you'd definitely need outerwear that will provide you with comfort, dryness, and feeling of freshness and even keep you cool.
Standout Picks
Criteria Used for Evaluation
Style
The fashion industry is all about style and design and you could hardly hear a golfer saying that he/she doesn't care about it or it is a rare case that a golfer doesn't have his/her own style. In addition to your golfing style, it is your style that defines your outer image and how people recognize you. Due to this reason, we carefully picked those shirts that feature sophisticated, contemporary and unique style.
Footjoy features various designs regarding the pattern, color choice, the way they are stitched, the type of the collars and sleeves. When you put all these elements together, the result is a neatly sawn polo that is bound to please many people on and off the course.
Materials
Materials work for comfort
A well-defined style is always accompanied by well-made and a good quality pieces of garment. If each of the two elements lacks in the clothing, a failure will be an inevitable outcome. Many companies are fighting fierce battles to overcome customers' trust and confidence by inventing and patenting hi-tech and advanced technologies that will improve or even create fabric features that will enhance golfing performance and productivity. FootJoy, over the years of their existence, has developed many such technologies that guarantee optimal use of any material and in a perfect blend of such materials to produce a final result that will make a difference in the way it behaves. Such features when it comes to fabrics in golf shirts are UV protection, the ability to keep you dry, odor-resistance, performance fit, and moist-wicking performance.
Protection
Fabrics created by this technology allow total weather protection from the elements. HydroLite materials provide for 100% waterproof, windproof and coldproof experience enabling you to stay on the golf course regardless of the weather conditions. In addition to a protective shell, the garments produce with this technology have lining too for increased protection.
All garments that have this labeling come with two years warranty from the company that in normal use, that garment will protect you 100% from water, wind, and rain. We can gladly say that our list features polos that are labeled HydroLite.
Effectiveness
Any fabric that is labeled with this labeling shows the ability to dry the perspiration as you are on your go. The fabric features an ability to wick the moisture from your body on the surface of the polo and as the moist is drawn, it evaporates creating a cooling effect. This process creates a feeling of freshness and besides being dry you feel cool too.
Value
Value can give better performance
When it comes to the prices of these Footjoy golf shirts, we are aware that some of them are much higher compared to others. As we have already mentioned, the latest models tend to have heavier price tags compared to the shirts from the previous seasons and that was a reason plus to include shirts from previous seasons. Sometimes the quality of the shirt will win over its latest design, and that is especially true for golfers who are on the budget side but still crave for the FJ quality. In a nutshell, all products represent a good value for your money.
Top 10 Footjoy Polo Shirts
Subscribe to our Newsletter