Best FootJoy Golf Shirts Reviewed
In a
Hurry? Editors choice: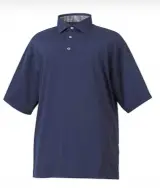 Test Winner: Lisle Self Collar

Have you ever considered the importance of the outerwear and the comfort or the discomfort it is likely to cause? If you are a pro in golfing then probably you know all about it, however, many novices never get the point of how truly significant it can be until they
get involved in the game.
That's we reviewing the best
Footjoy golf shirts
!
First of all, every golf shirt is expected to be functional and provide an unhindered range of movement for full-blown swings. But what does functional mean? Let's take an example. If you are on the golf course and spend approximately four hours walking and playing the game than you'd definitely need outerwear that will provide you with comfort, dryness, and feeling of freshness and even keep you cool.
Standout Picks
Criteria Used for Evaluation
Style
The fashion industry is all about style and design and you could hardly hear a golfer saying that he/she doesn't care about it or it is a rare case that a golfer doesn't have his/her own style. In addition to your golfing style, it is your style that defines your outer image and how people recognize you. Due to this reason, we carefully picked those shirts that feature sophisticated, contemporary and unique style.
Footjoy features various designs regarding the pattern, color choice, the way they are stitched, the type of the collars and sleeves. When you put all these elements together, the result is a neatly sawn polo that is bound to please many people on and off the course.
Materials
Materials work for comfort
A well-defined style is always accompanied by well-made and a good quality pieces of garment. If each of the two elements lacks in the clothing, a failure will be an inevitable outcome. Many companies are fighting fierce battles to overcome customers' trust and confidence by inventing and patenting hi-tech and advanced technologies that will improve or even create fabric features that will enhance golfing performance and productivity. FootJoy, over the years of their existence, has developed many such technologies that guarantee optimal use of any material and in a perfect blend of such materials to produce a final result that will make a difference in the way it behaves. Such features when it comes to fabrics in golf shirts are UV protection, the ability to keep you dry, odor-resistance, performance fit, and moist-wicking performance.
Protection
Fabrics created by this technology allow total weather protection from the elements. HydroLite materials provide for 100% waterproof, windproof and coldproof experience enabling you to stay on the golf course regardless of the weather conditions. In addition to a protective shell, the garments produce with this technology have lining too for increased protection.
All garments that have this labeling come with two years warranty from the company that in normal use, that garment will protect you 100% from water, wind, and rain. We can gladly say that our list features polos that are labeled HydroLite.
Effectiveness
Any fabric that is labeled with this labeling shows the ability to dry the perspiration as you are on your go. The fabric features an ability to wick the moisture from your body on the surface of the polo and as the moist is drawn, it evaporates creating a cooling effect. This process creates a feeling of freshness and besides being dry you feel cool too.
Value
Value can give better performance
When it comes to the prices of these Footjoy golf shirts, we are aware that some of them are much higher compared to others. As we have already mentioned, the latest models tend to have heavier price tags compared to the shirts from the previous seasons and that was a reason plus to include shirts from previous seasons. Sometimes the quality of the shirt will win over its latest design, and that is especially true for golfers who are on the budget side but still crave for the FJ quality. In a nutshell, all products represent a good value for your money.
Top 10 Footjoy Polo Shirts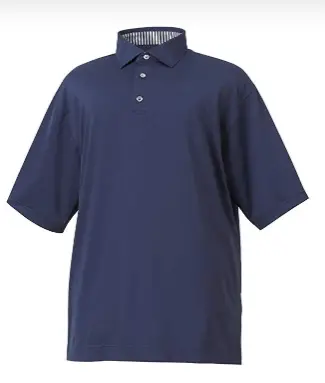 This Footjoy golf shirt should be the first choice if your game is set on a hot and sunny day. It will be your guard from the sun and heat creating a comfortable feel and cooling effect. You don't have to change ten shirts to feel dry since this one is designed to wick the moisture away and dries on your go. The color choice is varied enough to allow you diversity in your style in case you really stick to this model.
Read more
Style & Design
If you really want to leave an impression on the golf course of a man that knows exactly what he wants and where he's headed to, FootJoy apparel will help you draw the line. This shirt is stylish and classy, featuring the standard fit and a snug feel. The back tail of the shirt is purposely made extra long to allow you easier tucking in. Featuring simple but sporty-elegant style with a collar that is made of the same fabric as the shirt's body fabric, it is one of the most sold Footjoy golf shirts that provide excellent performance advancement.
Fabrics Details
The best fabric for ensuring relaxed play is the one that is made of 88% polyester and 12% spandex, as this model is made of. Being a ProDry Stretch Fabric means that it will guarantee unhindered performance and a wide range of motion for perfect swings. And you know that one of the greatest issues that golfers have is the sweat and the unpleasant odor, particularly during hot and humid days. Nevertheless, the material is designed to wick the odor away and to dry fast, so that those problems will be part of your past. Plus, this fabric is not prone to wrinkling or shrinking and has UV protection from the harmful sun rays.
Cost and Value
You don't have to pay a fortune to have a nice top, but you need to pay a bit more to have one that will bestow you with UV protection, comfortable feel, will make you feel cool and relaxed and all that because the bad odor is gone forever and because you don't feel wet from the sweat. All in all, it is a pricey garment but it is worth the money.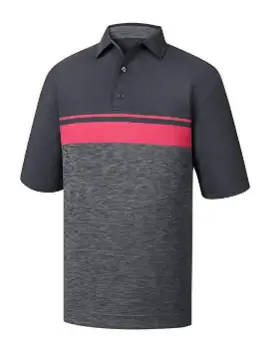 This model is another one from the performance fit line of polos that are designed to allow you experience the game in a very pleasant and involving way without being frustrated by the external influences such as sweat, moisture, and odor. It is made by the most advanced technologies that FJ has developed in order to eliminate every external factor that could cause bad performance.
Read more
Style and Design
If the previous model was a plain one, this polo features a pattern of one wide and one narrow stripe that makes you look bold and determined to win on the course. It is a standard, performance fit that resembles the traditional fit regarding size and the length of the sleeves. The back tail is longer in order to make the tucking easier. It is wonderfully stitched with reinforced construction and with seams that have double-stitch which makes the shirt more durable and of a high-quality. Each model is designed with a color choice of two different nuances with a striking contrasting color choice of the stripes.
Fabric Details
The material of this shirt is extra lightweight and soft which is an excellent choice for hot days. It is made of spandex and polyester featuring anti-odor protection moisture-wicking properties. As the moisture is drawn to the surface of your body, it creates a cooling effect that makes you feel fresh. The material is very easy to maintain because it doesn't wrinkle, a great choice to tuck it as an extra in your bag, too.
Cost and Value
It is a chic and stylish top that is great to be worn on and off the course for every casual occasion. It has excellent features that allow you to indulge in the game without being focused on distractions. The price is on the higher-end, but that is expected because you're not buying just any shirt, but a FootJoy shirt that offers exquisite quality.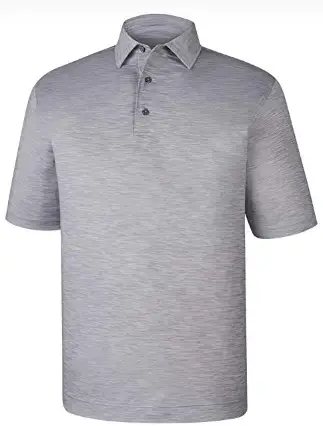 Another model of great quality, plain design and stylish look that exudes hidden sophistication is Lisle Space Dyed Self Collar. It is a plain color top that is selected by many top golfers due to its functionality and fine materials that are used for its production. The polo is bestowed with all those advanced attributes, such as protection from bad odors, quick dry feature, and because of its casual style. This polo is a recommended selection by many experienced golfers.
Read more
Style and Design
It has this unique design that makes the model differ from the other plain color shirts which can be found in the lisle threaded within the fabric itself that makes the polo much more durable and comfortable. For enhanced durability, the construction is strengthened with seams that are double stitched. As with other models, the tail is purposely made longer to allow better tucking and neat look. This color comes in a wide range of color selections. The collar is the same fabric as the rest of it and it fits as expected.
Fabric Details
This model is also made of spandex and polyester enhanced with lisle cotton that is characterized with added strength and durability, featuring anti-microbial and anti-bacterial features. This advanced technology is the main reason why these types of fabrics are easy to maintain, because they resist wrinkling, so you don't need to iron it at all. The material is very flexible and stretch and that is the ultimate requirement when it comes to producing good swings.
Cost and Value
This is a remarkable polo that needs to be part of your outerwear regardless whether you wear it on or off the course. It is undisputable fact that everyone needs a polo like this and even more inarguable is the statement that the price reflects its real value.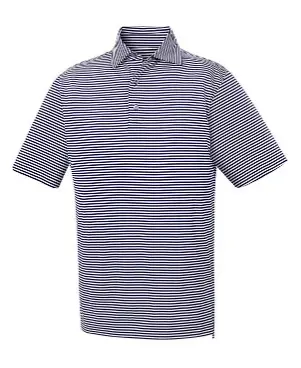 We would like to present you another excellent alternative for those who are keen on a striped pattern and sporty design. It underlines the sports flair that is emphasized on the course by its neat look and snug fit. Made to enhance the performance to a top level, it will free you from all those sensational distracters such as bad odor, sweat, and discomfort and maximize your accomplishment.
Read more
Style and Design
It features traditional performance fit with stripes that run from the waist to the collar. The collar is made with the same fabric as the rest of the shirt and together they make a nice looking piece of garment. It has enhanced double stitched seams that grant improved quality and durability. You simply can't stay indifferent when you wear it. Plus, there is a great selection of colors to choose from.
Fabrics Features
Here we are with another FJ polo that is made of spandex and polyester for increased performance and free movement for an improved swing. It is very comfortable to wear since the material is smooth and tender to your skin. As it has moisture wicking properties, it will keep you cool and dry as you play and it has properties that keep the bad odor of the bay. Besides these features, the material doesn't require ironing, so it will spare you from the extra work.
Cost and Value
It is a well known FJ quality and design that features very similar price as the other models that we have already presented. The price represents great value for the money you pay.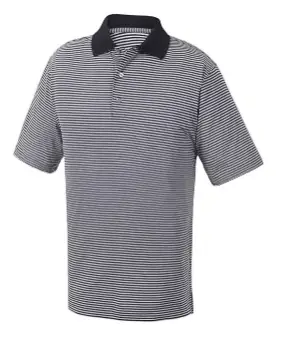 If you want to enjoy the FJ exquisite quality but you are on the budget side, this model will allow you to feel all the benefits of FJ fabrics for a lower price. The striped design and the rib-knit collar provide traditional look and fit. You can engulf into your game without being disturbed from the bad odor or feeling wet.
Read more
Style and Design
This shirt features traditional, fuller fit and style that is excellent for unhampered swings and long walking. The sleeves are wider featuring open-hem sleeves that do not pull you back when you swing. This model has a rib-knit collar which is firmer and with a more consistent layout. The tail is longer which makes it tucked in for the whole game of golf.
Fabric Features
This is a performance polo shirt that is designed to promote a good game on the course without being restricted by sweat or bad odor which are notorious distracters when it comes to focus and concentration. The material is made with the advanced ProDry technology that draws the sweat away from your skin to the surface of the material where it easily evaporates. By doing this it creates a cooling effect that relaxes you and increases your confidence. The material provides UV protection and is easy to maintain.
Cost and Value
This polo golf shirt was introduced as one of the most affordable FJ pieces of a garment and it makes an excellent opportunity for those who are on the budget side but still desire for an excellent piece of clothing.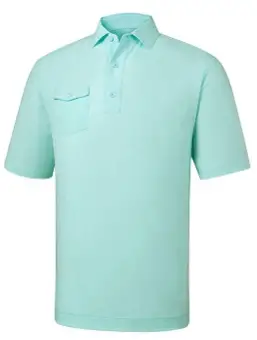 So far we have introduced only Footjoy golf shirts that feature traditional fit. However, athletic fit is also one of the FJ offers which are mostly preferred by those golfers that not only do they put an accent to the game they play, but also the shape of their body and their good shape. The colors are transparently fresh and stylish. This FJ model is an excellent pick for golfers who desire to reign the course.
Read more
Style and Design
This is a very stylish and modern shirt which is designed for golfers who know how to express themselves the best. You will definitely appreciate the extra room in the stomach area to fit you well and the nice contouring of the lines. The seams are double stitched and the overall construction is strengthened for increased durability. There is a small classic pocket on the right chest to give extra traditional flair to its contemporary look.
Fabric Features
This polo belongs to the performance fit line of products that are designed to maximize performance and effectuate achievement. It is an easy-dry piece of garment, which has the capacity to fight odor creating bacteria and thus increase your self-confidence on the golf course. On hot weather, when you sweat the most, the moisture-wicking fabric creates a feeling of coolness. You would love to play rounds and rounds of golf, motivated and with high self-esteem.
Cost and Value
As this polo is not the latest FJ model, its price is not as high as the newer models, so you would have the chance to obtain an FJ model for fairly approachable price with excellent quality. Having a polo like this is always a good investment for your money.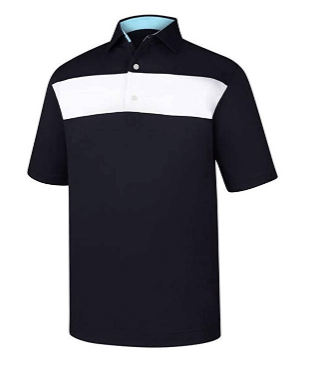 Featuring modern and fresh design, this latest model shirt is designed to bring some changes to your golfing style apparel and make it more vivid. The chest stripe design is rarely seen as a featured design of golf shirts and due to this, it makes it peculiar and an interesting choice for you. It looks stylish and elegant, however, the choice of colors is limited.
Read more
Style and Design
It is a regular fit polo that features striped contrasting design but only on the upper chest area. It offers versatility and compared to many standard polos, the striped pattern will make you noticed on the golf course. The collar is the same material as the rest of the polo which makes it softer and not very firm. This model has a longer tail too so that it can stay tucked in and thus allow you to have a meticulous look for the round of 18 balls.
Fabric Features
It is made of a performance fit material that is designed to keep you dry and cool by regulating the body temperature. You can say goodbye to the bad odor too because it has an anti-microbial finish that keeps the odor-creating bacteria away from you. It is very comfortable to wear and due to lisle threads that are interwoven within the material, it requires no special care or ironing. It also provides UV protection from the harmful sunrays because the material has a built-in protective factor within.
Cost and Value
This is one of the trendiest shirts for the course promoting high-class style and smart and elegant perfection. It isn't a cheap shirt, that's for sure, but it exudes all advanced features that can be expected of a golf polo. As expected, the price matches its quality.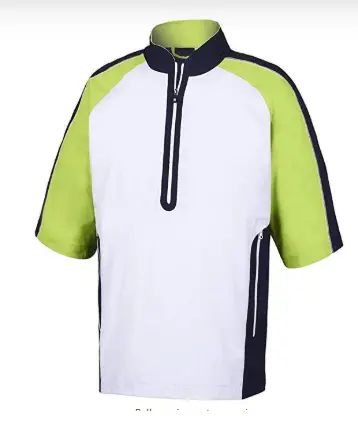 So far, we have presented typical and standardized Footjoy golf shirts normally worn during hot weather. However, FJ has gone a bit deeper when it comes to variety and diversity and developed technology for producing apparel that has the capacity to protect players from weather elements, not just from the sun. In this regard, we would like to introduce a shirt that is made to protect golfers from wind or mist allowing them to experience playing golf in a very different and advanced manner.
Read more
Style and Design
This short-sleeved wind shirt has a very recognizable design and it definitely stands out from anything similar that you have seen on the course. One striking characteristic is the absence of the classic polo collar which is replaced by a mock collar with a pullover construction and half a zipper in the middle that is used for practical reasons but to add to the style too. That, however, is not the only zipper visible on this shirt, there are two side pockets which are zippered and that adds up to the uniqueness of the design itself. There is an interesting play of colors on the front side and the back of it. The sleeves are raglan style, which means that they are wider and provide greater ease for the swings.
Fabric Features
This wind shirt is made of 100% polyester, a material that is wind and water repellent. It will keep you warm and protected and it functions as a shield to your body. It is lightweight and very pleasant to wear. The shell has the capacity to stretch, so you won't be prevented in any way to continue with the game. It can be used as an upper layer for cool mornings during spring and autumn days or as a casual shirt. It is very practical and it is a piece of clothing that should have a place in your bag.
Cost and Value
The value of this shirt is of greater importance because it has a triple function. It protects you from wind, it is water resistant which means it can provide decent protection from light rain or mist and can be used as a casual shirt. Since golf is not a game that has just ideal conditions, any type of protective clothing is more than welcome, such this one. So, for the functions it has, we can say that even though a bit pricy, it is totally worth the money.

9

. HydroLite Short Sleeve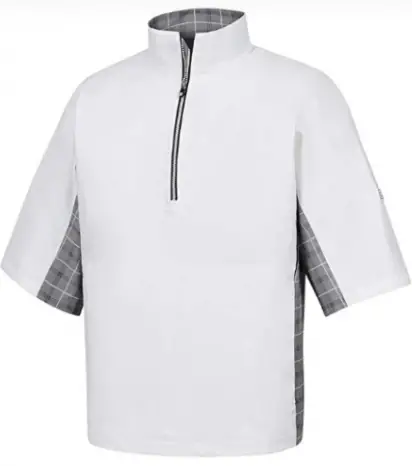 When it comes to rain shirts, this piece of clothing might be one of the most advanced shirts that FJ has ever produced since it features very advanced technology that makes it resistant to any external weather conditions. You will enjoy playing golf even when the weather is windy, rainy or misty since this jacket has the capacity to protect you and keep you dry. Besides this feature, it has a very stylish design with interesting details and sophisticated fabric features.
Read more
Style and Design
This Footjoy golf shirt is a very stylish option when you are caught by the rain in the middle of your game, when you don't want to wear a restrictive jacket or when the wind is piercing through your garments, preventing you to hit the ball in a full swing. This model is similar to our previous one when it comes to their design since they both feature a mock collar type and half a zipper construction in the middle to provide for easier handling. What differs them is the absence of the zippered pockets and the simpler color pattern that this model has. However, it does have a scorecard pocket for better convenience.
Fabric Features
The material that this rain golf shirt is made of is very durable and made to last long. It features HydroLite technology that has an advanced system for producing apparel that can defy weather conditions and elements. This means that it is guaranteed that it will allow for an unhampered golfing experience even when it is raining heavily because it delivers 100% protection from it. In addition to rain protection, it is also windproof and the company issues a two-year warranty that when used in normal conditions you will be protected from the elements. The shirt is not just a shell but it has a bonded liner that keeps you warm. It is seam sealed and even the zipper is waterproof. The fabric is thus made to allow for unhindered movement in all four directions without limiting you in any way.
Cost and Value
This is the most expensive shirt on this list but you already know that there are good reasons for that. Similarly with the previous model it also has a triple function and no matter whether you use it as a casual shirt, or as a protective upper layer, this rainproof shirt will indulge you into golf in a very different manner, i.e. you can dedicate on your game without being disturbed by the wind, rain or cold.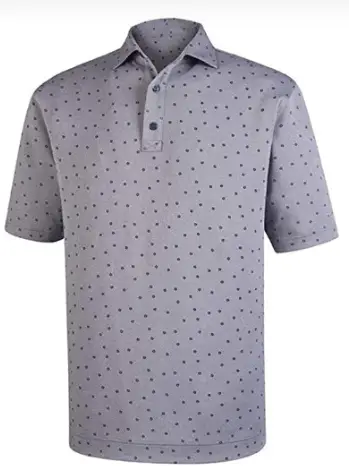 To stay faithful to our intentions to appeal to everyone's taste, we are closing our list with an unstandardized model when it comes to design. It has a very peculiar flowery print that makes this polo an interesting choice for those golfers who want to have their unique and recognizable style that does not blend in with the majority. It is a performance fit product that features the well-known attributes that have this type of fabric.
Read more
Style and design
It is a model that features an unusual pattern when it comes to the golf course and has a very specific fashion look. It feels cozy and smooth and you will enjoy every swing with it. It is very lightweight and made to last long as its construction is reinforced and the seams are doubled. The collar is the same material as the shirt, making it softer and not that sturdy as other polo shirts. The tail is extra long to provide consistent tucking in.
Fabric Features
This is a performance fit type of material that won't restrict you in any manner in your moves. The material is very easy to keep since it doesn't shrink or wrinkle. It also features moisture-wicking properties which means that you are going to get dry as you walk on the course. It has an anti-microbial finish designed to fight odor-creating bacteria.
Cost and Value
This model is one of those that run more affordable price tag, so it is an excellent choice for golfers who desire to look meticulously classy, enjoy the supreme quality of FJ and yet refrain from extra spending. This shirt will provide you with even more than what you have paid for.

Subscribe to our Newsletter