CoTZ Sensitive Skin Sunscreen for Face and Body
Sunscreen, it is very very important to wear regularly, especially if you are out in the sun. No matter how long you plan to spend outdoors, it is very important to pack and consistently reapply sunscreen. You might not realize it, but even on cloudy days, it is highly recommended to apply and to protect yourself from the sun's harmful UV rays. Also, another thing many of us don't realize is, not only can the sun cause terrible and painful sunburns, but it can potentially cause other serious skin conditions like skin cancer.
We can all agree that using a product that is overall safe for everyone to use is very important. From our research, we found that the Food and Drug Administration (FDA) recently announced new regulations for sunscreen. With that being said, they have cracked down on these products active ingredients which make only sunscreens with zinc oxide or titanium dioxide the safest to use on our skin.
Protecting your skin against possible burns and serious skin conditions should not be taken lightly. We learned that with all the different options on the market today, it might seem difficult to choose which ones are the best and safest to use on your skin. Research shows that, out of the, generally speaking, 16 active ingredients in most sunscreens, only 2 active ingredients are acknowledged as effective and safe. After extensively reviewing several options on the market, we highly recommend this option by CoTZ.
CoTZ Sunscreen for Sensitive Skin is one of the very best on the market right now. Many reviewers have said that they have chosen this option over others because it is the safest to use, not greasy, perfect for sensitive skin, and offers broad-spectrum UVA/UVB protection. This option by CoTZ contains 40 SPF and provides maximum coverage. We believe that this product is great to use every day, especially if you plan to be outdoors.
As we mentioned above, other options on the market may contain questionable ingredients that may or may not be safe to use on your skin. With this product, you will have the peace of mind knowing that it is safe to use. If you are searching for a product that you can use not only on the golf course, hiking, or at the beach, we seriously recommend that you take this option by CoTZ into consideration.
Pin for later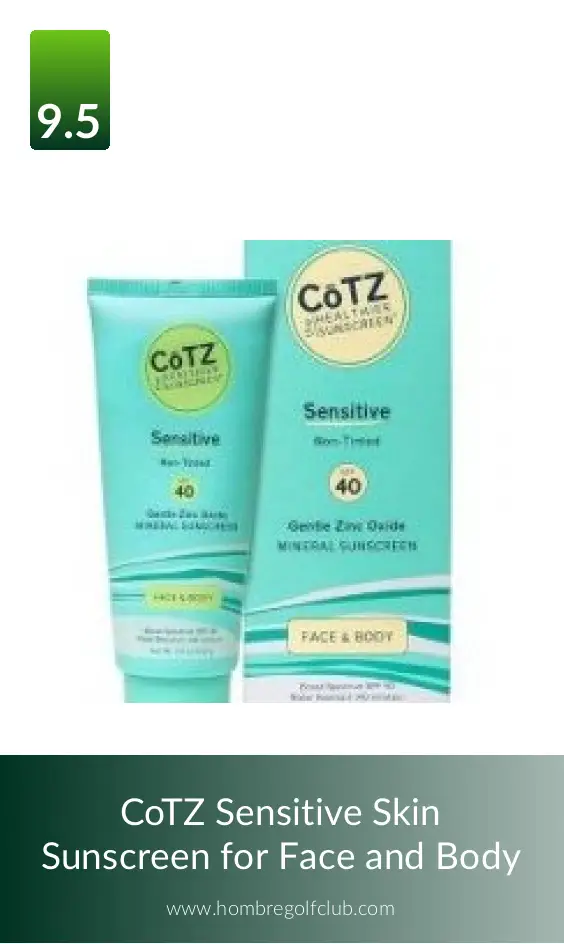 Editor's Pros & Cons
It contains an SPF of 40 as well as maximum coverage for both UVA and UVB
40 minutes of water-resistant protection 
Recommended and safe to use for all skin types but specifically designed for those with more sensitive skin
100% toxin and chemical-free
This product is not greasy or oily
Animal cruelty-free
Photostable (will not breakdown due to sunlight exposure)
This product is free of preservatives, fragrances, gluten, and PABA
Many reviewers have said that this option will not irritate or sting your eyes 
Some buyers that have purchased this product have said that it did not work for them
Ease of Use
Have you been searching for an exceptional sunscreen that you can use every day? Well search no further, this option by CoTZ is very easy to use and even easier to apply. The 3.5-ounce tube this product comes in is small and compact tube, making it convenient to slip into your golf bag, luggage,
beach
bag, etc. Also, compared to others on the market, it is ready to use right out of the tube without having to shake it up. With very little effort, squeeze and apply. 
Like all sunscreens out there, we found that in order for this product to work, you must apply and rub an even layer of product onto your skin. Many users have stated that applying a fair amount of sunscreen will not hurt, it will actually help and be more effective. This option by CoTZ is water-resistant for up to 40 minutes. With that being said, if you are jumping in and out of the pool or you
sweat
more than normal, it is recommended that you reapply the sunscreen more often and even before the 40-minute mark. 
You will also be surprised to hear that this product is not greasy or oily, compared to other options out there. We consider this a plus because the last thing you want to feel is a greasy feeling on your body while you are in the middle of a game, enjoying the outdoors, etc. It is also gentle on your eyes and will not sting if the sunscreen accidentally gets it. 
Protection
We can all agree that the main reason why we invest in sunscreen is to protect our
skin
from getting burned. After doing extensive research, we learned that this sensitive skin option by CoTZ really hit it home on the protection front. Exposing your skin to the sun with no sunscreen on can not only cause painful sunburns but consistent damage can lead to unwanted skin conditions or even cancer. 
We learned that it is very important to follow the instructions for reapplying. With this product, it is water-resistant and will protect your skin for up to 40 minutes. Dermatologists have stated that you will get the best protection from this product if you apply it onto your skin at least 30 minutes before you head outside. Also, it doesn't hurt to apply more than one layer. Layering up the sunscreen will become more effective and will ensure full coverage. 
SPF, also known as the suns protection factor, was designed to last against sweat and water - but not forever. We discovered that there are no sunscreens on the market that can 100% block the suns harmful UV rays. With that being said, that is why it is very important to follow the reapplication time frame when you are using this product. We guarantee that if you follow that you will be more than happy, but sunburn free!
Also, we found that many people like to ask...even if I am sitting in the shade or planning to be outside on a cloudy day, do I really need to apply sunscreen onto my skin? The answer is YES. Dermatologists even suggest wearing sunscreen every single day of the year. This option by CoTZ offers broad-spectrum UVA/UVB protection and will ensure you are protected from those harmful UV rays in all angles. Like we mentioned above, reapply and layer on the sunscreen for the best
protection
. 
Overall, we believe this option by CoTZ is one you should highly consider. One, if you have sensitive skin and two, if you are looking for an option that is not only safe to use on your skin but one that will protect you from the sun. With this option, you will not have to worry, CoTZ put a lot of effort into designing this FDA approved product. 
Materials
The materials used in any product we purchase is something we all consider. These thoughts come to mind first when it comes to sunscreen, "Is this product safe to use?", "Will this product keep me safe from sunburns?", "What is this product made of?", and "Is this product FDA approved?" Yes, yes, yes and yes. CoTZ mineral-based formula is designed for all skin types and is FDA approved. 

We learned that earlier this year the FDA passed a new regulation which states that sunscreens made with zinc oxide and titanium dioxide are the most effective and are the safest. Compared to other options on the market, these active ingredients are the only ones that have been tested to be safe so far. According to dermatologists, these two active ingredients are recognized as safe and will both work as mineral sunscreens to physically block the suns rays when applied to your skin. On the other hand, the other 10+ active ingredients in sunscreens are still being tested and are considered chemical sunscreens. This simply means that once applied to your skin, its job is to solely absorb the suns UV rays. 

Overall, this option by CoTZ is a great choice because it is one of the safest products you can buy right now. It is FDA approved and can be used for those with sensitive skin. If you are searching for a sunscreen that will save your skin from sunburns and will keep your skin moisturized and smooth, we highly recommend this product. 
Water Resistant
There used to be a period of time where sunscreen was labeled as waterproof. But since the FDA requested that companies change their labels to water-resistant, we found that many people are still not aware of this difference. Well, we discovered that the FDA pushed for this change because there is no product on the market that can protect you all day without reapplying. Instead, they were only lasting for a certain period of time, anywhere from 40 to 80 minutes. Once your skin is exposed to the sun, it is exposed and the time is ticking. You will either apply sunscreen to protect yourself or take the risk of getting burned. 

With this option by CoTZ, you will find yourself reapplying more often compared to others on the market because its time frame is only 40 minutes but its overall benefits make this product a winner. With the different levels of water-resistant sunscreen out there, even though this one is recommended for 40 minutes before reapplying, we highly recommend that you give this option by CoTZ a try. 
Value and Price
After learning about this option by CoTZ, we believe it is a no brainer and should be used by everyone. At the end of the day, it all comes down to the importance of protecting your skin from the sun. We also found that it is important to invest in a sunscreen that protects against both UVA and UVB rays. For those of you who don't know the difference, UVB rays are the rays that cause sunburns. Meanwhile, UVA rays are the rays that do not cause sunburns, but they cause even more damage without you even knowing, also known as the "silent killer". 

This product falls on the more premium side of the spectrum for skincare products. It provides maximum coverage and should be highly considered if you are searching for an option that will fully protect you against UVA and UVB rays. We were surprised to find that for a 3.5-ounce bottle, it is quite affordable and will not break your bank. For under $20, this investment will give you the security and peace of mind knowing that your skin is protected. 

This product is easy to apply, reapply, and carry around with you. It takes up almost no space in any bag and it is very light, only 3.5-ounces. With this option, you will not feel that oily, greasy feeling you usually get with others on the market today. It has passed the FDA's new regulations for sunscreen and will not cost you a ton of money. We guarantee that you will not regret giving this product a try. 
Key Features
No matter what you have planned to do
outdoors
, whether it is playing a few rounds of golf, hiking, going to the beach, or even just walking, it is very important to protect your skin from the suns harmful UV rays. 
If you fail to do so you can possibly be left with unwanted sunburns and possibly some serious skin conditions if left untreated. Investing in this quality product will ensure that your skin is safe, smooth, and moisturized. 
Approved by the FDA, this product by CoTZ is one of the safest options you can find for under $20 in the market today. 


Exceptionally priced


Not oily or greasy when applied 


Highly recommended for sensitive skin


Photostable, will not breakdown when exposed to sunlight


Mineral-based formula


Water-resistant for 40 minutes 


Protects against harmful UVA and UVB rays from the sun


Bottom Line
With this option by CoTZ, your search for a safe sunscreen comes to an end here. There are so many options on the market today but it is important that you choose a product that is safe and FDA approved. Applying any type of sunscreen to your skin before reading its ingredients is not only dangerous but it can possibly cause more damage than you think. 
When enjoying what you have planned for a day outdoors, the last thing you want is a sunburn or a heat rash. So investing in a safe product will give you the peace of mind you are looking for. Some users even stated that using an umbrella, hat, and or sunglasses will add an additional layer of protection while you are outside. With a long list of benefits, it is hard to believe how easy and exceptionally priced this product is. Just slip it into your bag on your next
outdoor
adventure, thank us later because you will be glad you did so. 
Subscribe to our Newsletter