Coola Mineral Face Matte Moisturizer SPF30
For the largest part of the world, the summer season is bidding farewell, but that doesn't mean that we are departing from the sun too. One of the greatest misconceptions among people is the belief that they need adequate sun protection during the summertime, or even worse, while they are at the beach. However, the reality is much different, and the impact from the sun is felt all year round. Therefore, it shouldn't come as a surprise that Coola Mineral Face Matte Moisturizer SPF 30 is gaining popularity and this why we're reviewing this sunscreen.
The sun has always been considered a good thing, and that's mostly true. We love those sunny summer days, enjoy its tender caressing during early mornings, love being spoiled by it. It is a life-giver, but unfortunately, it has turned out out to be a life-taker as well.  Or perhaps, it is not the sun to be blamed since it hasn't changed much, but it is us, the people who failed to protect our planet which has led to being more susceptible to the negative impact of the sun. 
After taking decades to finally make people aware that being directly exposed to the sun will cause not only short-lasting skin burns, but it can ultimately threaten people's life due to the cancer-causing sun rays which cause permanent skin damage, the rise of skincare companies which offer skin protection from the negative sun influence has drastically increased. The market is flooded with hundreds to even thousands of different skincare products which claim that your skin will be completely protected. And while those claims range from completely correct to completely nonsensical, their ingredients have also been a subject of much criticism too.
In the oxymoronic age we live in, the attempt to self-protect has often led to the destruction of the environment or in using chemicals that do more harm than they protect us. This mainly refers to the food, pharmaceutical and cosmetic industry as the opinions of what is good and beneficial and what is harmful have been equally opposing. This criticism has led to an emerging new type of industry, the so-called 'organic industry' which has reverted the way of how we feed and protect ourselves and directs us, the customers, towards nature once again. 
Coola is one of those companies that has recognized the importance of implementing nature and natural ingredients into their products for providing people with a better and healthier lifestyle, supporting local communities to indulge the uniqueness of their natural habitat. In doing so, the company has developed an advanced and scientific method of integrating the most potent organic and natural ingredients in their products. Such is mineral-based Coola Mineral Face Matte Moisturizer SPF30  which has been one of the most wanted creams on the US market. 
Pin for later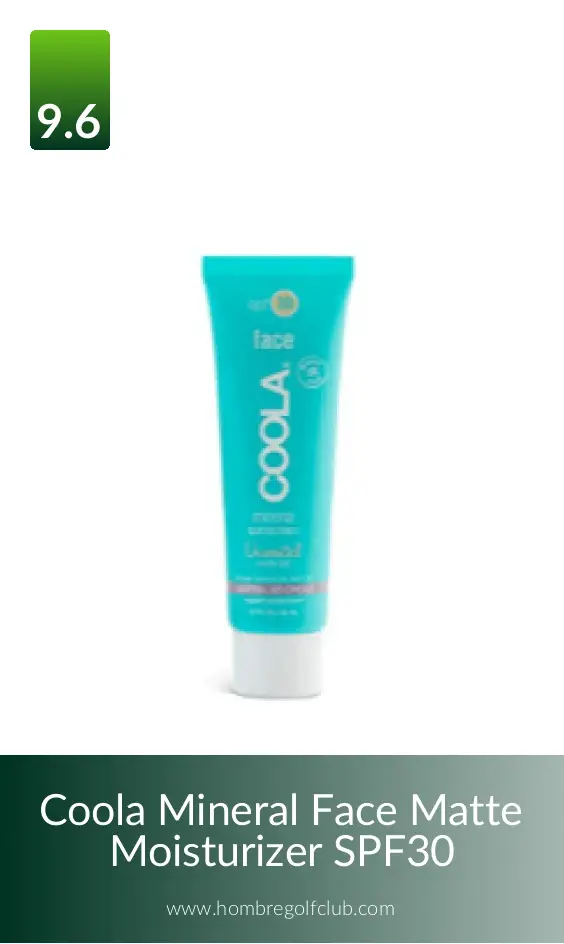 Editor's Pros & Cons
SPF30 mattifying sunscreen which can be used as a daily moisturizer
Its mineral formula contains titanium dioxide and zinc oxide and 70% organic ingredients
It contains antioxidants that help the skin fight free radicals
Natural ingredients that soothe and moisturize the skin
Lightly tinted and unscented, recommended for oily and combination skin
Lightweight, waterproof, and easy to apply
Some people who are sensitive to any of the ingredients might develop an allergic reaction
Pricey
General Description
Coola is one of the most reputed skincare companies which has a wide range of assortments ranging from sunscreens and broad skincare products to sunless skin cosmetics. All of the products feature eco-friendly formulas which contain freshly picked plants which are rich with natural antioxidants, such as algae and many different
seed oil types
to boost the efficacy of the formulas. This concept was established after many kinds of research have indicated that chemicals used in traditional sunscreens can additionally irritate the skin. So, what you won't find in their products are ingredients such as GMOs, oxybenzone or parabens which are harmful to people and nature.
About the Product
This unscented face moisturizer is one of the most popular and top seller product in their overall range. It is made with a blend of minerals, antioxidants and it represents a
lotion
and a sunscreen, all in one. It features SPF 30 which is sufficient for persons who are frequently exposed to the sun and who have light to mid-dark skin tan. The product is lightly tinted, so it is a perfect solution to cover all those face irregularities and imperfection one has without applying heavy makeup during the day.
What Does the Sun Do?
Even though the cosmetics market is one of the most unregulated markets, you can still find reliable and trustworthy products that will get the best for your skin benefits. Among the companies who dedicated themselves to self-regulation is Coola which, in the attempt to provide its customers with very natural and organic ingredients, took the advantages of traditional plants to fight nature's harmful impact with nature.
Before we talk about the effect of the sunscreen, we need to say something about the effect of the sun rays and what they do to the skin. You'll realize that this information is more than necessary when choosing the right sunscreen for you. So, the sun rays that reach the Earth consist of mainly two types of rays ultraviolet A (UVA) and ultraviolet (UVB) and
the blue light
which makes the sun and the water look blue.
When the skin is moderately exposed to the sun, these rays activate the many body processes and work on strengthening the immune system of the body. Plus, they activate many enzymic reactions in the body, including the production of 'happiness' hormones such as serotonin and endorphin. And that would be more than perfect if it wasn't for the more and more negative influence that the sun has on people, mainly because of the broken ozone layer and the world's pollution.
So, instead of enjoying the benefits that the sun is giving to us, we are facing potential skin damage, premature skin aging, and even skin cancer. Has it ever happened to look forward to going to the beach and to return from the beach late that day all burnt to the places that you hadn't applied sunscreen? Or, if you're a golfer who's been hitting the golf range for quite some time, then you must have felt the sun rays burning your skin. These are the UVB rays that don't penetrate deep into the epidermis but are strong enough to severely damage the surface layers of the skin. Their intensity varies by season, time of the day and location and they play a key role in developing skin cancer. The UVA sun rays penetrate deep into the skin and their intensity is the same all year round. They can also reach the skin through windows and clothes and only a good protective cream can stop them from damaging your skin.
Types of Sunscreen
The market is full of different sun protection products, but if you scrutinize their composition, there are basically two types of sunscreens, chemical and physical. Chemical sunscreens are those that we have been using for quite some time, the traditional ones, and they actually allow the sun rays to penetrate into the skin, which is then converted into a small amount of heat without affecting the skin.
The physical ones are usually called blockers because they form thin, invisible layers that block the sun rays from penetrating the skin, delivering as the manufacturers claim, a 100% protection to the skin. These are rather new and integrate the use of minerals, among the most popular being zink oxide which has been proven to be the most effective sun blocker. These are usually natural or/and
organic
and refrain from containing potentially harmful ingredients.
Coola Mineral Face Matte Moisturizer is a mineral-based physical sun blocker that contains about 70% organic ingredients and which protects you from the harmful sun rays and environmental aggressors. It features broad spectrum SPF 30 protection which means it shields you from the UVA and the UVB rays.
Skin Type
In the past, sunscreens often had the reputation of being very oily, tacky and delivered a shiny effect on the skin. This made the use of sunscreen annoying, unpleasant and even completely repulsive, especially for those individuals with oily or combination skin which led to complete avoidance of sunscreens. This referred to golfers as well, and they are especially at risk if they don't wear sunscreen as they are exposed to the sun for approximately four to six hours.

In order to solve the issue of unpleasant and shiny effect, Coola developed a special mattifying formula which is intended for oily and combination skin types, reducing the shiny effect and delivering fresh-looking coverage. The slight tinted texture perfectly fits any skin color, while the unscented, rich texture gets easily absorbed without leaving any residue.

Ingredients
You might be familiar with the fact that physical blockers, even though effective, have a bad reputation of being difficult to apply and leaving a whitish residue on the skin until the cream is completely absorbed. That's mainly due to the zinc oxide, which has a firmer and whitish structure.

Well, everything you knew about physical blockers, just forget it since when you talk about Coola, then everything gets a new dimension. The sheer and lightweight structure is very easy to apply, even though it contains two minerals as a base for delivering the sunblocking effect, titanium dioxide and zinc oxide, their blend with the rest of the ingredients makes them easy to use and very effective. Among the organic ingredients that deliver the moisturizing effect and keep the skin hydrated and fresh are used rosehip seed oil, plankton extract and Shea butter.

Rosehip Seed Oil- This oil is rich in vitamin C which is a crucial element in preserving the elasticity of the skin and making the skin look vibrant and fresh. It also abounds in essential fatty acid which hydrates the skin to the deepest layers and soothes its sensitivity.

Plankton Extract- Recent advancements in modern cosmetics have shown the incredible benefit that planktons have when used in skincare products. When used regularly they maintain the skin clean and free of impurities, blemishes, and imperfections, making it look radiant. They protect it from external stressors and free radicals.

Shea Butter- one of the most frequently used natural ingredients as it has an enormous positive influence on the skin. It helps the skin retain its moisture and soothes it from any irritations and inflammations. It is rich in Omega 6 and Omega 9 fatty acids and acts immediately upon application.

In addition to these three key elements, all Coola products are enriched with powerful antioxidants that play a crucial role in providing substantial help in fighting free radicals. Such ingredients are linseed oil extract, cocoa seed extract, prickly pear extract, and Buriti oil. All of the organic and natural products are free from pesticides and are picked from areas free from contaminated areas.


Key Features
The most popular lotion, moisturizer, and sunscreen coming from Coola boast more than 70% organic ingredients and minerals that help the skin stay protected from the harmful sun rays and keep its fresh look. It is a broad-spectrum sunscreen with SPF30 based on natural minerals such as titanium dioxide and zinc oxide. In addition to these minerals, it contains natural ingredients that feature antioxidants that fight free radicals and prevent external aggressors from attacking it. It has calming and soothing properties, it is easy to apply and very absorbing. Recommended for all skin types, especially oily and combination skin, you will never feel your face greasy and shiny. It is a waterproof formula that will be effective within two hours of the application no matter whether you are on the golf course, walking and sweating, or relaxing by the beach.
Key Features


SPF30 mattifying sunscreen which can be used as a daily moisturizer


Its mineral formula contains titanium dioxide and zinc oxide and 70% organic ingredients


It contains antioxidants that help the skin fight free radicals


Natural ingredients that soothe and moisturize the skin


Lightly tinted and unscented, recommended for oily and combination skin


Lightweight, waterproof, and easy to apply


Bottom Line
Many satisfied users claim that this is the best sunscreen that they have used. It is very transparent and easy to apply, and it has a triple effect, it protects your skin from the harmful sun rays since it features SPF 30, it
moisturizes the skin
and hydrates it, and it provides proper coverage thanks to the tinted, powder-like creamy formula. It helps you fight the greasy shine on your face by mattifying it but at the same time, it is so sheer and lightweight that it helps the skin breathe. The fact that it has thousands of five-star ratings is proof enough that this moisturizer truly works.
Subscribe to our Newsletter