Cleveland RTX-4 Wedges
There a few things better than getting your hands on a new Cleveland club. These clubs have been synonymous with incredible golfing since the start, offering players a smooth and vastly improved game unlike any other. But it's important to remember that Cleveland's clubs aren't just incredible by association. They're made from a wide range of revolutionary innovations, the name just gives a golden seal of approval and assurance of the value of what you're investing in.
Ever since the company's creation in 1979, Cleveland has continuously transformed the way we golf on the green. With the latest addition to their ever-growing family, the brand truly proves their worth with the RTX-4. It has to be one of the best and authentic wedges this brand has ever produced, and it possesses some serious short game technology.
The basis of this club is partly the result of Cleveland's exclusive Rotex Face Technology. This works to create a higher spin rate through more active Tour Zip Grooves, assertive face milling, and accurate laser milling.
The RTX-4 provide plentiful spin thanks to the use of refined innovations, delivering extortionary control on the course, which is to expected considering this is a Cleveland product.
One of the other reasons behind these clubs impressive response and smooth feel is the use of Progressive Feel Balancing tech. The integration of this innovation works by placing the center of gravity (CG) in the most effective location. Thus enhancing the feel and delivering reliable distance control with every use, even on mishits.
The CG's location is also adaptable, changing to each individual loft and in turn making it easier to control your trajectory. The wedges are astoundingly adaptable and suit players of all skill levels.
The developers have also created four new grinds based upon the sole of the club, which includes the XLOW grind.
When you combine these innovations and the club's stylish and sleek exterior, you recognize that you have an outstanding club. One which will not only dazzle your golf companions when you're on the course but one that also assists and enhances your execution on it too.
Pin for later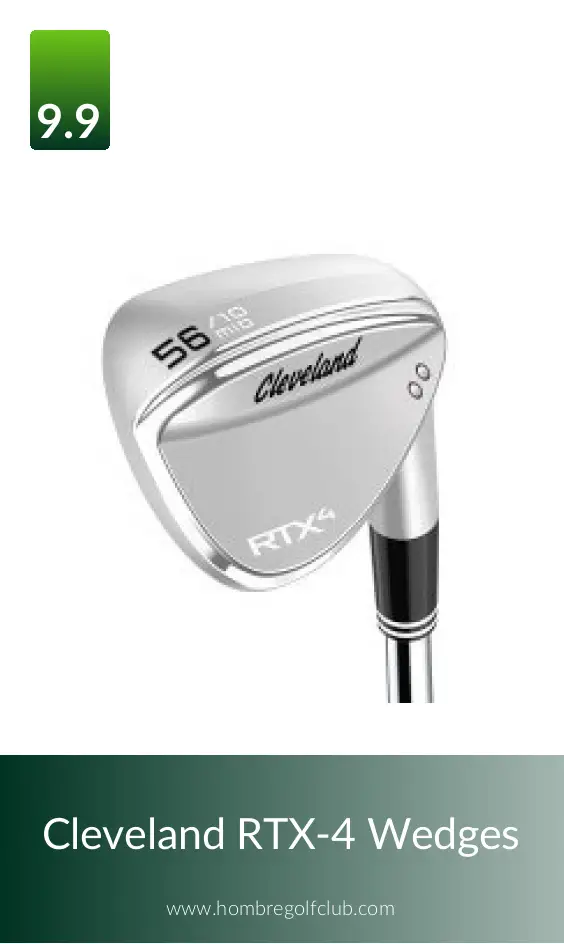 Editor's Pros & Cons
The sleek and minimal aesthetic creates a desirable and stylish finish that will stand out in your caddy as your go-to-wedge. 
With the assistance of design technology, such as the Progressive Feel Balancing technology, works to aid your performance for a crisper and heightened play.
Superb sound and feel many golfers will love.
The specialized coating works to reduce glare and create a look and performance many golfers desire.
Some golfers will favor a softer wedge.
Sound & Feel
The
sound
and feel of a club often reveal a lot about the quality of your hits, especially if the shot was off-center. They're important indicators that we need to be aware of, but of course, we need to be certain our clubs are reliable enough to pass us this information.
One of the things that helped make
Cleveland's
wedges a well-known staple of the golfing world was the tone and feel of their clubs. Thankfully, this was something that was maintained by the creators in the production of the RTX-4 wedge.
The audible feedback produced on full shots is a soft click sound, which becomes deeper when you find the center of the face. The character of this sound is close to that of its predecessor, the RTX as well as some other competitor wedges.
Shots that are more center of course impact the feel of the
club
. This hits often feel like they're melting into the club. However, off-center strikes can feel rigid but still offers forgiveness in terms of available
distance
.
The instant feedback given on mishits is difficult to disagree with and is something many players
agree
with.
Design
Keeping up appearance can be an important thing, particularly when it involves golfing. After all, no one wants to be spotted on the course with an ancient set of clubs from the early 1900s. While they're certainly a great conversation starter in your man cave, they won't do you much good on the green.
While the overall appearance of your clubs tends to serve aesthetic purposes, there are some elements which work to benefit the overall performance and maintenance of the
club
.
Upon first glances at this particular Cleveland model, it appears as not a lot has changed. While the club still maintains its incredible muscle back form, it has an additional cut out section towards the back of the sole. This works to
elevate
loft and improve bounce, which is actually marginally larger when compared to competitor
brands
.
The compact shape of the wedge is something a lot of players will relish, along with the lack of offset. In lower lofts, you will find that the leading edge is squarer, which can be a negative to some users of the club. To some, it can result in the club feeling more like an iron than anything else.
It has a slimmer appearance and narrow base compared to some competitor
wedges
.
You can clearly see the tech used within the face, the lines can be seen as being all over, however, it isn't a distracting feature.
When you chip away at the ball, you'll be welcomed with a soft yet solid feel. While the difference in handling is minimal between competitor brands, some players with sensitive hands can feel like its structure is not as soft as others, which can be a downside for them.
Performance
How the RTX-4 performs on the course is an important area to be aware of. After all, you could have the best-looking
club
in the world, but if it stinks on the course you'll never buy, let alone use it.
The RTX-4 claims to be a club that can create more spin that its predecessors. This comes from the improvements from the manufacturing process. Despite their groundbreaking additions, Cleveland has managed to create the ultimate must-have club without breaking any rules in terms of groove size and shape.
With tighter tolerances and more accurate laser milling, alongside aggressive face milling, this club delivers an additional 250rpm of spin, as well as additional consistency.
For most, this increase will be hard to spot, but it certainly will perform a lot better than your current wedge, and let's be honest, who wouldn't want that?
The overall purpose of this club in to increase spin on rough, shorter shots opposed to the fairway, which is something the RTX-4 did very well in doing.
Its predecessor, RTX-3, switched to a V Sole grind, and this continues in the RTX-4, something which Cleveland claims enhances
turf
interaction over the conventional cambered sole, which means it can exit quicker.
This club is available with Full, Mid and Low grinds, plus a unique XLow variant, which all vary in terms of loft and bounce. The quality of bounce is an area of importance that will tend to vary from person to person and their environment. Any dessert based golfers may prefer something with minimal bounce, as a higher bounce club can cause a lot of damage on a fairway.
The Full option is ideal for shelter golfers. There is some relief from the trailing margin while the polished coating helps it stand out.
This offers roughly 10° of bounce. While this is not a particularly high bounce wedge. That means players in sandier environments or perpendicular swingers may favor this grind.
The Mid grind comes in 46° to 60°. You'll notice that the edge is stretched with a sort of double drop influence. This works to offer additional relief on the main section of the sole.
Some players may think that the intention for this grind is more ornamental than performance, so keep this in mind when purchasing the club. But despite this, it still performs with a go-to bounce level.
The low sole works for players who like to start face-up, and as a result in greater lofts from 56° to 64°.
The edge gets wider and the grind offers a low bounce, and while being used in delicate environments it will drive effectively through the grass.
Lastly, the XLow has a broader sole grind. Available in 58° and 60°, it offers 3° of bounce. So, this particular grind is for more skilled players who need vertical assistance.
Innovations
Since starting in the 70s,
Cleveland
has worked hard to create products that work astoundingly well and prove to be essentials that players would struggle to live without. They've managed this thanks to their constant stream of tech innovations, which also strives to enhance your execution on the course no matter your skill level.
The key pieces of tech used within this club can be seen within the face and in the sole (the latter with talked in-depth about).
Within the face, the creators of the RTX-4 have used fourth-generation Rotex Face tech. The brand claims this creates higher
spin
(which is also partly due to the enhancement of the finest Tour Zip modifications).
The brand also claims to have created one of the hottest faces they have ever developed with the assistance of aggressive face and accurate laser milling.
The RTX-4 also utilizes a more dense shaped blade, particularly in comparison with its predecessor, the RTX-3, for improved MOI and a slimmer profile.
Feel Balancing tech also works to shape the rear of each loft, adjusting the CG on X and Y-axes for improved handling and
distance
command.
Adaptability
Following extensive testing, it was found that the RTX-4 has a lessened offset and a slimmer appearance overall, which provides a timeless blade form which advanced golfers prefer to use and play with.
Players will find the RTX-4 and adaptable club that allows you to choose your
desired
choice of grind, thus providing you with the versatility to administer challenging shots.
Investment
If you're searching for a club that looks the part and feels good, then you should seriously consider the Cleveland RTX-4 Wedges as they're truly an incredible option.
With a selection of coatings to choose from and different grinds, you'll certainly find a specific club that matches your ability on the course. It offers high value for money, and constantly proves itself to be a wise investment.
Regardless of how many wedges you need to add to your caddy, you'll never go wrong with the RTX-4. It performs like a dream, and you'll certainly be adding some style into your
bag
.
Key Features
The RTX-4 is unquestionably an impressive offering from one of the most attractive wedge designers in the golfing trade. This product has certainly impressed many golfers who have had the pleasure of using it. This club will continually impress you, no matter your skill level. It proves itself to be an utter essential and a fantastic addition to your golf bag.
Created using an impressive selection of tech innovations, this club will assist your performance on the green and will certainly impress your friends.
Key Features


Fourth generation establishes the RTX series's status as a modern and truly popular wedge. The grooves on the face are incredibly sharp, striving to produce incredible spin.


This club comes with a wide range off choices (the choice of four different soles and shape options), enabling you to customize the club's improvement of your skills.


Accurate and consistency shots.


Distance controlled.


Bottom Line
When acquiring a brand-new wedge, you need to be assured it's a piece that'll go the distance and continually strive to impress both yourself and your friends on the course. If you're seeking something that genuinely works to enhance the way you operate, then you should seriously consider obtaining the RTX-4.

The many adjustments to the club, which includes the use of tech, continues to enhance and help it perform even better.

Not only is it considered to be one of Cleveland's most impressive products yet, but it also proves itself to be a real asset to your skills on the green. The engraved brand logo on the club certainly lends it Cleveland's seal of approval and assurance of its high quality.
Subscribe to our Newsletter