Cleveland Golf Men's 588 RTX 2.0 Muscle Back Wedge
Cleveland Golf, another well-known brand in the golf community started back in the late 1970s. After doing extensive research, we discovered that they were first known for crafting classic golf club replicas and named Cleveland Classics. But once they designed the 588 wedge, it changed the game for them entirely. By mastering in-demand concepts that golfers are seeking, they have manufactured quality clubs, apparel, and accessories. With today's advancement in technology, Cleveland products have advanced as well. We learned that they have greatly improved their grind and bounce features.
Known for their quality products, here are Hombre Golf Club, we'd like to share with you their Men's 588 RTX 2.0 Muscle Back Wedge. From our research, we not only learned that this model is their most popular amongst golfers but it offers an immense amount of value to your caddy. From improvements in its overall design throughout the years, we discovered that this versatile club is fully customizable and functional. Totaling 34 configurations, tour players love this option.
Like many manufacturers in the golf industry, Cleveland too also takes their research and customers feedback very seriously. We believe this is very attractive to golfers because it is evident that they know exactly what they're doing and is designing clubs that golfers need to reach high scores. If you are searching for a club that offers a wide range of grind and bounce options, offers multiple customization options and is reasonably priced, this product by Cleveland is a great choice. We guarantee that this club will improve your game by allowing you to score higher. If you are ready to step your game up without breaking your bank, continue reading our in-depth review below.
Pin for later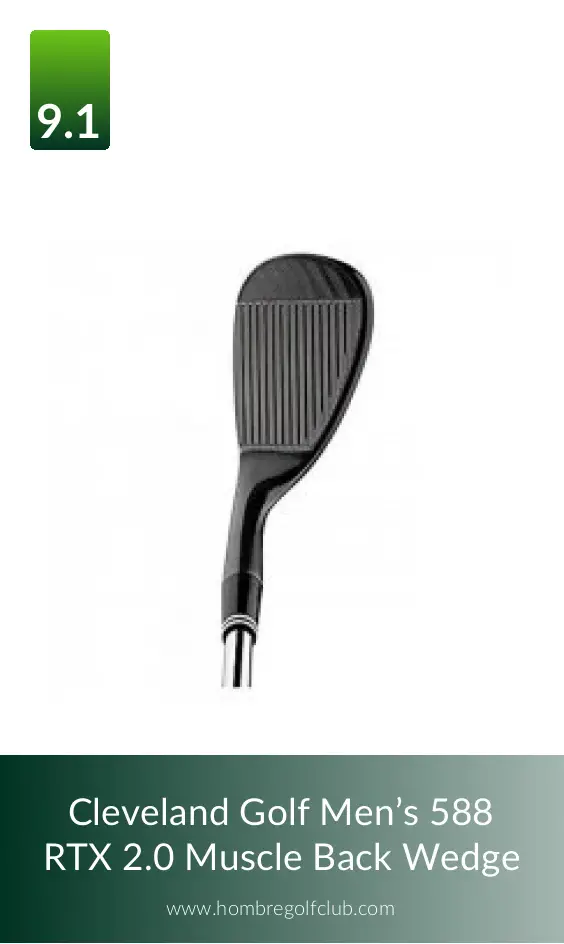 Editor's Pros & Cons
We guarantee that this wedge will not only increase your overall performance on the golf course but it will look good in your collection as well
Provides an immense amount of grind and bounce options (full, standard, and full)
This option is designed with Cleveland's Rotex face technology that gives this club larger surface roughness 
Crafted with over 15% sharper grooves which allow for more spin
Its muscle back head shape is considered traditional and used to increase your overall game 
Cleveland Golf is known to manufacture exceptional irons and woods
Left and right-hand orientation 
This wedge offers multiple loft angle options
This club might be difficult for beginners to play with so it is not the best option
Build Quality
After doing extensive research, compared to their previous models, we learned that Cleveland Golf's Rotex 588 2.0 is their latest design. This tour-proven design is said to be their most
versatile
design yet and is very popular amongst golfers. From your initial swing on the golf course, you will immediately notice an improvement compared to its previous models. From its advancement in the balls overall spin
speed
and stopping power, your scores are guaranteed to increase. 
What makes this wedge stand out the most is its overall build. With that said, Cleveland Golf uses advanced laser technology to build the face and head of this club. Not only is it aesthetically pleasing to golfers but it improves its overall design and your games performance. Their laser milling
technology
is used for precise grooves and allows for fine-tuning of the micro-roughness. This guarantees that you will hit the golf ball more consistently across the board. Based on the USGA roughness limits, this option by Cleveland Golf is approved. 
With its fourth generation tour zip grooves design, this option by Cleveland Golf will look great in your caddy with the rest of your collection. We learned that this design also offers steeper walls and a sharper radius when you hit the golf ball. Compared to previous models this is a total upgrade. Also, we would like to mention that these grooves are designed to stop dirt, sand, grass, and moisture from getting stuck, ensuring that your head is clean at all times. With the advancement of their Rotex milling, the increased friction is a plus to many golfers. The speed of your ball and stopping power is increased significantly, no matter what course condition you are swinging from. 
Lastly, you can trust that the shaft options you are offered are designed with quality materials and will improve your game. From our research, we learned that they offer a Rotex graphite wedge shaft and a true temper dynamic gold shaft. Both shafts ensure that your performance will increase. You will feel better and more confident with these shafts the next time you are on the golf course. In conclusion, if you are searching for a wedge that is made with quality materials and will increase your overall game, this option by Cleveland Golf is a great choice. 
Bounce and Grind
If you are looking to increase your overall short game
performance
, we learned that it is very important for you to invest in a club that offers exceptional bounce and grind. If you are new to golf and are still learning the in's and out's, there is no need to worry. We'll explain the importance of these two features below so continue reading. 
The different degree of lofts is very important and is a major key player in the trajectory of your ball once you hit it. For instance, if you hit the golf ball correctly and you choose the highest degree of loft from your collection, it is guaranteed that your ball will fly higher, farther, and longer in the air. Also, you will notice that the leading edge is higher as well. 
From Vokey, we learned that the wedges bounce is defined as the angle crafted between the leading edge and the lowest point of trailing edge or sole. This is the area where the club hits through the ground as it hits the golf ball. Many
golfers
believe that the bounce is measured by the wedges overall forgiveness. With that being said, it is safe to say that if your bounce is in line with your swings, your overall performance increases as well. Forgiveness is very important and if you want to score high you will want to invest in a club that offers exceptional forgiveness. Furthermore, this option by Cleveland Golf is a great choice.
In terms of bounce, there are three different options, low bounce, mid bounce, and high bounce. These wedges differ greatly and are used for specific reasons. First, the low bounce options have a loft between 4 and 6 degrees. They are also best to use if you are stuck in coarse sand or tough turf. This option will allow you to hit the golf ball easily and guarantee the best shot in shorter games. Next, their mid bounce options offer lofts from 7 to 10 degrees. These clubs are the most popular and are used often. This option will guarantee your distance to be exact and you will have the most control of your shot, making it the most versatile. Lastly, the high bounce options offer a loft of over 10 degrees. It is recommended that you use this when you are found in the softer turf and sand. Since this is used for those situations, we can ensure that your leading edge will not sink too deep into the sand or turf, allowing for a steady and clear shot. On the other hand, many describe the grind as the removal or manipulation of the clubs sole material. This features aids in improving the overall contact with the turf or sand. Choosing the right grind for you is important because this allows for exceptional versatility. As always, it is important to choose the right bounce and grind options based on your
swing
type. By doing this, it is guaranteed that your hits stay consistent at all times, no matter what course conditions you face as well. 
In conclusion, this option by Cleveland Golf offers three bounce and grind options, low, standard, and full. Their low bounce, 1 Dot, offers trailing edge grind which allows maximum heel and toe grind, the lowest yet most effective bounce and ensures that your leading edge is kept close for straight and steady shots. Next, their standard bounce, 2 Dot, also offers trailing edge grind with only moderate trailing relief. This mid-effective bounce is a very popular and versatile option amongst golfers. They have stated that this option is not only the most versatile but it is the easiest to play within all course conditions. Lastly, their full sole, 3 Dot, is designed with a constant sole width and offers their highest most effective bounce. If you find yourself playing more in the greens, this option is the better choice for you because it will ensure fuller shots.  
Cost and Value
If you are in the market today and have a tight budget, there is no need to worry with this wedge. We can guarantee that it will not break your bank. Also, with so many options on the market, it is sometimes very hard to find a quality club for under one hundred dollars. With that said, we believe that this option by Cleveland Golf is a winner. Even though this wedge is designed more towards tour players, advanced players could highly benefit from this option as well. 

If you are looking for a versatile club with different options, this is the one for you. From our research, we learned that since this option has been out in the market for quite some time, it is priced less than the new ones. With that said, even though it's not expensive, this club offers a lot of value. With 34 different configurations, it is hard to beat.

It is evident that Cleveland Golf knew exactly what they were doing when they designed this wedge. For generations, they have been designing quality products and this option is their latest in this series. It is crafted with their advanced Rotex milling with strategically designed roughness and will increase your spin, speed, and stopping control. With that said, don't worry, it is all approved by the USGA. In conclusion, for the price and its overall value, we believe it is a great choice for all player types. 
Key Features
Many golfers, especially tour players enjoy this option by Cleveland Golf. Even though the market is flooded with so many different options, brands, and styles, don't worry, we have you covered here at Hombre Golf Club. Choosing the right club can be a little bit of a job but after doing hours of research, Cleveland Golf Men's 588 RTX 2.0 Muscle Back is an extremely exceptional choice. If you are looking for a new club to add to your collection, you will be proud to know that this option will increase your ball speeds and stopping power. Continue reading to read about this club's key features:


Advanced, USGA approved 2 pass micro-milling pattern 


Guaranteed consistent and straight swings with this golf club


Designed with advanced technology 


Crafted 4th generation tour zip grooves that are deeper 


34 different configurations for game improving performance


Three grind options (full, standard, low)


Muscle back head shape 


State of the art shaft designs 


Bottom Line
As we mentioned above, Cleveland Golf is a well-known company in the golf community that manufactures quality clubs, apparel, and accessories. Like many companies out there, they take their customers feedback and suggestions very seriously. We found from our research that many love this about them because they put their customers needs first and create quality products that many enjoy and use. 
Even though this club by Cleveland Golf is not the first choice or recommended for beginners, its heavyweight head is very popular amongst avid and more advanced
golfers
. It is very easy to use and believe that is the aesthetically pleasing design will look great in addition to your current collection. From our research, we learned that this club has been a very popular choice for over 4 generations and counting. Technology is advancing and it is safe to say that the masterminds who craft these clubs at Cleveland Golf and ensuring that they keep up with it.
Furthermore, whether you are going on tour or wanting to add a new club to your collection, this option by Cleveland Golf is a good choice. After reading our review, we hope that one, you found it helpful and two, you take this product into some serious consideration. We guarantee that you will love it as much as we do. Even though some have complained about the heads overall weight, don't worry, we still think you should give it a shot. 
Subscribe to our Newsletter