Callaway XR 16 Driver
Golfing is one of the best ways to get away from the chaos of your daily life and just relax and focus on the simpler things in life, whether its by yourself or with your pals, there's little wonder why its estimated that a golfer (regardless of their skill level) will spend an average of 4 to 6 hours on a golf course during each visit. But let's be honest, who can blame them?!
With that being said, this lengthy amount of time spent on the golf course only stresses how important it is to have the right equipment with you. Not only does it help you look the part while you're golfing, but these specially designed pieces of golf equipment help you perform better too.
Every year golf companies bring out new products and their fresh new take on recent products. All of these things have been modified and near perfected in order to help assist you in improving your skills and performance. While these new products may seem a little pricey you really are getting what you pay for, high quality and luxury.
While it may be difficult to believe sometimes, a lot of effort, energy, thought and technology goes into creating excellent, forgiving and high performing golf clubs. But of course, with so many golf brand out there who are all working hard to improve their products and clubs, it can be hard to find the right club for you or to even know where you should start.
If this is the case for you, then its always a good idea to start looking at brands that have built a good reputation for themselves over the years. Doing this through consistently making products that add flavor to a golfer's already established skillset. With companies like this you know you can rely on them to help provide you with high-quality products and gold equipment.
One of the best companies and brands to rely on when you don't know who to go to for a new club is Callaway. Over the decades, Callaway has established itself as a brand that golfers can trust to deliver high-quality clubs and bags that perform well on the course. They're a great company to start expanding or even starting your collection of golf equipment with. Whether you've just started golfing or you're a seasoned professional, you'll certainly benefit from Callaway.
The XR16 Driver from Callaway is the perfect addition to you caddy if you're looking for something that will deliver consistency, accuracy and unbeatable high performance.
Not only that but it also offers excellent workability, enabling you to unleash the clubs full potential as well as your own. This driver is perfect for any player who wants to kick their performance up a notch. The acoustic feedback is also excellent, offering you the very best in sound and feel upon the ball's contact with the club.
Let's take a closer look as to why the XR16 Driver is an excellent golf course companion for you and your caddy.
Pin for later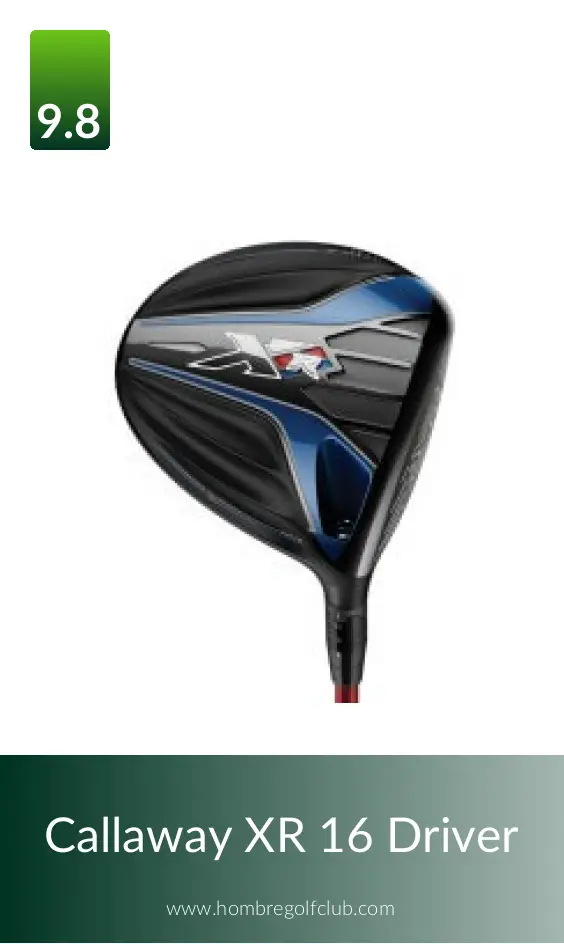 Editor's Pros & Cons
This club provides you with exceptionally fastball speed and impeccable distance too. While the XR16 may not be the longest driver available, it performs perfectly on the course.
This club also offers plenty of forgiveness, especially on off-center hits. This feature is one of the main highlights of this club that many golfers will appreciate.
The sound and feel of this club are also outstanding. It offers brilliant audible feedback that dampens on mishits, helping golfers by providing them with a lowkey sign that they've made a mistake.
The adaptability of the clubface bias is also advantageous as it provides you with the option to change the draw bias. This, of course, helps deal with a common golfer's complaint too.
Unfortunately the higher spin created by this club may not work for many golfers. In comparison with other clubs on the market, this club doesn't offer a lower spin that would suit some players better.
Technology
As we previously mentioned, there is a lot of thought, time and thought put into the creation of the XR16, especially in terms of what pieces of technology would be installed in its structure and foundation.
While advertising this particular
driver
, the brand itself actually had a few conversations with engineers at Boeing, doing so to share their creative process. During these conversations, the brand highlighted a number of design and
technology
features while certainly blew away many golfers upon learning them.
The creators of this club were looking to improve airflow over the top of the clubhead, and thanks to their hard work and effort, they were able to improve upon their previous XR design, the XR15. The improvement of airflow helped to increase the driver's overall ball speed. While it may be a small to medium amount of difference, it's still a helpful amount in a world where drivers are constantly changing and improving. It also helps you get a few additional yards out of your shot, which is always a bonus!
The creators have also focused on improving the forgiveness of the XR16 as well, which is something everyone will certainly be able to appreciate. Not only that but by lengthening the form of the head, the creators have been able to improve the driver's overall MOI. As well as this, they repositioned the CG (center of gravity) to a lower, deeper position within the club's head.
Within the clubface, the creators have also incorporated the beloved R-MOTO face. This face has been used in the past to promote quicker
ball
speeds. They have really improved the R-MOTO face too by slimming it by 19%, using this additional weight throughout the clubhead for additional improvement of MOI. This even helps you with improved ball speeds on off-center shots!
You can even tune the driver to meet your specific requirements thanks to
Callaway's
Opti-Fit hosel. This gives you an exceptional layer of adaptability with the driver, giving you the opportunity to adjust it to your needs. While it may be common amongst other drivers, it is still an incredibly useful feature that many
golfers
will appreciate and benefit from.
Style
An area of consideration you may want to take into account when purchasing the XR16 is how it looks. Ideally, you want something to match your personal tastes, but it also needs to blend in with your other
clubs
. On top of that, it needs to be just a little bit different from the rest so it's easier to spot and grab in a pinch.
Luckily for you, the XR16 has a lovely color scheme, which blends the colors of its predecessors quite nicely. The classic contrast of the black and red are perfectly matched with a dreamy royal blue for a quick injection of fun and style.
The peak of the driver, you'll see that it has been given a luscious matte finish (in black), with gives the club a classic, yet modern, finish. The XR16's look and form focus mainly on the speed step, this has been outlined with the use of double grey lines. If you run your fingers along this step, then you will also be able to feel it. Of course, this is not just an aesthetic design, as it is also a key part of the club's aeronautical design. In the center of the grey bars, you'll notice a similar color chevron. This helps with your allignments, adding a nice little feature to the clubhead.
If you turn the
club
over, you'll notice that there are a lot more things happening with the design. The immediate thing you'll notice is the XR branding, where the X is bold and large. Both letters have been decorated in contrasting colors. The logo is encompassed by the luscious royal blue, going from the front of the toe to the heel of the
club
, and along the back of the club's head. This is an optical illusion to help make the club appear like it's going faster.
The clubface also features a series of black speed ridges, which are in a great design formation. This particular feature has been previously used by Callaway in their GBB design.
The driver's toe has an excellently placed
Callaway
logo on it as well. This logo was done in a white/grey color.
You may also notice a subtle design difference between the XR16 and its predecessor is its use of painted graphics on the club's face. These are more pronounced and noticeable.
The shaft is painted red, which fits in perfectly with the overall theme of the driver. While this driver may not perfectly match your other golf clubs, it's the perfect injection of color, life, and style. You'll certainly look and feel ready for anything with this!
Performance
Callaway truly has made something special with the XR16 Driver. The incredible performance alone is enough to impress many people. Not only that but the average golfer will find somewhere between five to six yards of additional distance with this club. Balls launch off the clubface with no issue and deliver high-quality accuracy and consistency, even on mishits.
The level of forgiveness given by this club is also impeccable and holds true to the claims made by the company. This is especially true during off-center hits or mishits. The high level of forgiveness also works to boost your confidence while on the golf course too, which also helps improve your overall performance.
One area that may not be entirely desirable is the sound created by the driver. It has a more metallic clink sound and comes across as dampened. The latter is not too much of an issue as it does serve as a useful and subtle indicator of any badly played shots. However, we're aware some golfers would prefer a different approach to audible feedback.
This club also offers an excellent level of workability, especially in comparison with other drivers. It's great at impacting the ball without causing much curvature. The only issue with the XR16 is the blocking and the fact that it rarely moved direction.
The driver also offers a firm and sturdy feel, especially when you've just taken a dead center shot. It effortlessly goes through the golf ball. This also means you can almost immediately identify any mishits. You may notice of heel hits that the
club
goes through some twisting, however, this is more of an issue with the shaft than the clubface.
Distance & Playability
This club really does supply you with a little kick of additional distance, which is an ideal advantage to anyone struggling to get in those extra yards.
This
driver
will also help you keep your ball flying high and straight consistently, even on mishits. This can also be changed and adjusted with the assistance of the adjustable Opti-Fit hosel, which adapts to meet your needs. Obviously, this is an area where few and simple adjustments are often the better ones when it comes to ensuring each hit is done right.
Key Features
If you're looking for additional speed, distance, forgiveness, and consistency (especially on mishits), then you should seriously consider buying the XR16, as it provides you with all that and much more.
It's a game improving club perfect for all golfers no matter their skill set. But please note, if you're a fast swinger, then you may prefer a driver with a lower spin. Otherwise, this club is great value for money.
Key Features


Opti-Fit hosel.


R-MOTO integrated into the structure of this driver.


Increased Centre of Gravity and MOI.


Eye-catching color scheme.


Adjusted weighting within the clubface.


Bottom Line
You'll certainly be impressed with the XR16, offering you consistent forgiveness, accuracy and a high-quality performance every time. Not only does it provide you with excellent performance, but the visual look of it is also very appealing.

Callaway really has made a trustworthy driver you can rely on to provide excellent results on a consistent basis. You have a key piece of technology within your hands with the XR16, and it will certainly be your favorite golfing must-have.
Subscribe to our Newsletter