Best Callaway Golf Balls – 2021 Buying Guide
In a
Hurry? Editors choice: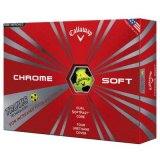 Test Winner: Chrome Soft

The best golf ball is a contentious debate amongst golfers of all skill levels.

But after countless hours of research, testing, surveys, and more, a few commonalities occurred. One being that Callaway golf balls are a quality product that many golfers swear by.

So we put together a buying guide, dedicated solely to the varying models of Callaway golf balls. Peruse our top picks and buy a box or two for your next outing.
Standout Picks
Criteria Used for Evaluation
Style
There are numerous styles of golf balls. Some work better for putting, others are better for distance and so on. With that in mind you can distinctively tell which golf ball is for amateurs and which are for professionals based off of the cost and the overall design. For example, Callaway has excelled at creating four to five-layer golf ball designs that are expertly crafted for professionals. However, this maker has also created three-layer designs which are designed for amateurs. Now, in tangent with variety, one aspect that helped us select the top ten products is the best quality reviews. By taking the time to read each review, we were able to identify the top ten best products and take into consideration the many concerns of many individuals. Overall, Callaway is known as a leading expert when it comes to their products and most products have above four stars and a large number of reviews.
Texture
As one of the key criteria that we took into consideration, we found that the outer shell and overall texture of the product was one of the main concerns of many individuals. The outer shell will determiner how the product will perform, as does the inner compression design and core. With that, this criteria became crucial in selecting the top ten best products to ensure that there was an overall quality performance design.
What we discovered is that this brand is a leading expert in designing products that are expertly crafted for anti-scratching and better distance and traction when it comes to the outer shell. Part of their designs ensure better quality due to a precision cut dimple technique that is expertly crafted for the perfect number of exterior dimples on all of their products. With that, we found that the overall exterior of their golf balls, whether for the novice or for professionals are made from some of the best tops of the line materials such as urethane and made from different dynamic designs such as HEX Aerodynamics.
Materials
The materials of the golf ball is an important factor to consider when selecting what type of golf ball you should buy. The core of the ball is the power center of the ball and can influence the spin, and velocity. Then you have the cover of the ball the outer shell, and that is usually made out of surlyn or urethane. Surlyn tends to be more durable than eruthane, but it doesn't provide much back spin in which case you want to get a urethane golf ball. Then the materials can vary from two piece golf balls to three piece golf balls. Overall we wanted to make sure the golf balls that are on our list were made of quality materials and well built.
Compression
The inner core of a golf ball determines many different aspects of how an individual will perform. For example, the level of compression determines how long the product will be in the air, the distance it will travel, and how soft the hit will feel for the individual. With that, this brand has many different layers when it comes to their products. There is an exterior layer, mantle, and core, somewhat like the layers of the planet, each layer is designed for quality and can cause the product to differentiate vastly.
Effectiveness
The last criteria we looked at was the effectiveness of the golf ball. We wanted to make sure that the golf balls we included did exactly what they were supposed to do, and how well they worked. No one wants to waste money on something that doesn't work properly and we wanted to make sure that when you buy your golf balls you're getting your moneys worth.
Subscribe to our Newsletter