Callaway Golf Org 14 Cart Bag
The average golfer will spend roughly four to six hours on the golf course during each visit. This high level of time spent means the requirement for high quality, trustworthy equipment grows. That's why on an annual basis, many golf equipment companies bring out new equipment, for you to refresh your golfing equipment.
But of course, these products are not only there to look nice. They've been created with the intention of them being better than their predecessors, to help unlock your potential on the golfing green. They also help eliminate any problems you may face while golfing, such as a flimsy golfing bag that is impossible to transport and store your beloved clubs in. Of course, all of these products not only help you out while playing a game of golf, but they also help you look the part too. When you have the right equipment with you, you're not only going to see an improvement in your performance, but you'll also see an improvement in your self-confidence too.
If you're a golfer who frequently visits the course, then you'll understand how essential it is to have a golf bag you can rely on. One that will not only hold your clubs but also your smaller essentials too. You need it to be easy to transport (both on and off a buggy or across the golf course), and you need it to look good too. We understand that a golfing bag is not the most important part of your golf equipment (that being the clubs themselves), however, it still proves itself to be essential part time after time. After all, this piece of equipment helps you carry, transport and hold all your must-haves. If it does a poor job at it, then what good is it?
Because this is a key essential when it comes to your overall golfing experience, it is constantly being worked on and improved by manufacturers to ensure that it enhances your experience on the course. This is one of the main reasons it is important to regularly refresh your equipment because then you are not only looking the part while on the course, but you're staying on top of your game and maximizing your golfing potential.
If you're in the market for a new golf bag and cart, then you should seriously consider the Callaway Golf Org 14 Cart Bag. Since being unveiled in 2019, it has already gone on to wow countless users, proving itself to be a key investment for your golfing collection.
Available in a verity of varied colors, this piece will match your personal tastes and preferences, making it a key addition to your golf green style.
This bag features 14 way tops, with full-length separators, as well as an individual putter hollow (with a TPE insert) to offer additional shaft protection. Not only that, but one of the other incredible features of this bag is the Nonstadium top. This enables wedges to sit comfortably without any hang.
There are so many outstanding features within this product. But with that being said, let's look into the Callaway Org 14 and reveal why its set to be your favorite Callaway product of 2021.
Pin for later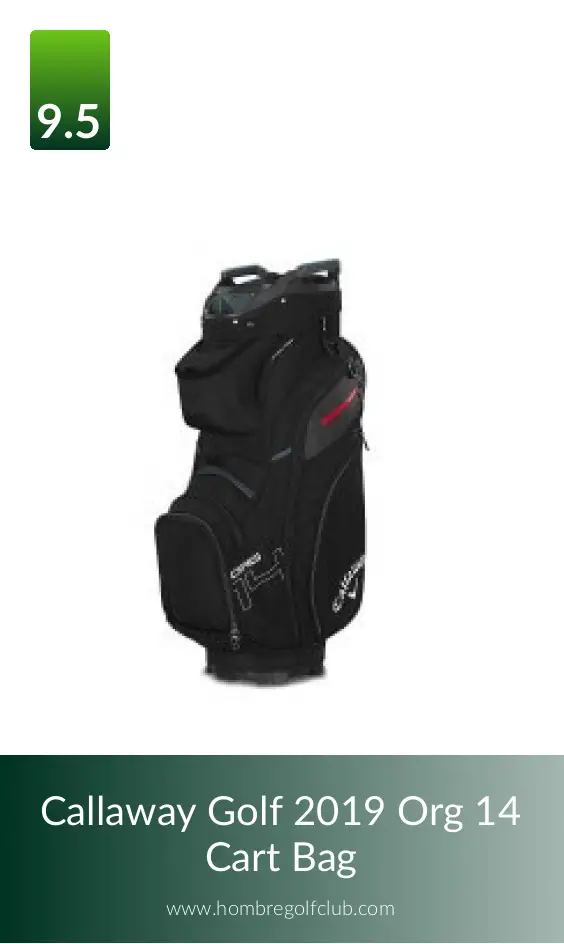 Editor's Pros & Cons
The Org 14 is incredibly lightweight, making it a must-have for anyone who hates carrying a heavy bag.
This bag can accommodate most golf push or pull carts, which makes it highly desirable for those with a golf cart from a different make.
The E-trolley base System and Lip are adjustable and can easily be secured to any push carts.
It stands up straight, even after being fully loaded with golfing equipment.
The cooler pockets do not come equipped with drainage openings, which will make draining the cooler tricky in some situations.
Looks
While most of us believe the look and design of a
bag
shouldn't be a major influence on whether we buy it or not, that wouldn't be true. While it isn't the driving factor, how it looks is important. Not only does the right look help you feel confident about your choice, but it helps you look the part. We would be lying if we said we'd still happily and frequently use something if it didn't meet our style expectations. It could be the most durable and practical bag available on the market, but if it doesn't look good then we'll simply avoid using it at all costs. After all, golf
bags
are an indispensable accessory to your golfing look.
But luckily for all of us, looks are not a concern with the Org 14, as it offers unlimited style potential. With an assortment of colors for you to choose from, you'll have next to no problems finding the ideal bag for your golfing aesthetic. The manufacturers of this
bag
at
Callaway
have certainly spent a decent amount of
time
into the creation and structure of this golf bag, something which golfers will appreciate when using it.
This bag is available in 7 different colors and schemes, all of which will suit your personal preferences, and also work for both male and female golfers. It's an ideal unisex product that golfers of both genders will enjoy using.
The style and foundation of this
bag
ooze with a stylish, yet sporty aesthetic that will be hard not to love! Even if you're not on the golfing course, you'll struggle to not appreciate this bag's charms.
Weight
A lot of the time golf
bags
are heavy to carry, burdensome and overall a pain. If a
bag
is too heavy, then it will be troublesome to carry it empty let alone full. The ideal golf bag is practically weightless, making it easy to move and fill up with kits.
Thankfully for golfers everywhere, weight is not an issue with the Org 14. Designed to be light, easy to transport and carry, this piece offers a refreshing difference that many of us will appreciate.
This bag weighs just over six pounds (6.1 to be exact), making it extremely lightweight to carry. It is also 10.5 inches long, and the materials used in its construction are of high quality.
If you haven't fallen in love with how it looks, you will certainly love the way it feels and carries.
Innovations
The Org 14 is one of the most sought-after golf bags on the market at the moment, and
Callaway
has worked tirelessly to refine its overall design and use of incredible innovations within the
2019
model.
This bag utilizes strong magnets within the fully lined pockets, which are also water resistant, so you do not have to worry about items falling out of the bag needlessly. The creative minds at Callaway have also worked on improving the bag's zippers, as some past customers felt like this was an area of improvement that needed to be addressed.
There is also a spacious compartment which can comfortably accommodate a tablet/
phone
, which is a great feature to have while on the course.
There are also three loops which are ideal for you storing tees and pencils, and a patch of velcro which allows you to store your golf gloves on the outside of the bag, which means no more digging around for them!
Within this bag, there are two insulated
cooler
compartments, these are waterproof which helps maintain their coldness.
There is little you could ask for, as almost every need has been catered for with this bag! There's little wonder why this bag is 2019's must-have golf
bag
.
Storage
Space and storage are essential when it comes to the construction of the of a golf bag. So, if your bag doesn't have appropriate storage, then it's not functioning properly and you should seriously consider investing in a new product.
Space is barely a concern with the Org 14, as it comes with some seriously spacious compartments, and a number of pockets, all of which offer optimized storage solutions.
Storage is a key consideration when it comes to purchasing a new golf bag, and all the impeccable storage solutions within this bag prove that space was a key consideration in its creation. This bag comes with space to spare.
All of these pockets and compartments work together to help you stay organized on the course, carry all your little essentials and must-haves, while also proving itself to be the perfect companion to your next trip to the golf course.
The design of this is utterly clever and outstanding, with a whole host of valued and beloved features. It comes with fourteen-way dividers, which works perfectly for your beloved clubs, and offers a nineteen pocket system that you know you'll make the most out of. There's no way you cannot afford to have this beautiful golf bag in your life.
This bag also features velour-lined pockets which are water-resistant too. It also has a key fob and two insulated cooler pockets too. Making this golf bag an ideal essential no matter the weather.
It also features integrated molded grab handles, which make handling it effortless and comfortable. In addition to this, this bag also features an E-trolley bottom system and a lip, which helps adjust to different push and pull
carts
. It'll easily secure onto them with next to no worries about the bag falling off.
Endurance
A good, reliable golf bag can sometimes come with a high price tag, which only works to stress the importance of durability. If it is only going to last a short while before deterioration kicks in, is it really worth the large investment? You need to know that your golf bag will be a reliable purchase that will endure and be long-lasting, something you can rely on to help you transport your equipment across the golf course.
This bag is the main contender for your new golf bag because it promises high-quality style and practicalities, and it is incredibly durable. It offers an abundance of storage that is water-resistant, but it is also a sturdy and steadfast golf course companion with a laundry list of incredible features.
It must be pointed out that this bag is not fully water-resistant, if this is something you are interested in, then you should consider purchasing a waterproof cover and treating the bag with waterproofing spray. This will help to lengthen the bags (already incredible) durability while making it adaptable to changeable weather conditions and sudden rain.
The level of endurance found within this golf
bag
is remarkable and promises to be a truly incredible investment piece for any golfer who doesn't like renewing their equipment on a frequent basis.
This is an incredible golf bag with consistently astounding endurance that will barely cease to astound you.
Key Features
The Org 14 is one of the most sought-after golf bags from Callaway, and it offers incredible storage solutions that most (if not all) golfers will appreciate and utilize.
The redesigning of this Callaway must-have really hit out expectations out of the park as it is utterly incredible!
The makers of this bag also redefined convention by positioning the fourteen way-top to rest parallel to the ground. This allows the grips to sit comfortably and in easy reach. The TPE lined putter hollow allows prevents scratched on the shafts. The pockets within this bag are also facing forward for quick and easy access and were made with a purpose/use. This bag features a magnetic formed range finder pouch, two spacious insulated cooler pods, and two comprehensive garments compartments. All of these pockets have been wrapped with an enduring interwoven material which gives the bag its own style.
Key Features


14" long club separator.


Weighs 6.1 pounds.


Two specially formed grab handles.


Two insulated water cooler pockets.


Velour-lined valuables pouch with a key fob


E-trolley and trolley nozzle arrangement


Umbrella slot holds your umbrella.


Bottom Line
If you were to ask us if we think you should buy this golf bag, the answer would be yes! Almost every issue golfers have with their golf bags have been addressed with this product. Callaway has really worked hard to create a reliable and useful bag that you will enjoy using, and all that hard work can be seen in the end result. Honestly, this bag is remarkable and you should consider purchasing it if you're in the market for a new golf bag. It is worth every penny.
Subscribe to our Newsletter