Callaway Golf Apex Pro Irons Set
Whether you're new to the golfing scene or you consider yourself a seasoned veteran of the sport, you have to admit that it is one of the best ways to relax (especially after a stressful week). There's just nothing nicer than escaping the day-to-day chaos and playing a round of golf with your friends or on your own. This explains why so many golfers spend so much time on the golfing green during each visit.
Another thing you have to admit when it comes to golfing is the necessity to look good and have the right equipment with you. Everyone you see on the golf course has a certain look, they all look well suited for the sport with their hats, polo shirts, and of course their golfing accessories (like their clubs and balls). All of these things work together to create the look of someone who not only knows what they're doing on the golf course but some who isn't out of place. That's one of the reasons you rarely see someone using hand-me-down golf clubs and bags, which are better suited at being relics rather than appropriate golfing gear for the modern golf course. That's because they were made with hardly any technical advancements to help solve or assist you in overcoming issues with ball speed, swing speed, or distance.
If you compare the look and build of modern golf clubs with older ones, you'll notice a big difference in design. Some modern drivers have adjustable weights within the clubface to create better CG and MOI, thus producing grander speeds and distances. And some irons feature more prominent hollows for similar reasons. These tweaks to the design make these products much more adapted when it comes to tackling and playing on a modern golf course, which is one of the reasons why these hand-me-downs simply won't do, especially if you want to be taken seriously.
At each and every golf manufacturer, there are teams of creative minds who work hard creating new products with updated technology and innovative designs to help tackle certain issues. By doing this they are able to bring you the very latest in golfing tech and incredible designs, which (when combined) help enhance your skills on the golf course.
It is always advisable that you update your golf equipment on a regular basis (or whenever you can fund it), this way you're staying up-to-date with the latest technology and such for even better performance. If you're lucky enough, however, you may be able to find a golf club that serves as a real investment piece in terms of design, tech, and longevity.
But of course, there is a wide range of golf companies to choose from and deciding who to turn to can often feel like an impossible choice. That's why, in times like this, you need a brand you can truly rely on to provide you with the very latest in innovation! Since establishing themselves in the early 1980s, Callaway has worked hard to become one of the world's leading golf manufacturers, creating a whole host of products for you to use and benefit from. Their latest product is certainly no exception.
The Apex Pro Irons by Callaway have really established themselves as a set of irons you can truly depend upon while on the golf course. Their incredible build quality, weightlessness, and their optimal shot-making abilities are just the cherries on top of a whole bunch of other amazing features. There's little wonder why so many customers and reviewers are so excited about these game-changing golf clubs! With improved Center of Gravity, enhanced MOI and more influential swing speeds, these clubs are certainly set to rock your world!
Pin for later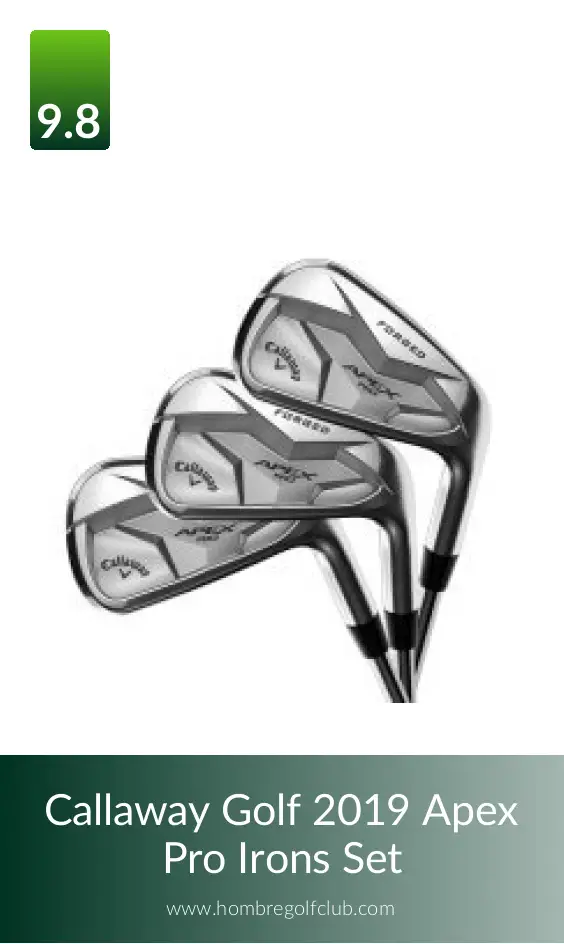 Editor's Pros & Cons
The sleek and stylish design creates a fashionable look and feel that will blend in perfectly amongst your other golf clubs.
The handling is impeccable, sturdy, firm and utterly impressive.
This club offers consistency, accuracy and a lot of forgiveness, even on off-center shots. It's ideal for anyone looking to straighten up their shots.
With incredible stopping power and impressive distances available to you, you'll soon see a noticeable improvement in your performance on the golf course.
The hitting area on the Apex 19 does have a tendency of being rather fine, which may be less than ideal for some golfers.
Playability
If you're looking for a set of Irons that tick all the boxes, then you should look no further than the Callaway 2019 Apex Pro Irons. These irons are workable, offer a firm, yet delicate feel and help you concentrate exceptional trajectory. These clubs also offer outstanding distance alongside optimal forgiveness, honestly, the Apex Pro Iron Set is amazing!
These distance irons do not miss out on the important things like handling, style or playability, all the incredible pieces of tech used within these clubs were used to help them be more player focused. There is very little to be desired when it comes to these clubs.
When it comes to performance, the clubs offer outstanding playability while on the course. There is very little that you need this iron to do that it doesn't already offer. While it's not completely flawless, the minor downside to these irons is minimal.
The control you have over these irons is crucial when it comes to scoring, and you can't score well if you don't have adequate control over your distance or trajectory. This is one of the areas where the Apex Pro irons stand out. Offering a medium to a high trajectory, the overall ball flight will amaze you.
You may find an issue with the loft being too high, but honestly? This is just a small issue amongst a sea of incredible perks. For players who usually create relatively low-spin, you may want to consider another set of irons, as the high loft will be an issue for you.
These irons offer a fair measure of camber towards the back, which works to enhance your club's interaction with the turf.
They strike shots well, resulting in consistent accuracy and incredible distances, which everyone will benefit from. Of course, this consistency will also work to boost your confidence on the course.
How these irons handle lines will surprise you, it's an area where they stand out. When it comes to different lines, their performance is spectacular and utterly incredible. They can create a lot of spin and great
ball
flights.
Honestly, how these
irons
tackle issues with distance, and ball trajectory is incredibly impressive. Not only does it help you squeeze out a little extra range from your shots, but it certainly adds some flavor to your skills on the course. Something all your friends will certainly be envious of.
When it comes to
distance
, the cause of this we can't exactly pinpoint. But we're inclined to believe it is something to do with the lightweight clubface and use of specialized forged materials which add to the overall effectiveness of this club.
Once you combine all the outstanding features of these golf
clubs
, you will notice just how great they are, making them well worth the price. But, because of this, when you first use these clubs you may be suspicious of their performance on the golf course, but trust us, after a few goes with them you'll get the handle of things and certainly enjoy them and all of their incredible features.
Style & Feel
One of the best things you'll notice about the Apex Pro Iron Set is just how incredible they look! They have a smooth and subtle satin coating, which is perfectly paired with just a small amount of offset on the top line (which is rather slim). The toe is rounded for a subtle touch of luxury and class that all golfers go crazy for. You will have to stop yourself from staring at them all day because you're going to want to admire every inch of these irons.
For some golfers, the design of the cavity maybe not ideal, with some reviewers referring to it as busy. But if we're being completely honest, who really spends a lot of time inspecting this area of the club? I know we don't! The sticker inserts aren't ideal, however, it's not a huge problem as it is simply apart of brand awareness.
The major problem with the Apex Pro Irons is that after a month or so, they do look rather neglected, often looking like they've taken a battering. The premium finish soon appeared to simply vanish, leaving behind ancient and neglected looking ions. Of course, some people believe that wear and tear play into the character and elegance of your irons, however, this does depend on the person. If you are rather image-conscious then this simply won't do and could be a major turn off for you. However, if you can get over this issue, then the technology and performance will certainly win you over.
How the
clubs
feel upon impact with the golf ball is certainly everything you'd expect from forged iron. It's soft, yet offers a firm feeling. It's also hot, without being overly metallic. It is really like running a hot knife through a block of butter. It's hard to imagine that this minimal feeling feels so good in your hands.
Technology
The Apex Pro Iron Set are real contenders when it comes to upping your performance on the golf course. Not only are they super effective when it comes to control and trajectory, but they also offer outstanding distances.
Thanks to their high-quality build and incredible craftsmanship, these clubs offer a golfing experience unlike anything else. Created using specially forged 1025 fine carbon steel throughout the body, and specially created urethane microsphere tech (originally spotted in the Rogue irons). This is the first time Callaway has incorporated this tech into their irons. This incredible innovation uses over a million small air compartments within the iron, all of which work to absorb any unwanted vibrations without decreasing speed in the face.
The Apex Iron Set also incorporates tungsten-infused materials, which help accurate place Center of Gravity within each iron, all while keeping the club's face flexibility, this in term promotes MOI and greater ball and swing speeds, which is an absolute must in irons.
Overall, the use of technology within this club is utterly remarkable and will barely cease to amaze you. With its awe-inducing design and use of innovative tech, this
club
is a real must-have that everyone (especially those looking to up their game) needs to have.
Key Features
With their incredible satin finish and blade-like form, the Callaway Apex Pro Iron Set offers incredible aesthetics, as well as a lot of impeccable technology which helps boost the clubs overall performance. The use of tech helps players keep their shots straighter, more accurate and helps them go further each time. With the higher launch, these irons help the ball fly further than expected.
Key Features:


The Apex Pro set is specially made with advanced range technology, helping you achieve tour level quality.


The smooth and buttery soft feel is created by using a 1025 mild carbon steel body and Urethane Microspheres into the forged material.


Callaway have reinvented their beloved 360 Face Cup, offering tour-level performance, consistent distance, and excellent shot-making.


Infused with tungsten and with a multi-material foundation, these irons offer optimized shots, higher ball flights, and much more control.


Tour-inspired form and contouring offers a classic look while also providing players with a straighter edge, thinner topline and seamless hostel transition.


Bottom Line
Despite the poor durability of the Apex Pro Iron's satin finish, these clubs are practically flawless, offering incredible distances that will never fail to amaze you. Their consistency in terms of shots will not only improve your performance on the course, but they'll also help boost your confidence too.

These clubs go above and beyond our expectations, offering a truly outstanding performance that is difficult to match. Not only that but the amount of control you have over the ball, combined with the level of forgiveness achieved will make you the envy of all your golfing buddies.
Subscribe to our Newsletter