Blue Lizard Sensitive SPF 30+ Australian Sunscreen
There's no better way to enjoy warm weather and a lovely bit of sunshine than going outside and soaking up those rays. Whether you're at the beach, hiking or at the golfing green with your buddies, there's a lot of fun to be had!
But of course, the sun and warm weather come with a whole host of dangers. Ever since we were children, we were told by our parents to cover up in the sun, to drink plenty of water and to always wear sunscreen. Back then we thought it was just nonsense, silly rules we were made to follow. But of course, as we got older we learned that the sun can be a dangerous thing if we leave ourselves unprotected.
Overheating, dehydration, heat stroke and of course sunburn. These things are inevitable when you're not protected from the sun. There are a few things you can do to combat the negative effects of the sun and the heat which comes along with it. You can stay hydrated with plenty of water (ideally in an insulated water bottle for a cool and refreshing drink), stay cool with a cooling towel and hat. But most importantly you can prevent sunburn with sunscreen.
Your skin is the largest organ you have, so it's important that you protect it from harmful UV rays, as well as other nasty things. You can do this using a decent sunscreen, which offers near complete protection against the sun.
However, there are a lot of sunscreens available on the market these days, most of which range in prices, level of protection and of course, quality. The sunscreens you would usually find in low price stores, while cheaper, offer less protective benefits, such as a high SPF, and may not be water resistant. So, when purchasing a new sunscreen, it's a good idea to keep in mind that you pay for what you get. You can't expect to pay next to no money and receive high quality and effective sunscreen after all. Because sunscreen is a must-have protective item which will not only defend you from the sun but also your loved one, it's worth investing a little more in order to get something higher in quality.
Blue Lizard Australian sunscreen is a well-known brand that produces a whole host of high quality and effective sunscreens.
The Blue Lizard Sensitive sunscreen was made from a combination of zinc oxide and titanium dioxide. The combination works to reflect harmful UV rays before it has the chance to burn your skin. The use of these active ingredients works to create a higher concentration compared to other chemical sunscreens. These chemical sunscreens are excellent at preventing burning, however, they do next to nothing in terms of protection against longer waves of light, which typically damages your cells and cause aging.
When purchasing in a new sunscreen, you should consider a few things before you commit to a purchase. This includes SPF number, whether its water resistant, the ingredients and if it is a chemical or physical sunscreen. Sounds like a lot to take in, right? Well, don't panic! We're here to break down the Blue Lizard Sensitive SPF 30+ Sunscreen, to help you decide whether its the right product for you!
Pin for later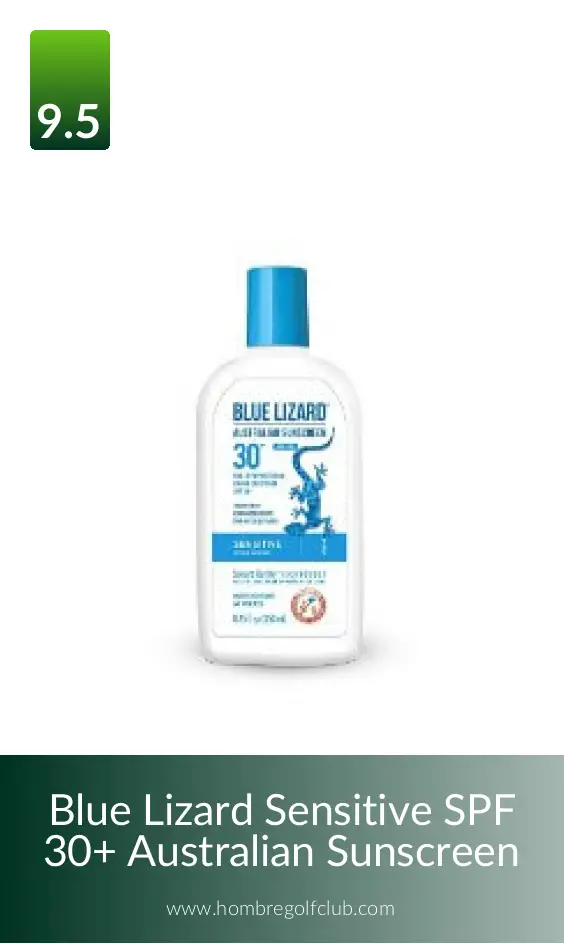 Editor's Pros & Cons
The use of certain ingredients works as physical blockers, offering you the most protection.
Lightweight and irritation free, making it ideal for anyone with sensitive skin or layering underneath makeup.
It's paraben and fragrance-free
Its list of ingredients makes it one of the safest sunscreens available on the market.
It is sadly not water resistant.
SPF Rating
The SPF rating of your sunscreen can often be seen as an indicator of the quality of the
sunscreen
you are wearing. Lower priced and lower quality sunscreens have a lower SPF rating, which means they offer lower levels of protection. While low-quality protection is better than no protection at all, it is still not an ideal situation to be putting yourself in.
That's why ensuring you are properly protected from the sun is crucial. While you may not feel the negative effects of the sun's rays right away, over time you will soon start to notice them. No one wants to wake up discovering they're bright red, burnt and shedding dead
skin
. Even thinking about it is enough to turn one's stomach. That's why having proper sunscreen, with a high SPF is essential to safely enjoy the sun.
It's highly recommended by Dermatologists that you use a sunscreen with an SPF of 30 (at the least). This SPF rating works to block out 97% of UVB rays. But, it's important to remember that high SPF sunscreens blockage to UVB rays are limited, as there is no
sunscreen
available that can totally eradicate 100% of the sun's harmful UVB rays.
It is important that you remember to reapply your sunscreen every two hours, as a high SPF cream lasts the same amount of time as a low numbered one. You should also keep in mind that the higher SPF number doesn't allow you to be outside in the
sun
for longer without reapplication. Your sunscreen will need reapplying even if it is cloudy outside, if you're sweating, or if you've been
swimming
. Make sure you're protected by reapplying your sunscreen regularly.
Chemical or Physical?
When purchasing
sunscreen
, it is important to consider if you're purchasing a chemical or physical sunscreen. While it may seem like an odd thing to consider to most people, this can help determine how your sunscreen will feel and how well it will protect your face while you're out in the sun.
But what type of sunscreen is Blue Lizard's
sensitive
sunscreen? Is it a chemical kind or physical? Well, due to the use of active ingredients within its composition, the Blue Lizard Sensitive sunscreen fits within the physical category.
It's signature opaque quality and its capability to reflect UVA and UVB rays, helps it provide comfortable and effective protection from the sun.
What makes a physical sunblock physical is the use of only
mineral
actives, such as titanium dioxide and zinc oxide, these rapidly act as a block and reflect sunlight before it has a chance to penetrate. However, it is important that you're aware that some physical sunscreens may leave a white complexion on your skin.
Traditionally speaking, chemical sunscreens only really work to absorb UVB radiation. The traditionally thicker composition also leaves your
skin
feeling sticky and, in some cases, greasy. Thankfully, this is not an issue with the Sensitive sunscreen formula, as it not only protects your skin but it also works to moisturize you without causing irritation or causing an acne breakout.
Just because a sunscreen is physical and free of chemicals, it doesn't mean they don't have some preservatives within them. Some Blue Lizard sunscreens for example still use parabens. This can cause
skin
issues, such as dermatitis if you have sensitive skin. But, because this sunscreen was specially designed for sensitive skin, this sunscreen is free of parabens.
Ease of Use
The Blue Lizard Sensitive SPF 30 sunscreen offers protection against 97% of harmful UVB rays, preventing damage to your
skin
and aging. With its physical composition, this sunscreen offers skin-friendly protection. However, while it offers close to complete protection against the sun, it does need reapplying throughout the day, roughly every two hours as the sunscreen may have been washed off, absorbed or become defective due to exposure to environmental elements. By reapplying
sunscreen
regularly throughout the day, you'll be effectively protected from the sun around the clock.
Applying the sunscreen to your skin is very easy and is applied by rubbing it onto any exposed areas of your
body
. However, in especially hot weather, it is advisable that you apply sunscreen onto covered areas of skins as some rays can penetrate the fabric, burning you while you're covered with clothes.
Dermatologists advise that you apply roughly 6 teaspoons worth of sunscreen, roughly 1 ounce, onto any exposed areas of your
body
. Prior to its use, you should shake the bottle well and then apply liberally to your skin.
Ideally, you should apply sunscreen onto clean and dry skin 15 minutes before going into the sun. Ensure you cover your legs, arms, back, neck, chest, and back properly. For certain areas assistance with the precise application may be required. You may also need to use more sunscreen depending on your size and shape.
This sunscreen can be used on adults and
children
alike, however, if your child is under 6 months you should consult a doctor before using the Blue Lizard Sensitive sunscreen on them.
Water Resistent
Even when you're in the water you're exposed to dangerous UVA and UVB rays. This is why it is important that you are wearing a sunscreen which is enduring, something which will last you a while, even in the water.
There are some sunscreens available on the market that are more water resistant than others, however, the sunscreens which are more durable in wet situations tend to be ones which utilize chemicals. But despite this, the Blue Lizard Sensitive sunscreen holds its own rather well when in contact with water. Its water repelling, however, this lasts 40 minutes per application of sunscreen. But, you will need to reapply sunscreen once you are out of the
water
and dry.
One of the most incredible features of this sunscreen is it's water friendly composition. It has been made without Oxybenzone or Octinoxate. This works to assist the protection of delicate reef ecosystems. So, with this sunscreen, you are not only protecting yourself but the delicate ecosystem of the sea and ocean too.
Ingredients
Blue Lizard always proudly displays their ingredients on the back of their bottles, that way you can be certain of what you're purchasing without any nasty surprises.
Because it is a physical sunscreen, it uses active ingredients, like Zinc Oxide and Titanium Oxide. However, other inactive ingredients have been used. These ingredients include beeswax, purified water, and Chlorphenesin. As I mentioned, you can get a fully comprehensive list of all the ingredients on the back of the
bottle
.
The use of these ingredients helps to create a more natural, refreshing sunscreen which feels nicer and lighter while being worn. It also works well as a moisturizer and a base layer if you're planning to wear makeup alongside the sunscreen.
Aroma
Blue Lizard Sensitive Sunscreen contains no fragrances or parabens, making it the ideal sunscreen for anyone who suffers from sensitive skin or is easily irritated by fragranced sunscreen.
Other Information
It's highly advisable that you keep this sunscreen out of contact with your eyes and that you should avoid ingesting it. In case you accidentally ingest the Blue Lizard Sensitive sunscreen, please contact your emergency services or a poison control center. If you are also allergic to any ingredients in this formula, please do not use.

You will also need to store this product safely and securely, keep out of contact with direct sunlight and heat. It may also stain some fabrics.
Key Features
Blue Lizard designed the Sensitive sunscreen with the assistance of dermatologists to create an effective product. Providing you with near complete protection from the sun from head-to-toe.
Made with Zinc Oxide and Titanium Oxide for widespread protection from 97% of rays. This lotion also contains no irritating ingredients, parabens, and no fragrances.
Key Features


Bottle changes color when in damaging UV rays prompting you to shield yourself by applying sunscreen onto your exposed skin.


Fragrance and paraben free.


Reef friendly.


Kind of sensitive skin.


Physical sunscreen.


Water resistant up to 40 minutes for additional protection.


Bottom Line
This sunscreen is highly recommended by many dermatologists and has been for the past 20 years. It offers incredible protection that will not only shield you from harmful UV rays but will also be kind to your skin. If this is something you want then look no further than Blue Lizards Sensitive sunscreen. While reapplication is needed every two hours, it offers comprehensive coverage that's ideal for every sunny situation.
Subscribe to our Newsletter