Best Workout Shorts Reviewed & Rated for Quality
In a
Hurry? Editors choice: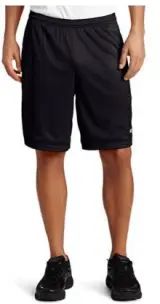 Test Winner: Champion Long

Whether you are running, stretching, or practicing your swing in the backyard, you want to be comfortable. More so, we have recently been on this kick where we focus on
golf as a lifestyle.
We believe that your lifestyle should resemble how you feel, and if you feel gloomy, you need to head to the golf course. Well, one thing that can put a pep in your step is working out and ensuring that you are comfortable and wearing the best gear is our priority. Therefore, it is time to discuss with our audience the top ten best running, workout, and
golf-practice
shorts in the industry.
If you are seeking excellent quality shorts, here are a couple of aspects to consider before reading out the
top ten list.
Standout Picks
Criteria Used for Evaluation
Materials
The quality comes from the use of good materials
As far as the first criteria, quality and reviews is a crucial aspect of ensuring that a product is of the best quality design and benefit for the user. When conducting our research, we first only focus on products that are four stars and above. The reason being is because we want to ensure that it has great value and will retain it's worth.
To add to this, we also read reviews from individuals because we want to make sure that the audience agrees with the value. When reading reviews for workout shorts you want to look at the following important aspects.
What users say about the fit, elasticity, and comfort.
Is it worth the price?
Do individuals mention it fits as suggested?
Does the brand have a return policy?
Do the shorts fade, pick, or snag?
What are the features?
As far as the last question on the above list relating to features, we are going to dive into what the best features for workout shorts are. Let's begin!
Features
This next criterion is very common among workout gear. When selecting our top ten list, we look into the features and benefits of the product.
So first, we evaluate the benefits based on the features. Essentially, diving into the value of the product based on the features. With that in mind, let's break down the many different features of the workout shorts we have shared and what to look forward to from this industry.
Moisture Wicking
As the first feature, moisture-wicking may easily be one of the most important. The reason being is because wicking away moisture allows for a user to be comfortable and not be working out in soaked clothing, especially the individual sweats a lot. With that, moisture wicking features is an aspect of the material of the product, which we will discuss in the next criteria.
Four-Way Stretch
Four-way stretch is a brand's specific design in creating a product that is designed to be stretchy and comfortable. Four-way stretch essentially means that a product can stretch up and down and left and right. Therefore, it allows for a full range of movement for the user wearing the product. Four-way stretch is a very modern approach to creating workout gear. It is designed so the user can comfortably move in different directions and use the shorts for many different activities.
Elastic Waistband / Drawstring
An elastic waistband design is another important and crucial element in creating a quality product. With that, it is a feature that is very common in workout gear because it allows for the area of the waist to easily be adjusted and be very comfortable. To add to this, many brands will design their shorts with drawstring cords, so an individual can have even more adjustment and comfort.
Mesh and Breathability
The last feature is another crucial feature when ensuring that you are comfortable on the golf course or when working out and that is selecting products that are breathable. Whether you are looking for a quality golf shirt or even golf shoes, a breathable shirt or shorts ensure that you will be comfortable. With that in mind, all of the shorts we have shared are either designed with layers of mesh or perforations or are very thin and lightweight to ensure air can travel easily through.
Effectiveness
Good design means effectiveness.
As the last primary area of focus, the material design was an important factor that we wanted to cover. With this, we are going to dive into the two most common materials when selecting a quality pair of workout shorts and why they both are the most common. Let's start with polyester.
Polyester
What isn't made of polyester? This material happens to be one of the most common materials in the industry. With this, polyester is virtually in every piece of workout gear that there is in the industry. Whether you want a premium high-quality comfortable shirt or workout shorts, polyester is there to ensure that your product is durable and comfortable. Depending on the construction qualities, polyester can be comfortable, soft, and designed to be very lightweight.
Spandex
This material may be the second most common because once it hit the scene, everybody was raving about it. Spandex has become a novelty and virtually every piece of gear or workout clothing, even daily clothing, has gone up in value because of this material design. With that, as little as 3% of the material composition of the product can have spandex and still it is strategically designed to have many features. The features of spandex include breathability, elasticity, moisture wicking, lightweight, stretchy, and many more. With that, if you are looking for a quality and comfortable product, this material ensures the best overall value.
Value
Value means getting a nice deal.
The most expensive is not always the best and the cheapest is not always the best deal. The reason being is because the cheapest may break much quicker than other products, causing you to have to buy new shorts and spend more money. With that, always consider which deal has the best bang for your buck. There are many different products to consider and some brands even include a 2-pack for the price of one. With that in mind, many well touted and notable brands tend to charge more for their products because they are costlier compared to lesser known brands. Therefore, when selecting your product or gear, consider which one is the best deal. Look at the cost to value ratio!
Top 10 Picks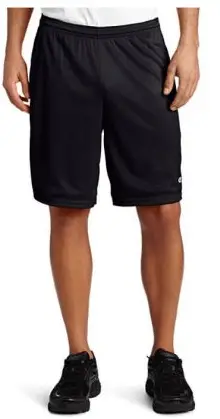 This brand is one of the longest standing and highest quality sportswear brand in the game and we are eager to bring them on our list and talk about two benefits. This is Champion and this is their long mesh workout shorts. Designed for convenient quality use, we are going to discuss what makes this product high quality.
Read more
Lightweight Design
This product is made from 100% polyester. However, it is made in a woven material method that resembles mesh. The mesh design is breathable, durable, and comfortable. Therefore, an individual is guaranteed to be comfortable all day long when wearing this product. To add to this, the design happens to be machine washable, so you can easily wash it and go!
Side Pockets
These men's shorts have quality side pockets for storage. So, if you want to run with an ID or wallet or your cellphone you can. Overall, the design is comfortable, durable, and conveniently designed to last. The side pockets are also reinforced so no holes or rips or tears can occur. With that said, the design is simple and easy to put on.
Cost and Value
As far as the price, individuals will discover that this product is durable, comfortable, and conveniently designed for durability. With this, the price can range due to size and color choices. Overall, the price goes up because the brand is highly touted. However, with 4.3k reviews and five stars, we can see why!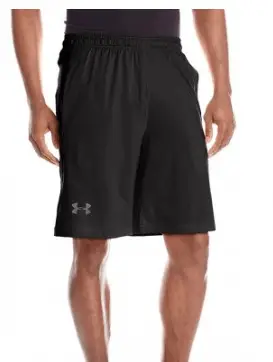 Time to talk about the brand that has reinvented workout gear with its quality moisture wicking designs. Under Armour has long been known for producing innovative products that have changed the industry. Well, these shorts are comfortable, well designed, and have two quality benefits that users will benefit from. Here is the first feature of the Men's Raid Shorts.
Read more
HeatGear Design
The design of this product is an ultra-soft and highly smooth fabric known as HeatGear. This fabric is comfortable and is extremely lightweight compared to the competition. The lightweight fabric design allows for more extreme comfort and it is smooth, ensuring that an individual has no discomfort when running or working out. If you want to wear these for a pre-golf workout, you will not be disappointed.
Sun Protection
This product comes with UPF 30+ which protects the skin from the sun's harmful rays. This level of quality protection ensures that the user can wear the shorts for long periods at a time during sunny weather and not experience harm or discomfort when in the sun. So, if you want to wear comfort and quality for some backyard golf practice, these are great.
Cost and Value
This product comes with many different features that individuals have touted as being well designed and constructed. It is made to be durable, has sun protection, and one excellent benefit is the four-way stretch construction that ensures you can move in any direction without hindrance. Overall, you have many different colors to choose from and sizes.

3

. Amazon Essentials 2-Pack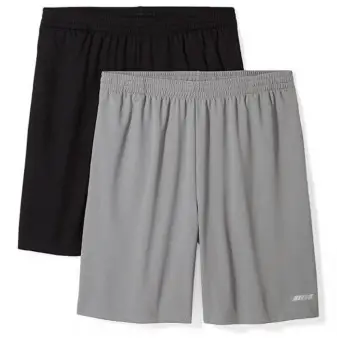 This brand is known for their excellent design elements and quality products. They have produced a large variety of different products from sportswear to household products. With that, individuals will discover that the Amazon Essentials brand has produced a quality selection of workout shorts. Well, for the price of one, you get two. Is it worth? Let's find out!
Read more
Moisture Wicking
This product is high quality and is highly comfortable because of the moisture-wicking benefits. Therefore, even if you sweat a lot or sweat often, you are guaranteed comfort. The design is also highly breathable, allowing for air to pass through the shorts easily. With a closed-hoe mesh design, water cannot get in, but air can.
Loose Fit Comfort
These particular shorts are for individuals that want a comfortable and loose fit. The design of the product allows an individual to train in confidence. With this, the loose fit is very comfortable and can be worn all day long. So, if you want to work out and practice your swing in comfort, these are the shorts to get.
Cost and Value
As far as the price and value, an individual will notice that these shorts are comfortable and high value. To add to this, the design is comfortable and even better, it comes in a two-pack. For the price of one, an individual can expect to get two. Overall, they are well designed and come in a variety of color choices to choose from.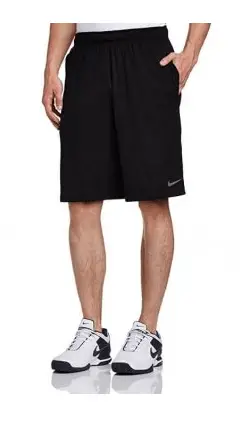 This next product on our list comes from a brand that knows a thing or two about quality. Nike is known as one of the oldest and also most trusted sportswear brands. They produce shoes, golf gear, even golf balls. Well, of course, we have to share their expert quality shorts on our list. The Nike Fly 2.0 Training Shorts have their quality Dri-Fit construction and we are eager to discuss what makes them well trusted.
Read more
Wide Waistband
This product comes with a wide waistband design. The waistband is a drawcord design that has a quality snug and comfortable fit. With that, the overall construction is made to last and the elasticity is excellent for all-day comfort. To add to this, this product is machine washable, which adds to the durability and quality design.
Dri-Fit
This product comes with this brand's Dri-Fit fabric, which is their moisture-wicking fabric that is designed to keep an individual dry and comfortable all day long. With that, it wicks away sweat so you are not running in your own sweat all day long. Lastly, the construction and breathable mesh design add to the durability and comfort of the product.
Cost and Value
As far as cost and value, we can say that this product is durable and well-constructed. With that, it comes in a variety of different color choices to choose from and the moisture wicking design adds to the functionality and benefits of the overall product design. With side pockets for storage and side panels for a range of motion and elasticity, you can never go wrong with this brand.

5

. Gerlobal Active Shorts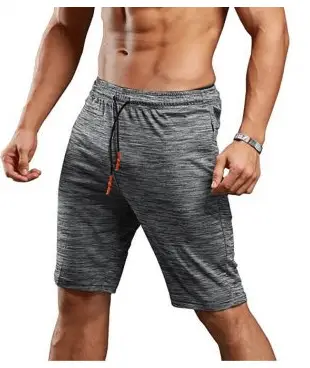 This next product has a very unique design that individuals will find to be very comfortable and high quality. The Gerlobal Active Shorts are designed to be comfortable, elastic, knee-high, and fitted to fit slim and comfortable. The overall design is lightweight, breathable and highly durable. To add to this, it comes in two color choices.
Read more
Premiere Polyester
The polyester material of this product ensures that the individual will be very comfortable when wearing shorts. To add to this, the polyester is moisture wicking and designed for quick drying effects. With a full range of motions that prevents chaffing, the user will discover that the comfort of these shorts is due to the elasticity material and the overall weave polyester design.
Zipper Pockets
Have you ever been running or practicing your swing in the backyard and you heard a loud crash because your cell phone fell out? Well, with these shorts this problem does not exist. These shorts are designed in a way that ensures nothing falls out of the pockets. The pockets are designed with zippers and happen to be designed for long-term use and durability.
Cost and Value
With zippered pockets, a slim-fit design, and premium elasticity, users have discovered one of their new favorite shorts. With multiple sizes to choose from, the only downfall is the fact that this product comes in only two colors choices. The colors are washed out grey and all-black with an invisible pocket in the back. With that, it does have many positive reviews to consider.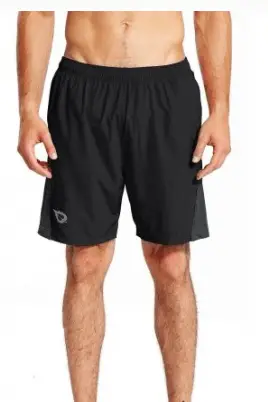 These next shorts have a quality design with quick-dry fabric and an overall value that is superb for the price. As product number six, the Baleaf Men's 7" Quick Dry Workout running shorts have a mesh liner that adds support and overall construction durability that enhances the way an individual feels on and off the track. If you want comfort for your next golf practice or are seeking stretchy shorts for working out, these are it.
Read more
Built In Mesh Support
This product has a built-in mesh design that provides support and breathability. To add to this, the fit is comfortable and is stretchy when working out or running. Now, the interior mesh cup design is intended to offer support for the individual and more comfort when wearing shorts, much like swim-trunks. With that in mind, the mesh allows for airflow to flow through.
The Material Design
This product comes with 95% polyester and 5% spandex as far as the material quality. Users will discover that the material quality is very durable and allows for stretchy comfort and elasticity. Actually, spandex is often used alongside another primary material to enhance the quality of that product and the overall stretchy comforts and design.
Cost and Value
As far as the price and the value, these shorts can be considered somewhat pricey considering that it has many unique features. It features spandex, they are quick-dry, they have built-in mesh, and the list of comfort features goes on and on. With this, the user will discover that this product is built to last and made for the course or the track.

7

. Adidas Designed 2 Move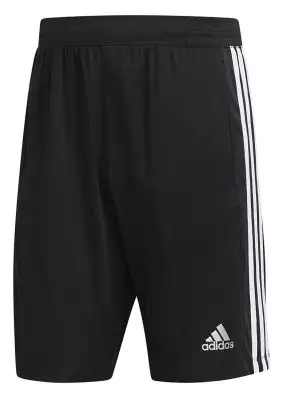 In the sportswear community, there is a brand that is known for their expert quality and their three-stripe design. The Adidas Designed-2-Move Shorts are designed for active individuals that want a quality product that is durable and comfortable. With that in mind, the overall quality is standard from this brand and it comes in a large variety of different colors to choose from.
Read more
ClimaLite
The fabric of this product is 100% polyester. With that, the fabric is designed to keep sweat away from the skin and keep an individual comfortable for long periods at a time. The fabric is designed to be moisture wicking, so you can workout in these in really hot weather and still expect to be highly comfortable. With that, the mesh design allows for added ventilation and comfort.
The Variety
If you want a brand that enhances their products by having an incredibly large variety to choose from, this is it. There are over twenty different color choices available and all designed with the best care and material design. The material is machine washable and designed to not snag. Overall, this product is of the best material value and design.
Cost and Value
As far as price, individuals can expect the price to range depending on the color chosen and the size. With that, individuals are guaranteed premium quality with this particular product. To add to this, the design is comfortable and has a regular fit construction, so it fits loosely without feeling like they are going to fall off. The fabric is also designed to offer a full range of motions that allow for the user to be comfortable all day long.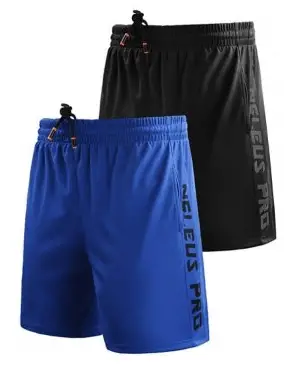 These next shorts are designed from a brand that focuses on premium quality benefits and a construction design that is guaranteed to last. With plenty of comfort benefits to consider, the Neleus Men's Lightweight Shorts are designed with premium benefits and an overall material design that ensures longevity and durability. In fact, they are actually made in the USA and come in a two-pack.
Read more
Moisture Wicking
This product, as with many different shorts is moisture wicking. However, these are considered fast drying shorts and they have many different comfort features alongside this one. They are rip and tear resistant, they are fast drying in the case that they get wet, and they have are odor-resistant which allows for repeated use.
Performance Fabric
Performance fabric has now gotten the world by storm. Performance fabrics are now very common among many sportswear companies. Performance fabrics allow for the users to be comfortable, have four-way stretch, and receive many different benefits that ensure maximum comfort. The fabric is made of 100% polyester, which is guaranteed to last and ensured to withstand the test of time.
Cost and Value
To discuss the value of this product, it is important for one to know that you are actually getting a two pack. This product comes as a pack of two shorts. Alongside this, they are designed to be comfortable and have a material construction that ensures durability, longevity, and of course, comfortable performance. With thus, the size tends to be comparably smaller, so you may want to consider getting one size up.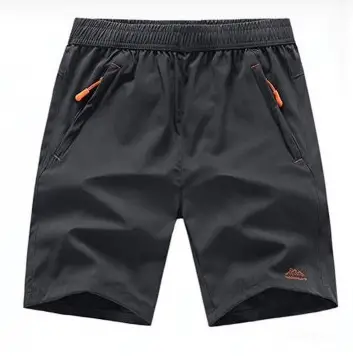 These next shorts on our list happen to be the TBMPOY Men's Outdoor Sports shorts and they are comfortable, well designed, and even come with zippered pockets. Although this brand is not as widely known as other brands in the industry, we wanted to give them a try and share them with our audience. With plenty of comfort qualities, there are two great reasons to consider this product.
Read more
Includes Spandex
The material design of this item allows for the product to be comfortable, durable, breathable, and stretchy. Well, this product is made of 95% polyester and includes 5% spandex. The spandex is designed to add to the stretchy comfort and quality of the shorts. Overall, a user will notice that the product can last for a long time and after multiple washes, still looks good as new.
Back and Front Pockets
These shorts have various pocket options available. This product has front and back zippered pockets that allow for the user to keep their phone, wallet, or keys safe in the shorts. So when you run, you never have to worry about the contents inside of your shorts falling out or worse, getting damaged. Lastly, they come with a comfortable elastic waistband that guarantees a quality fit when running.
Cost and Value
This product is priced very well and it comes with premium features that are most commonly known among luxury brands that charge half as much. With this, they are practical to wear for long periods at a time and users will appreciate the construction quality and the low zippered pockets. It comes in brown, blue, grey, and other neutral colors.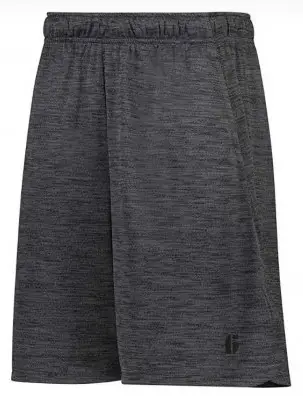 This last brand on our list knows a thing or two about quality and design. They have created some of the most comfortable and useful products in the industry. Their shirts and other workout gear are known to. be comfortable and command quality. Overall, they have produced a large selection of quality products to consider and this is one of them. Here is the Jolt Gear Dry Fit.
Read more
Secure Waistband
This product has a secure waistband with an elastic drawcord that is designed to keep the shorts in position and comfortable all day long. You can easily loosen or tighten the waistband as you wish and overall, the design is premium and constructed to be durable and comfortable. Lastly, the elasticity allows for a natural range of motion to occur.
Loose and Comfortable
This product is designed to be loose and comfortable without feeling bulky. In fact, the construction is lightweight and the fabric feels soft on the skin for a no chafing design. With this, the athletic material is polyester and most importantly, it allows the user to be comfortable for long periods at a time.
Cost and Value
The cost and the benefits for these shorts include the fact that you are getting it from a premium brand. In fact, their products tend to be five stars and they have great reviews. For the price, you only get one, which can be seen as a bit pricey. However, longevity-wise, their span of quality is longer than most shorts in the industry.

Subscribe to our Newsletter