Best Workout Shorts Reviewed & Rated for Quality
In a
Hurry? Editors choice: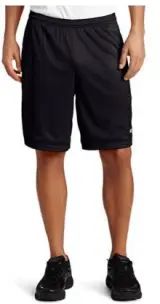 Test Winner: Champion Long

Whether you are running, stretching, or practicing your swing in the backyard, you want to be comfortable. More so, we have recently been on this kick where we focus on
golf as a lifestyle.
We believe that your lifestyle should resemble how you feel, and if you feel gloomy, you need to head to the golf course. Well, one thing that can put a pep in your step is working out and ensuring that you are comfortable and wearing the best gear is our priority. Therefore, it is time to discuss with our audience the top ten best running, workout, and
golf-practice
shorts in the industry.
If you are seeking excellent quality shorts, here are a couple of aspects to consider before reading out the
top ten list.
Standout Picks
Criteria Used for Evaluation
Materials
The quality comes from the use of good materials
As far as the first criteria, quality and reviews is a crucial aspect of ensuring that a product is of the best quality design and benefit for the user. When conducting our research, we first only focus on products that are four stars and above. The reason being is because we want to ensure that it has great value and will retain it's worth.
To add to this, we also read reviews from individuals because we want to make sure that the audience agrees with the value. When reading reviews for workout shorts you want to look at the following important aspects.
What users say about the fit, elasticity, and comfort.
Is it worth the price?
Do individuals mention it fits as suggested?
Does the brand have a return policy?
Do the shorts fade, pick, or snag?
What are the features?
As far as the last question on the above list relating to features, we are going to dive into what the best features for workout shorts are. Let's begin!
Features
This next criterion is very common among workout gear. When selecting our top ten list, we look into the features and benefits of the product.
So first, we evaluate the benefits based on the features. Essentially, diving into the value of the product based on the features. With that in mind, let's break down the many different features of the workout shorts we have shared and what to look forward to from this industry.
Moisture Wicking
As the first feature, moisture-wicking may easily be one of the most important. The reason being is because wicking away moisture allows for a user to be comfortable and not be working out in soaked clothing, especially the individual sweats a lot. With that, moisture wicking features is an aspect of the material of the product, which we will discuss in the next criteria.
Four-Way Stretch
Four-way stretch is a brand's specific design in creating a product that is designed to be stretchy and comfortable. Four-way stretch essentially means that a product can stretch up and down and left and right. Therefore, it allows for a full range of movement for the user wearing the product. Four-way stretch is a very modern approach to creating workout gear. It is designed so the user can comfortably move in different directions and use the shorts for many different activities.
Elastic Waistband / Drawstring
An elastic waistband design is another important and crucial element in creating a quality product. With that, it is a feature that is very common in workout gear because it allows for the area of the waist to easily be adjusted and be very comfortable. To add to this, many brands will design their shorts with drawstring cords, so an individual can have even more adjustment and comfort.
Mesh and Breathability
The last feature is another crucial feature when ensuring that you are comfortable on the golf course or when working out and that is selecting products that are breathable. Whether you are looking for a quality golf shirt or even golf shoes, a breathable shirt or shorts ensure that you will be comfortable. With that in mind, all of the shorts we have shared are either designed with layers of mesh or perforations or are very thin and lightweight to ensure air can travel easily through.
Effectiveness
Good design means effectiveness.
As the last primary area of focus, the material design was an important factor that we wanted to cover. With this, we are going to dive into the two most common materials when selecting a quality pair of workout shorts and why they both are the most common. Let's start with polyester.
Polyester
What isn't made of polyester? This material happens to be one of the most common materials in the industry. With this, polyester is virtually in every piece of workout gear that there is in the industry. Whether you want a premium high-quality comfortable shirt or workout shorts, polyester is there to ensure that your product is durable and comfortable. Depending on the construction qualities, polyester can be comfortable, soft, and designed to be very lightweight.
Spandex
This material may be the second most common because once it hit the scene, everybody was raving about it. Spandex has become a novelty and virtually every piece of gear or workout clothing, even daily clothing, has gone up in value because of this material design. With that, as little as 3% of the material composition of the product can have spandex and still it is strategically designed to have many features. The features of spandex include breathability, elasticity, moisture wicking, lightweight, stretchy, and many more. With that, if you are looking for a quality and comfortable product, this material ensures the best overall value.
Value
Value means getting a nice deal.
The most expensive is not always the best and the cheapest is not always the best deal. The reason being is because the cheapest may break much quicker than other products, causing you to have to buy new shorts and spend more money. With that, always consider which deal has the best bang for your buck. There are many different products to consider and some brands even include a 2-pack for the price of one. With that in mind, many well touted and notable brands tend to charge more for their products because they are costlier compared to lesser known brands. Therefore, when selecting your product or gear, consider which one is the best deal. Look at the cost to value ratio!
Subscribe to our Newsletter