Best Ladies Golf Gloves Reviewed and Rated for Quality
In a
Hurry? Editors choice: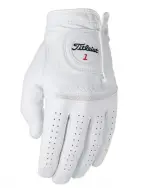 Test Winner: Titleist

Women's golf gloves are a must for the best performance. Why? You know you can triumph this time, you've been practicing a lot, you've mastered your backswing, you managed to score a birdie twice. You know that you can do it! The day has come, you go on the course and somewhere around the 9th hole, something's not right. Your hands are sweating, you feel tense and the club is constantly turning and slipping from your hands. You keep losing your grip and fat shots and chunks occur over and over again. Then you realize that
the gloves
those pro players have been wearing aren't just for fashion.
Don't let this become a reality, or if it is, it's high time you did something about it. And, if you are not sure which one is the right for you, we have made the selection of the best ones.
Standout Picks
Criteria Used for Evaluation
Grip
A good grip is a base for scoring well.
The reason why golfers opt for gloves is the grip itself. Many of them often struggle with extreme stress and we know that stress is a cause for extreme sweating as the body is trying to cool itself down and regulate its functions. Plus, as the game is most frequently played during warm and hot weather, the heat itself is enough reason to make your hands sweaty and slippery. If you have ever played golf, you'll know how hard it is to reduce the friction and to hold the club firm and steady when you hit the ball. Sometimes at the most crucial moment, it can slightly slip, making the shot weaker or much more varied than what you have planned to be. No doubt that players feel disappointed and frustrated when they know that it is not about their abilities, but their inability to cope with their sweaty hands that prevents them from achieving high scores. As a result, many companies are trying hard to aid players in their attempt to perform better and have the steadiest grip. So, the greater the ability to provide this flawless grip, the higher the score. We are pleased to notice that most of the products on our list are able to provide a satisfactory grip and bring satisfaction.
Materials
The appropriate selection of materials provides good grip, breathability, flexibility, and comfort.
Many senior golfers often tend to avoid wearing golf gloves because in the past they weren't as advanced as their now. The old-fashioned ones and those that are of low-quality, make your hand feel sweaty and warm and they often cause the opposite effect from what you would expect. However, nowadays, the advanced technologies and the right choice of materials provide much-varied experience than that of the past. The best ones are sophisticated in terms that they let the air flow, which is the key factor for prevention of perspiration. The materials that are most frequently used and which have the ability to let your skin breathe are leather, mesh synthetic such as microfiber, lycra, and satin. In accordance with the technology used in their production, you can see that some feature moisture wicking abilities, some are perforated to enhance the breathability and some are flexible enough to allow greater flexibility and increased performance.
Features
Features are those characteristics that make the product have its own uniqueness and differ from the others.
Different models and brands deliver different product characteristics and each of them makes these gloves distinguish one from another. Among the most prominent features that we can see and which golfers truly appreciate is the magnetic ball marker that some of them have. As that's the most forgotten type of golfers' equipment it comes handy and they really appreciate it. Another characteristic that only one model has, but which we consider to be of great importance, is the UV 50 sun protection. Then, here's the Bionic glove that has special padding which is designed to provide sufficient aid for those who suffer from arthritis or muscle fatigue. And lastly, we valued those that come in many sizes or those that have the ability to retain the shape and its quality even if the glove is worn too frequently.
Style
Personal style is closely related to the individuality of the golfer and marks his/her presence on the course.
Style and fashion rule the course and there's not a single woman golfer (men too) who isn't concerned about her personal style. Gloves are not the ones that define the style, but they accentuate the personal individuality of the player and mark their overall presence on the course. When it comes to women, they have always been inclined towards wearing the latest fashion and matching the accessories with the rest of the outfit. No wonder then that companies pay so much attention to details and specific styles. That was the reason why we have decided that style will be part of our criteria when choosing the best ones.
Value
Getting a premium quality product for a lower price makes it an excellent value for the money.
When you invest in an accessory that is supposed to improve your performance, then you look for a product of high quality and best value for the money. So what is the best value for the money? Some people consider it to be the cheapest product you can get with the highest quality. Others consider the least expensive name-brand product that you can get on a bargain or when there's a special deal or promotion. Either way, the low price is imperative. We agree that those products that provide the greatest quality, feel and performance for a lower price compared to similar products that provide the same features is an excellent value for the money. Plus, if the product comes from a recognized and well-established company which has been known as a company that offers a high-quality product, then it is even better.
Best Golf Gloves for Women Reviewed and Rated for Quality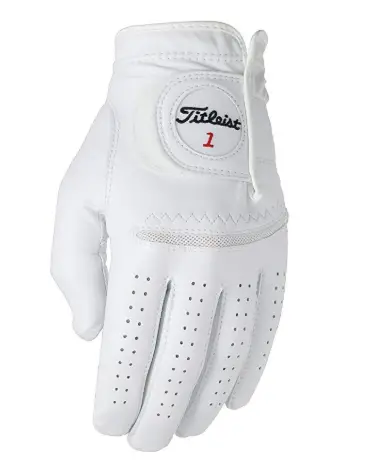 As this company reigns the golf course with almost any piece of equipment and accessory that you might see there, it is no wonder why this enjoys such popularity. It is made to allow golfers to have full control over their clubs and at the same to enhance their grip to have the most optimized shot. Titleist offers this high-quality, super soft women's golf gloves to please the golfers who look for super soft glove ever.
Read more
Material
Made from performance leather, breathable mesh, and satin, it is a women's golf glove that offers buttery soft comfort. The proprietary CoolMax Mesh Panel, which stretches across the knuckles, features extreme breathability and prevents your hand from sweating by allowing enhanced ventilation. The designers paid extra attention to prevent sweating, so they perforated the leather making the air flows naturally.
Features
The latest from Titleist offers an incredibly soft feel when you wear it and provides a grip that feels as if you weren't wearing anything on your hand. The seems are precisely placed so that you have a pure connection with your club. There's satin reinforcement at the cuff and the thumb which increases its resistance to wear and tear and makes it much more durable.
Cost and Value
If you look for nothing less than ultimate perfection, perfect stitching with tactically positioned seams and materials that are of premium quality, then Titleist is definitely the option to consider. It is true that it is pricier than the ordinary ladies golf gloves, but there's nothing ordinary in this model, so it is a good value for the money.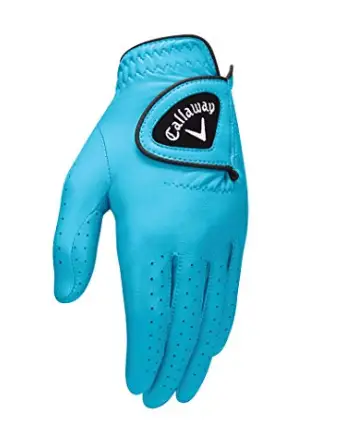 Coming from one of the most distinguished golf companies and designers who understand the needs and demands of golfers, OptiColor is made for women who know what difference it makes when you wear the highest quality ladies golf glove. Coming in three peculiar colors, blue, pink and black, this model is made to have a say on the golf course. It has the recognizable Callaway logo on the top which gives it a special high-end and classy impression.
Read more
Material
When we say premium design and impression, we don't just refer to the fact that it comes from Callaway, but the materials used in its design. The thing is the two materials that are used to produce it, the optical leather and the OptiFlex stretch suede, are of ultra quality and provide superior performance. The OptiFeel leather delivers enhanced feel and even greater comfort and fit.
Features
Nothing has been left aside and we can see the effort of the designers to provide the best feeling for golfers while wearing Callaway OptiColor. We can see perforations on the thumb, palm and fingers made to increase the air-flow and thus allow greater breathability and moisture reduction. The OptiFit adjustable closure provides light, thin and secure fit with the recognizable design. Plus, it comes with a magnetic ball marker that has the Callaway brand on it.
Cost and Value
This glove for women is an excellent choice when the weather isn't very hot and it is made to remain comfortable on the golfer's hand. Its stretch material allows excellent fit even though some buyers say that the first impression that it gives is that it runs small, however, after a few wearings it gets the perfect shape. The price can be variable as the size and colors change, but anyway it is a good value for the money.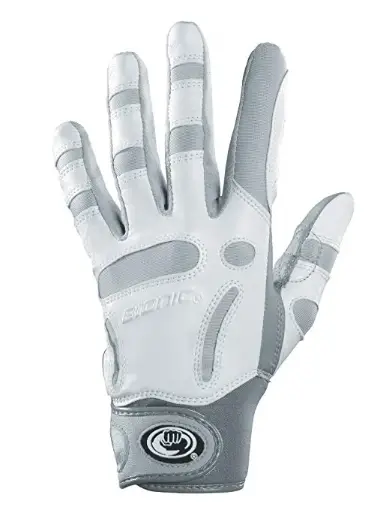 Made by an orthopedic specialist, Bionic Relief Grip is made to bring greater relief to golfers who suffer from arthritis and all those who feel that their grip isn't as strong as it is supposed to be and need additional support. The anatomical design with a padded system and the premium materials used in its production makes Bionic Relief Grip a real relief for tired hands. Does it sound like something that you've been looking for? Then read below to find out more.
Read more
Materials
The designers of Bionic say they crafted it to feel like a second skin with materials of highest quality and endurance. ReliefGrip is made of 100% Cabretta leather which is the most durable type of leather. The zones that normally perform the most of the motion like knuckles feature lycra motion material which is extremely flexible, comfortable and breathable. This means the hands will be drier because this material won't allow moisture retention. For added writs support which is especially needed at the base of the thumb, they used a form-fitting LightPrene which is stronger but follows the form.
Features
ReliefGrip is a patented design for people who mainly suffer from arthritis and which is made to mimic a human hand's performance. There are relief pads which are positioned strategically on the fingers area in order to make their surface even. The purpose of this design is to let the pressure be uniformly distributed when gripping so that the strength is increased and fatigue is prevented. It is the only women's golf glove that allows natural motion when your grip of the fingers is being led towards the center of the hand with the pre-rotated finger design.
Cost and Value
The patented design and the unique craftsmanship of this model make it one of those products that you must have on the golf course if you suffer from arthritis, muscle fatigue or you just need more stable and secure grip. The popularity it has confirmed that it lives up to the description. When it comes to its price, it is definitely a much more expensive product compared to the other models on our list, but it is worth the money.



The only way to have that perfect swing is when you grip with confidence and certainty that nothing can take away the focus from the ball. But, as it often happens, it can be that fraction of the second when the club slips from your hand enough to produce a mishit. If this scenario is common for you, you'd better purchase for you a ladies golf glove that is going to assist you in reaching your goal. Taylor Made is certainly one of the options, read below to find out more.
Read more
Material
As it is often the case with the highest quality gloves, leather and lycra are the materials that are most often used to deliver the maximum comfort and enjoyment. Therefore, the designers of Taylor Made made use of AAA Cabretta leather for the areas that are most prone to wear and tear such as the palm and the thumb and just partially the middle finger, and the pointer. The rest of it is made from stretch lycra panels that allow increased flexibility and air-flow.
Features
This model is designed for hotter weather and covers the area of your hand only, without offering wrist support. The leather part is perforated for breathability and intense air-flow which isn't going to retain the moisture inside. The lycra is well known to wick the moisture too, so the overall feel is a lightweight and comfortable women's golf glove. It has a custom fit and comes in three colors and sizes.
Cost and Value
This ergonomic product is made to assist your golfing performance and increase your scoring result. Coming from the company which has long been into manufacturing golfing products, it ensures supreme quality and convenience. The price is within the average for a product of this type.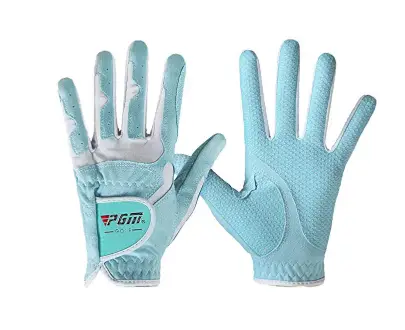 Leather is great, just some people are not into leather since there is lesser flexibility. Even though you'll rarely see leather-only gloves since they all tend to combine it with flexible lycra and make them elastic, synthetic ones represent an alternative for golfers who tend to reject leather as an option. PGM offers equaled grip and feel as the leather ones, with even more flexibility and enhanced performance. The reason why you need to consider them as an option is given below, take a look to find out.
Read more
Material
They are very professionally designed with breathable microfiber which delivers maximized balance between stability and flexibility when you are about to hit the ball. What nobody wants on the course is the inability to get the right feel of the fingers and the grip, and basically, this is the point where good ones and bad ones differ. The design of PGM is ergonomic, delivering natural feel and control over the club with the help of the skid grain which makes the surface 100% anti-slippery.
Features
Everyone who is struggling with friction and lack of grip needs to have a good glove to prevent slipping the club from the hand at the moment of impact. It is frustrating feeling knowing that what could have been a good shot turned into a mishit just because of the friction, lower grip or sweaty hands. And that's something that can easily be prevented when wearing PGM. Another frustrating moment is feeling the moisture inside them. PGM are designed with sweat vents that allow the skin to get easily dry and fresh. For greater stability and secure fit, there's an elastic M-shape lining and Velcro strap for better adjustment.

Cost and Value
Unlike many similar products, these come in pairs and they can be worn even during the winter days. They are well designed, comfortable and provide you with optimal grip, feel and performance. The price for both is as if you are buying a single leather product, so it is an acceptable price tag.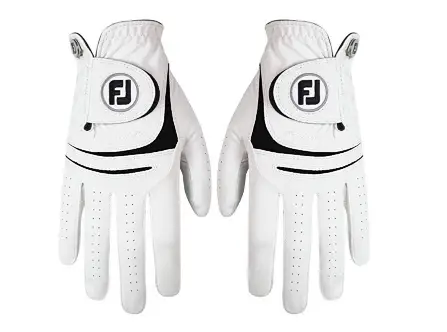 The practice tells us that golfers benefit the most when wearing one glove, usually on the leading hand, to prevent slipping and enhance the grip. And that's the reason why you normally find a single one being sold instead of a pair. However, there are golfers who would rather have both hands protected and that usually happens with golfers who have delicate skin or those who wouldn't like to experience different sensation while preparing to hit the ball. FootJoy launched these as pairs so that they meet the needs of the golfers with sensitivity issues.
Read more
Material
It is a well-known fact that when you'd like to get flexibility with intense grip and performance leather and synthetic are the go-for materials. That's what FootJoy did with this pair. On the palm area and the thumb, the places that need extra strength and increased grip, they used Cabretta leather while along with the fingers they used FiberSof microfiber. The three-directional tab closure is also made of leather.
Features
Coming from the leader in golf gloves production, this pair is made to boost your performance by allowing you to have the grip that won't fail you. The leather is moisture resistant and won't make you sweat, while the perforated structure lets the air flow naturally and therefore enhance the dry feeling inside. According to the buyers, these are among the most durable and true to size gloves.

Cost and Value
Despite being more expensive than most of the other similar products, the high-quality they boast about and their endurance makes them ultimate winners on the course. Besides, coming from the company that has its say when it comes to golf products, is enough proof for their indisputable durability.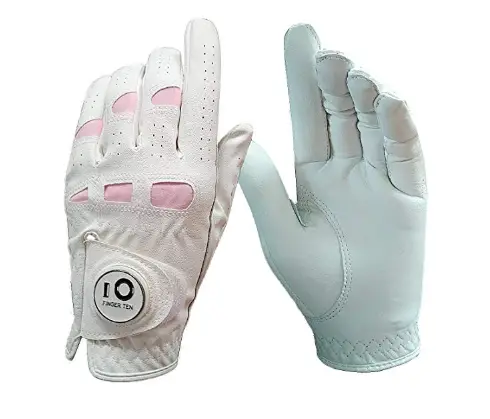 When you aren't sure which is the most suitable golf glove, or when you don't know if wearing one will help you with your grip, it is always wise to check that out first. There are actually two reasons why Finger Ten is the most recommended choice. Firstly, even though it is a new name in this industry, it offers excellent quality for a good price. Secondly, it offers one more feature-a ball marker on the top of it which is often welcomed by golfers.
Read more
Material
It is made of leather with lycra spandex on the fingers to provide greater air-flow and much better flexibility. The Cabretta leather provides an excellent stable grip and skin-like softness which makes it very comfortable to wear during the whole round. Thanks to the lycra spandex, it is breathable and it won't make your hand sweat too much. It is suitable to be worn in all climates and in all weather conditions.
Features
What makes this product differ from the others is the strategically placed ball marker on the top of the hand and many buyers claim that it is the best solution to have the piece of the equipment which is the most frequently forgotten. It is elegant and stylish with pink lycra material on the knuckles and tiny openings on the fingers. Many golfers say that it is true to the size and fits well.

Cost and Value
When a certain product has hundreds of positive five-star ratings, and an insignificant number of negative ones, you know that it must be a good product. It well-designed, it fits perfectly to the size and it is stylish. Plus, it is very affordable and it isn't going to affect your budget as some others would.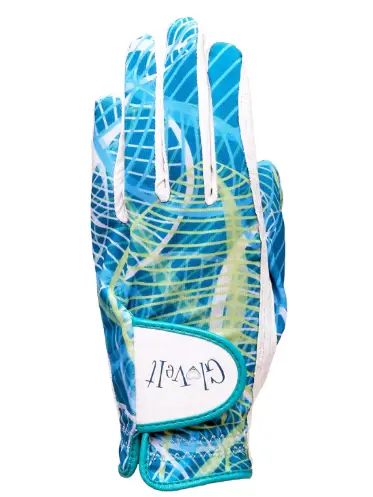 As golf is a game of style and fashion in addition to being a game that requires precision, you need to be equipped with the best equipment and the most comfortable clothes so that you don't get distracted. However, gloves are the piece of the accessories that are often neglected, but which can help you square and swing much better, especially if your palms are sensitive to the weather conditions. This model features style and comfort and offers ultimate performance.
Read more
Material
It is made from high-quality breathable lycra which allows your hand to stay dry and at the same time provides a maximized feeling of comfort. The palm area is made from soft leather that provides better grip and maximized performance. Plus, the material provides complete UV 50 sun protection.
Features
What makes Glove It a unique piece of accessory is its truly unique design and the vibrant solid colors with the company's signature prints which make it recognizable on the golf course. It has a very solid binding which makes it durable and long-lasting. Plus, the pattern has been made so that it doesn't visibly show dust and dirt and you can always be confident that you look neat and clean.
Cost and Value
This high-quality model comes in an impressive number of different patterns and designs, making it the most versatile designed glove on the course and the most fashionable too. You can easily match your outwear and style since it is impossible not to find a suitable match. It comes in different sizes and left- and right-hand options too. The price varies in accordance with the size and the design and ranges from highly affordable to slightly expensive.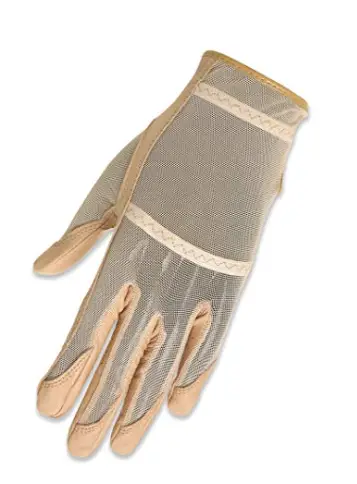 Women are so fashion-sensitive so that we can see a piece of fashion introduced in every sport and for every occasion. No longer are women satisfied with just any sports model, they strive for more details, delicate prints, and materials that will define their style and the way they represent themselves. Golf is one of the sports where this tendency is highly emphasized and we are witnesses of fashion 'at large' at the pleasure of both, spectators and companies. HJ Glove is the trying to introduce a glove summer style for ladies who blend modernity with sports comfort.
Read more
Material
Cabretta leather is one of the most popular materials for gloves production due to its high durability and ability to let the skin breathe, therefore many companies utilize it for their products. HJ's feature Cabretta leather too and it can be seen on the palm, thumb and the end of the fingers, i.e.the areas which are more prone to wearing and tearing. The upper part is made from a thin, breathable mesh which is lightweight and which comes in many different colors and patterns.
Features
If you are searching for fashionable, summer glove that will provide you with premium comfort and light feeling, search no more since you have found the one. The breathability is their most featured characteristic in addition to being stylish and trendy. There are eight different designs that you can choose from.

Cost and Value
Buyers qualify it as fit, comfortable and matching to the description. Besides being functional and providing the much-required grip, it is very reasonably priced and affordable. It is a great value for the money.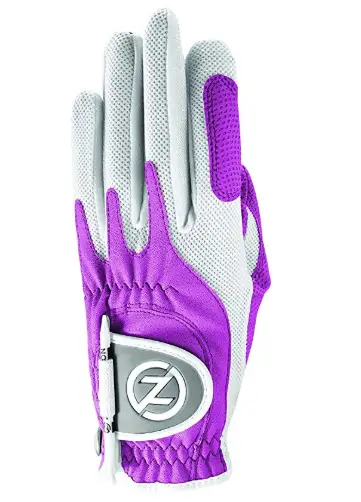 This is one more model that integrates fashion and style with comfort and maximized performance. Zero Friction is such a model that offers maximized flexibility and better sensation and feel for different types of shots, from the tee box to shots around the green. If you are considering all-weather glove, then Zero Friction is worth considering.
Read more
Material
Some golfers can't stand wearing gloves because their hands feel clammy and wet when wearing them, as some materials aren't breathable enough. Therefore, Zero Friction is created with mesh lycra which stretches through the fingers, goes to the palm and the back of the hand and which allows the skin to deal with clamminess. This material is characterized by intensive air-flow that allows great breathability and less perspiration. Throughout the fingers and on the side of the hand and the palm, the designers used synthetic microfiber which is in a different color for varied design and which allows extreme gripping power.
Features
This model has been made with Compression Fit Technology which means they feature universal fit and pertain their shape much longer than the ordinary ones. The palm features smooth design and it allows a maximum feel and optimized grip. Plus, this technology delivers boosted enforcement at those places that are most likely to wear and tear such as the thumb, the palm, and the cuff, prolonging their endurance. In addition, it has been equipped with a ball marker and a detachable tee for better convenience.
Cost and Value
This is a model that can truly boast flexibility and increased performance. The material follows the movement of the hand, allowing precision and feel. There are eight different color choices and all of them are sold by a very reasonable price tag.

Subscribe to our Newsletter